Team Peak Adventure — James Pretto from Melbourne (AUST), Nic Leary of Rotorua (NZ), and myself — held on to our second place ranking on Day 2 of the Zunyi Outdoor Challenge to secure a podium finish alongside 1st place Team Thule (Sweden/France) and 3rd place Team Sportzhub (New Zealand). The champagne tasted good, but it felt even better to re-deem ourselves after a disappointing race at Wulong the week before.
Once again, it was a race of attrition as the heat played a big roll near the end, with teams cramping and reaching their mental and physical limits on the final 800 meters of vertical climbing on steep stairs. Even NZ's superstar Dougal Allan succumbed to cramps and had to get helped up the last few stairs by his teammates … as did I :).  (Sidenote: Dougal and teammate Marcel put in a monster push during the bike leg in an effort to bump us off 2nd place … and they almost succeeded.)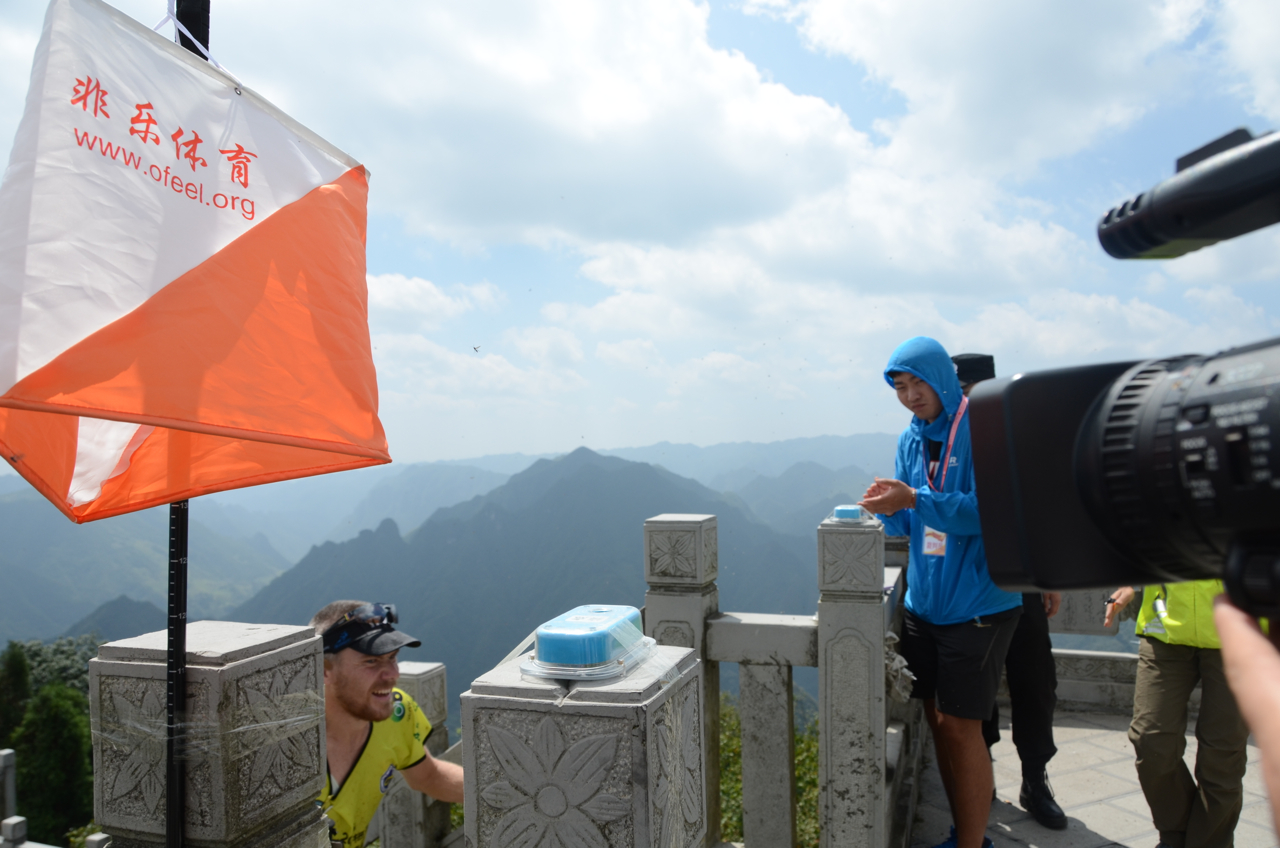 Martin Flinta of Team Thule reached the finish line at the "eagle's nest" look-out at the top of the mountain. About 25 minutes later I reached this point and collapsed with cramps, but I recovered enough to take in the view before searching out the doctors for some salt and water …
The race featured technical orienteering on the top of an old mountain fort that was surrounded by crumbling walls that gave way to long steep drops, "fish-catching" in a pond, and trying to start a fire with two pieces of wood. None of the teams managed to start a fire, but the Chinese teams were damn good at catching fish with their hands – see below.
After 6 days of racing in a foreign land with foreign foods, my body has reached its limit. I have 8 days to recover before my Swedish teammate Staffan Björkland shows up here with fresh legs and enthusiasm to compete with me in the 3 day Taining Outdoor Challenge (my final stage race in China this year, which features two-man teams). I did this race two years and have fond memories of paddling rapids through narrow slot canyons, running through ancient bamboo forests, and mountain biking through farmers' fields and rocky footpaths.  It's gonna be a great race — but I need to re-charge both mentally and physically before taking on that adventure.
Here come some pics of Day #2, thanks to Amanda Lu (the race photographer) and Sylvain Boisset (Team Thule's photographer and brother to racer Jacky).
But I'm saving some of the best pics (and a GoPro film) for my multisport presentations and slide shows in Sweden in October.  Hope to see you guys at one of the following  (my "Calendar" link will be updated soon)
–   in Ostersund at Velo Rapid bike shop (10 Oct) or Friskis&Svettis (30 Oct),
–   in Uppsala just before the Raid Uppsala multisport race (18th Oct) or
–   in Stockholm at Mornington Hotel (22 Oct).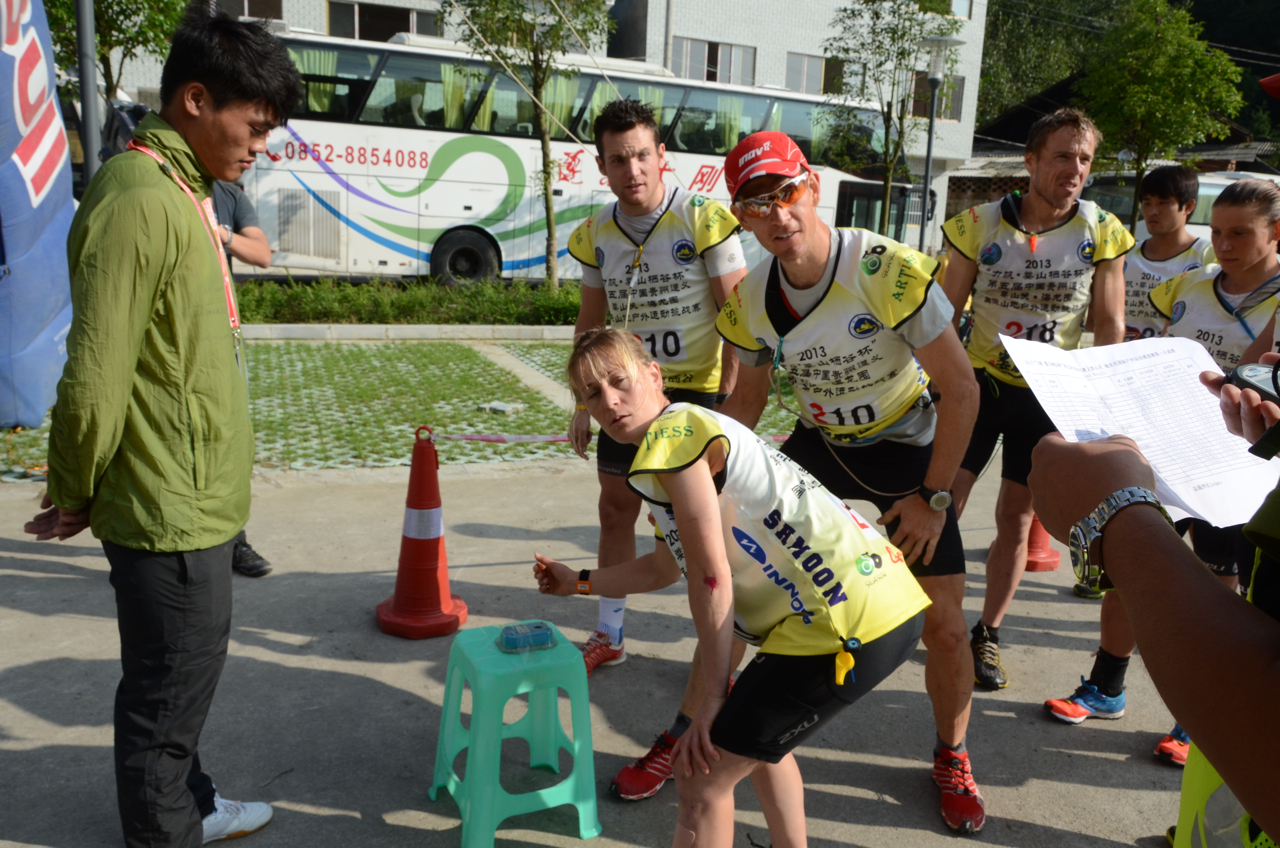 Teams started at 1 minute intervals according to placement from Day 1. So Team Thule started 1 minute ahead of us. We knew we wouldn't catch them on the 3km road run, but thought we may catch up to them during the orienteering up at the fort. Our legs weren't too fresh climbing the steep stairs up to the fort … and we knew we had a lot of stairs left at the end of the race, too.
James showing his biking strength during the bike leg, with Nic right on his wheel.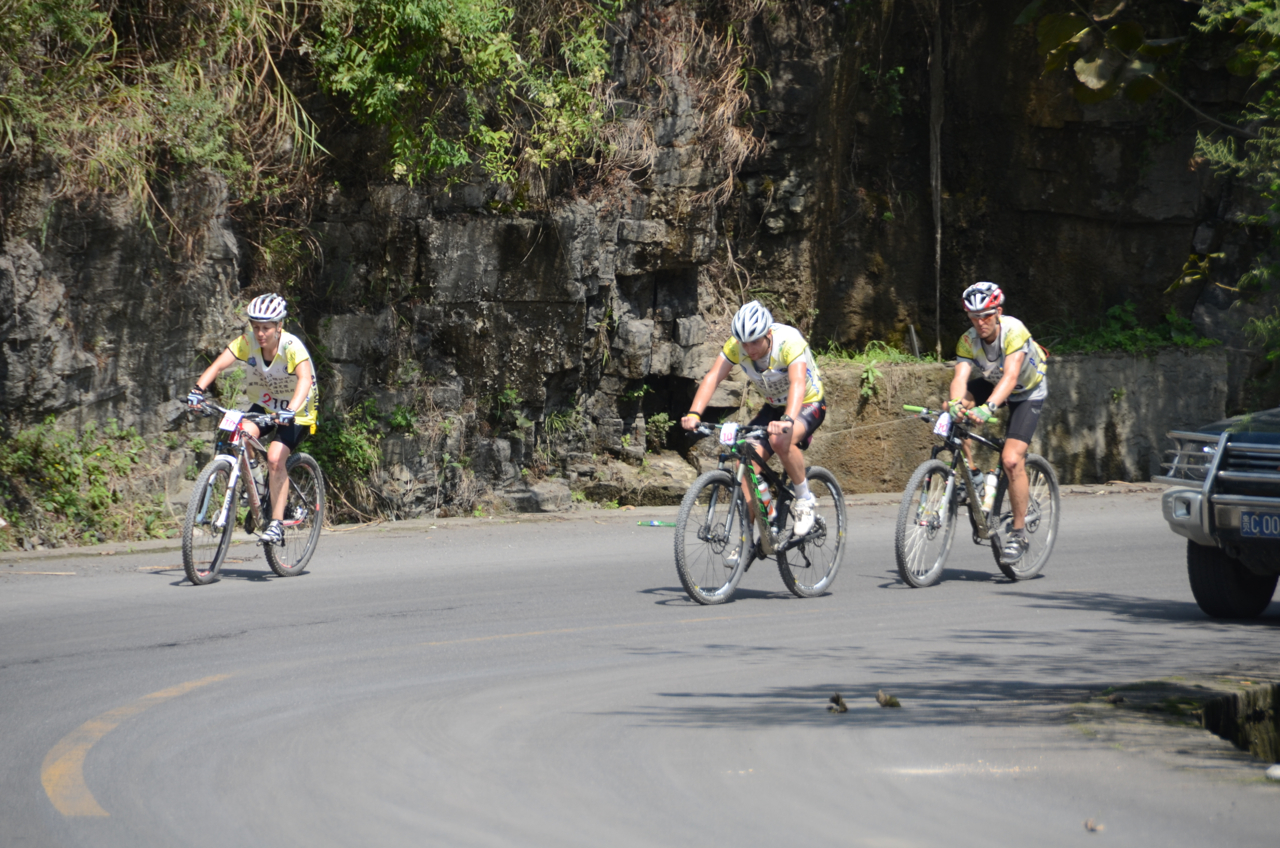 Since I had trouble holding James' wheel, I got his tow rope instead L. James was a strong team player today, helping both Nic and I, neither of whom were 100% today.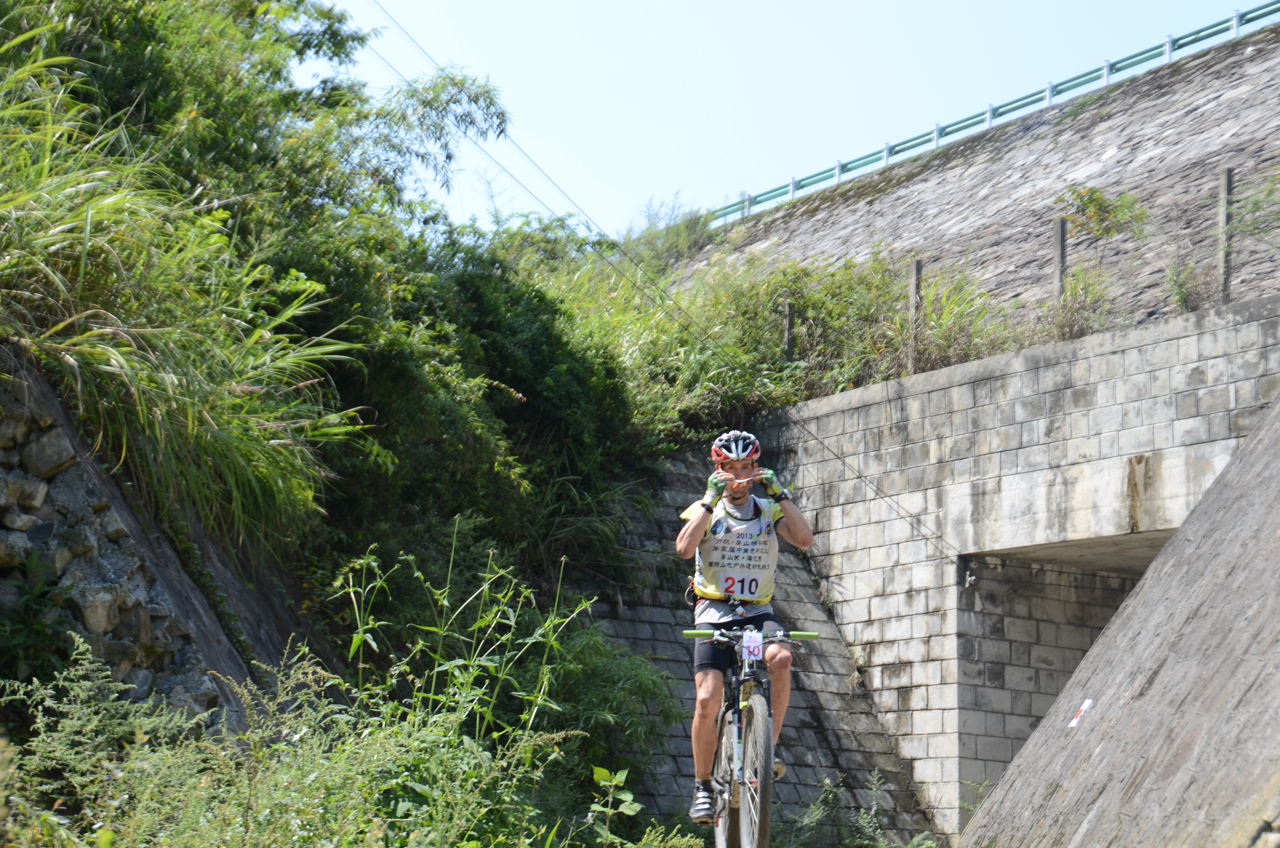 Amanda caught me coming out of the tunnel under the newly built highway and putting my sports glasses back on again before heading in to some fun technical single track.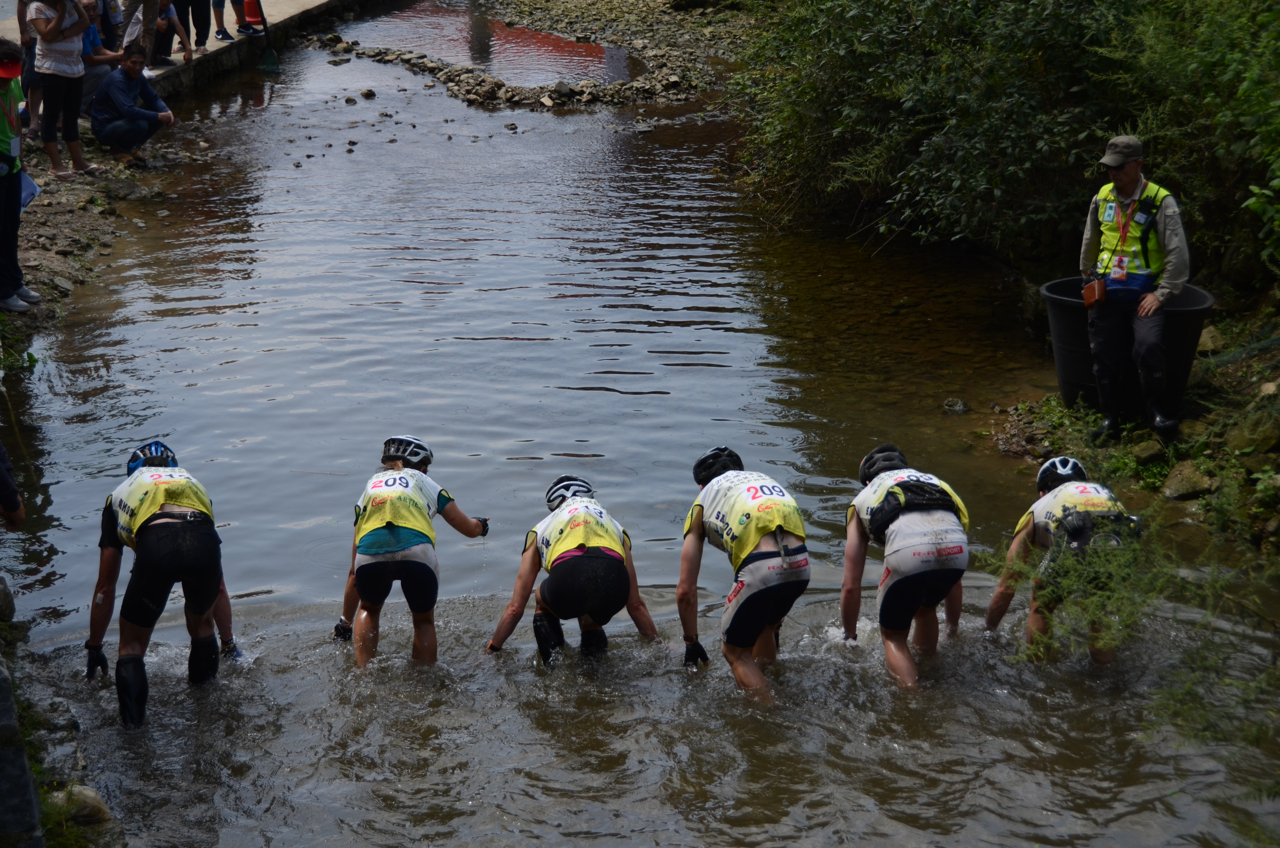 "Catching fish with your hands" was the name of this special discipline. We were directed to get off our bikes and try our hand at an ancient Chinese tradition. Not surprisingly, we didn't do so well. Here we are teaming up with Team Sportzhub, trying to scare the fish up to the shallow (and clear) water, where we hoped to grab them with our hands. Easier said than done, I'll tell you …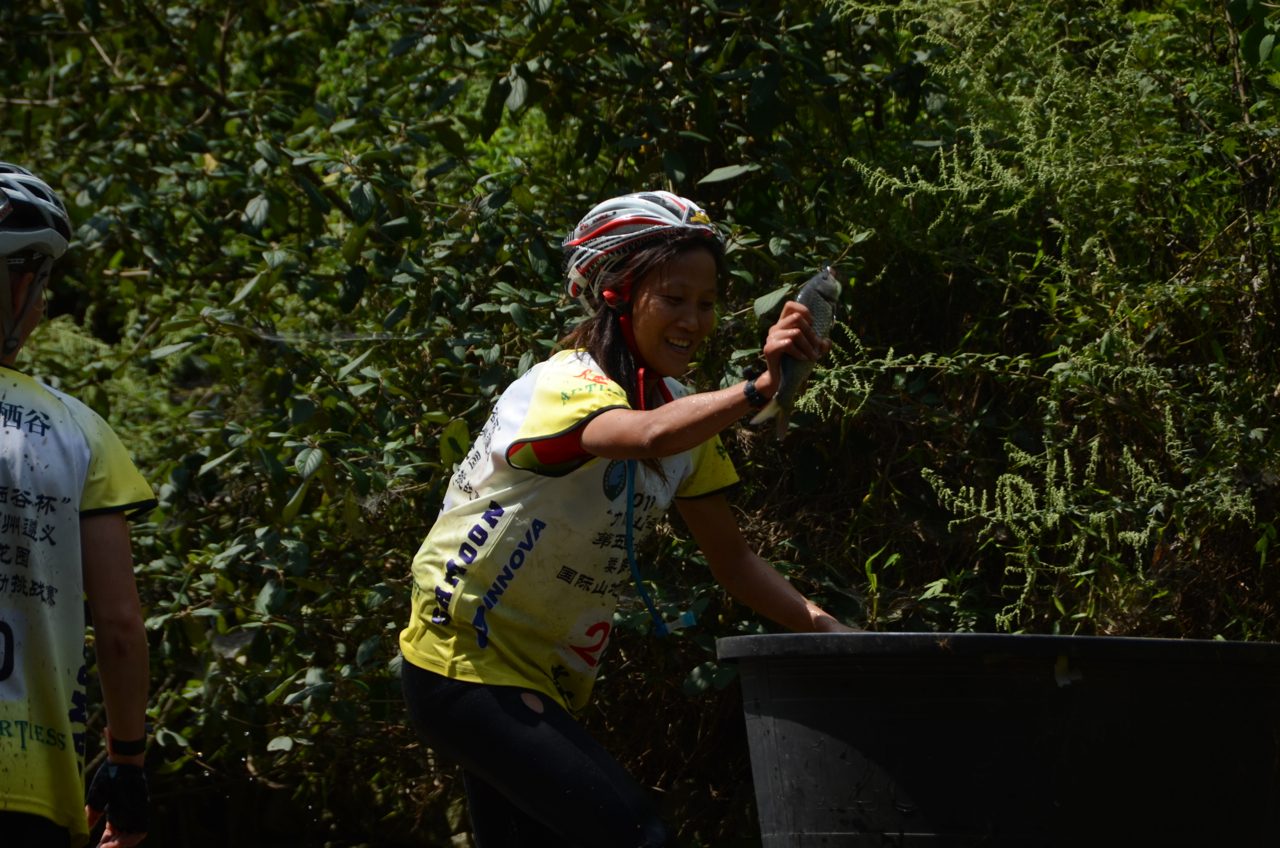 But the Chinese were damn good at it! Not to diminish their skills at this game, which clearly exceeded ours, but the race organizers decided to put a lot of fish back in the pond once the Chinese teams started arriving – which certainly increased the "catch rate" …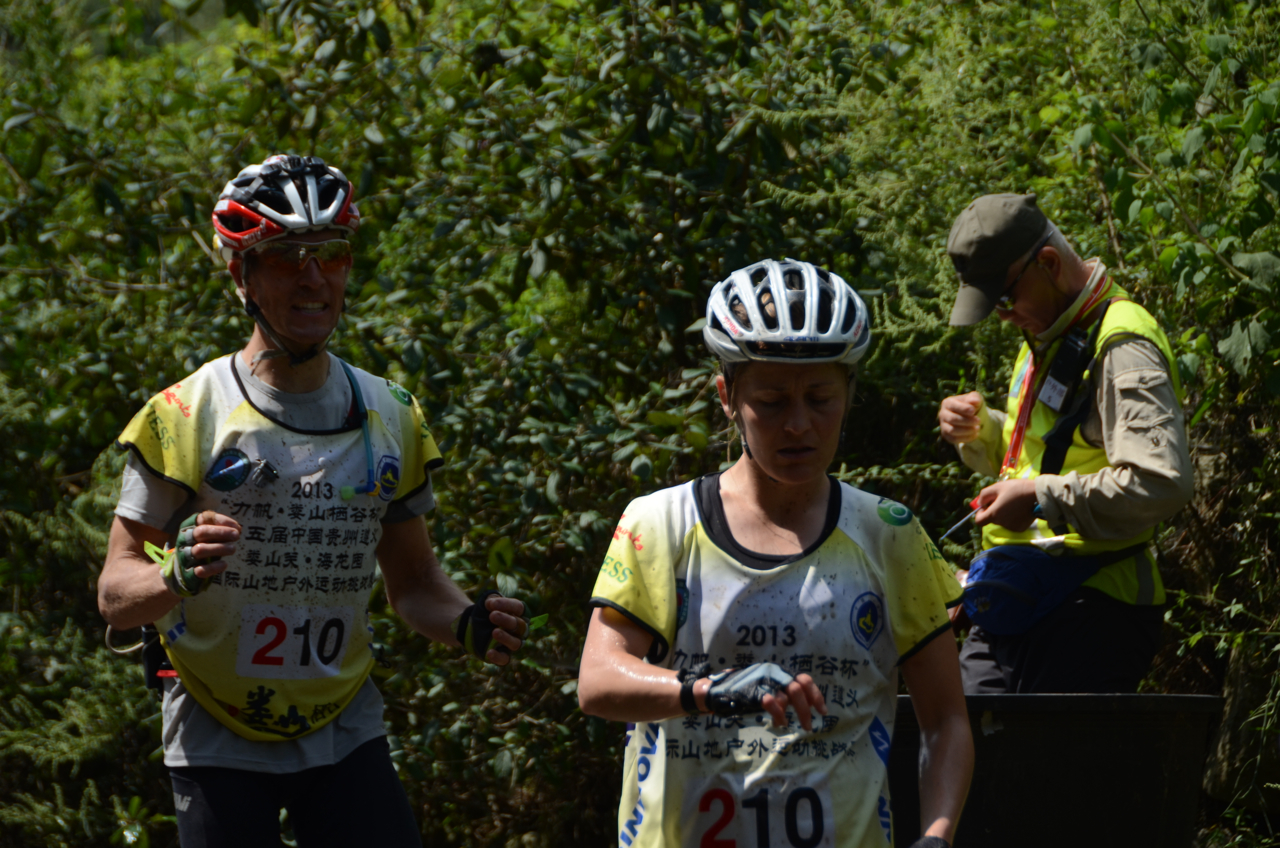 Our team only managed to catch one and it wasn't because of my quick hands. My only contribution was cheering on Nic after she caught our fish  — she took it in stride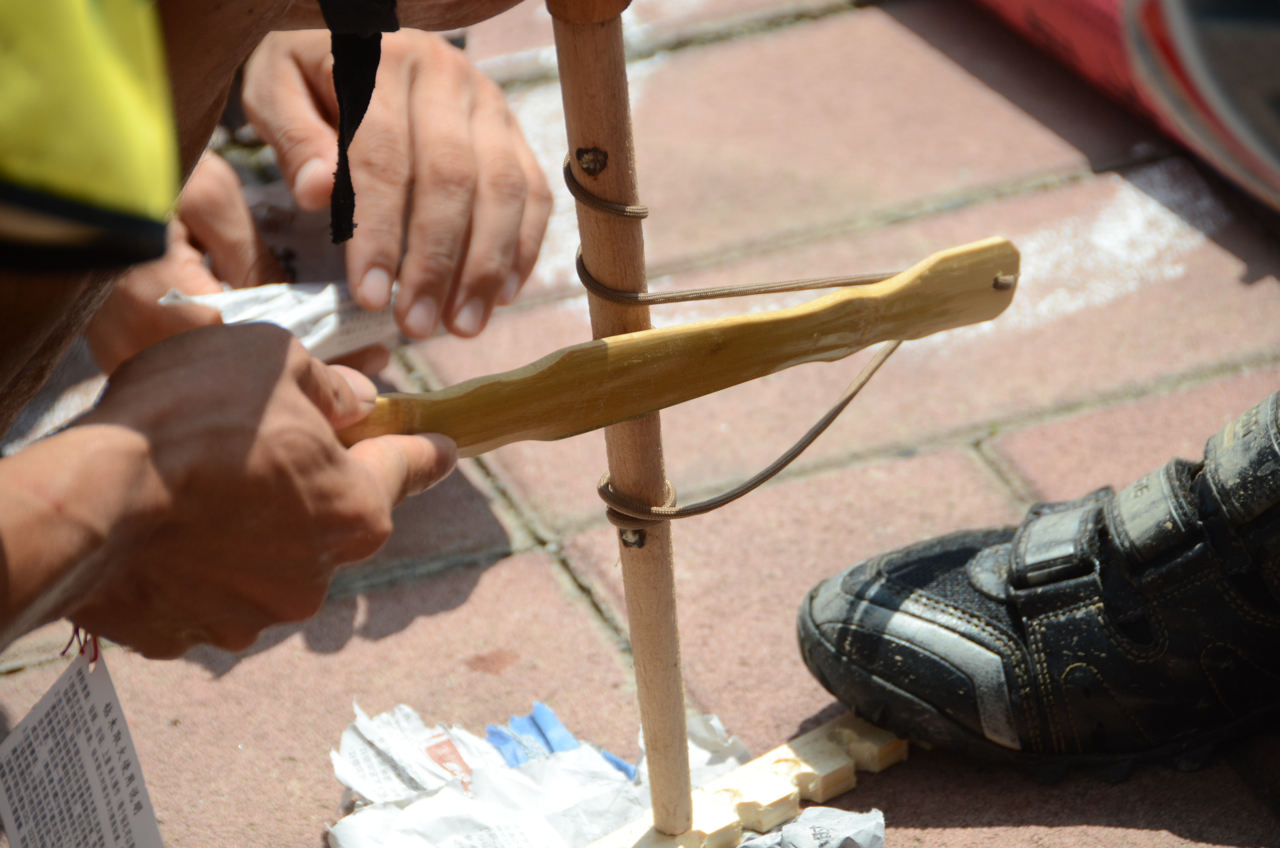 Next task: Put down your bike and try to start a fire by spinning two pieces of wood together. It quickly generated smoke, but turning that into a flame was nearly impossible. Most teams just took the 15 minute penalty and rested in the shade.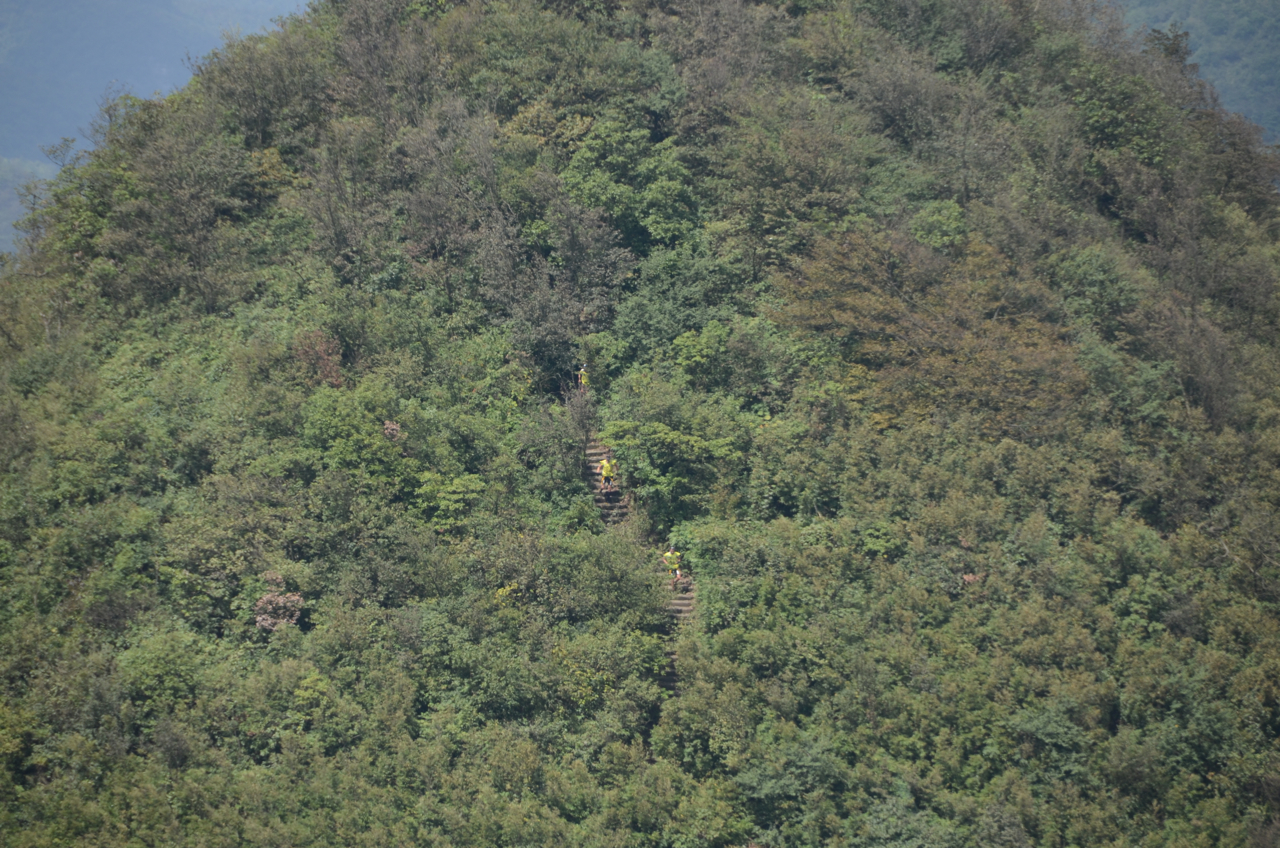 After a brutal 75 minute run on stairs (race organizers said it would only take 40 minutes, so many teams took limited water), Team Thule emerged along the ridge, with just a short ascent left to the summit.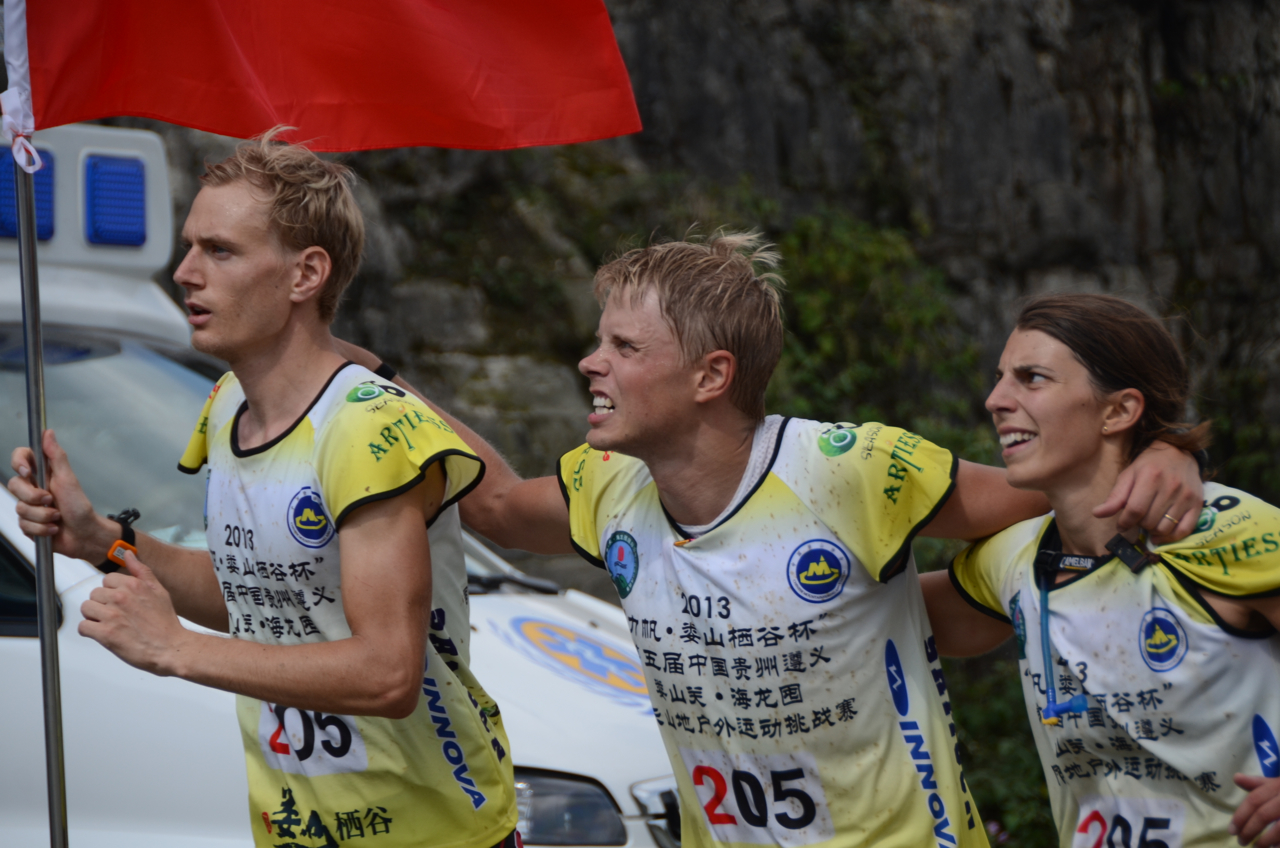 On this last ascent each team was given a flag with their team name, which needed to be planted at the finish line on top of the look-out tower. Here is Team Karlstad from Sweden pushing hard to the top.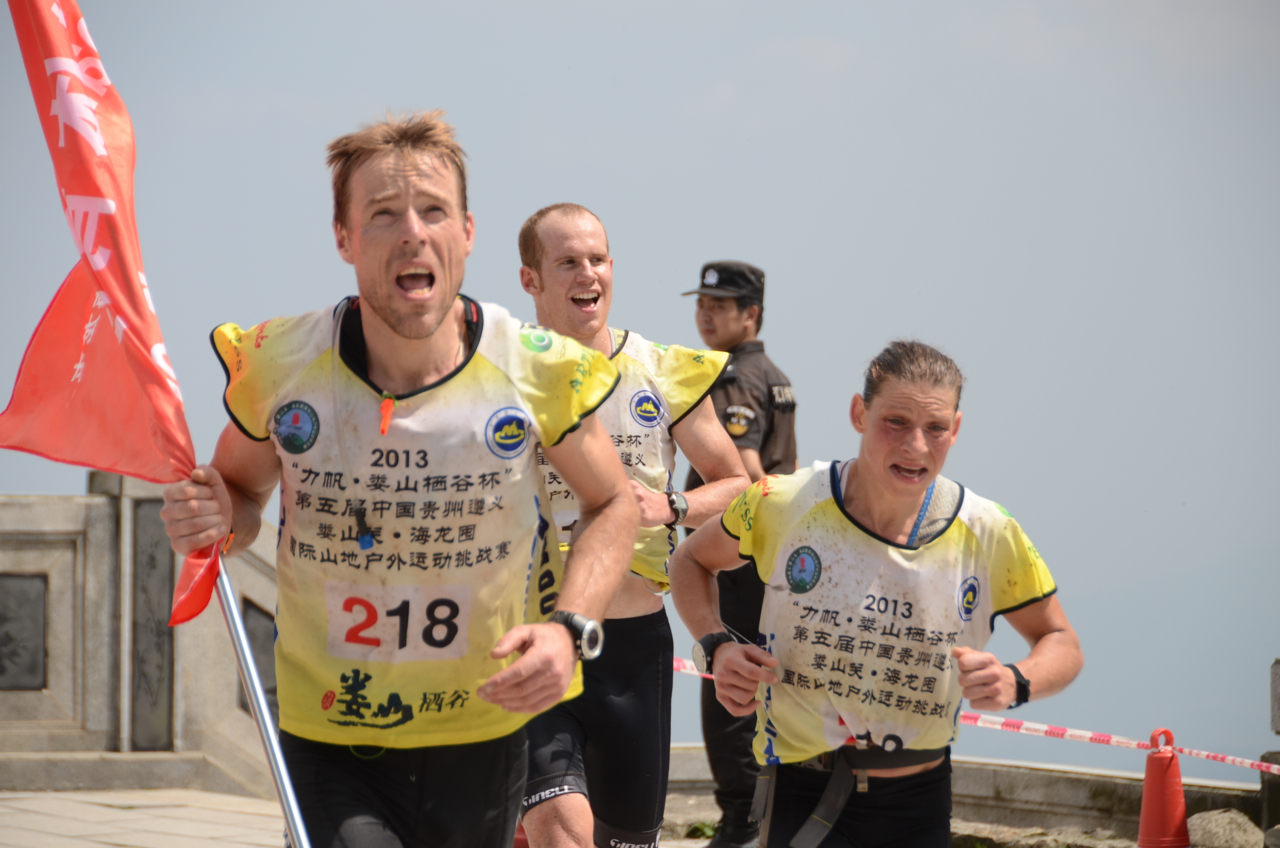 Team Sportzhub from New Zealand showing a mix of emotions as they reached the top.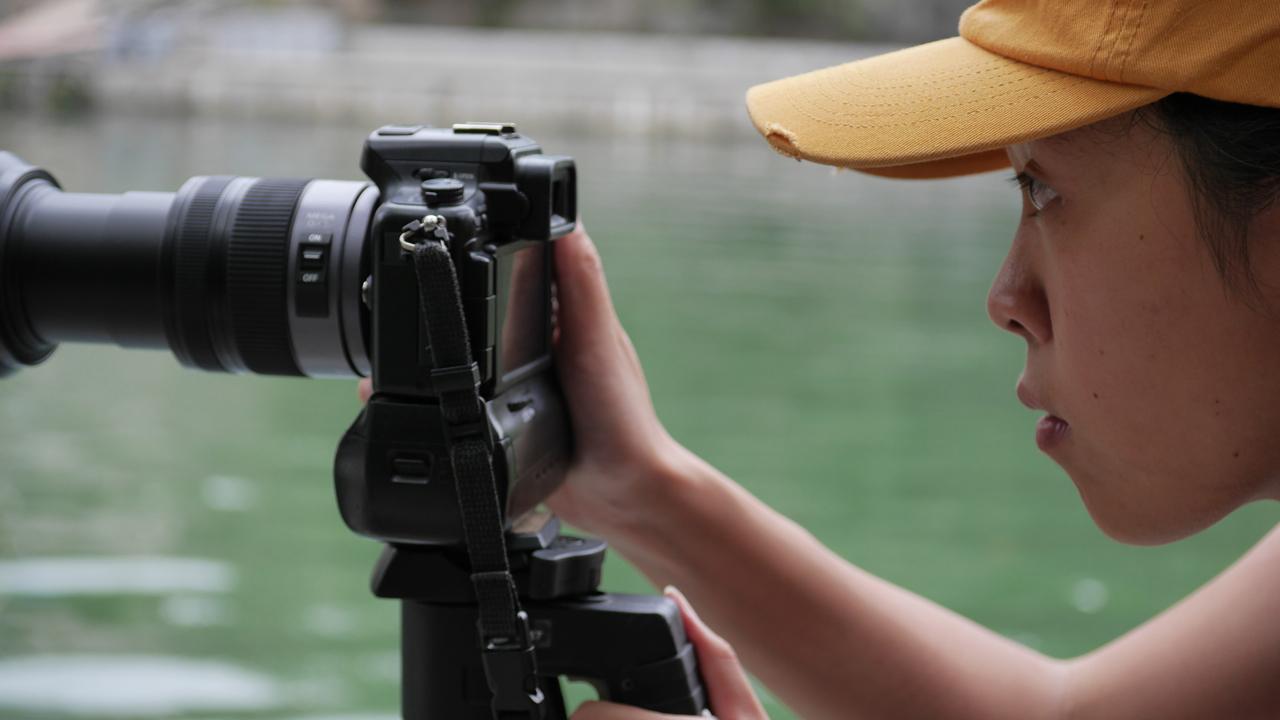 Thanks Amanda for all your great photos!
Talk to ya again soon about Taining … after I catch up on sleep
Scott