I raced with the Swedish team Team Haglöfs-Silva at the 12th Wu Long Mountain Quest(23-26 August 2014), a physically demanding race that brings together the world's best in a spectacular location among China's steep terrain in the Sichuan province. We finished 4th overall and my story comes in two parts.  
Part I (below) covers the first 3 days of racing. Part II will cover my epic meltdown at the very end of Day 4. Thanks to Zhung Rui for some great photos
The Wu Long Mountain Quest is a four-day stage race that attracts a number of top multisport athletes. Among the 24 teams (~half from China) were three teams that are part of the global elite:
Team NZ Adventure (Dougal Allen, Braden Currie, Glen Currie, Jessica Simson)
Team Thorild (Jacky Boisset, Myriam Guillot, Sylvain Montagny)
Team Red Bull (Richard Ussher, Elina Ussher, Stuart Lynch, Trevor Voyce)
Then there is a group of highly competitive endurance athletes like myself. We come from around the world (Australia, Sweden, New Zealand, US), train 10-15 hours/week, and are motivated by a chance to race against the world's best. But we're all aware of a simple fact: if we have our best day and "they" have their best day, the chance of an upset is small. On the other hand, team endurance racing is about handling the unexpected and nobody is immune to flat tires, bicycle malfunctions, injuries, over-heating, dehydration, infected cuts, and the omnipresent stomach ills.
Wu Long is a small town in SE China (Sichuan Province), 250 km east of Chongqing (which is a city of nearly 30 million!). The race starts with a 45 min prologue (running and biking in an urban environment), then continues with three days of running, biking, paddling, and ropes (in varying lengths, times, and levels of difficulty), with each day lasting between 5 and 6 hours.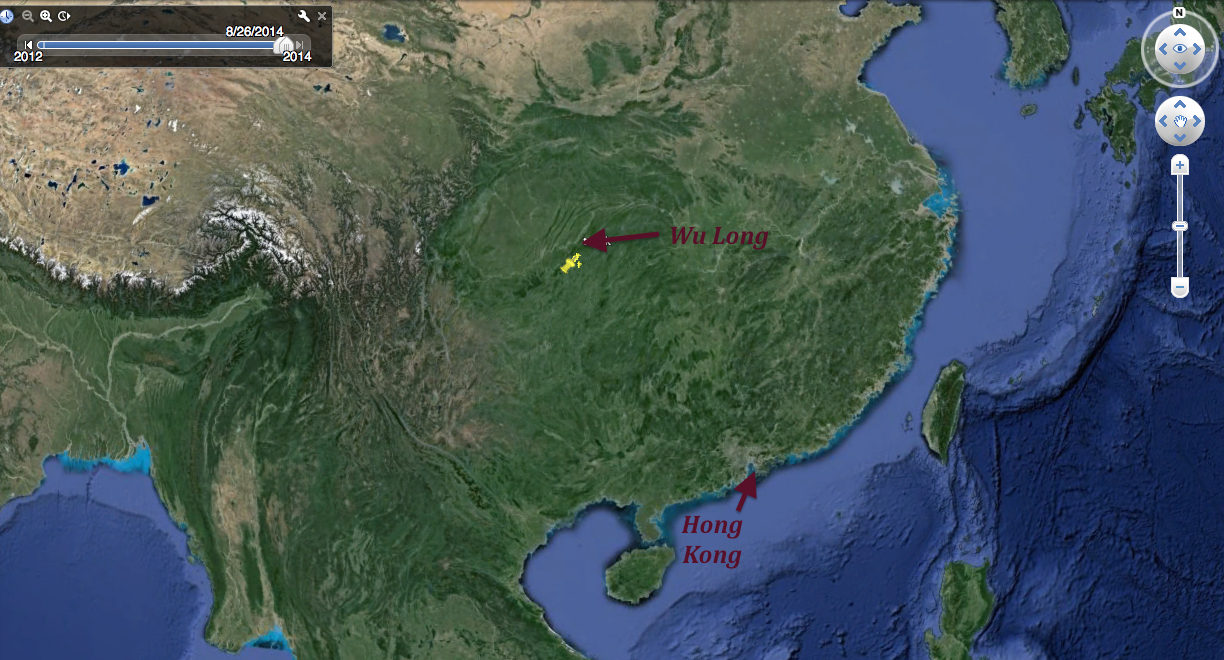 The region is filled with steep limestone formations amid a hot humid jungle that makes for a productive and heavily used landscape. On bikes and by foot we race through small-scale agricultural fields full of corn, pumpkins, squash, tobacco, cattle, goats, chicken. Elevation ranges from 500 meters (very hot) to 2,000 m (much cooler) and we paddle reservoirs and beautiful turquoise rivers (Sadly, when you get up close you realize that pollution prevention and waste removal is not one of China's strengths). Finally, the steep cliffs and gorges make for fantastic rappelling via rope (e.g., abseiling).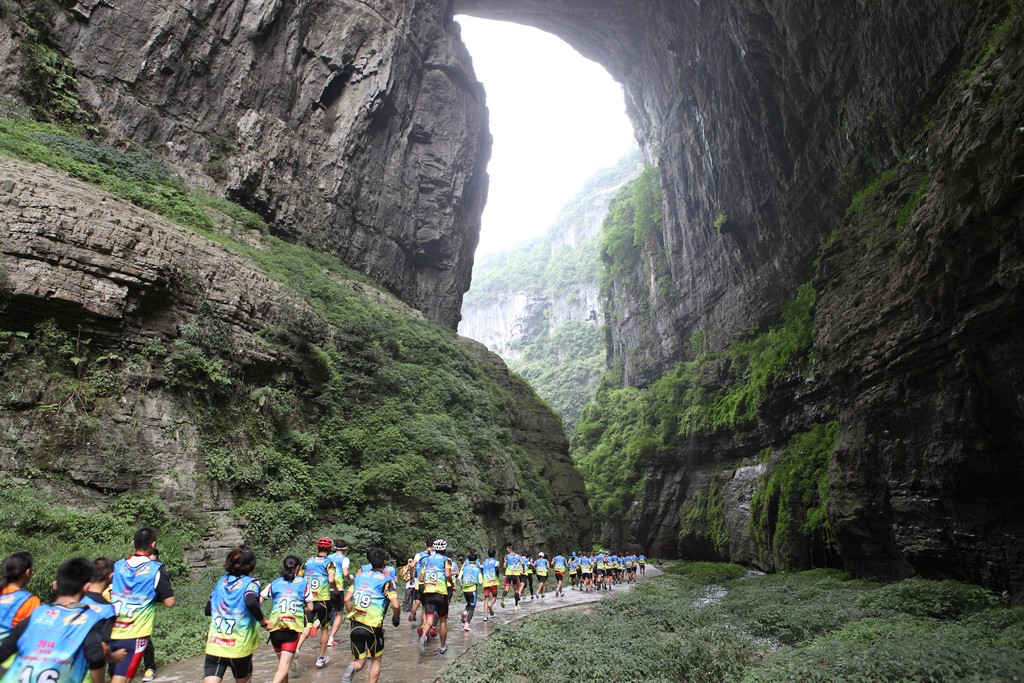 Race start at the UN World Heritage Site on Day 2.
TEAM HAGLÖFS-SILVA: 4th place overall
Our team was steady throughout the race, making few mistakes, and mostly avoiding bad luck. Thanks to some solid teamwork we finished 4th, just behind the world's elite.
Although I like the heat (I'm from Southern California), Mattias and Roban took a few days to get used to it, but this worked well because I needed their help at the end due to some extreme dehydration. Josefine is a great athlete and her performance was critical to our  result – she impresses with her ability to move her short legs in "fast motion" down technical descents where I'm thankful for my extra "leg reach."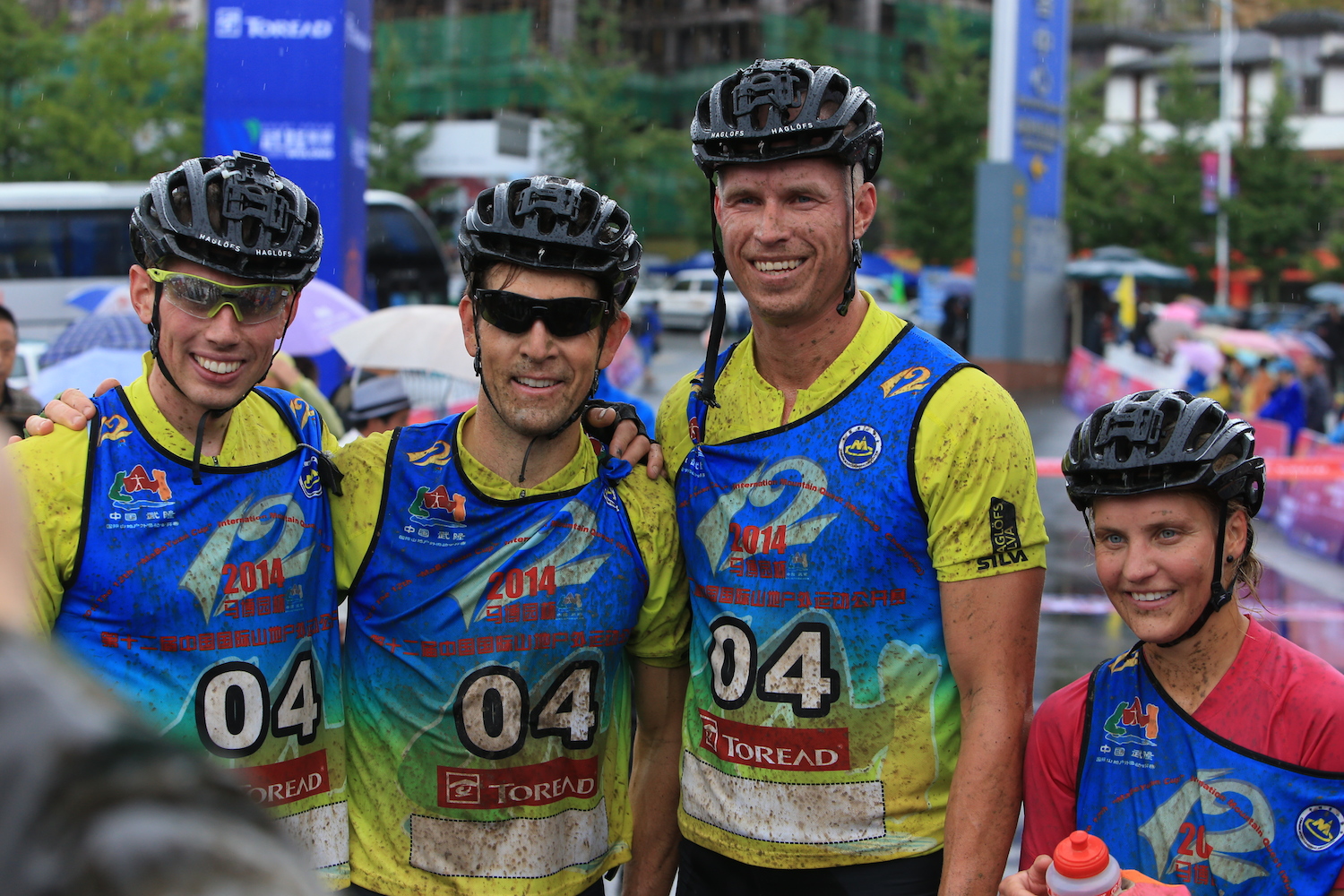 The team after the wet prologue: From left, Mattias, Me, Robert, and Josefine.
PROLOGUE: No major problems
We got through the 45 minute "red line" exercise without major problems. Speed is not my thing, so I suffered, but I recovered enough to be ready for the real racing that started the next day. The day included some hard asphalt running, a chair carry, and  a "bike and run" (where two teammates run, two bike, and then switch off).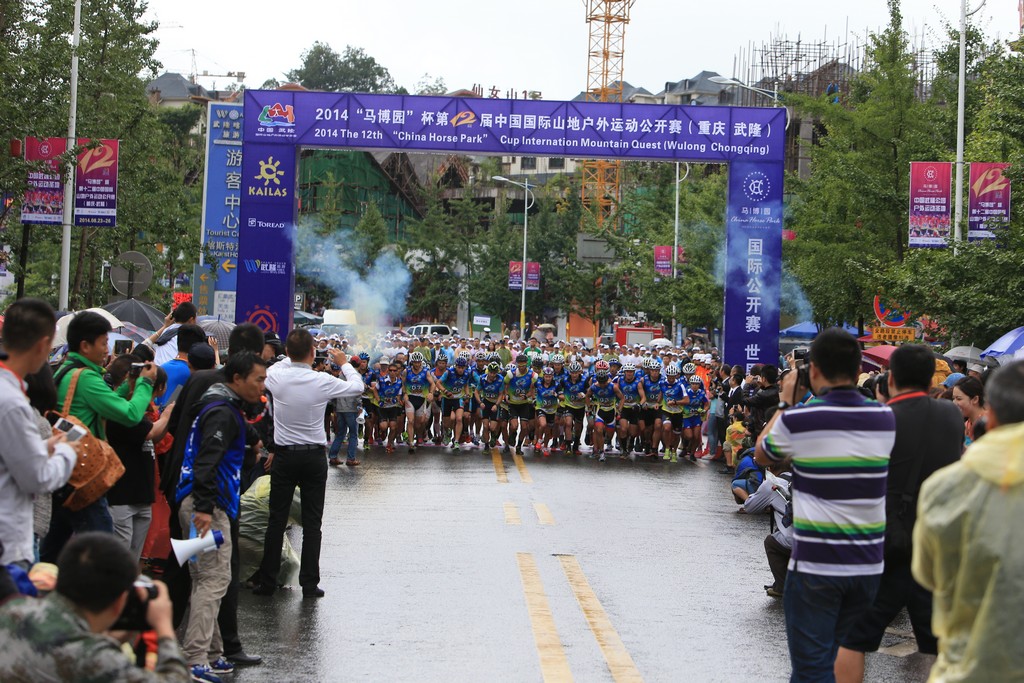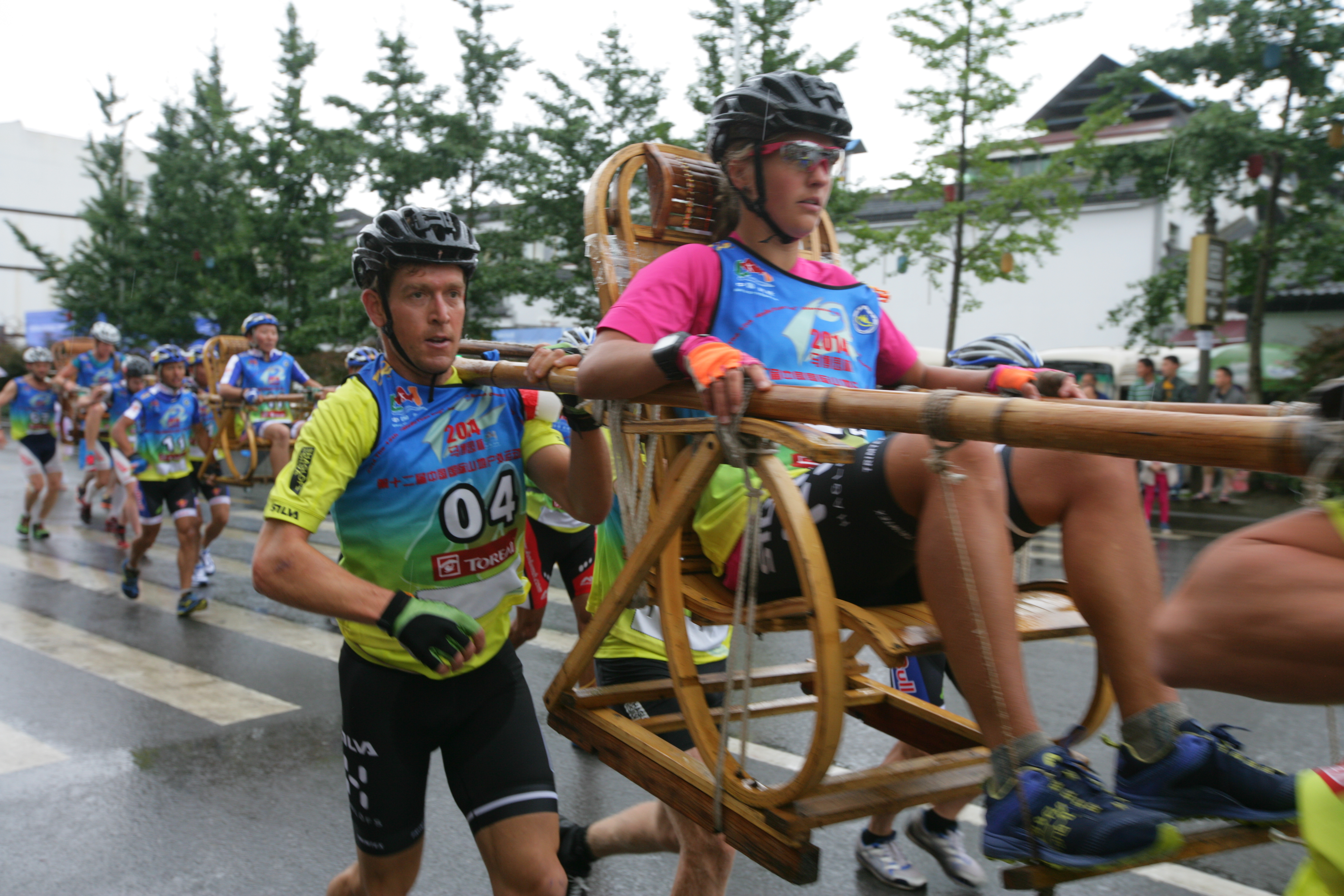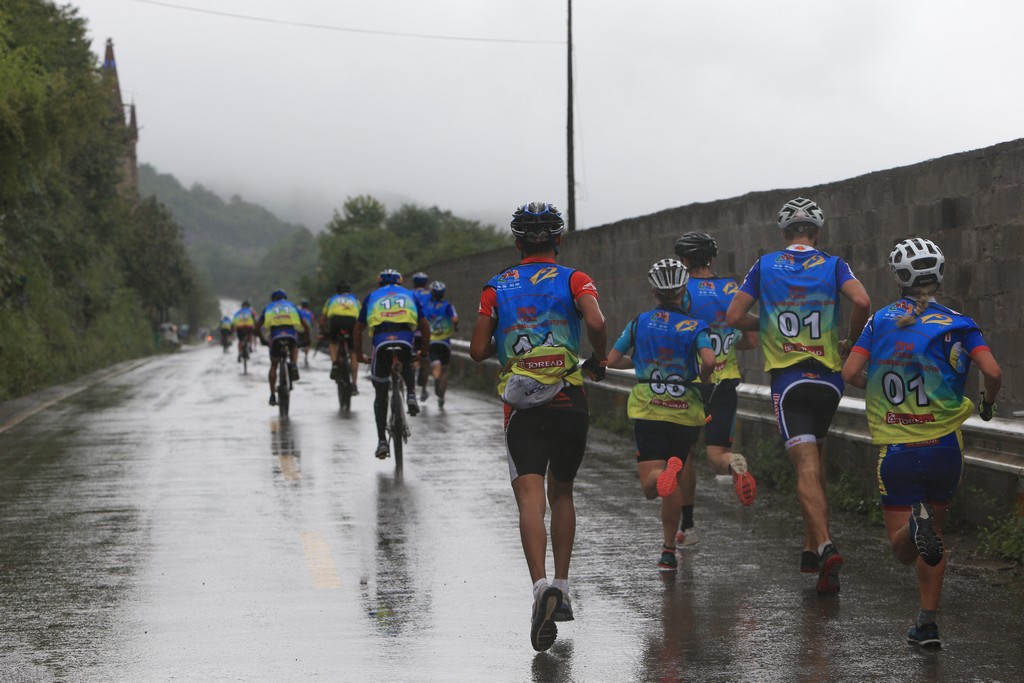 The bike and run
DAY #1: A bike crash, an exciting rappel, and dodging tourists
Due to high water levels, we didn't get to swim through the cave with our headlamps (where we saw the floating dead pig last year). Instead, we ran over a steep hill and were treated to a spectacular rappel in the National Park.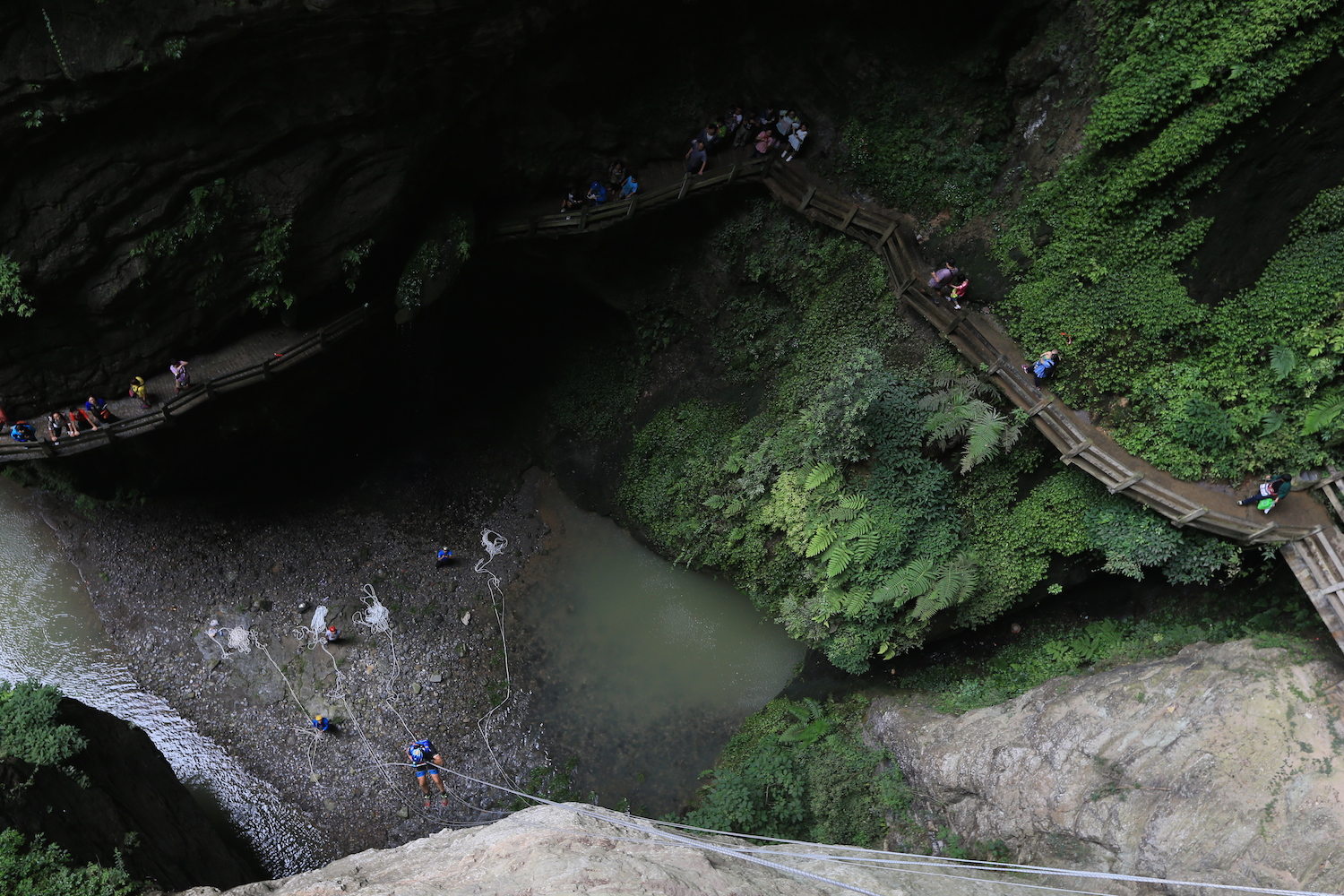 The view from the top of the rappel
As expected, the sun was hot and the climbs were steep, but the team worked well and kept the speed high. We missed a near-disaster when Robert and I made the same mistake on the bike: we took a 180 degree corner too fast and crashed. We should have been more careful given our wet and muddy tires on brand new asphalt. We paid the price by donating some skin. But we quickly adjusted our crooked seat posts and handlebars and rolled down to the transition – we still had a 30 minute run left (It turns out that Martin Flinta from Team Thule made the same mistake on the next 180 degree turn, giving him a left leg strawberry to match Robert and my right leg strawberries).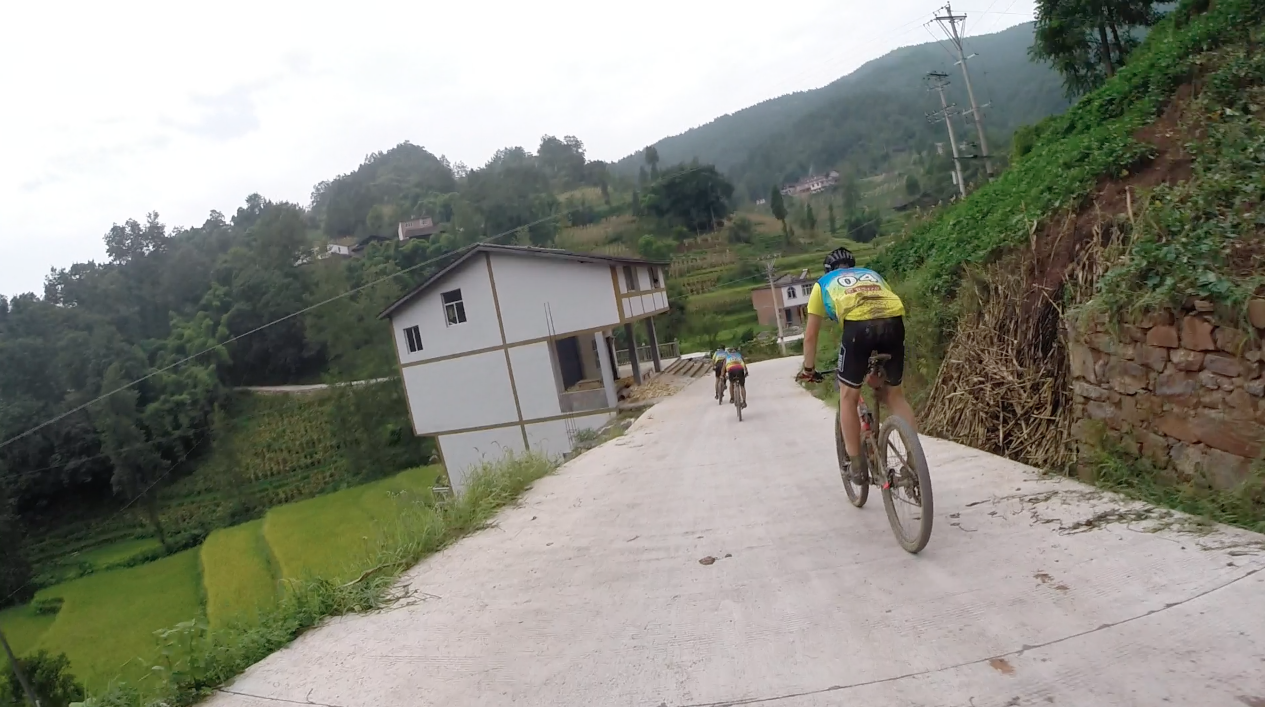 The run up to the rappel was brutally hot (30+ C) but we caught up to 3rd place Team Thorild at the top of the ropes and made an efficient descent. Then we wadded through the water and sprinted to the finish line, dodging tourists on a narrow, slippery, cement trail.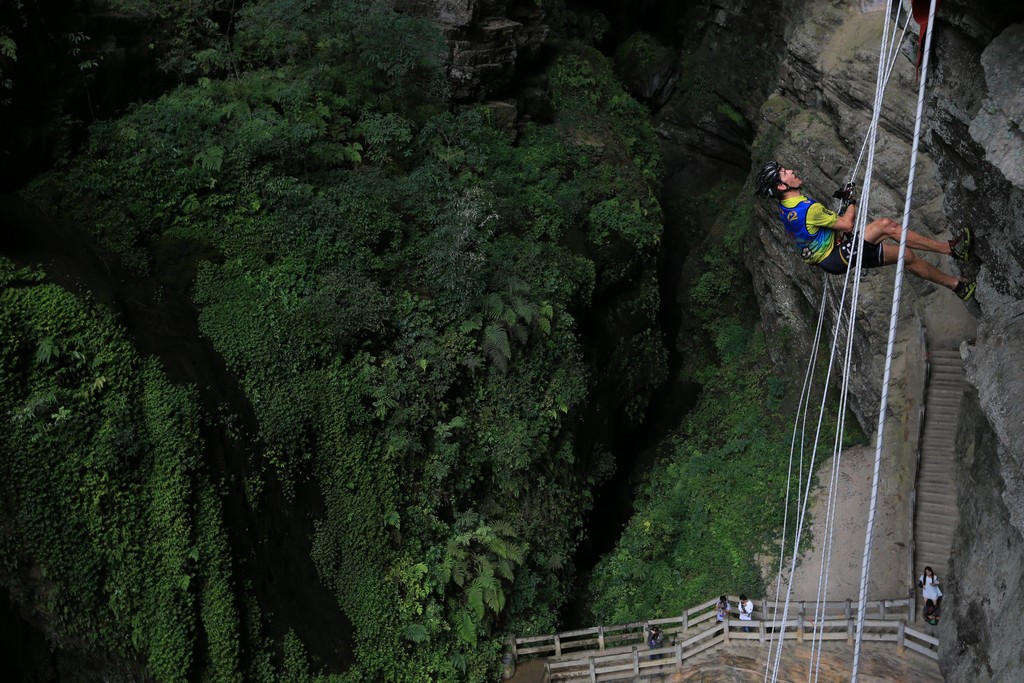 Working my way down the rope …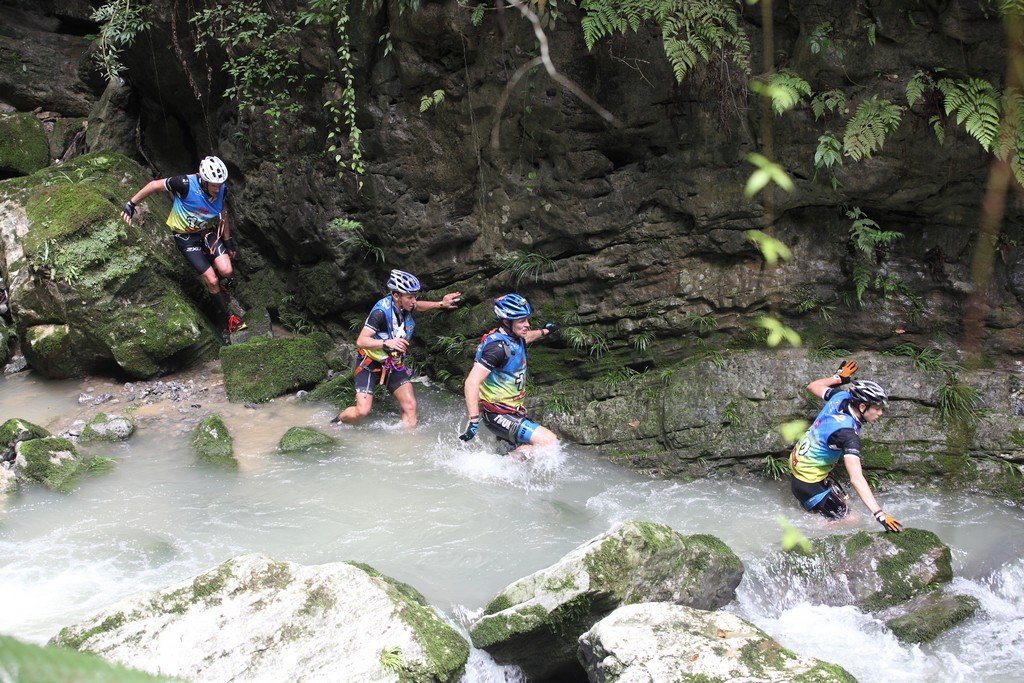 The slippery run to the finish after the rappel.
The bike crash destroyed Robert's back derailleur. It was mostly fixable, but it demanded a lot of time and effort after the race, which took the place of rest and recovery for Day 2. But again, our teamwork was critical: Mattias and Robert worked for several hours on the bike, while Josa and I cleaned gear, fixed dinner, and packed the water bottles for tomorrow. We were in bed before 10 and ready for the 6 am wake up.
DAY #2 – Chinese farmers, a lost mouthpiece, and some "light cramps"
The real action started on Day 2 with a unique start: there were 48 ropes hanging from a bridge, two for each team. When the gun went off, two teammates would rappel down the ropes and swim to shore to meet the other two teammates, who would give them their bikes for the long climb up, up, up into the hills.
The water and air were warm as we waited nervously for the starting gun and stared down at the lake, which looked more like a trash receptacle than a recreational area. I couldn't stop thinking about the primitive household toilets that used prior to the start – they drained out from under each little shack to a ditch, which ran directly into the lake.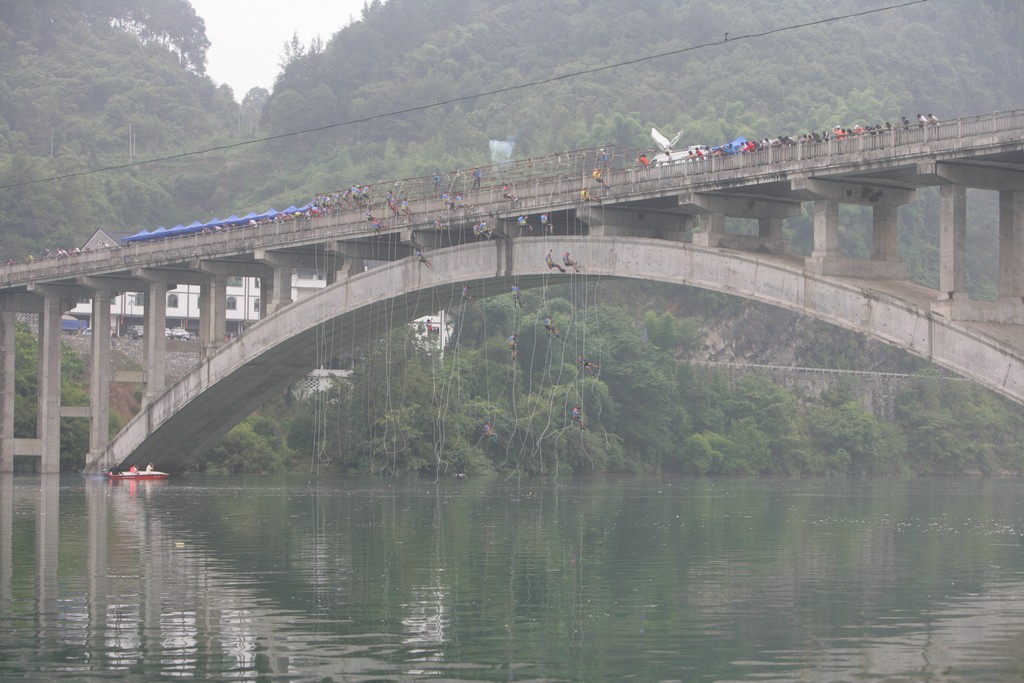 20 teams of two launching themselves off the bridge. 
PANG! Robert and I hopped over the bridge railing and descended rapidly. Neither of us are triathletes, so we did our best with a breast swim and the occasional crawl. Most teams passed us, but we took it easy and caught many on the bike.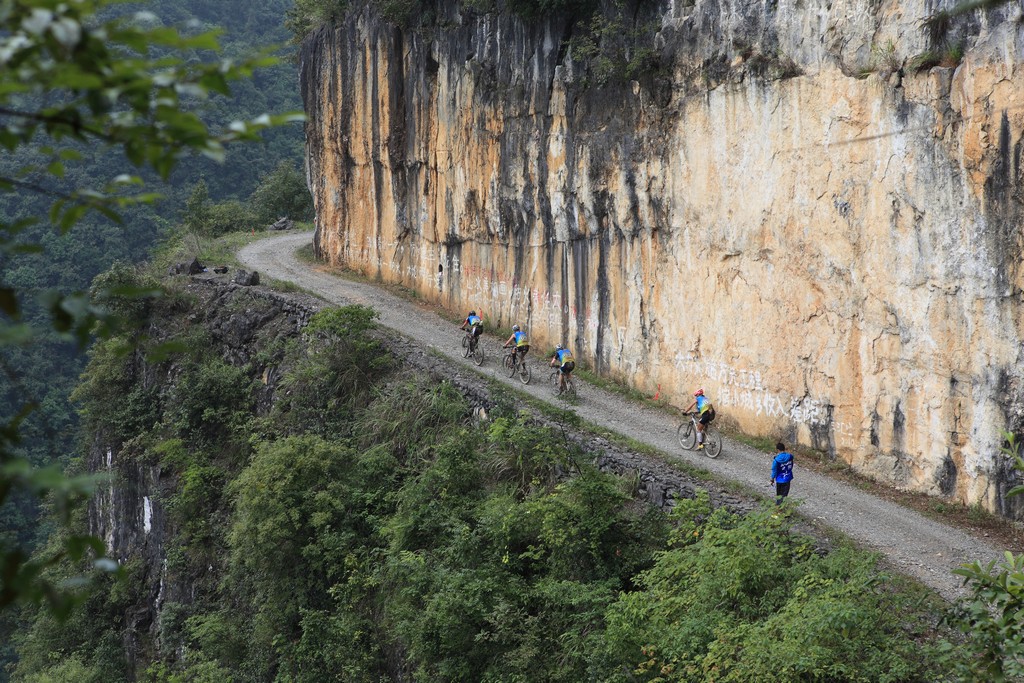 I have vivid memories from the steep bike climb. I remember counting the sweat droplets on the cement from the racers ahead of me. I remember local families cheering us on. Kids were screaming at the top of their lungs "Ji-o … Ji-o … Ji-o", caught up in the excitement; their fathers puffed cigarettes and stared at us wondering what drove us to do such things; mothers flashed toothless and un-judgmental smiles, seemingly inspired. I also remember women in their mid 30s (but looking more like mid 50s!), carrying wicker baskets as back-packs to the market, full of squash, pumpkin and other gourds. They picked their way down the narrow and over-grown tracks that we raced down at top speed.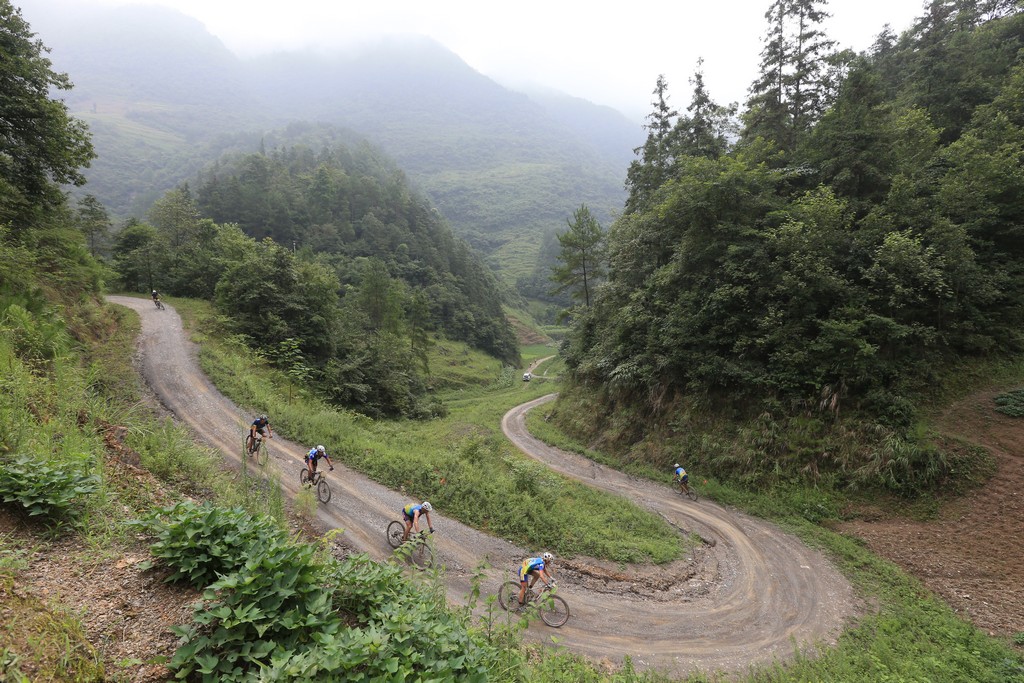 The bike brought us to the spectacular canyoneering , where we boulder-hopped, jumped off cliffs and swam through a steep ravine. Thanks to an equipment malfunction I lost all of my water at the beginning of this stage (my water bladder mouthpiece fell off on one of the jumps and all my water poured out). I had packed  2.5 L to get me through this 75 min run plus a 90 min kayak and now it was all gone. Mattias gave me his backup 500 mL bottle, which would have to suffice. One thing working in my favor was that the canyoneering included a lot of swimming, which kept me cool. But the same cannot be said of the paddling.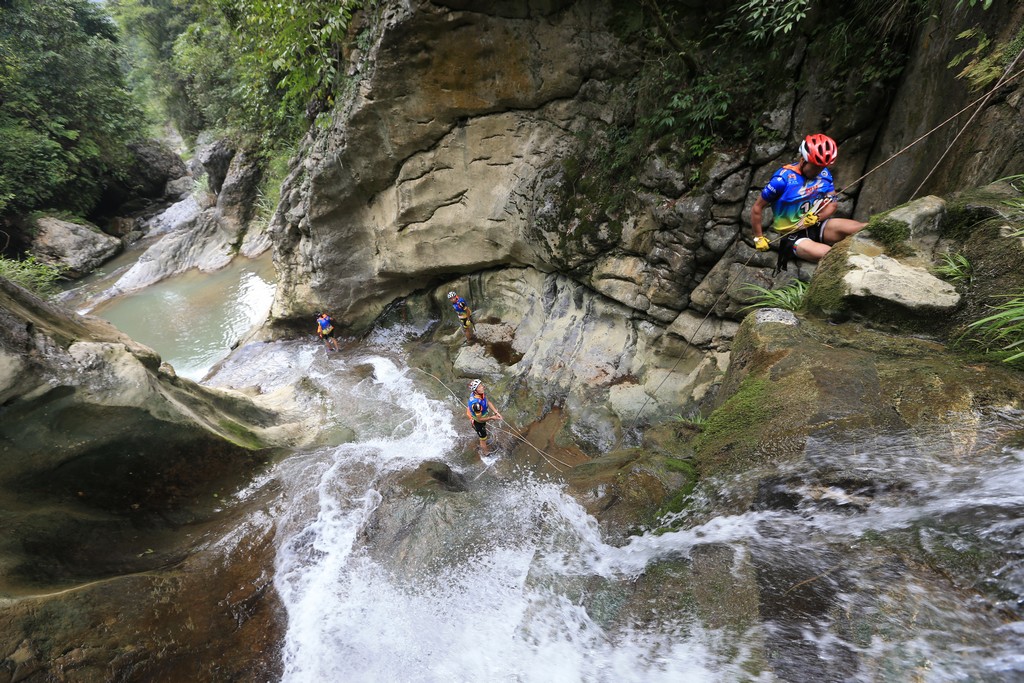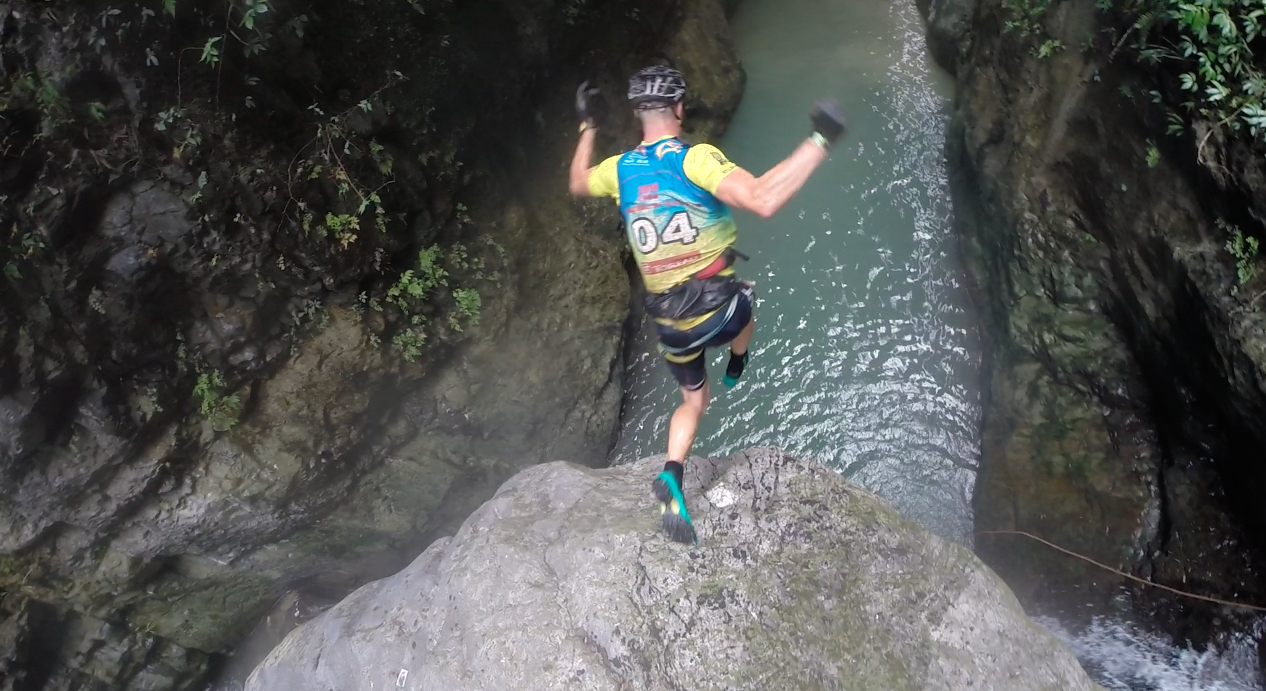 Robert and I got to the first big jump together and he looked at me and said "wanna go first?" I said, "Sorry, I have the GoPro so you gotta jump for the camera!"
Mattias taking the plunge while Jose swims to shallower water.
We caught up to the leading teams as we switched to kayaks and paddled through an impressive and narrow gorge with hanging vines and ubiquitous green vegetation. It was an inspiring landscape, but looking up was quite a contrast to looking down, where the turquoise water was filled with toothbrushes, shampoo bottles, styrofoam, sandles, shoes, boots, insoles …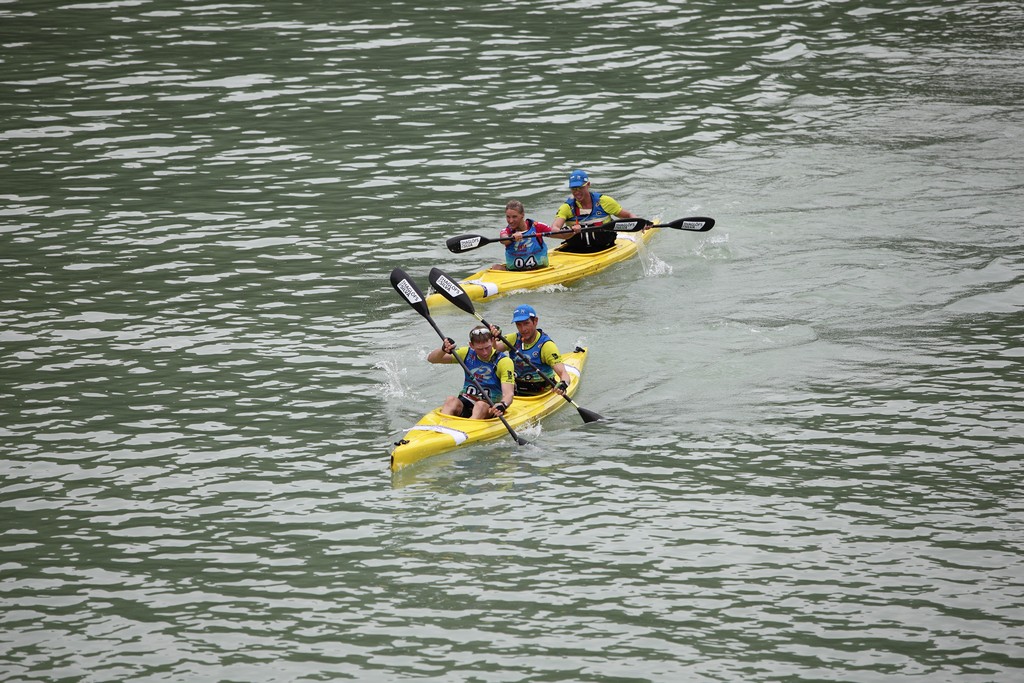 We came out on to the main reservoir and felt the heat.  We gained on Team Red Bull ahead of us, but in the end, they held us off and we ran in as the 4th place team again. The 300 meter run from the water up to the finish line didn't go well for me. My water shortage caught up to me and my legs cramped. I needed help from Mattias to get up the stairs, but this was nothing compared to the help I would need tomorrow.
Dehydration and other physiological stresses (e.g., weight loss) from a 5-hour endurance race have lingering affects. While you can generally push through them on race day, the body requires up to 48 hours to undergo complete repair – a luxury none of us have. Without extraordinary efforts like EPO or blood transfusions, a battered body will never perform as well the following day. This is just another reason why taking care of your hydration is critical in these stage races.
Click here to continue reading in Part II