So there I was running in to the Huså transition in 3rd place.  Daniel H. was 3 min ahead on the bike and Björn R 50 seconds ahead. I had them right where I wanted them. If I played my cards right I could ride in to the Åre Torget finish line in first place …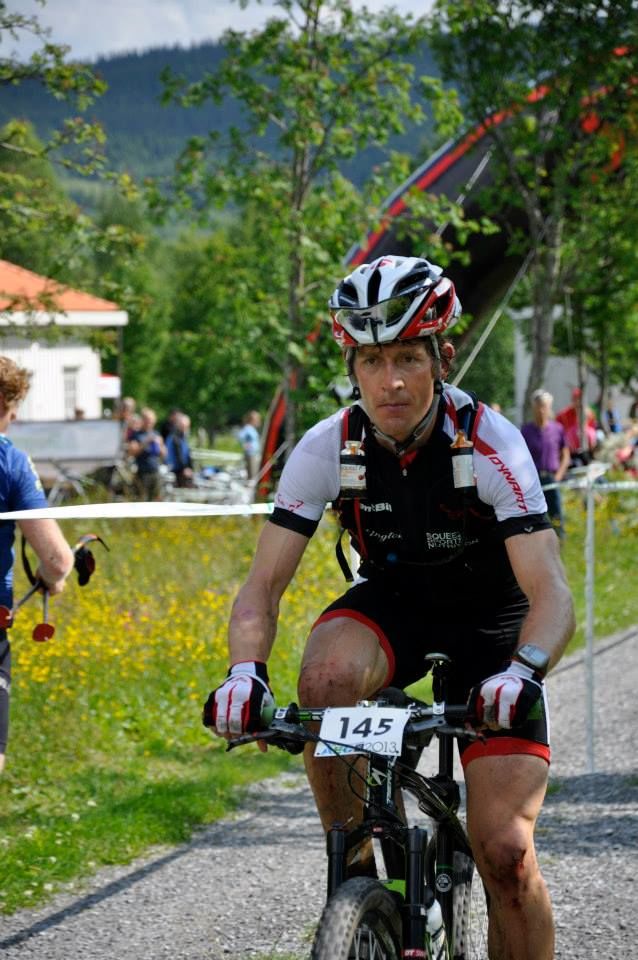 (Leaving Huså feeling focused and motivated. Photo: Sven-Åke Nordenmark)
In fact, thanks to some patient and strong riding – including a little luck – I passed both of them and found myself in 1st after about 20 minutes on the bike. Make your move NOW Scott !!
So what happened ? Why didn't I make that move ?
Well, let's go back to the beginning …
07.40. Paddling around Tannforsen during the 20 min warm up is always a powerful experience, where at least 100 cubic meters per second of water are pouring over the nearly 40 meter drop while 200 nervous kayakers paddle around in circles waiting for the start.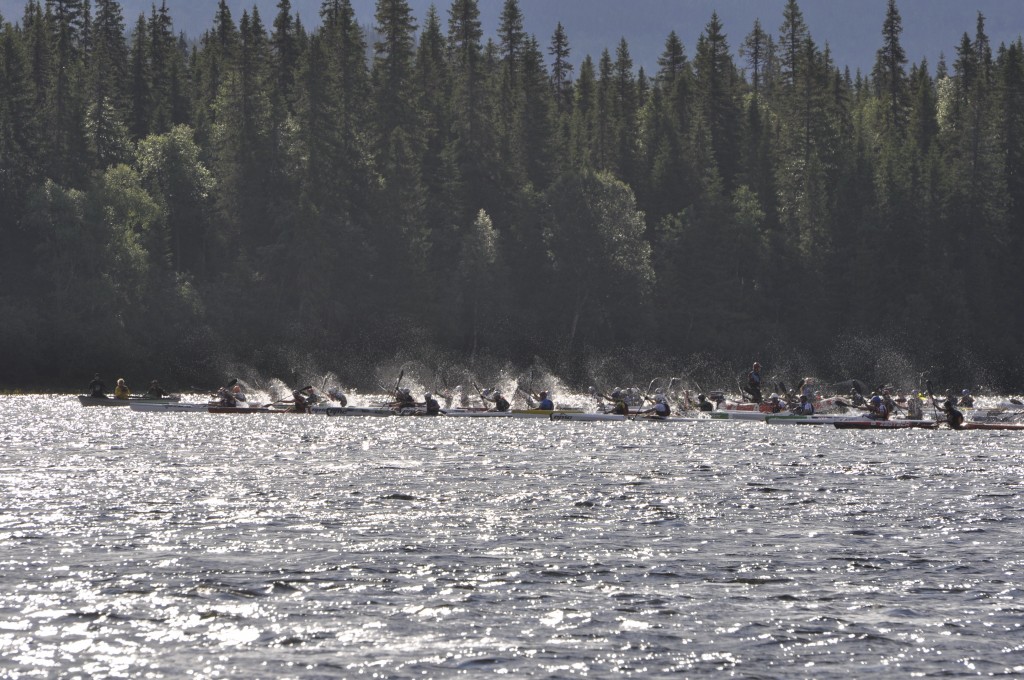 My stroke felt good and after 6 days of forced rest in the 8 days leading up to the race  (thanks to a cold), I was ready to go. The wind was blowing from behind so I was careful not to get up to the start line too early, or risk being blown past it and getting penalized. I was floating slowly toward the start line waiting for the 10 second warning when suddenly everybody took off !!! Oh crap, I had missed the 10 second warning !
I went like hell, but it was too late.  I was boxed in on both sides and I watched the leading group slowly pull away. Thank god for the tough headwind or else the lead group would have really gotten away and that mistake would have really cost me. As it was, I entered the first set of rapids with at least 35 or 40 boats ahead of me. In previous years I was among the top 10 boats. This was not a good start.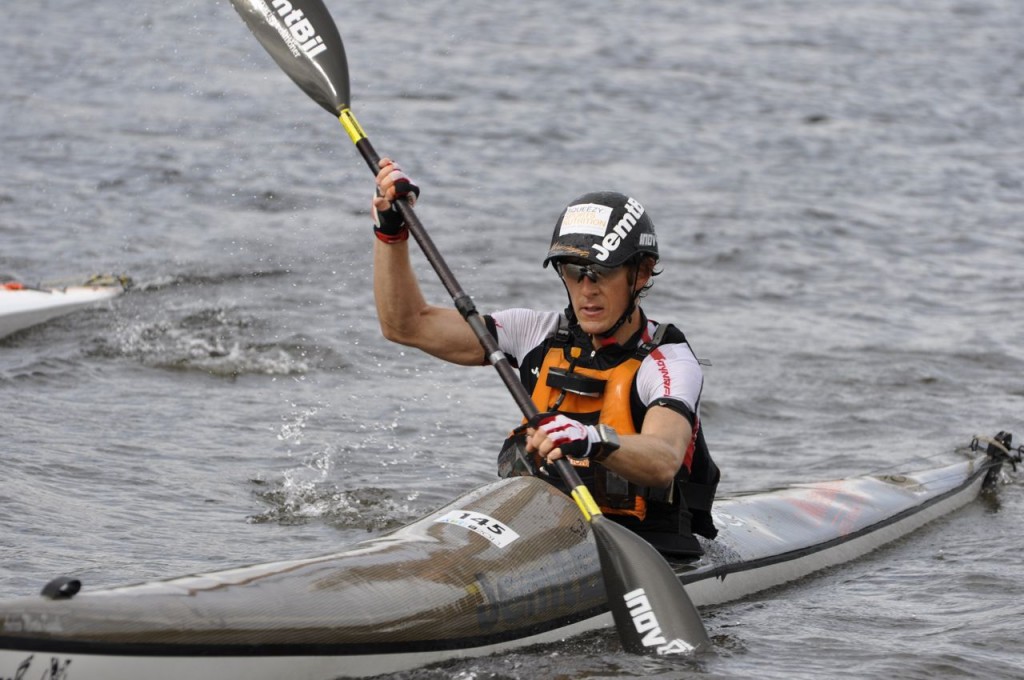 (Making up lost time … Photo: Sven-Åke Nordenmark)
But I battled hard and made up lost ground. I cut every corner and took some risky lines through the rapids. While 95% of the field took the "safe route" down the left side, I went right. I had one near 'race-ending' mistake when I hit a rock and lost my balance. A spontaneous 'brace stroke' saved me and I came out of the first set of rapids with only about 15 boats ahead of me. Good progress …
I fought like hell against the headwind in "no man's land", i.e., without any kayakers in front of me to block the wind I was using a lot extra energy. We entered the next set of rapids and once again I took a risky set of lines – by cutting corners I was exposing the side of my kayak to the rapids, which is less stable than running parallel with the rapids. But it worked. I gained several positions through these rapids too, and then during the portage I raced through the woods and jumped back in my boat faster than everybody else. I earned a few more positions.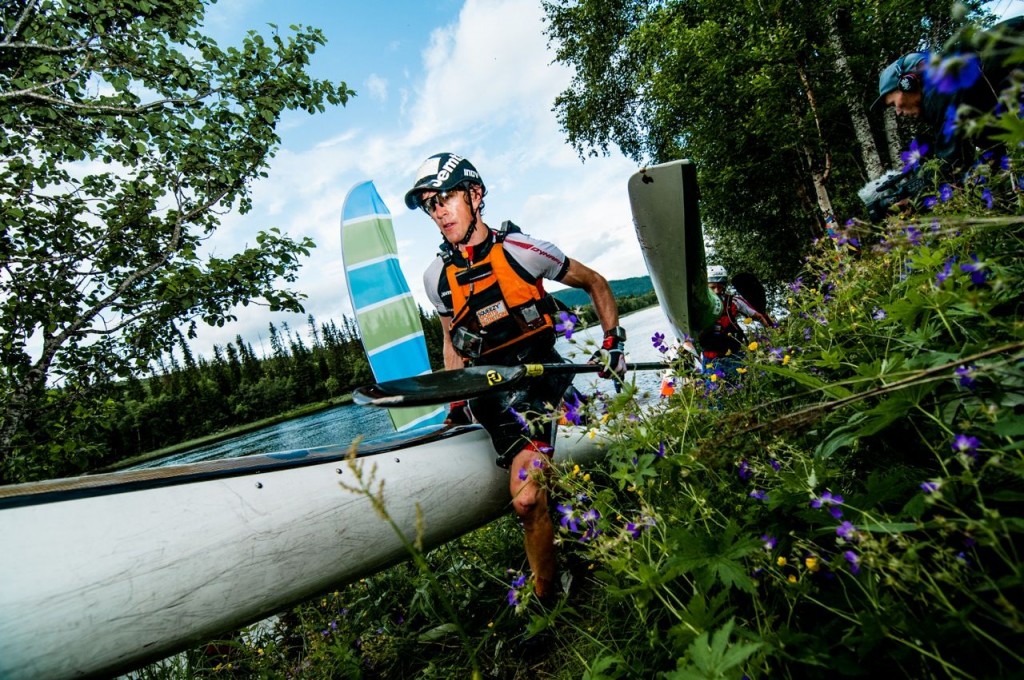 (At the first portage. Photo: Jakob Edholm)
At the second kayak portage, I earned a few more spots and set off for the last hard 25 minutes of hard paddling against the wind. I went hard but lost steam after 10 min. Then Richard Brankell raced past me in his New Zealand multisport boat (a fast F1) and I jumped on his wake to conserve energy. But I could only hang on for 5 min, then he pulled away and I was left to fight the wind myself !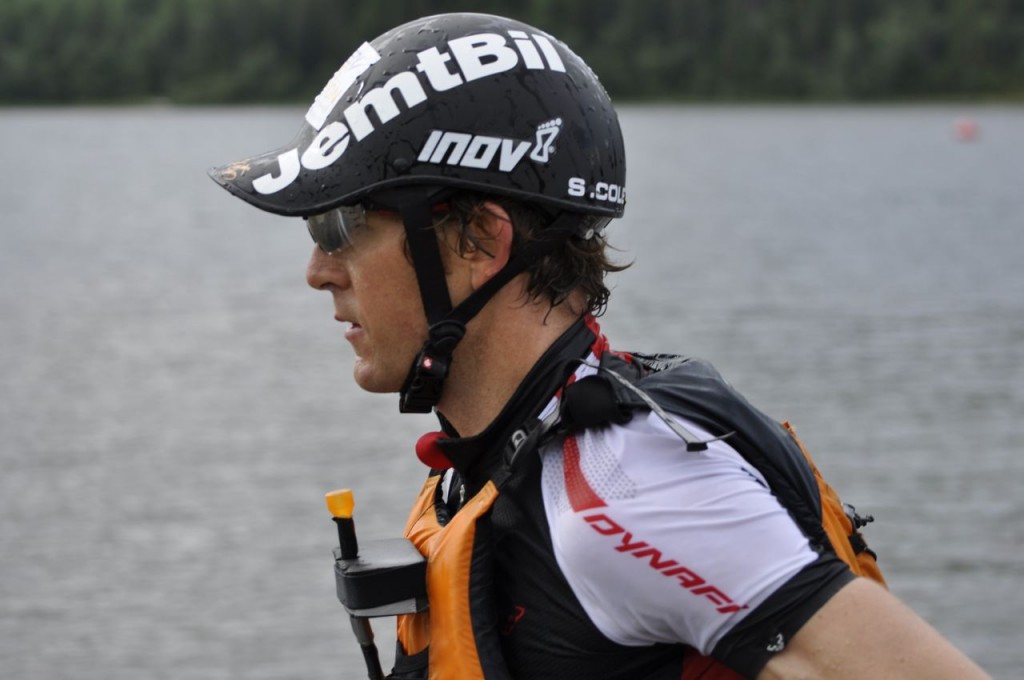 (The second portage. Photo: Sven-Åke Nordenmark)
In the end, I raced in to the "paddle-to-run" transition in Åre Torget in 7th place, which wasn't bad considering my start.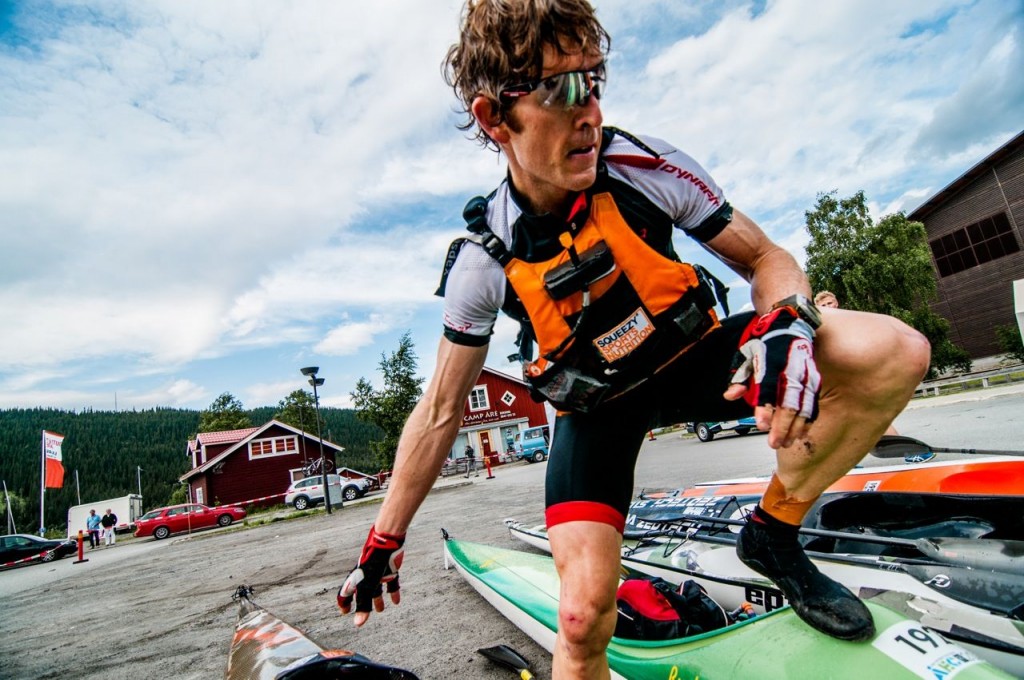 (Dropping the kayak in the parking lot outside Holiday Club.  Photo: Jakob Edholm)
The extra 20 seconds it took for me to change from kayak booties to running shoes cost me as Emil D passed me in the transition. Emil was my teammate in China in April so I figured I could keep his pace, but I could not. He accelerated and reached the top in 52 minutes, but it took me 54. During the climb, I passed several competitors and my former teammate John Karlsson and I raced over the top together in 4rd and 5th, respectively.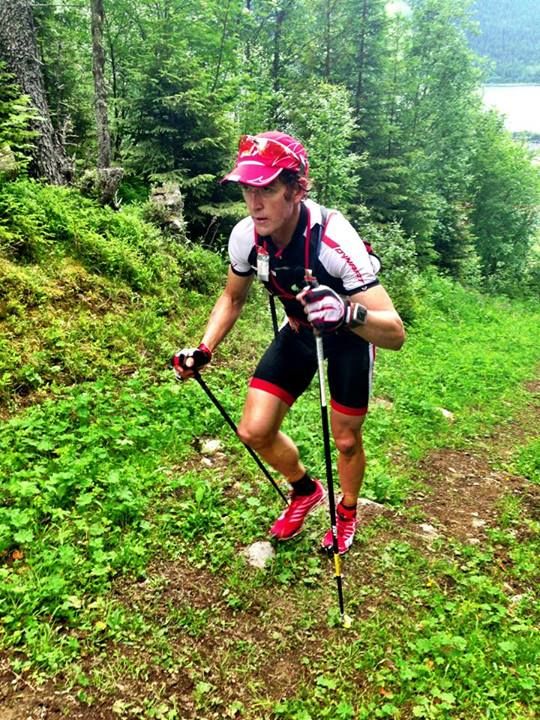 (Using poles to gain elevation efficiently. Photo: Erik Putsep)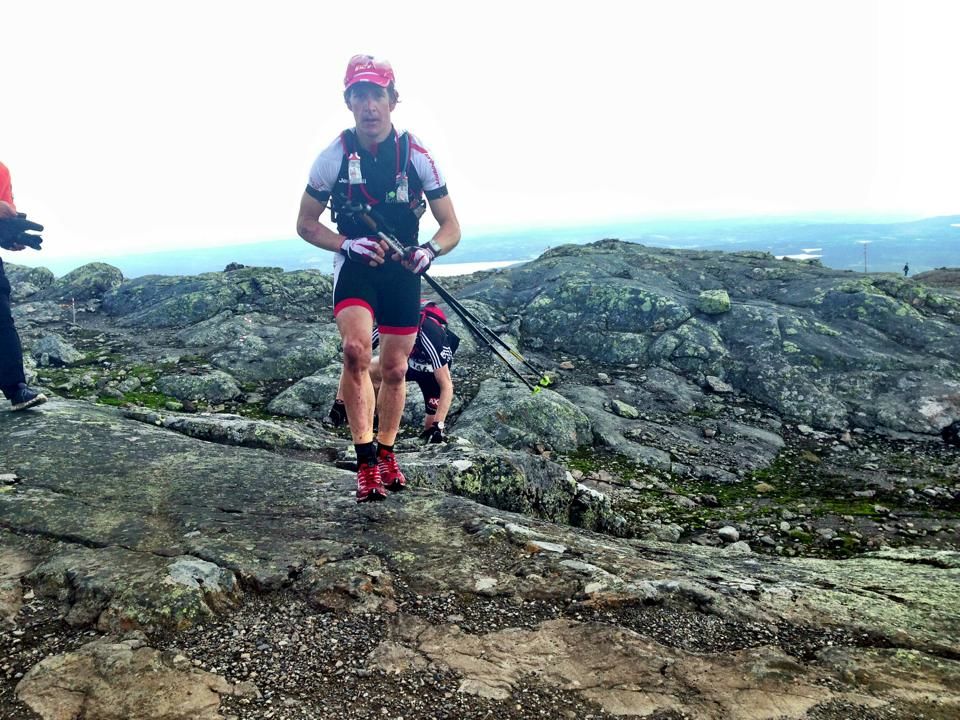 (John and I reaching the top after a 1,000 meter climb. Photo: Erik Putsep)
John and I passed Emil on the way down. John and I chatted a bit, but we were both exhausted and pushing hard. Was this going to be a re-play of 2011 when John and I raced together from Tott Hotel to the finish? No, not this year. I got away from him during the descent and, as I found out later, he fell and nearly knocked his shoulder out of joint. He was forced to withdraw but the X rays showed no major damage so he should be back for the Helags race in 3 weeks.
During the descent I caught sight of Björn several times, which told me that I was in good position and must have earned some time on him during this run – this should have surprised me and caused me to think harder about what might be going on, but instead I took it as a positive sign and pushed myself harder to catch him on the run.  Looking back, this may not have been such a good idea … (it turned out Björn missed a trail marker and wasted time trying to find the trail … and this from a previous ÅEC winner who has run this course at least 25 times !)
My support crew Björn Gund was a few kilometers up the road from the Huså transition and told me that I was 3 min behind Daniel and a little over a minute behind Björn. Thanks to a fast transition in Huså, I reduced both of these times as I biked out of Huså.
I had them right where I wanted them … During the first 10 minutes on the bike I took it easy, spinning the legs in to action. I ate and drank a lot to make sure I had the energy I would need later on (several caffeinated Squeezy gels and bar and some Coke – I was getting wired J )    The upcoming trail was technical and would make eating difficult, so this was my chance to consume calories.
One of my favorite moments of the race was at the first time check when we crossed the road just before entering the long uphill snowmobile track. There were tons of people cheering me on. My support crew had written the times on a little white board and it showed I had gained on both Daniel and Björn. I was too exhausted to do more than smile, but I felt a surge of adrenaline as familiar faces screamed and told me to PUSH, PUSH, PUSH. I've always wondered what it was like to be in the Tour de France and have the crowd literally descent on to your handle bars and this was perhaps the closest I was ever going to come to that experience J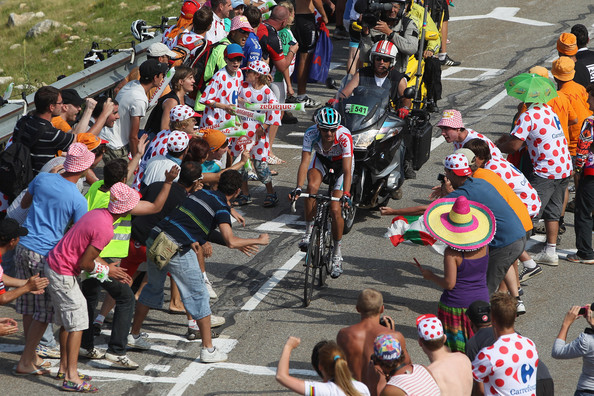 (Scott's dream of being surrounded by crazy Tour de France fans on the ÅEC course.  Photo: No idea, but it came from Google Images…)
I felt good on the next long climb – it was technical and it fit my strength. I gained on Björn and made it up the entire hill without clipping out of my pedals. In an example of our different riding styles, Björn was constantly off the bike running up the steep hills, technical parts or wet swampy bits. I tended to rely instead on my cycling muscles and pedaling efficiency. Neither approach proved to be better than the other until we reached the swampy ski track in Björnen and the long swampy descent after "gettrappen". In those wet sections, Björn's approach proved superior … or perhaps it was just his stronger legs that were the difference?
It was during this section that I saw Daniel on the side of the trail fixing a broken chain. After that, I knew the race would be between me and Björn (although nobody told that to Emil !)
Back out on to the short road section and Björn took back all that I had gained on the trail. This was worrisome because it showed that his legs were stronger and that my only advantage was on technical bits.
But then I was able to exploit my downhill skills. At the bottom of the descent through Fruagrova I caught Björn and was passing him on the left when I heard him turn to his support crew Anton (who was cheering on the side of the trail) and asked "How far back is Scott?!" I answered on Anton's behalf: "I'm right here Björn" J
So there I was, with a surge of momentum from the downhill, a burst of confidence from my cocky response to Björn's question – this was my chance to make my move ! Do it now Scott !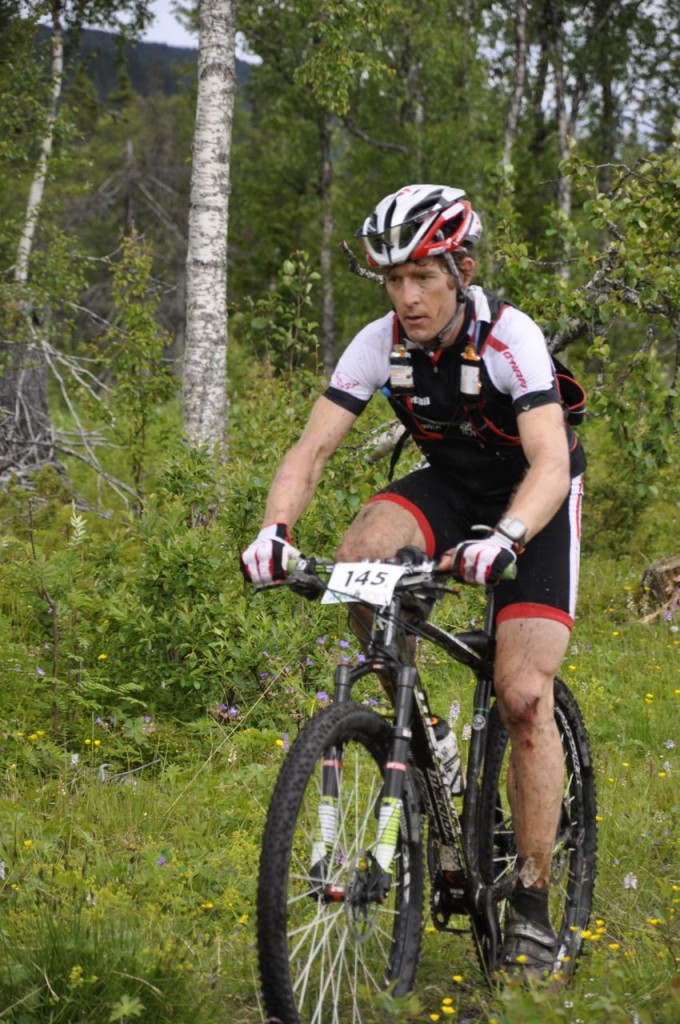 (Make your  move Scott !. Photo: Sven-Åke Nordenmark)
But when I tried to push my legs didn't answer.  I tried to coax a little more power out of them but despite a fantastically successfull spring of racing, I didn't have what it took when I needed it most. To make matters worse, Björn had it. He passed me a minute later and took over the momentum of the race.
I tried desperately to hang on during the long climb up "gettrappen" but I watched him pull away in the pouring rain and I couldn't do anything about it. My heart rate exploded and I knew I was in dangerous territory – I can't hold this pace for more than a few minutes – and yet he continued to pull away.
He must have earned a few minutes on this climb but I took back a bit on the following descent and was only 50 seconds behind him at the entrance to the power line section. But my legs were cooked.  Before long I found myself staring up at the last long climb and thinking: "Do I have tire flat? Why am I moving so slow?!"
Then the ultimate sign that I had hit the wall: I actually looked up at the last steep section and thought to myself, I might have to get off and walk this …
And I did.
And at that very moment – to add insult to injury – Emil D came powering by.
Ouch.
I limped in to the finish line in 3rd place knowing that I gave it all I had today. Björn was the strongest rider. And Emil paced himself better.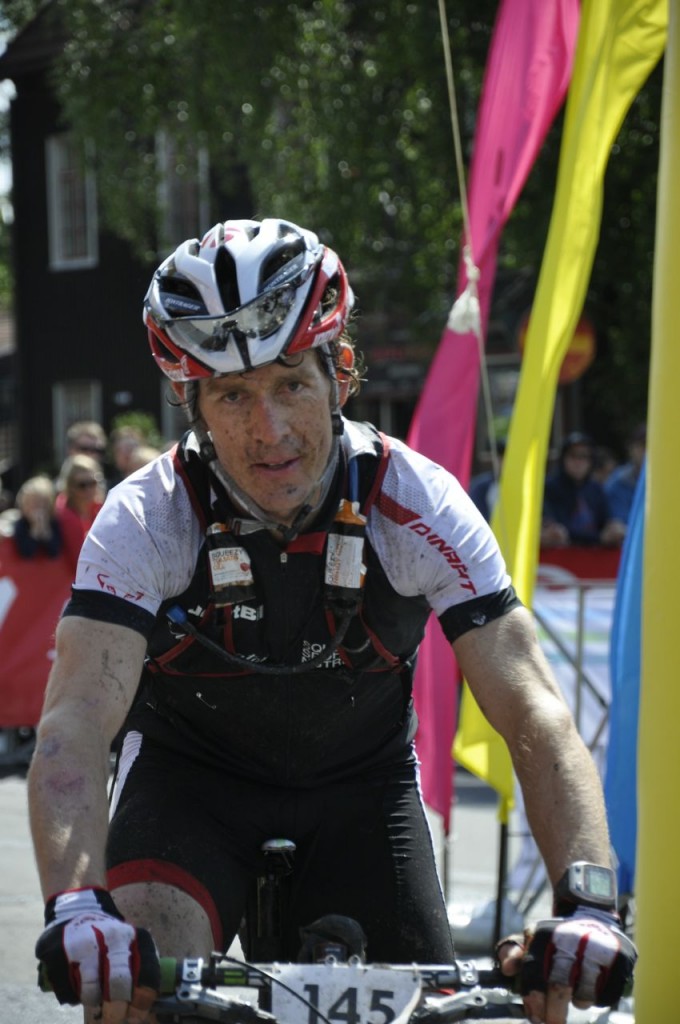 (Crossing the finish line. Photo: Sven-Åke Nordenmark)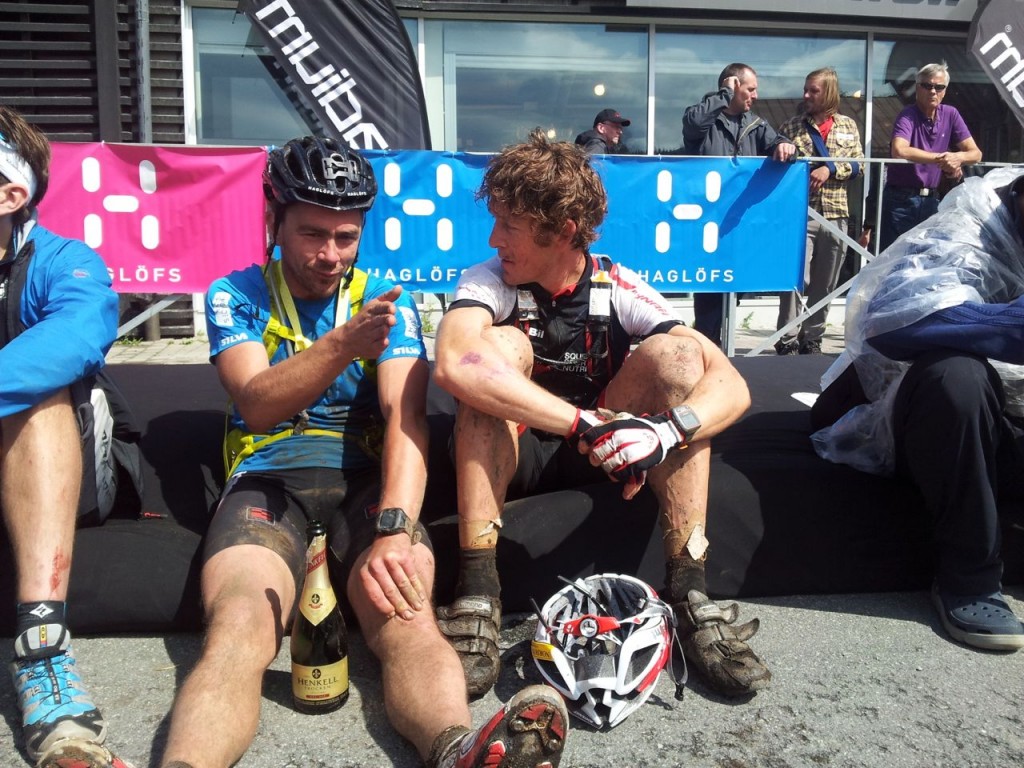 (Björn and I discussing the course. Photo: Hans Lundqvist)
My post game analysis:
Björn raced a perfect race. He conserved his energy on the run (which may be one reason I was able to catch up to him …) and applied his strength when he needed it most: on the bike. He had a perfect day, just like I had last year. And that's what it takes to win.
I'm left to wonder whether I might have had some more energy on the bike if I had not wasted it during the paddle trying to catch up. But that's racing. Victories do not allow for such mistakes.
Last, I need to do more swamp running … with or without my bike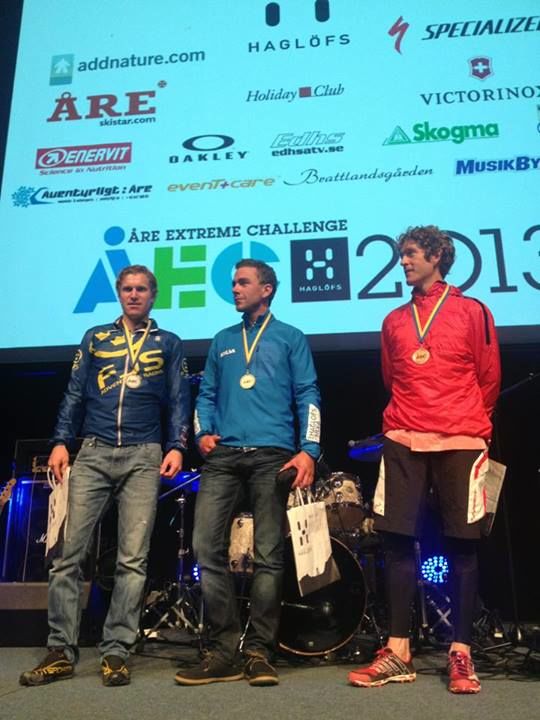 It's time for a little recovery … then it's time to get after it. I have a lot of racing left in 2013  !
Scott
PS To subscribe to my blog,  click on the "mail envelope" link up to the right. Then choose (1) to get an email each time I update my blog or (2) to get weekly summaries.