Hey from Göteborg … after a great multisport weekend in Hälsingland !
I picked up my new multisport car from JemtBil on Tuesday and met with my new sponsor WoolPower on Friday afternoon on my way to Hälsingland. Thanks to JemtBil I have a luxury SUV – a Kia Sportage.
Woolpower is supplying me with  "non-smell" wool undergarments, made locally in Östersund and sent around the world. Here I am with Karin and Eva right outside the factory.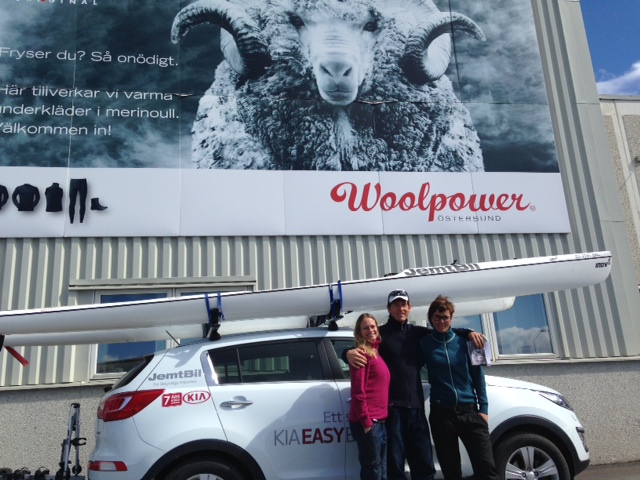 The Kia Sportage ready to rock for the 2014 season …
I was invited by Hälsinglands Multisport Club to give a lecture on multisport training and racing, followed by a paddle instruction course.  It was a really enthusiastic group who appreciated a few pics and stories from China and New Zealand, together with a few of my best endurance training tips.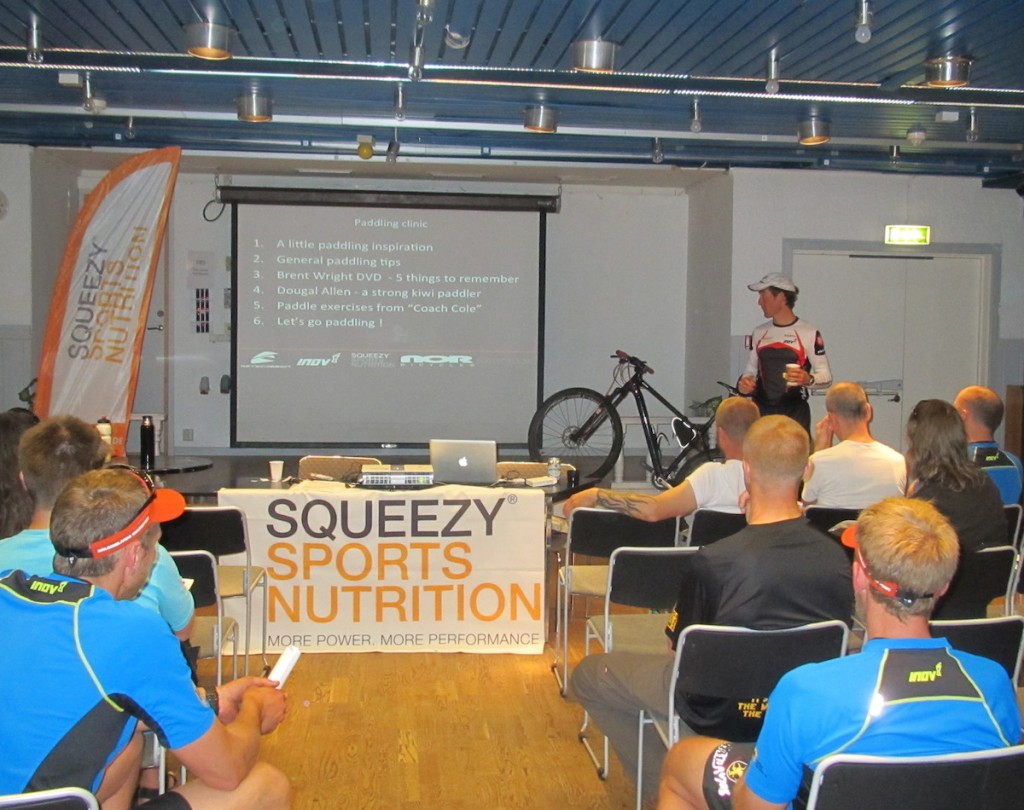 Thanks to my sponsors for some nice giveaways at the presentation…
I really enjoyed connecting with the 15 multisport kayakers during the paddling clinic, which included some videos, pictures, and on-water technique drills on a beautiful sunny evening. It was great fun – especially when I saw it "click" with a few people on how to use their torso to paddle instead of their arms —  A fun group to work with!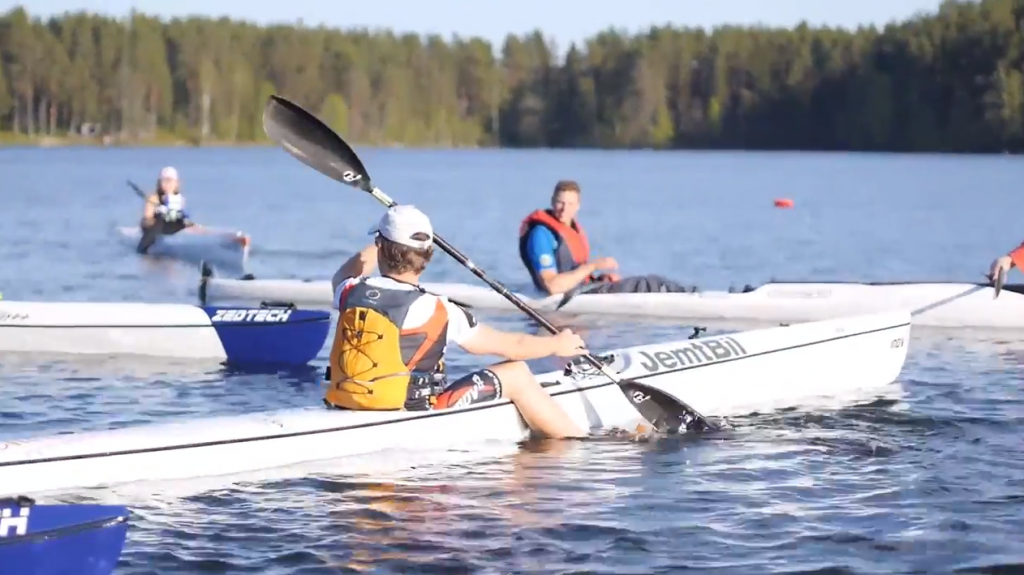 Trying to demonstrate my best paddle technique for the group
Besides inviting me down as a speaker, the Club also entered me in two tough races. On Saturday a technical trail run and on Sunday a technical mountain bike race.
The run was in a small forest in the middle of Söderhamn, with lots of up and down. I came third in the "mountain sprint" to the first high point, but that's OK — I was saving myself for the long race.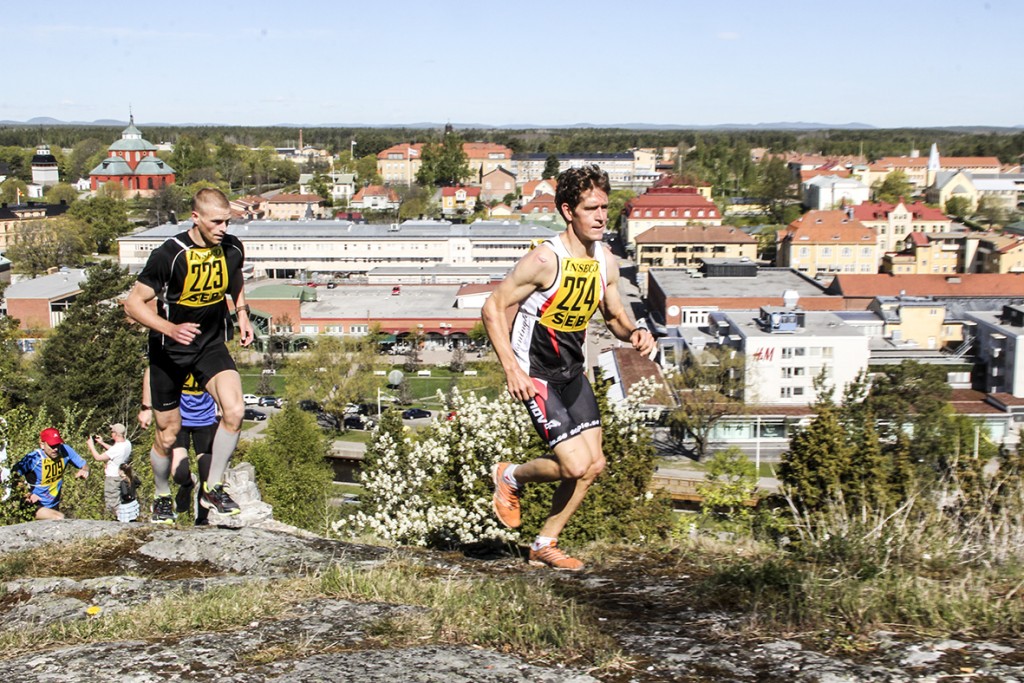 Battling it out on the first hill in the 11 km trail run with 350 m of vertical, with Jörgen right on my tail.
In the end, I came second after losing a sprint to a guy I have coached for several months. Yes, it was initially awkward, but then again, I guess I taught him well

 Nice job Jörgen, you're gonna be tough at ÅEC ! A little recap in Swedish here.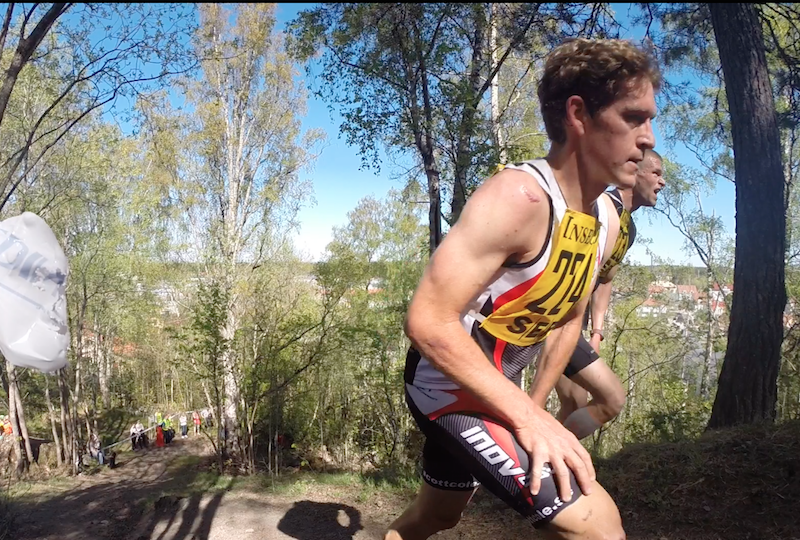 Going head to head with Jörgen on the steep hill before he pulled away for the victory.
After that hard run on Saturday, I wasn't sure how my legs would react in the mountain bike race on Sunday. I anticipated a disaster after 20 bikers passed me in the first 2 minutes — my legs were like cement! But then, as usual with my diesel engine, I got going and reached the top of the first hill in 3rd place and quickly put in a chase on the two leaders.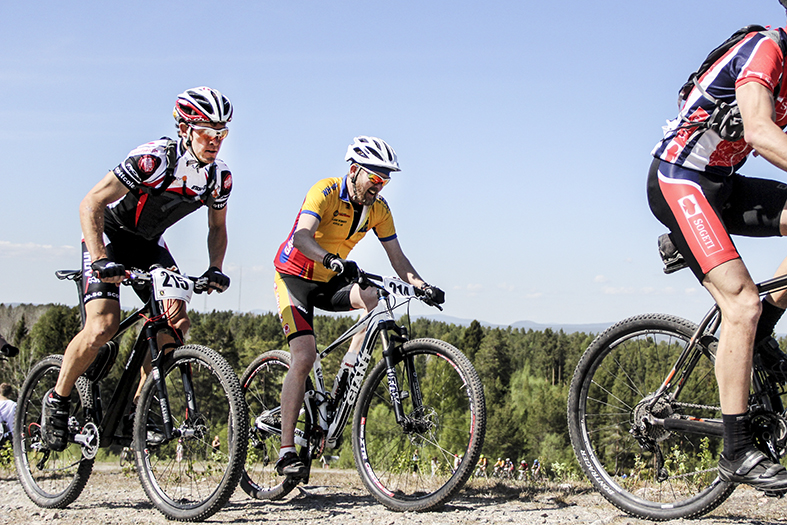 Making my move at the top of the first hill
I consider myself to be a technically sound rider, but I could not gain on these two guys in front, even though I felt strong in those 20 minutes after the first hill. They flowed over the bumpy "rock gardens."  These guys were good.
Then suddenly something went POP and I found myself looking up as my bike flew over my head. A bit dazed, I got up and pulled my chain back on gave chase. But now I had 'gifted' these guys another 40 seconds. Damn.   Well, at least nothing was broken on the bike.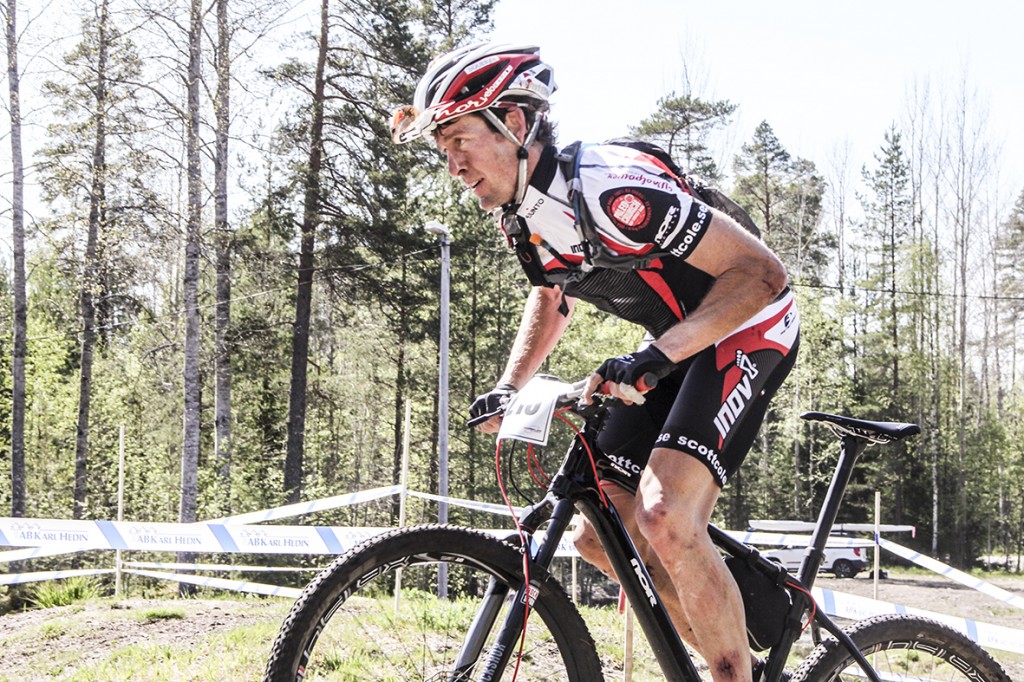 Playing catch up …
I pushed hard and ended up catching 2nd place and we had a little sprint to the finish, but I started my sprint too late and he won … oh well, I was happy with this hard 60 minute effort. This weekend gave me some important speed training. Next weekend might be more distance focused.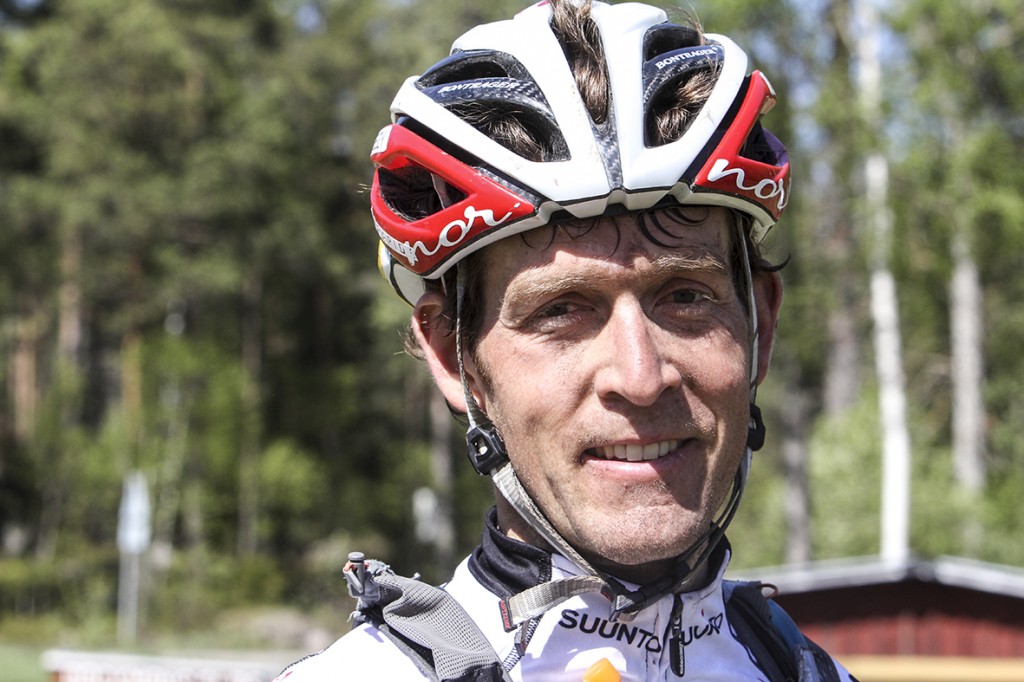 Tired but satisfied. 
They even had a kids race, which is a great idea! We need more of that …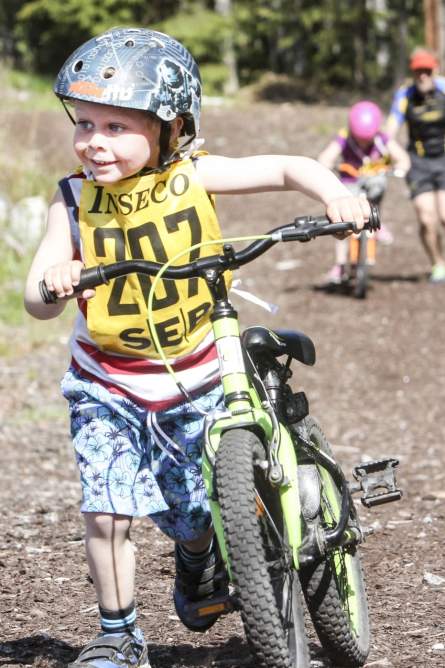 Here is a fun little video that Jens from Sweden Trails put together from the whole weekend… Thanks Jen !
In other news, I've got a teammate for the Funbeat Race of Champs in two weeks at the Scandinavian Outdoor Games. I'll be racing with Jari "0.001% body fat" Palonen.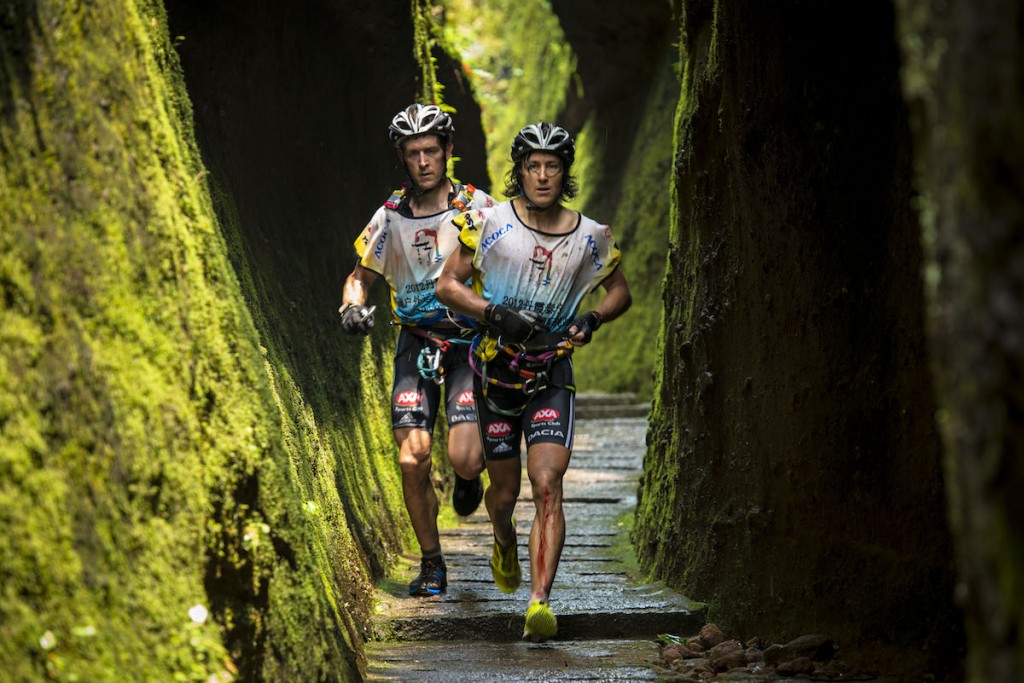 Jari and me in Taining, China, 2012. Photo: Andreas Strandh.
Jari and I have a long history of racing … besides racing together on Team AXA, we also raced in the ARWC 2006 in Sweden (together with John Karlsson and Ingrid Stengård).
Last year's race started with a steep uphill sprint. We're expecting the same this year.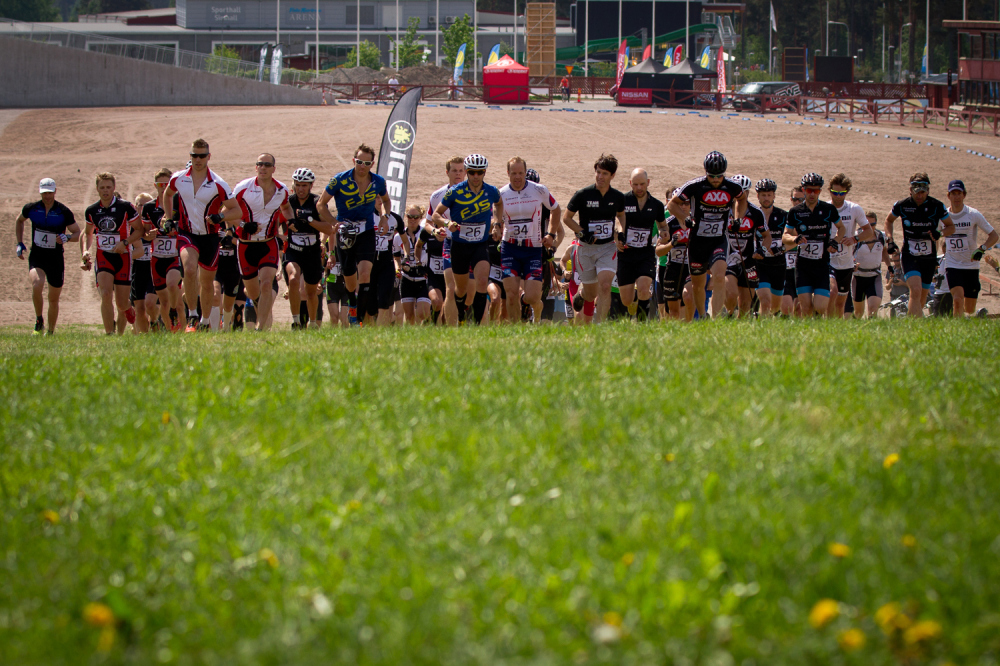 Looking forward to a "warm" week of training down south … thanks to Martin Flinta for lending me a surfski tonight and even his beautiful road bike for tomorrow.
Time for bed ..
Scott
PS thanks to Renska for two great post race massages !