Wow, what a weekend!
I flew up to Björkliden (a "Birch Pasture" at nearly 68 degrees N. Latitude) to run a 56 km mountain marathon under the midnight sun.  For me, this was a training session that happened to be an organized race. The goal was simple:  have fun, get some km's in my legs, and come back ready for 4 weeks of hard training before the Wu Long race (China) in late August. In my race planning, I call this a "C" race because the results are meaningless.  In contrast, "A" and  "B" races are to perform well.
But some things don't go according to plan:  some things go better than planned (I won the race) while others are not so good (I ended up with 5 stitches in my right hand).
The weekend started with a presentation about NZ's Coast to Coast — which seemed to be appreciated by a roomful of about 75+ trail runners. I may even have converted a few into multisporters, which would be a nice reversal of a trend seemingly going the other way.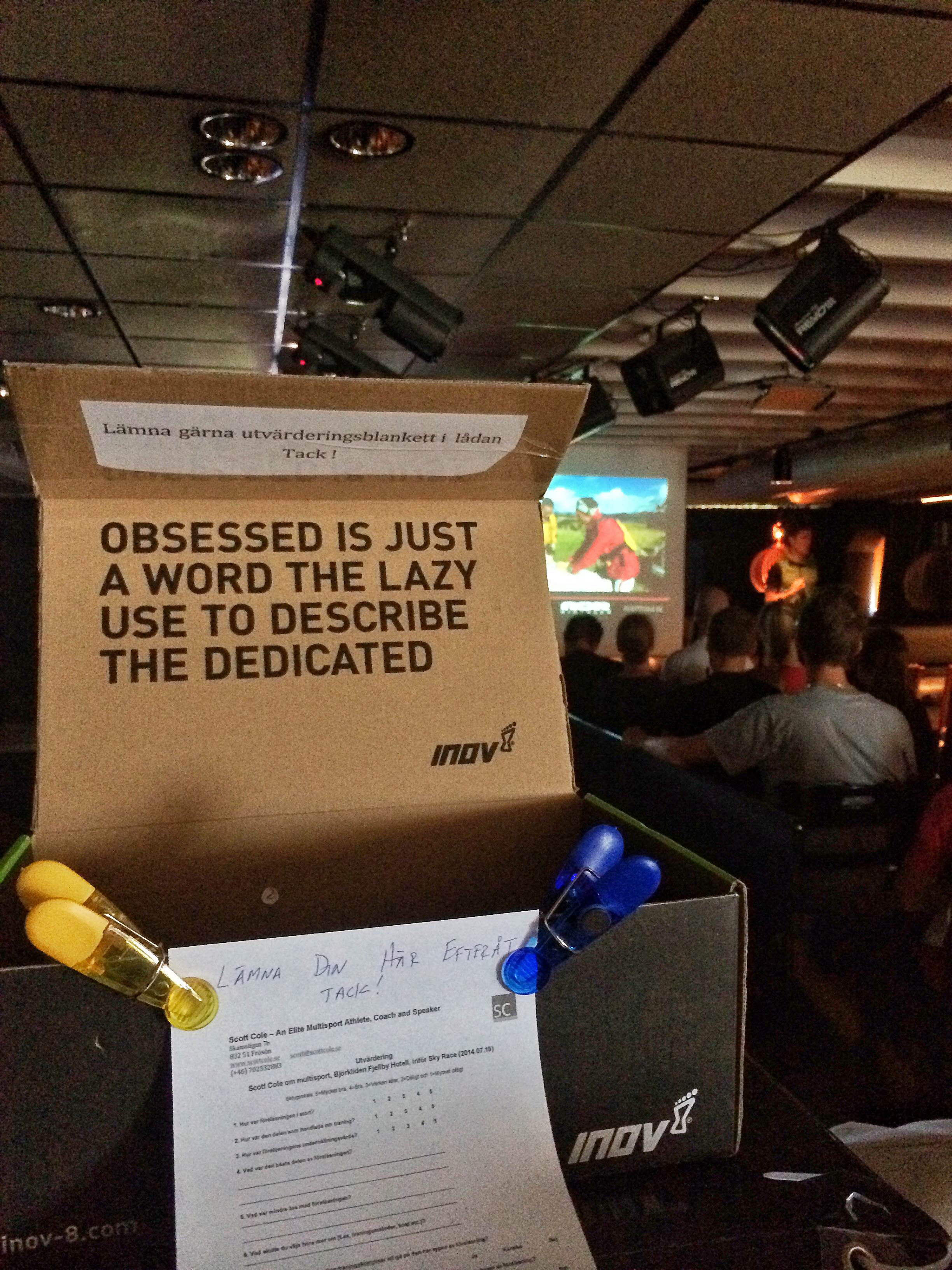 Under a hot sun (nearly 30 C / 85 F) we sprinted off into the mountains at 18.00. It felt more like a desert than a polar landscape. I followed my plan and took it easy, watching the leaders rapidly disappear ahead of me in the tree-less landscape.  I struck up conversation with other runners and enjoyed the glorious scenery. Everybody was happy to be there and excited about the long haul ahead — many of the runners had chosen to run two laps (~112 km), but I was happy with 56.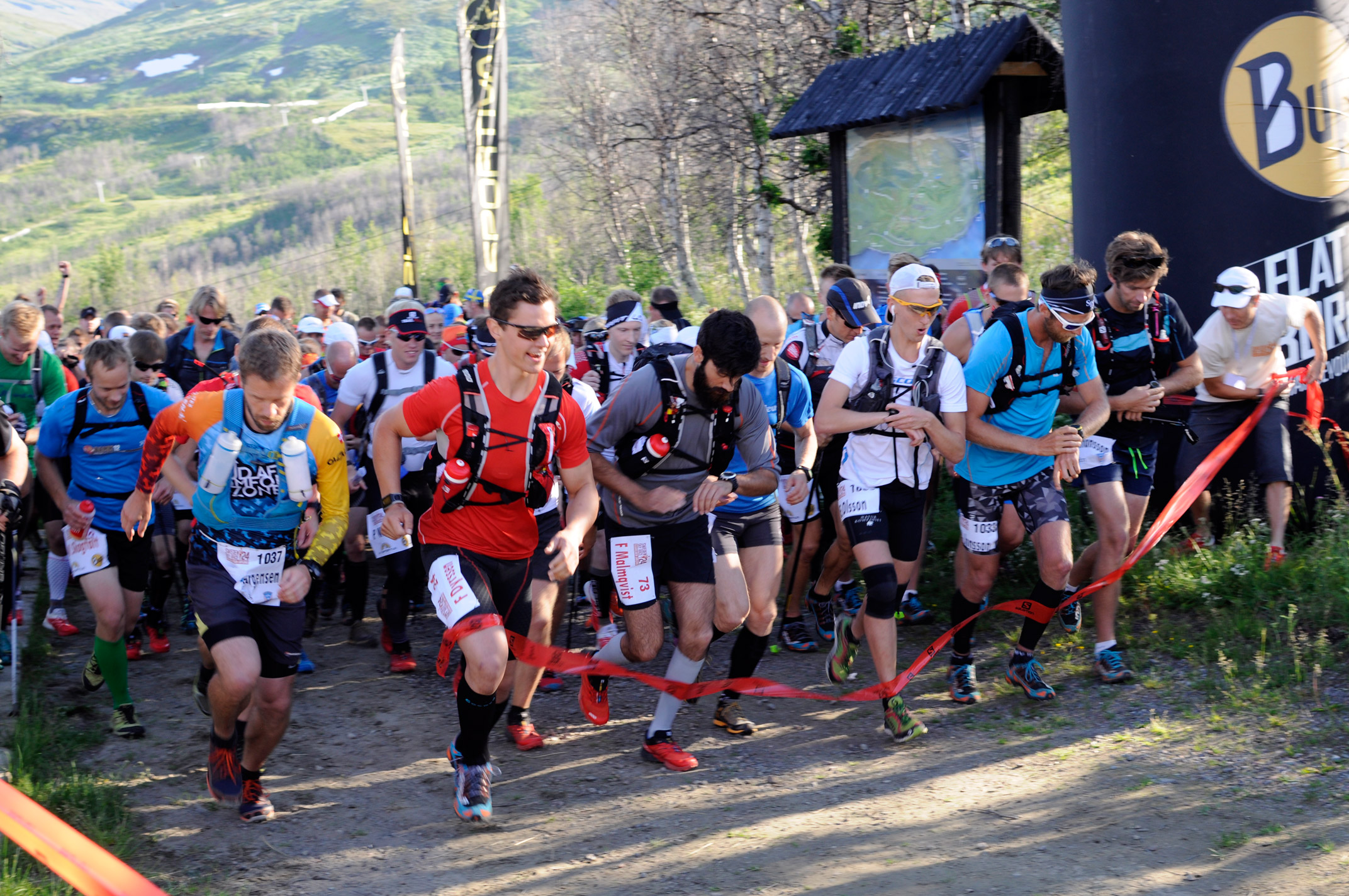 The start. Photo: Magnus Näsmark 
One of the race highlights was waffles with whip cream and raspberry jam at the first food station. I swallowed a couple and carried on. I found out later that the runners in the back  didn't get any because they had run out. I felt bad — I should have just taken one

The best waffle pic goes to … I don't know, what do you think? The first picture below is Andre Jönsson whose anticipation is almost palpable, but then again Elov Olsson didn't even bother chewing as he headed downhill.
At the next food station (2 hrs and 15 min) I was in 8th place. My legs were feeling good, and I was having fun. I was eating every 20 min and drinking every 5 to 10 (!!). I chatted with a Danish guy in Swedish (not easy to do even when not breathing hard) and then started the steep climb that everybody had talked about.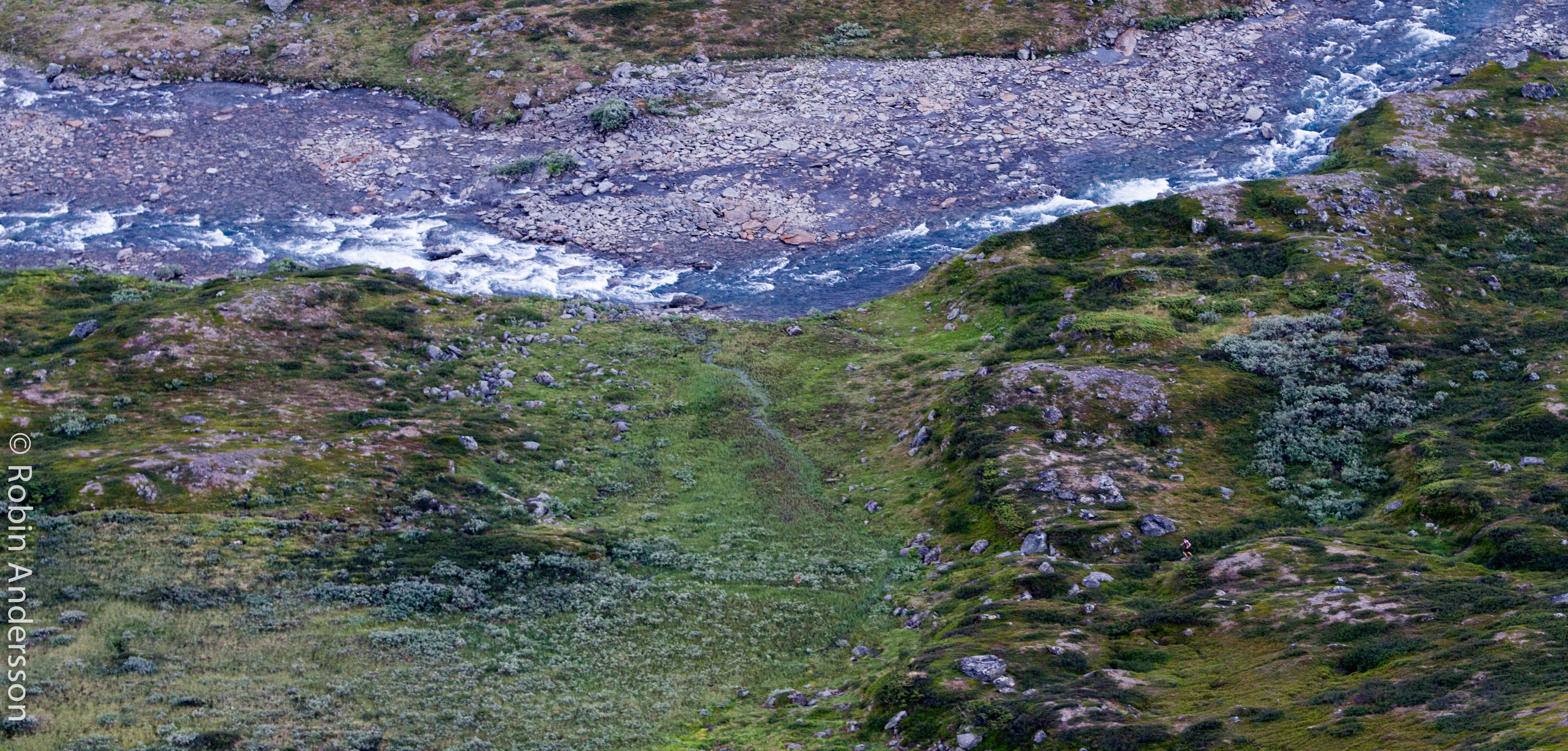 Can you find me down to the right? Photo: Robin Andersson
Here's where things started to change and I decided to adapt my game plan. Going up the steep hill with my poles I cruised by the others who appeared to be "burned out" by the heat (I was the only guy with poles among the top ~10 racers). I looked at my heart rate and I wasn't pushing that hard so I just kept it steady.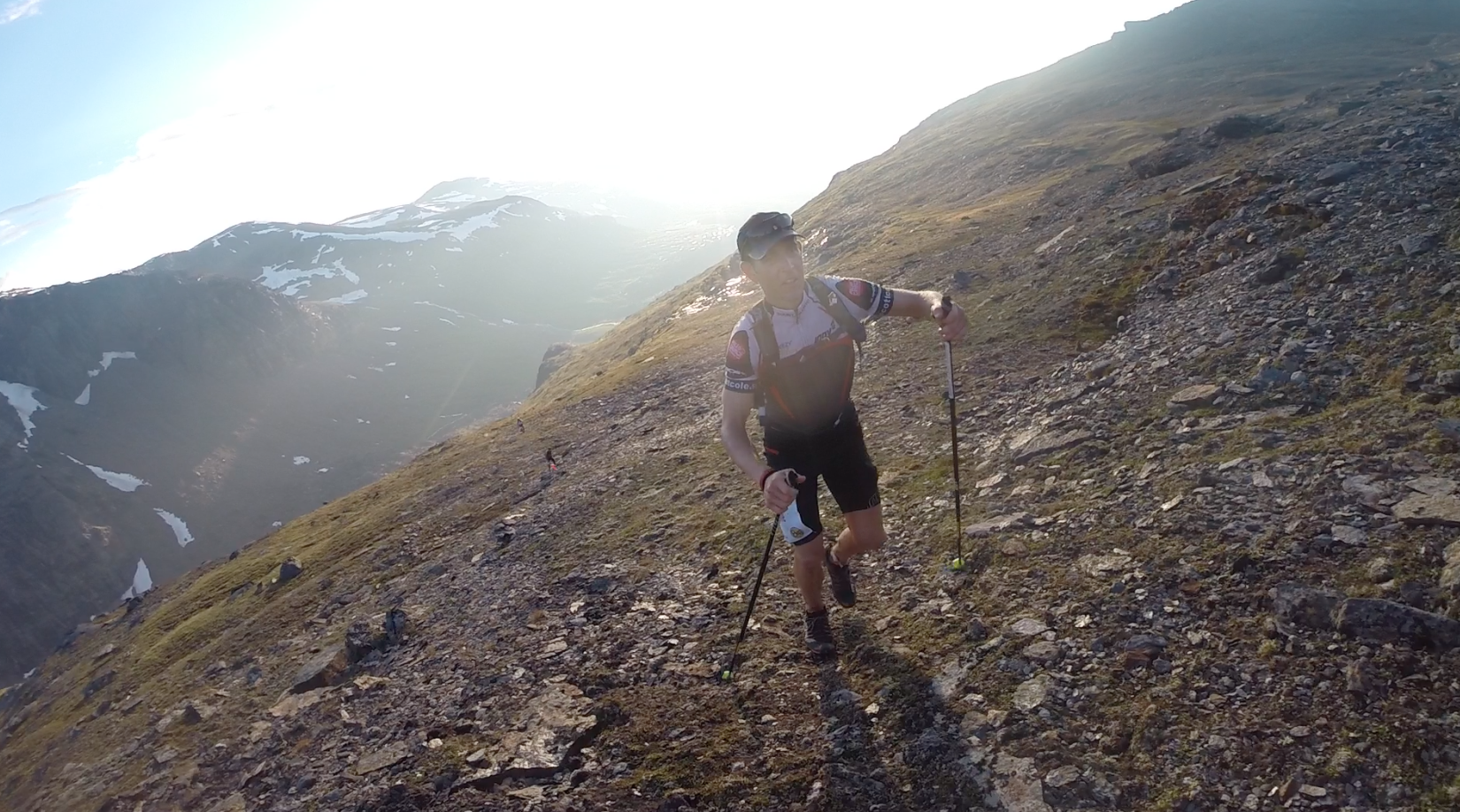 Pushing my way up toward the leaders. Photo: Johan Lantz
Descending with Elov from the race's high point. Photo: Johan Lantz
When I reached the race's high point (just over 3 hrs) I was running alongside 1st and 2nd place (however, one of them was doing 112 km so he was conserving his energy). That's when I decided to change this from a "C" race to an "A" race.
Why? No, not because my competitive nature got the best of me. Rather, I needed practice in protecting a lead — a skill that can only be simulated and practiced in a race situation. This was a good chance to practice.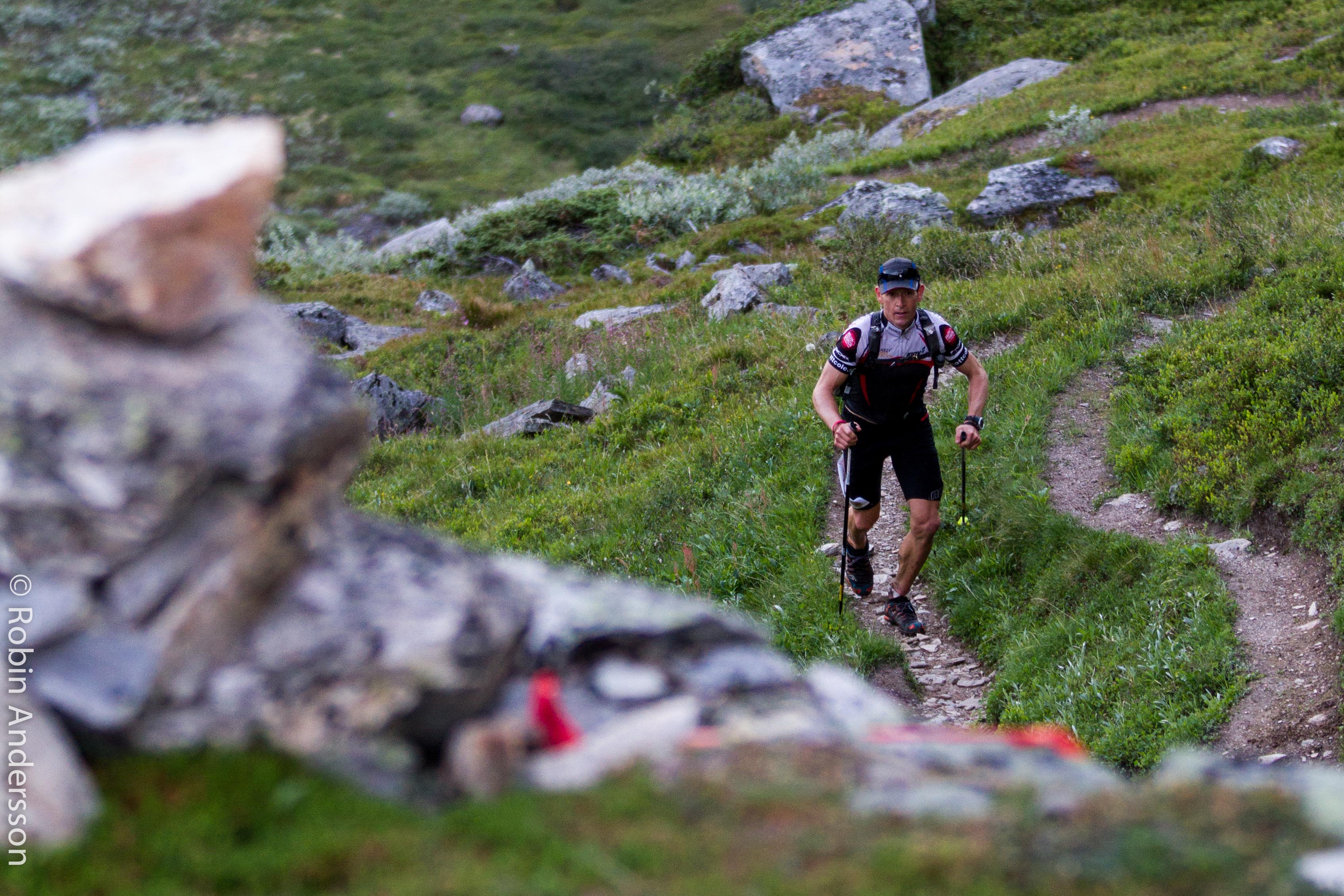 The poles were my secret weapon … Photo: Robin Andersson
Without taking un-necessary risks I picked up my pace on the downhill. I was hopping over boulders ("block terrain" as it's called in Sweden), gliding down steep snow fields, and sliding down loose gravel.  I ran around a pack of reindeer and fell into a rhythm. I was in a zone running  technical single track along a long valley, hemmed in on both sides by 600 meter walls and decorated with waterfalls everywhere. I was enjoying the nice cool air down in the valley, which was now around 12 C / 55 F.
On the last climb up I found myself in another "saga-like" valley (perfect for both grazing reindeer and trail running). I saw the 11 pm sun reflecting on a fantastic angle ahead of me over a glacier. My stomach started giving me a few problems but nothing a short stop along the trail couldn't solve.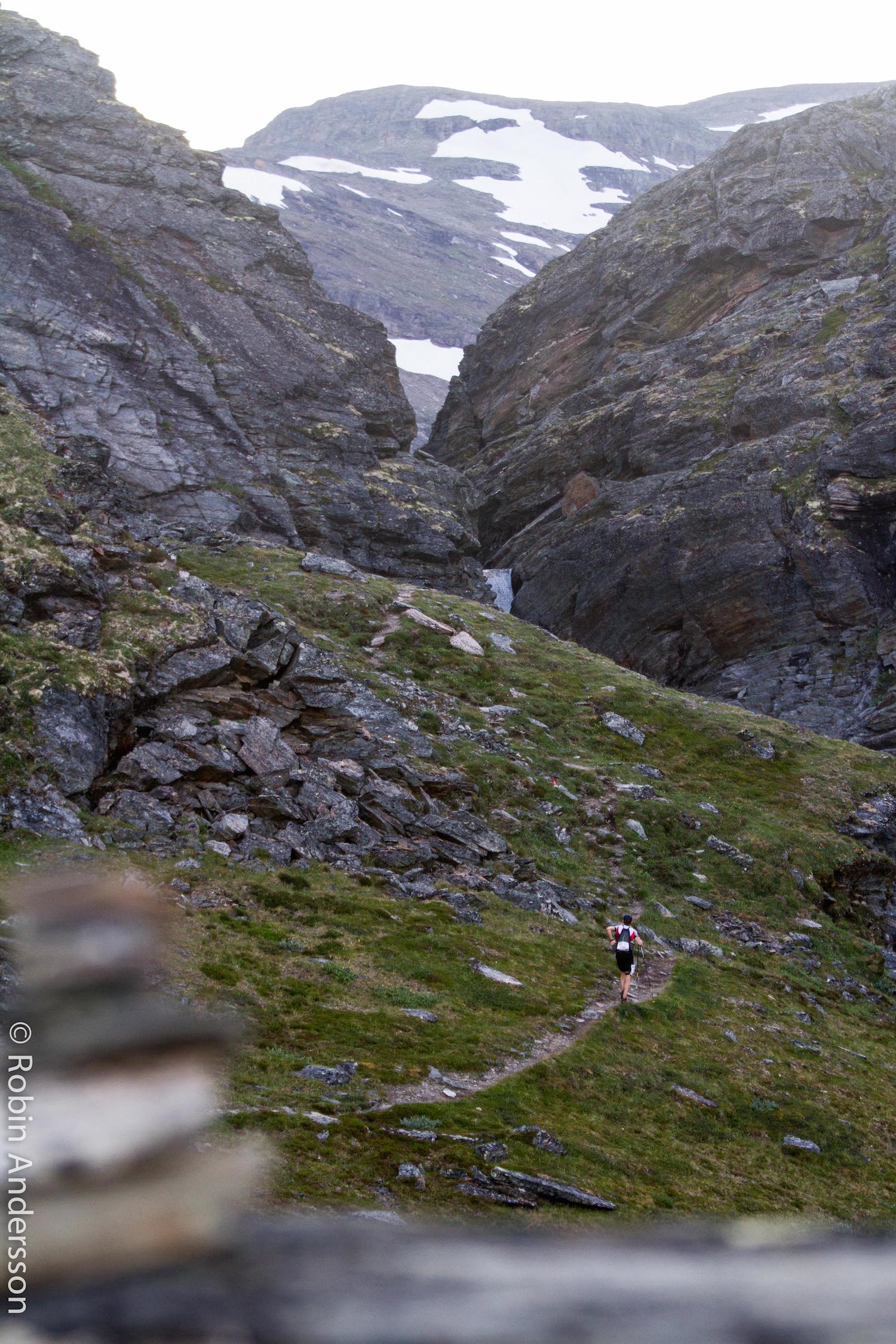 Approaching the reindeer valley.  Photo: Robin Andersson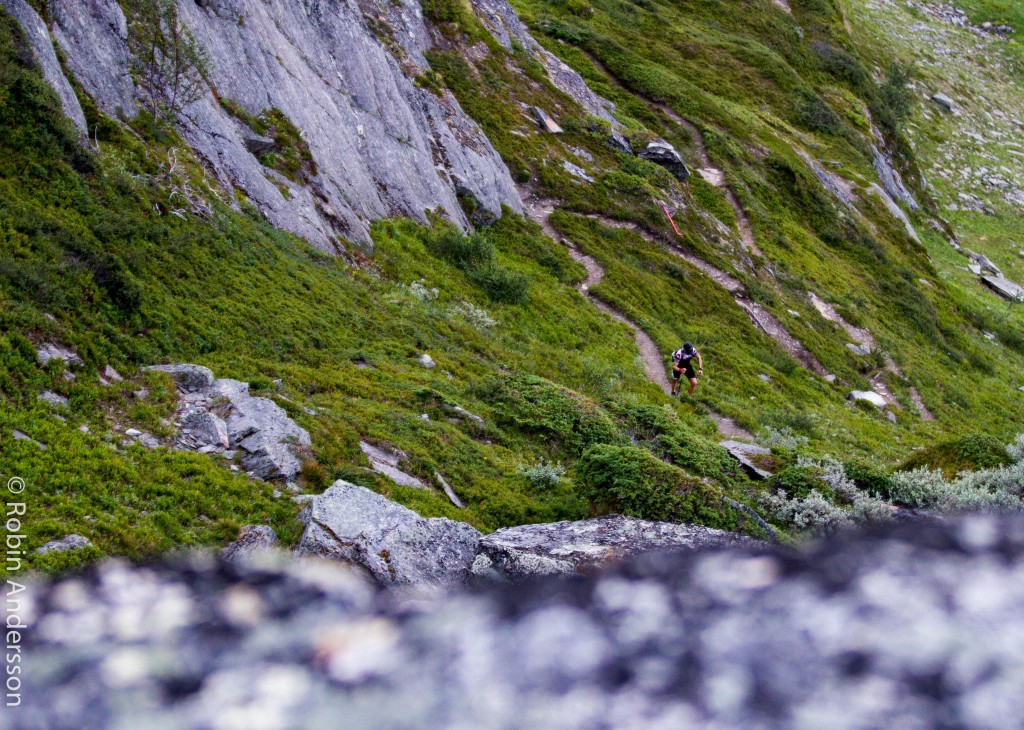 Another climb.  Photo: Robin Andersson
I ran through the last control point, receiving strong cheers from the race volunteers. My legs were sore but remarkably my energy level was as high now as it was at the start.  I was excited that my (adapted) plan was working: I had hoped to save my legs so that I could  run the last downhill hard and now I was doing it. But victory never comes without a cost …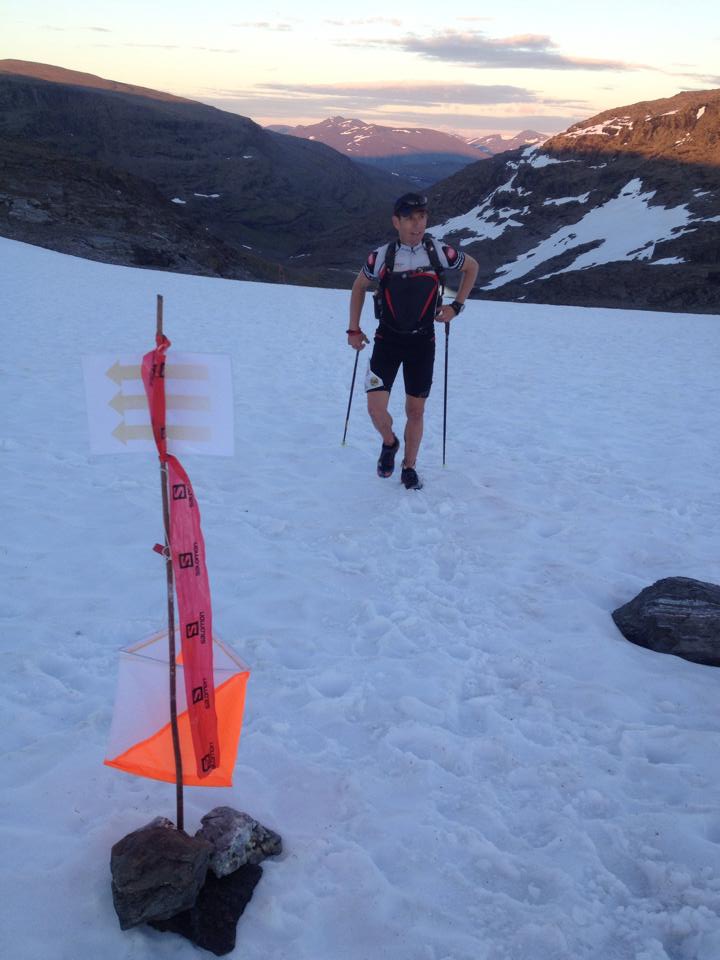 Approaching the last control a little before midnight.  Photo: Erik Norefors.
The light started to fade every so slightly toward dusk, but certainly no need for a headlamp. After one particularly tricky technical section,  I let down my guard and relaxed a little. I figured this nice soft piece of grassy terrain would give me a chance to recover from the hard pounding above.  Next thing I knew my face met the grass and I felt a sting in my right hand. I had created a deep cut in my right palm and it was bleeding.  I cursed myself for being careless but was relieved that my legs were OK. I could still carry on.
The last 60 minutes went fast. I held my hand up near shoulder level to slow the bleeding, but my adrenaline was pumping and I could feel a victory was possible. I ran the last steep uphill toward the finish, where I received a Birch wreath.
Congrats to the other winners Malin Hagberg (56 km), Elov Olsson (112km) and Malin Hjalmarsson (112 km).  See results here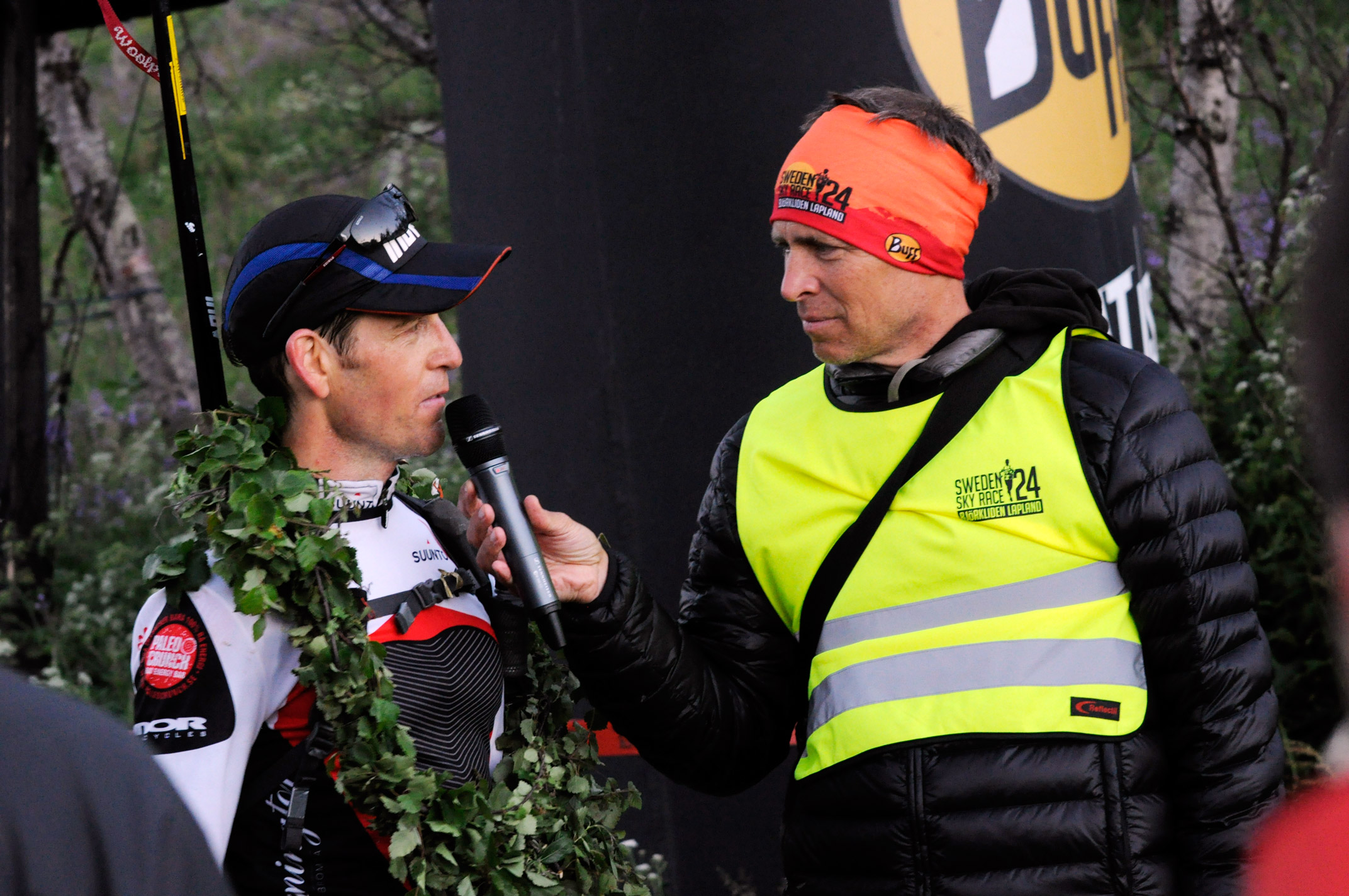 The finish, just before 1 am, with race director Erik Ahlström. Photo: Magnus Näsmark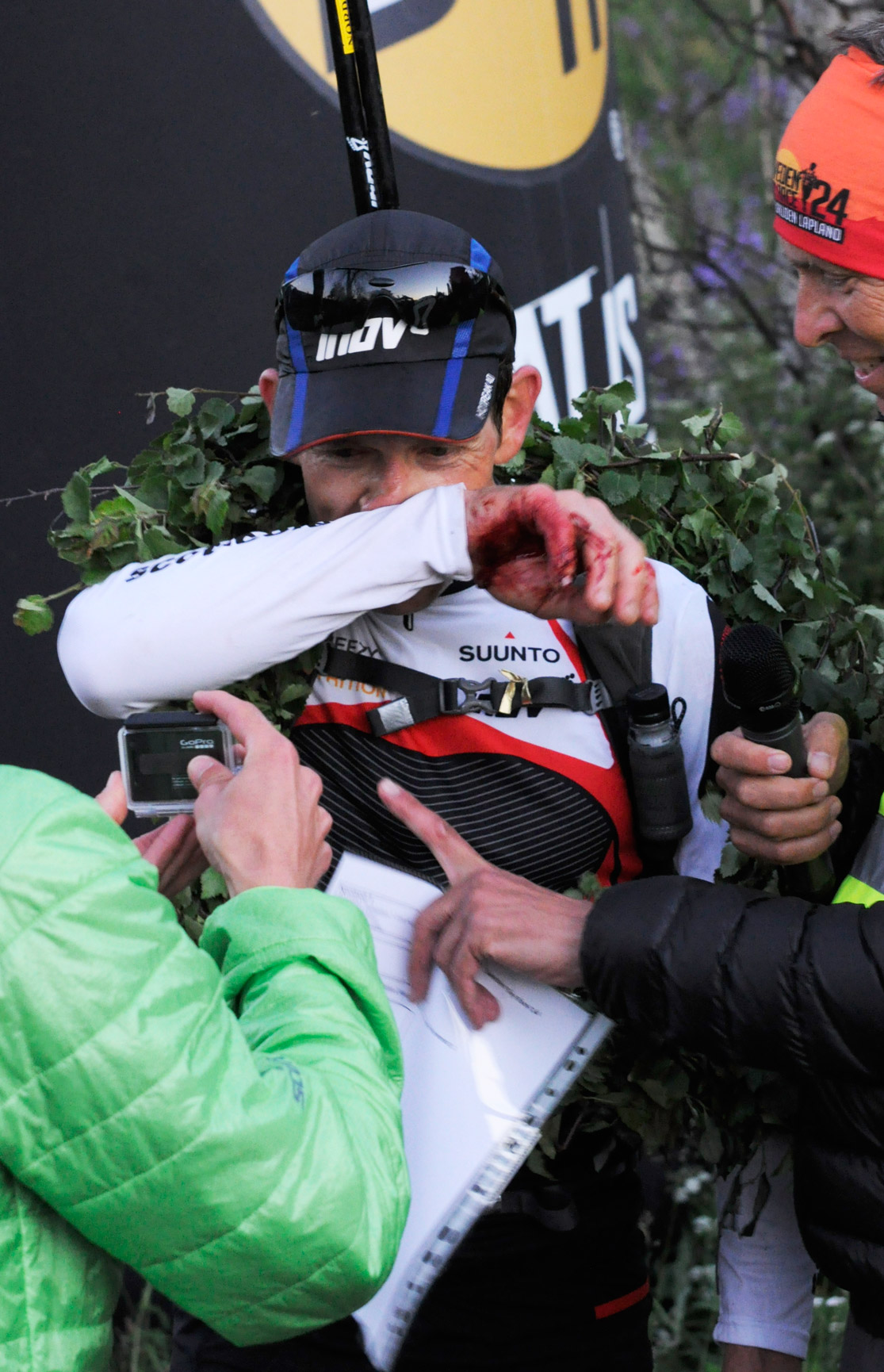 The bloody hand. Photo: Magnus Näsmark 
My plan was a pressure-free training session and I ended up crossing the finish line first. How did that happen?
First, the heat benefitted me. I'm from California and, relative to 99% of Swedes, I have a much better air conditioning system.
For another, I saved my energy early when the temperature was highest, using the saved capital for the end when I needed it most (5 minutes lost at the start is worth 25 at the end).
Besides having good energy at the end, I'm also a good technical downhill runner and earned a lot of time on those sections.
But I can't deny the fact that sometimes entering a race without expectations can be a successful strategy. Maybe I should try that for my next A race?
Huge thanks to all the race volunteers who made this weekend awesome — There was some great energy out there on the hills!    I expect next year to have some stiff competition for the 55 km race!
See ya at AXA Mountain Marathon (Vålådalen) in a few weeks!
Scott