Hello from Vietnam. I just finished some frog stew from a street vendor here in Hanoi – yum!  I'm pretty keen to get back to clean Scandinavia, but have a business trip … so a little more Asia for me J
The Taining race was a great one – but the result for Team Inov8 was less than great. Despite a good start – we finished 3rd on Day #1 and 2nd on Day #2 – we didn't get ourselves to the starting line on Day #3.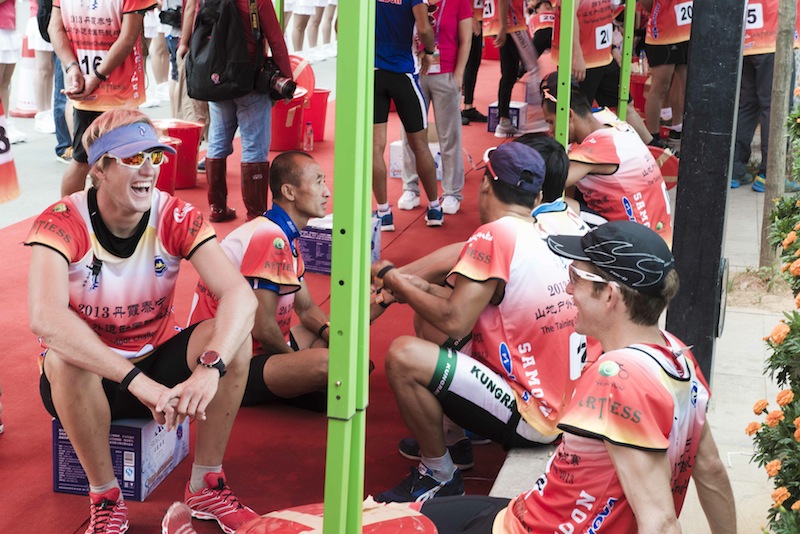 Staffan and I were feeling good at the start of Day #2. (Photo: Lisa Osborne)
Staffan spent the night before Day #3 in the bathroom … pretty much all night. He had severe diarrhea and vomiting. He looked like crap in the morning and couldn't get out of bed. So it was an easy yet disappointing decision: we had to throw in the towel.
I spent the morning in the hospital with Staffan and his IV bag, along with Kiwi Luke Osborne from Team Marmot/Thule (racing with Sia Svensson). Luke had the same stomach problem. While others were out fighting extreme heat on Day #3, I fell asleep on a hospital bed next to Staffan and started my long road to recovery a day earlier than expected.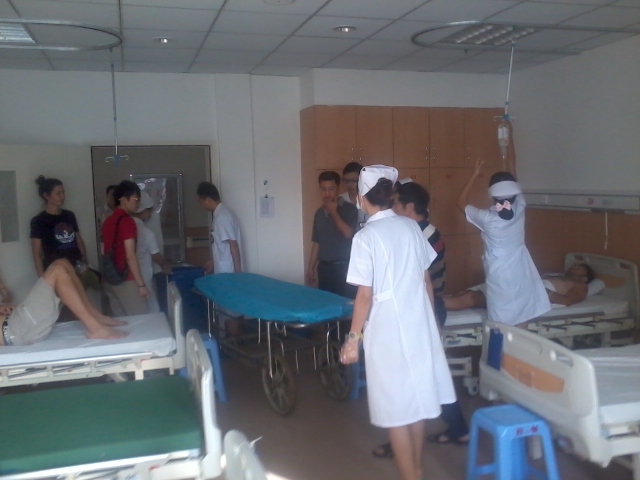 Staffan on the left and Luke on the right … and typical Chinese inefficiency straight ahead. Does it really take 9 hospital staff (excluding Luke's wife Lisa and our translator in the center) to put an IV into a patient?
It would have been nice to finish my China racing month on a high note, but success is never guaranteed in these races. Over the last 3 years I've been lucky enough to keep myself healthy (and compete with others who were equally lucky) in a total of 23 individual stage races in China (in 5 different Provinces), so my good luck finally caught up to me.  Staffan was a fighter and he wanted to be on that start line as much as I did, but his body was cooked. Having been on both sides of this dilemma – and knowing Staffan's competitiveness — I think it's tougher to be in Staffan's shoes and pull the plug, than to be the teammate whose plug is pulled. It's sufferable enough when your body fails to deliver, but it's worse when your body's failure affects others. But we all 'cast our hat in the ring' knowing full well the risks to teammates and to ourselves. I, for one, don't regret any of the risk-taking decisions I made to come here and race.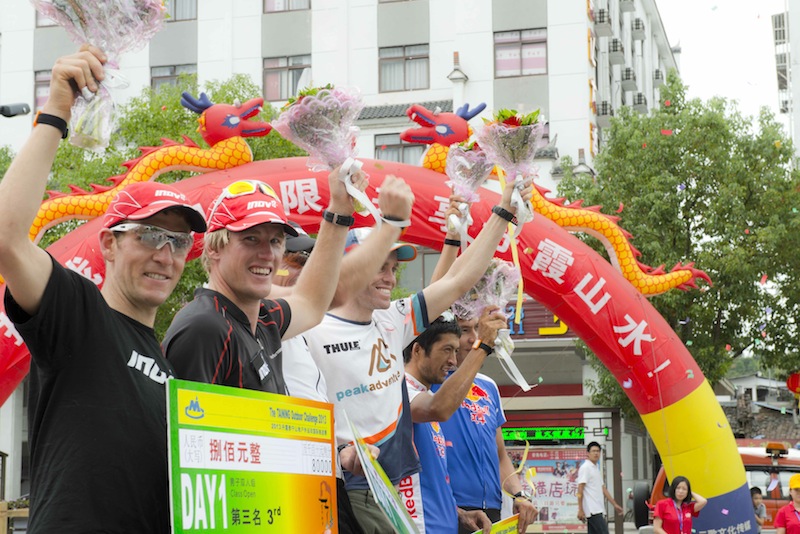 Day 1 ended well for Team Inov8 Sweden. (Photo: Lisa Osborne)
Taining is my favorite town in China so far, with great air quality, clean streets, friendly people (and good acupuncture). The surrounding national park is beautiful and a place I look forward to returning.
Here come a few pics and anecdotes from the Taining race … I look forward to a little rest & recovery in frosty Jämtland when I return from the jungles of Mui Ca Mau National Park in Southern Vietnam next week.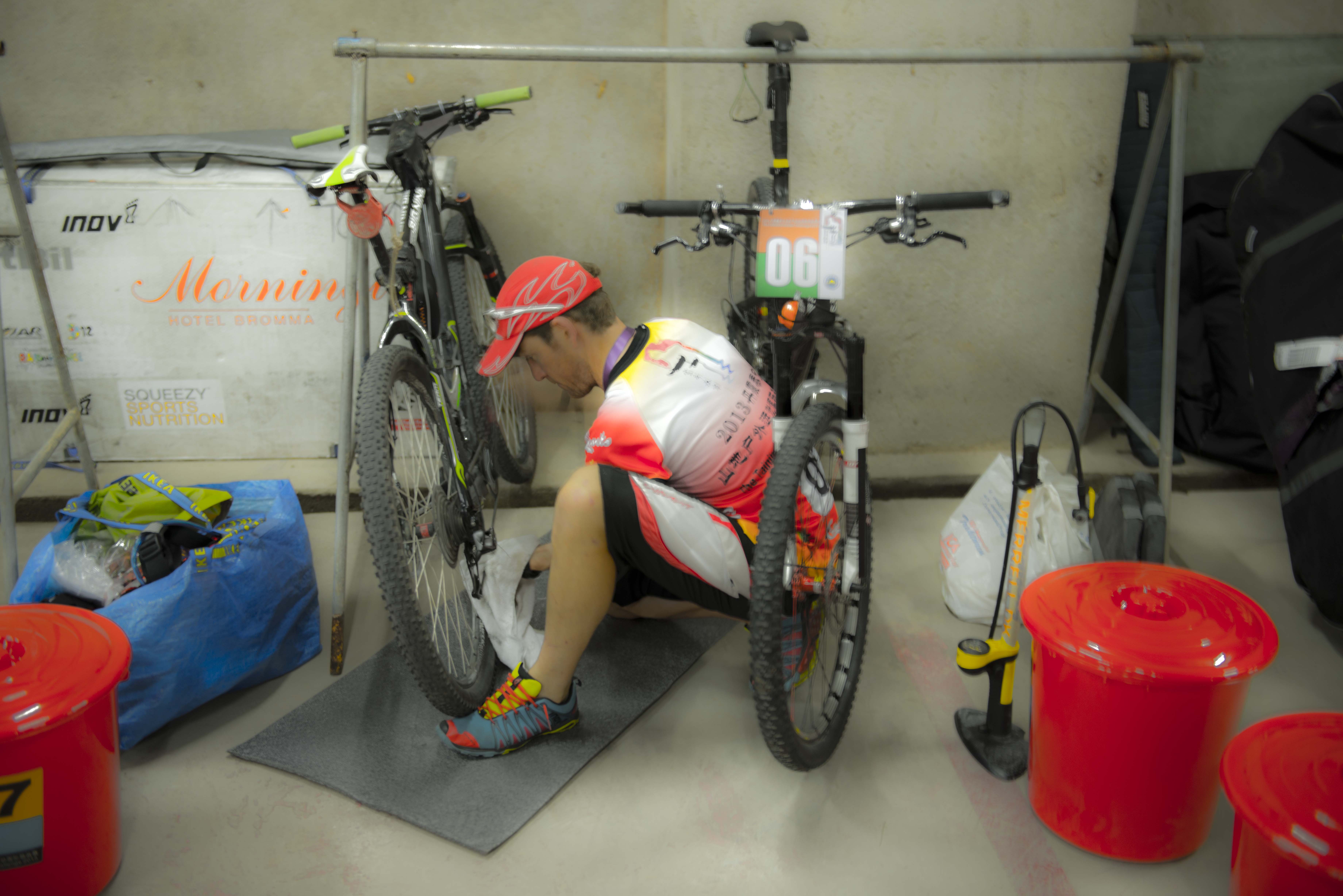 Getting the bike ready in the gear room late on Day 1. (Photo: Staffan Björkland)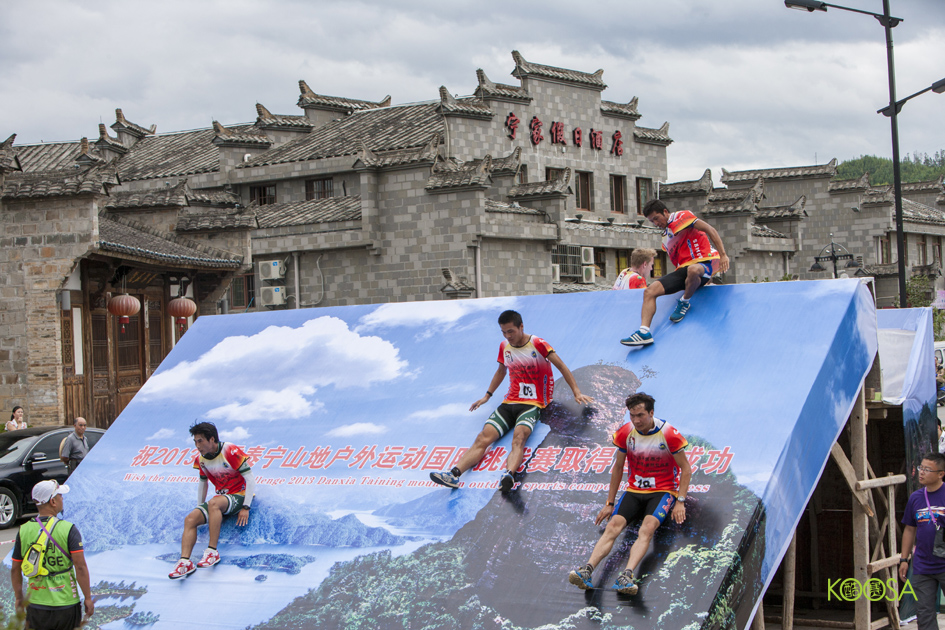 Another "getting over the wall" teamwork challenge. Thanks to a 6 foot 5 inch Swede with long powerful arms, we cleared the vertical wall easily (the backside of the picture above). But on the way back we had to go up the 45 degree wall (pictured below), which had been covered with soap. It was nice to slide down, but hard to climb up. Thanks to a little teamwork we managed it.  (Photo: Chinese Mountaineering Association Adventure Racing)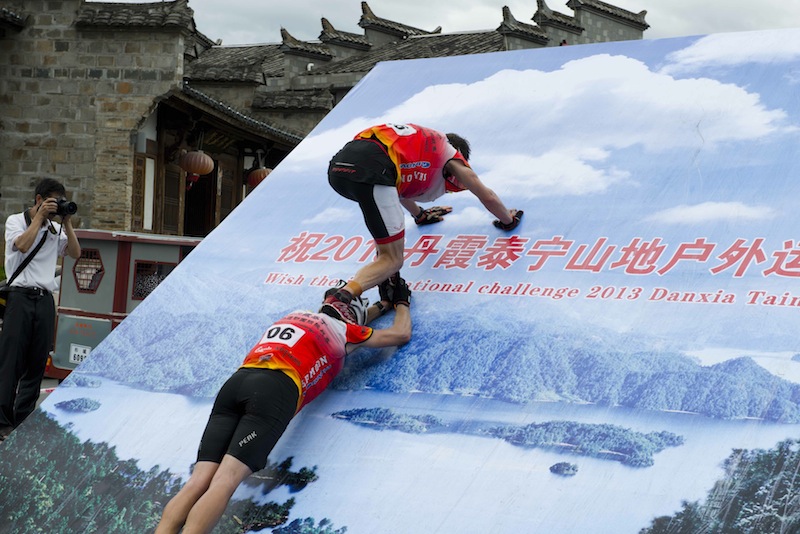 Our attempt to get up the slippery wall worked after a few attempts. (Photo: Chinese Mountaineering Association Adventure Racing)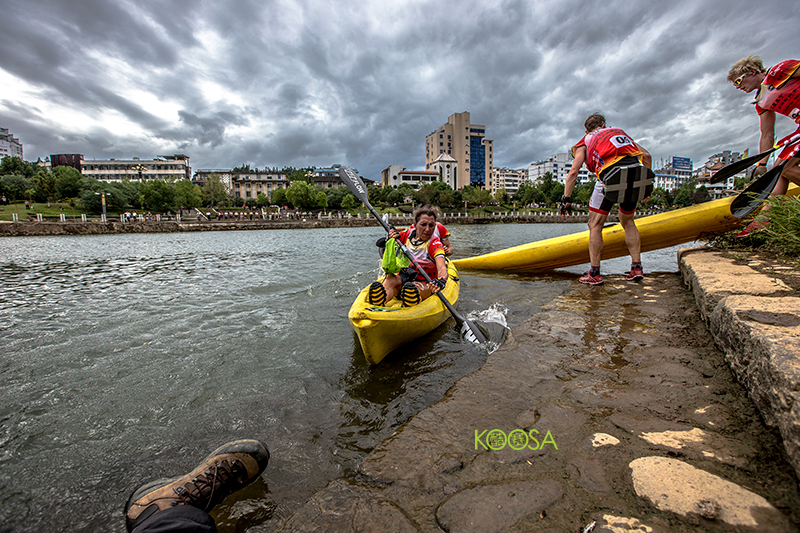 We started the kayak on Day #1 just behind Team Thule Mix Team (Jacky and Mimmi) and for part of this paddle we drafted off their boat wake to save energy … this strategy would prove critical on Day #2 also. (Photo: Chinese Mountaineering Association Adventure Racing)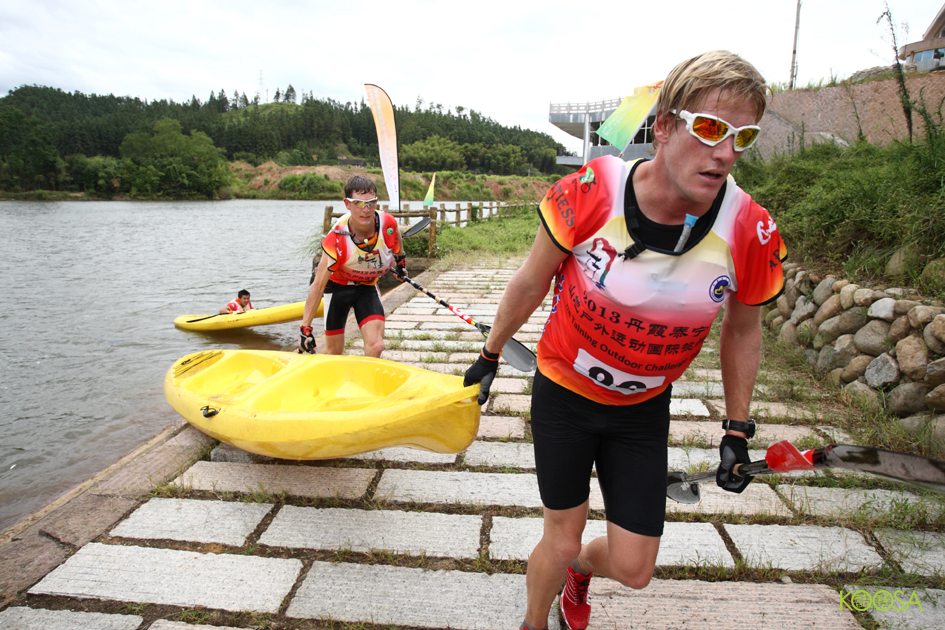 Pulling up at the end of the paddle on Day #1 in 3rd place. (Photo: Chinese Mountaineering Association Adventure Racing)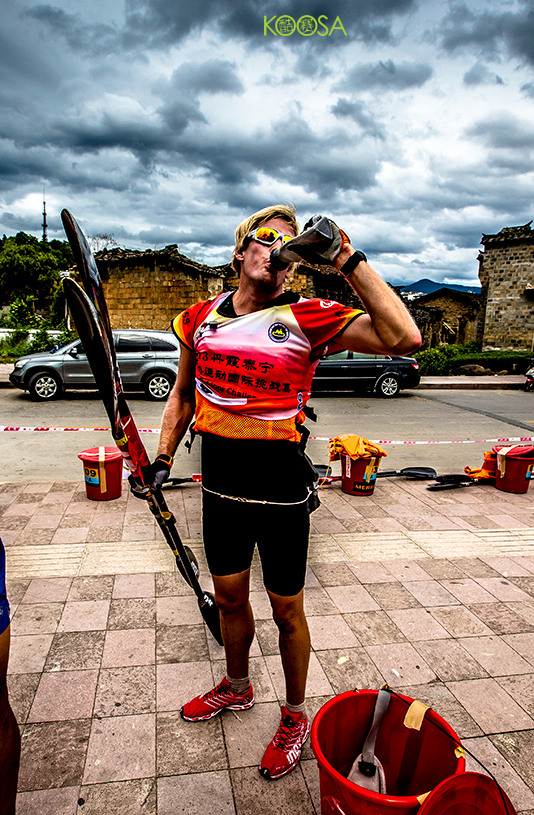 Staffan sucking down the liquids. All Chinese hotels have scales in their rooms, which made it easy to monitor our weight. I usually race around 75 kgs (~165 lbs), but was at 78 on Day #1 thanks to 8 days of resting and too much fried Chinese buffet. In the evening of Day #2 I was down to 74 and that was after drinking 2.5 L of water in the hours following the race! Staffan was down 6 kg on the morning of Day #3 thanks to his sickness. (Photo: Chinese Mountaineering Association Adventure Racing)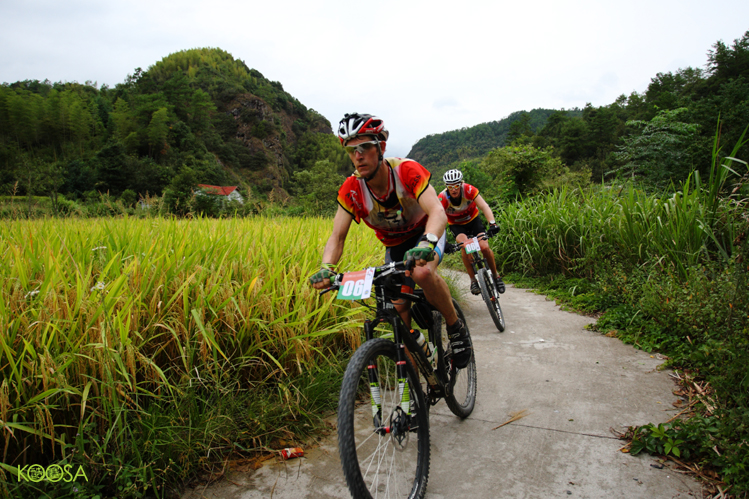 Fast descent on Day #2 … a little too fast. After telling Staffan a few days before that we "can't win the race on the downhills, but we can certainly lose it by doing something stupid" I broke my own rule. I descended too fast on a cement road and flew off the side of the hill. Lucky for me I landed in a soft rice paddy – it could have been much worse at that speed. It was a shame I didn't have the GoPro on my helmet just then … (Photo: Chinese Mountaineering Association Adventure Racing)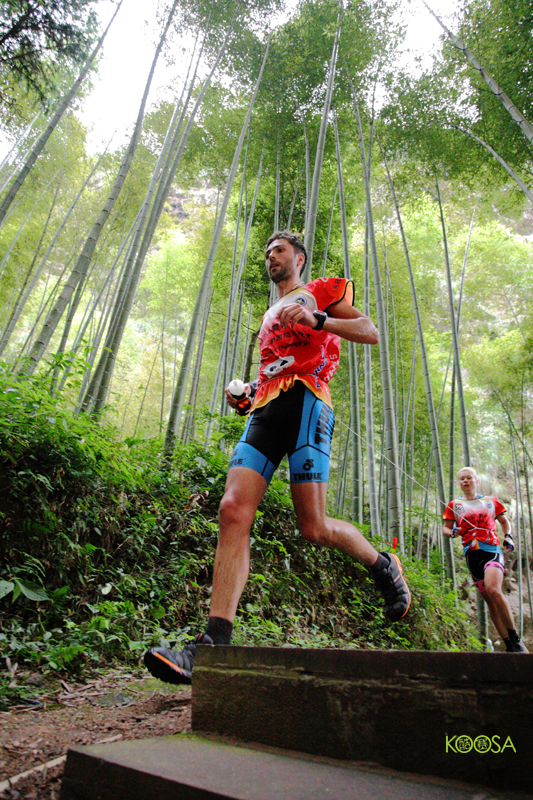 Luke Osborn with teammate Sia in the bamboo forest. Luke and Sia placed 3rd on the first day, but they also had to throw in the towel due to sickness on Day #3. (Photo: Chinese Mountaineering Association Adventure Racing)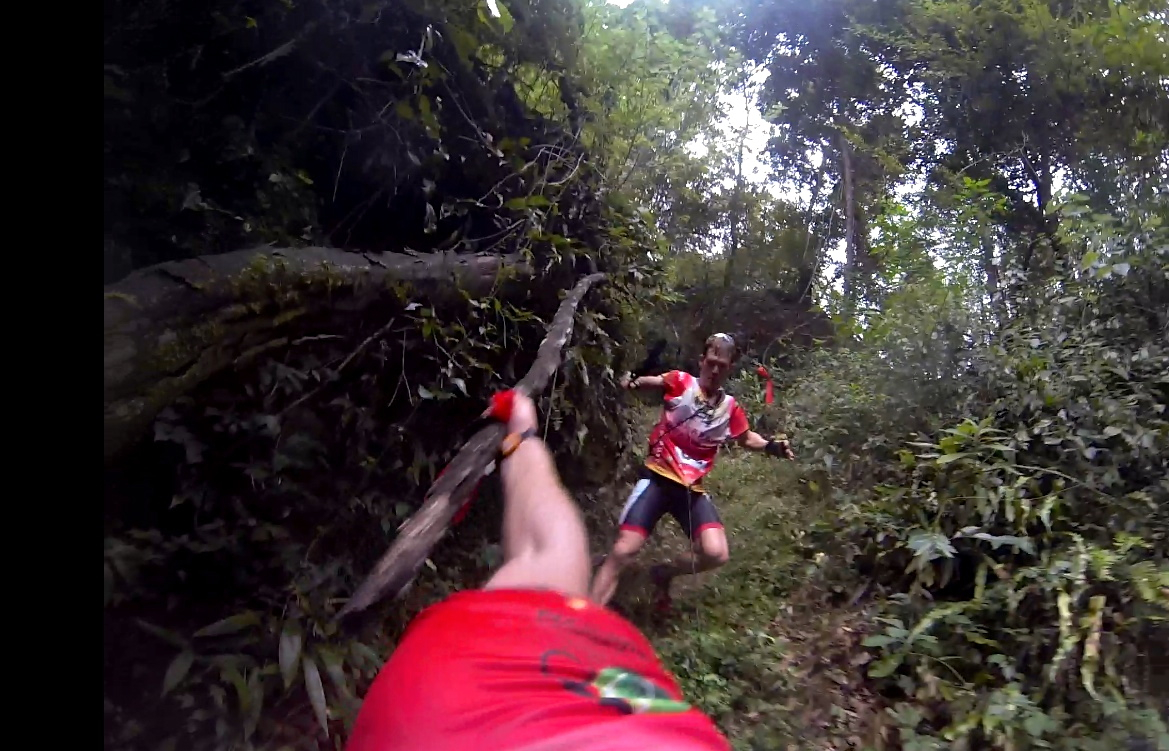 Staffan spun the GoPro camera around on his head and got this picture as we were descending a steep section of the bamboo forest. Note the bungy cord attached to my jersey – although Staffan was also exhausted, he was slightly stronger than me. The cord helped to keep us together as a team when we both start to drift in to that mental state of exhaustion when time seems to stand still, you feel alone in the forest, and you forget you are competing in a race!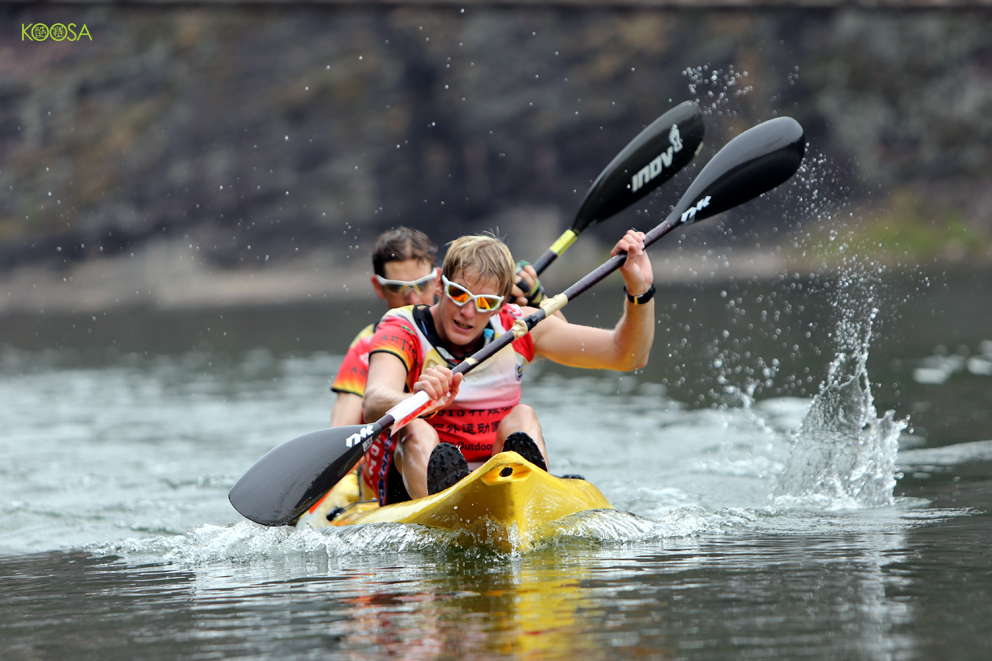 After pushing too hard on the bike and run at the beginning of Day #2, we made a tactical move at the start of the kayak. Team Red Bull 2 (an up-and-coming Chinese team) ran past us and got in the kayaks first. We pushed super hard for a few minutes to catch their boat wake and then we just sat and got a "free ride" for 25 minutes. We ate, drank, and splashed each other with water to cool down. My heart rate was in the low 170s for most of the race up to this point (which is very high) but over the next 25 minutes it sank to the 130s. We were both recovering and re-gaining strength. When the time was right, we paddled hard past Red Bull 2 (we didn't want them to jump on our wave!) and got loose. We ended up with the fastest paddle time that day – even faster than Jarad K and Marcel who are top paddlers. Team Red Bull 2 was not so happy, but to be strategic you have to make enemies sometimes. (Photo: Chinese Mountaineering Association Adventure Racing)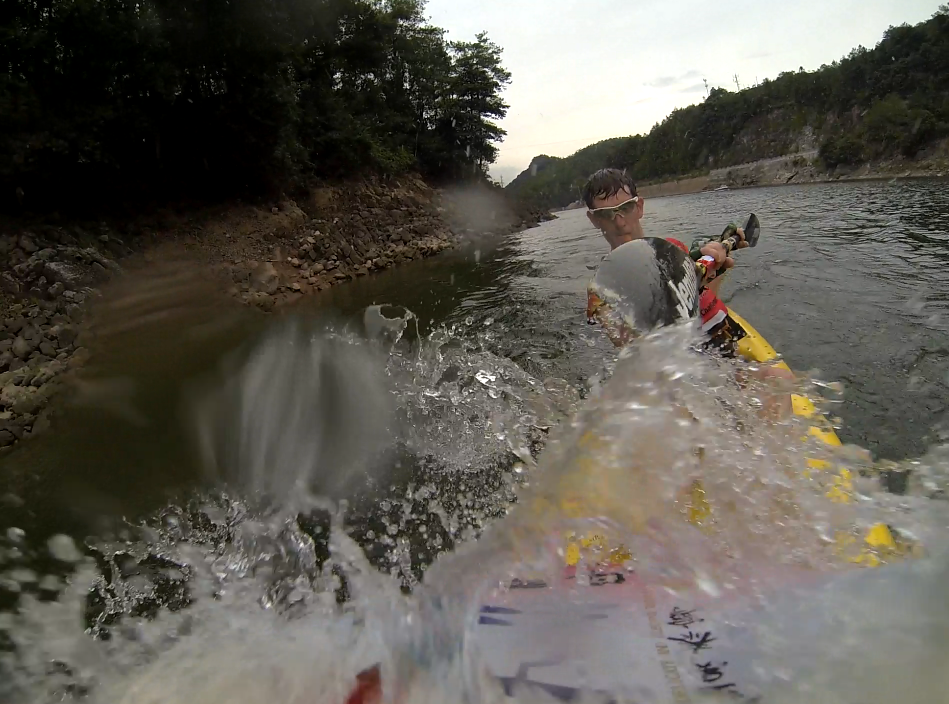 Staffan was in the front of the kayak but his cooling system was sitting in the back J We traded off splashing each other … which only provided minor comfort as the water was as warm as a Jacuzzi!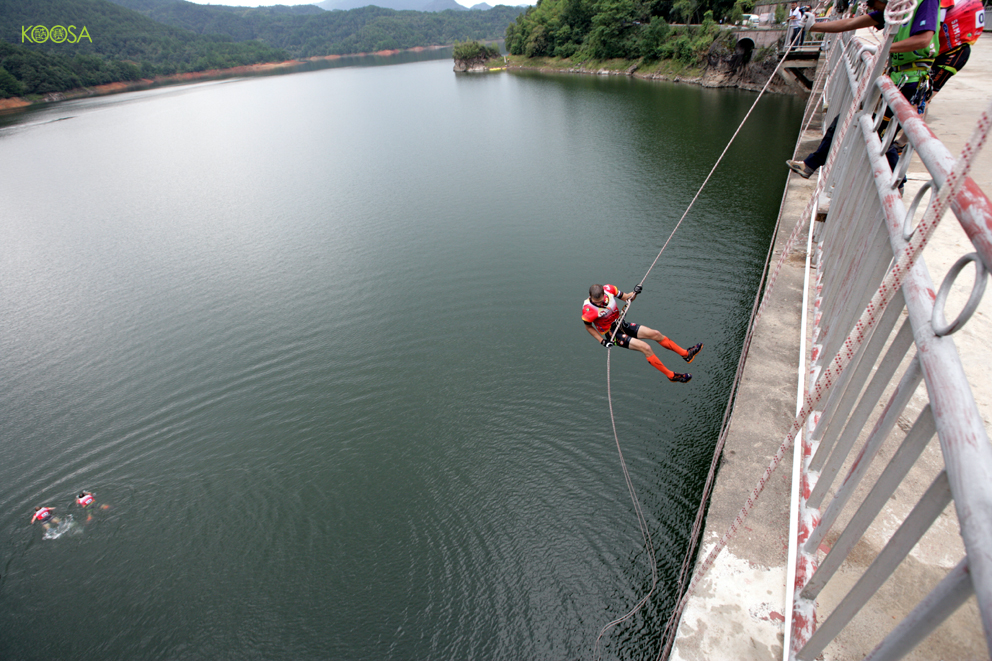 The final leg on Day 2 was a rappel off this bridge … followed by a swim to the finish. (Photo: Chinese Mountaineering Association Adventure Racing)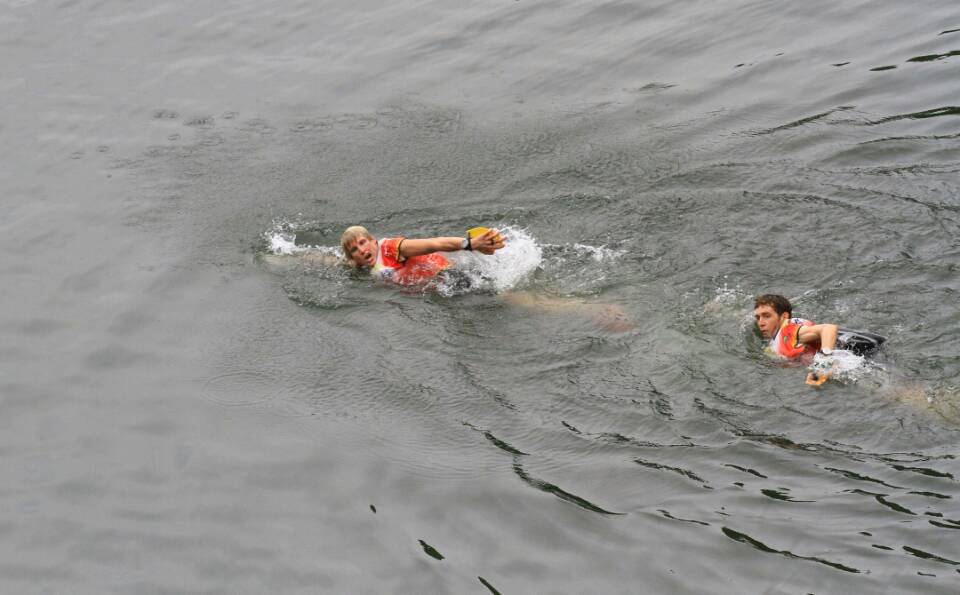 We think it might have been during this swim that Staffan accidently swallowed some dirty water, which made him (and Luke) sick that night. His mouth is wide-open in this picture actually! (Photo: Chinese Mountaineering Association Adventure Racing)
We placed second on Day #2 and had moved up in the overall classification to 2nd place.  But it only counts if you complete all three days.   Jarad and Marcel's Team Thule had a "clean sweep," winning all three individuals stages to take the overall title – a rare and impressive accomplishment in a Chinese multisport stage racing. Congrats to them!
Train hard
Scott
PS To subscribe to my blog,  click on the "mail envelope" link up to the right. Then choose (1) to get an email each time I update my blog or (2) to get weekly summaries.
PPS I paid this rickshaw driver the equivalent of ~50 cents for a 5 min ride to Taining town … and he gave me back change!