Here comes a quick training report from the weekend and a little technical talk about kayak intervals …
My buddy Derek Collins and I put together two big training missions this weekend. First we ran Patrik Nordin's proposed new Bydalen mountain marathon course – check out the map here. But we chickened out and only ran the second half, which still amounted to 24 km and 1,800 meters of climbing. The 'full monty' is gonna be a monster …
It was hot and sunny and we got a few great pics. The highlight of the run is the deep gorge called Dromskåran. Racers will run right up the middle of this technical canyon, then turn and run dangerously close to the edge as they look back at the competitors chasing them up the hill !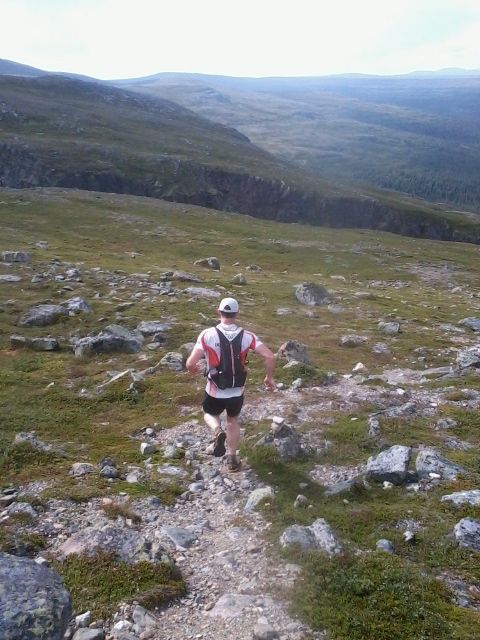 Derek approaching Dromskåren… (straight ahead)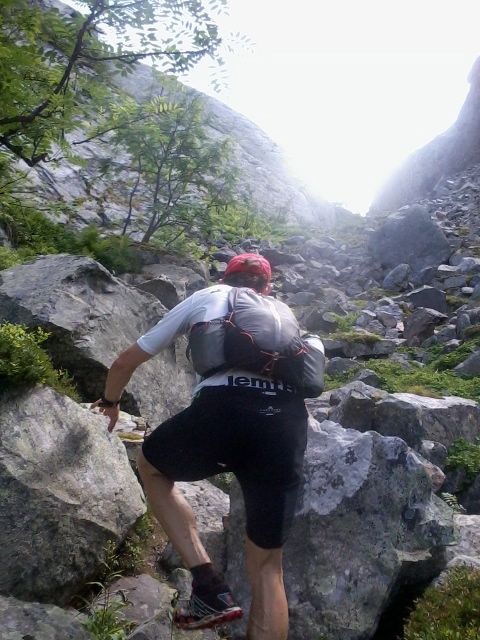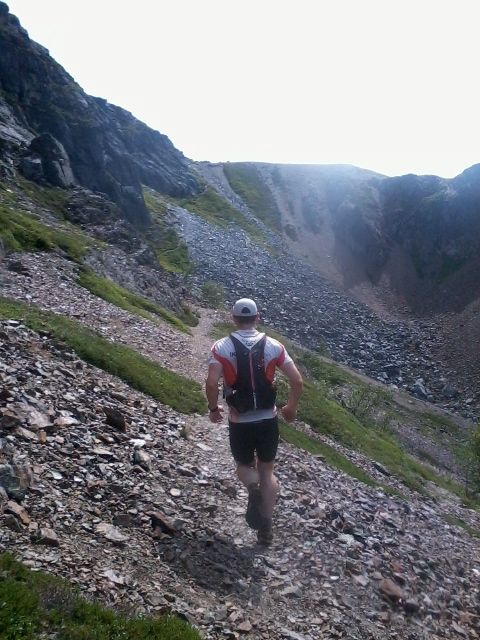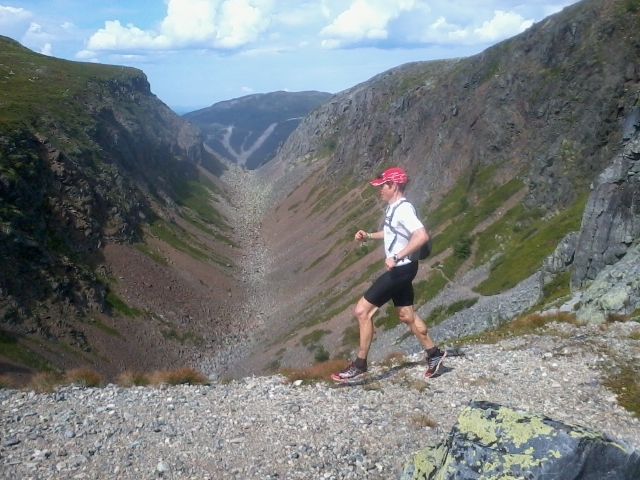 For those of you who don't like running asphalt but love a technical run (with a few steep 'walking only' uphill grunts) then this race is for you. The last section of the race is a long gradual downhill on soft grass with wide-open views, so the course has a little something for everybody.
Sunday's mission was a great Mountain Bike ride in the Swedish hills.  Storulvån – Gåsen – Sylarna fjällstation for lunch … then back to Storulvån (see funbeat entry for details).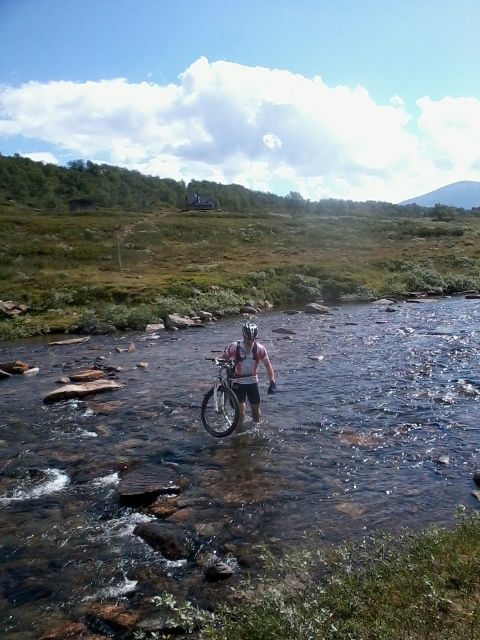 Crossing the stream with Gåsen Wind shelter in the background
Great riding but also a bit of hike-a-bike. But that's where the new Dynafit pack came in handy (you may recognize this from my ÅEC pictures). Check out the hook on the pack and how we used it in the pics below.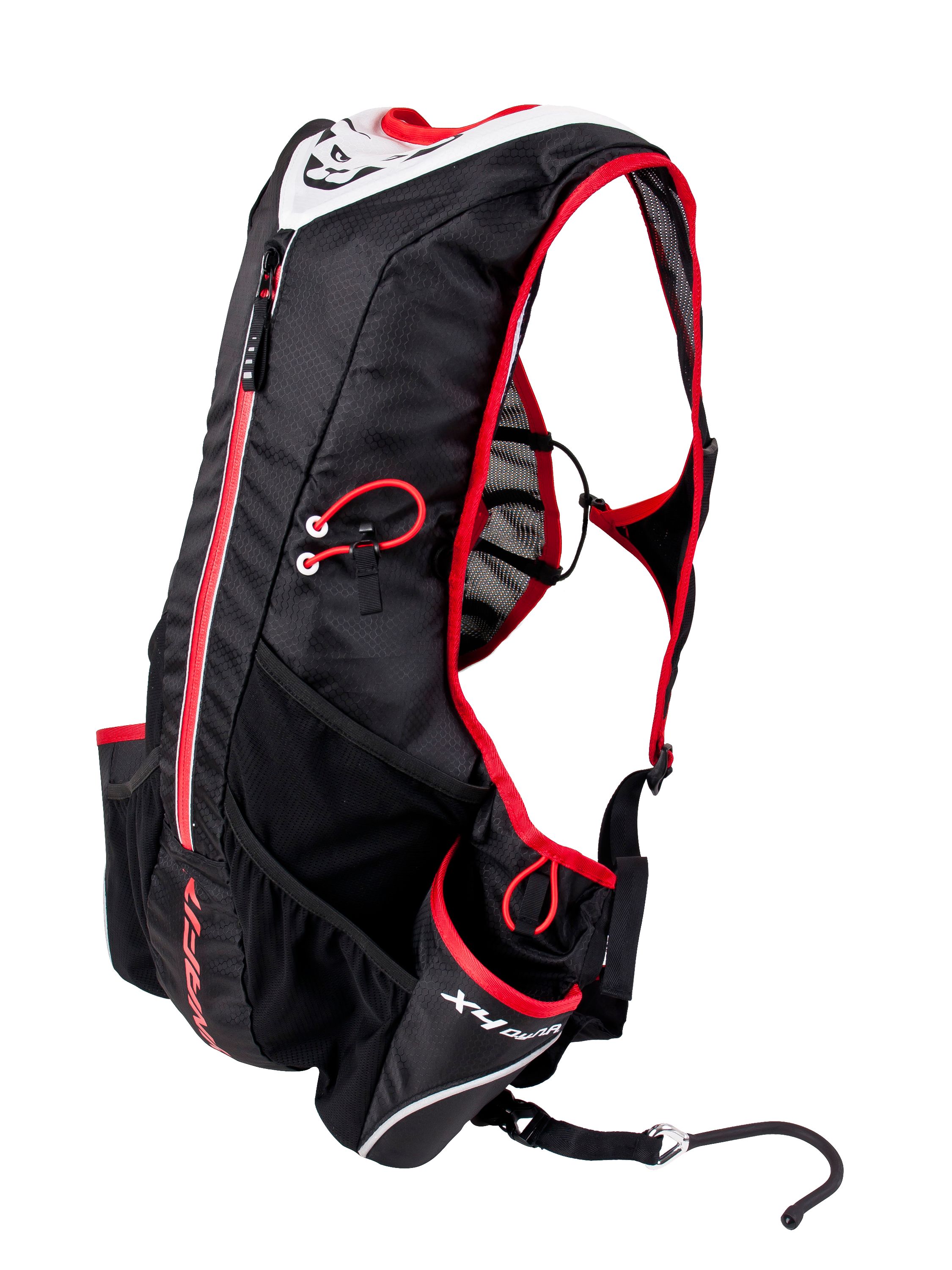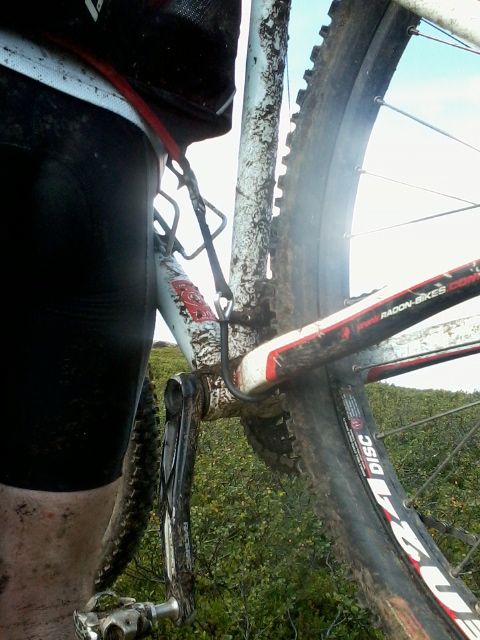 Kayaking …
Yesterday I had a hard interval session in my FENN surfski. I have a priority "B" multisport race in August in the beautiful fjords of Norway that involves a 2 hr paddle, 2 hr run, and 1 hr bike (It's a warm up for my "A" races in China in September).  I need to prepare for a hard tempo at the start because there are some top South African surfski paddlers on the start list. I know I can't hang with these guys (I will hopefully pass them on the run), but I still need some intensity in my paddle training. The idea is to complement the series of long aerobic paddle sessions I've done in June and July, which provided me with a solid base.
Yesterday's plan was 5 x 8 min intervals with 2 min rests. I tend to avoid 4 min "full gas" intervals in my kayak – I save those types of short and hard intervals for running and biking because I tend to lose my form if I go too hard in the kayak.  I have found that form and efficiency (and longer slightly less intense intervals) is the key to being a strong paddler.
So how did it go ? This is where a GPS watch with a heart rate monitor comes in handy.
The first graph shows that I had a rising pulse throughout the 5 intervals (Ave: 149, 154, 157, 160, 164)…
The second graph shows that I had pretty even speed through all 5 (Ave: 11.5 KPH, 11.5, 11.7, 11.6, 11.7) …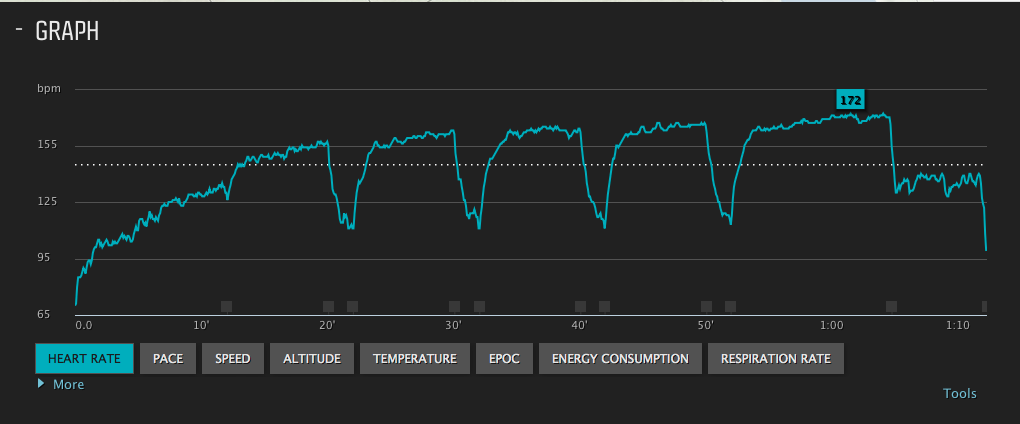 I'm happy that my last interval – which was 12 minutes instead of 8 minutes –had the fastest speed and highest heart rate. That is the goal of all my interval sessions: save the best for last. That's the whole point of a race, isn't it ?
Why was the last interval 12 min instead of 8? I wish I could give a smart-sounding answer, but the truth is I was clumsy.  As I wrote on my funbeat entry:  "On the last interval my watch fell behind the foot pedals so I had to go by feel for speed/HR/time. It felt hard and long. My Suunto told me afterwards that I was right :)"
My next blog will talk about prep for the AXA Half Mountain Marathon – a 21.5 km and 1,050 vertical meter race I'm running on Saturday. The weather looks hot which is fantastic for a California guy like me with an efficient air conditioning system that most Swedes would die for

     There are 430 runners registered –yeah ha !
I'll talk about how I plan to fuel myself for that race to keep my energy level and avoid dehydration.
Train hard !
Scott