The Haglöfs Åre Extreme Challenge (ÅEC)
In 2016 I became race director, together with Henrik Weiler, of the Åre Extreme Challenge, a multisport race involving whitewater paddling, trail running, and mountain biking.
The event has challenged both elite and recreational endurance athletes in the hills of Northern Sweden for over 20 years, as this anniversary edition film shows …
Background
I've raced multisport for over 17 years and my favorite race has always been the Åre Extreme Challenge. In late June every year I find myself sitting nervously in my kajak, just below a gigantic waterfall, about to embark on a  journey that I know will challenge me physically and mentally.
After the energy boost I got from doing this event for the first time in 2008,  I knew that I wanted to become race director one day. But when … ?
A month before the 2016 event, Mats Skott, the race director for the last 6 years, called me up and asked if I wanted to take over the race.
Like many dreams, they don't always coincide with your own time plans. I had hoped to continue racing for several years before retiring into a possible role as director. But I'm also smart enough to see a chance when given one.
So together with Henrik Weiler, the event's logistics manager for the last 12 years, we worked out a plan. He would take over the race-week operations in order to allow me to race and I would promote the race year-round to attract more participants and lift the profile of the race. Slightly amended, my dream had come true.
Receiving congratulations at the finish line from Race Directors Natasha (left) and Mats (right) Skott in 2o16.
About Haglöfs Åre Extreme Challenge
The event offers three race categories:
Solo: An individual completes the whole course by themselves: paddling, running, cycling.
Duo: Two individuals complete the whole course together, side-by-side. Final time is based on the last person to cross the line.
Team: Three individuals complete the course separately, with one paddling, one running, and one cycling. The "baton" is passed in the two transition areas.
The race includes three legs:
Kayak: 25 km of whitewater and lake kayaking (Solo category) or 18 km of lake kajaking (Duo and Relay category). Wind and water levels can make this section unpredictable.
Run: 15 km mountain running from Åre (400 m) to the top of Åreskutan (1420 m) and back down to Huså. Technical and steep, the trail exposes racers to the elements on the rocky summit.
Cycling: 32 km back to Åre's town square through beautiful forests, over challenging climbs, and on technical single-track trails. Don't expect much asphalt.
Read more at areextremechallenge.se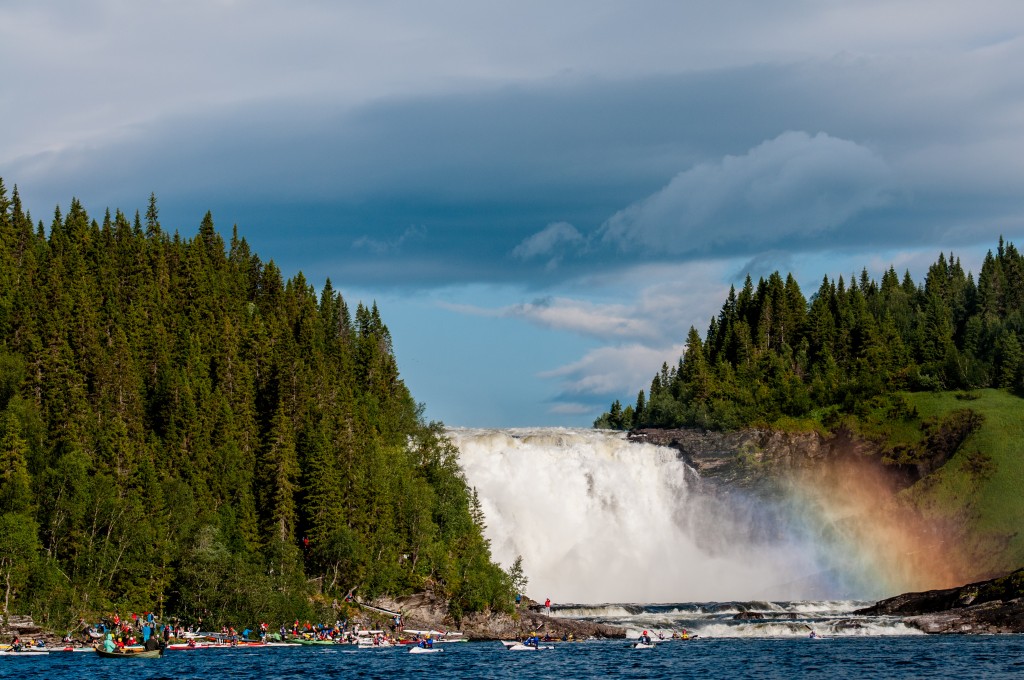 The spectacular race start just below Tännsorsen.