Hey from San Francisco!
While my Swedish multisport friends were racing in China at Wenchou (congratulations to Thule for winning the 3rd stage), I was hanging out at a bachelor party.  But I had better weather, great friends, and definitely better food …
Here is a 90 sec video of the Lake Sonoma 50 mile ultra run. A few stories and pics below. (A disclaimer: I did not run the full 50 miles, I stopped at 25 .  Not only was the whole 50 intimidating (!), but I  wouldn't be practicing what I preach: i.e., "ramping things up slowly" when coming off a long break

I like the ultra running community — a fun group of energetic people that love to push themselves, but also to stop and smell the flowers. None of that cut-throoat competition stuff you find in triathlon.   I also like their environmental consciousness — they didn't use any paper cups at the aid stations and required each person to bring their own!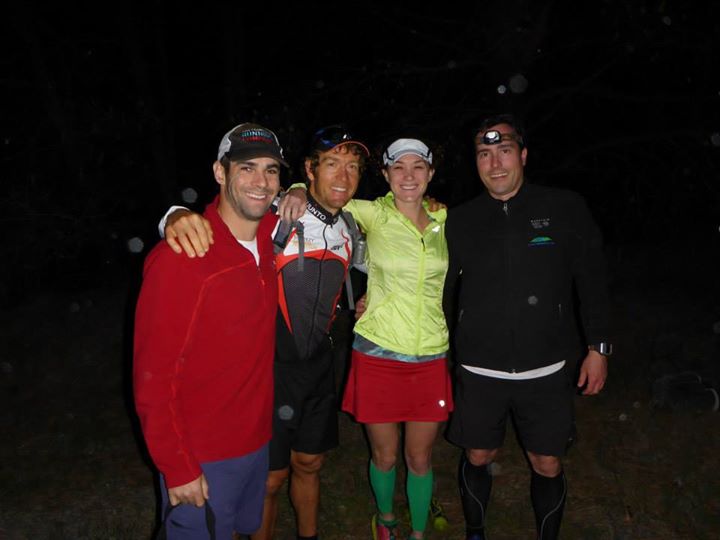 O dark thirty at the race start. From left, Grant Sisler, Me, Shawna Sisler, and Chip Paterson (aka "The Bachelor").
Race director "tropical" John (he likes Hawaian shirts) doesn't make any money on the event. Instead, he donates his time and gives all the  proceeds to a scholarship fund for farm workers' kids in this rural wine-making region.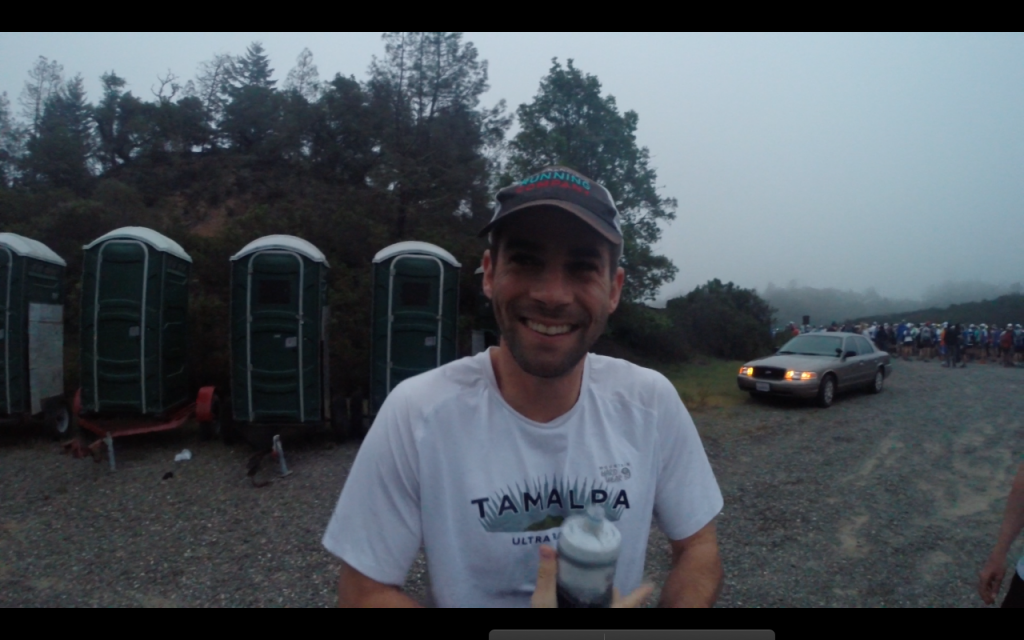 Grant was ready for the early morning start. Too bad he got sick with a cold the week before and couldn't benefit from his hard winter training. 
Sunday involved some wine-tasting and what we expected to be a relaxed "float" down the  river …. It almost turned to a disaster.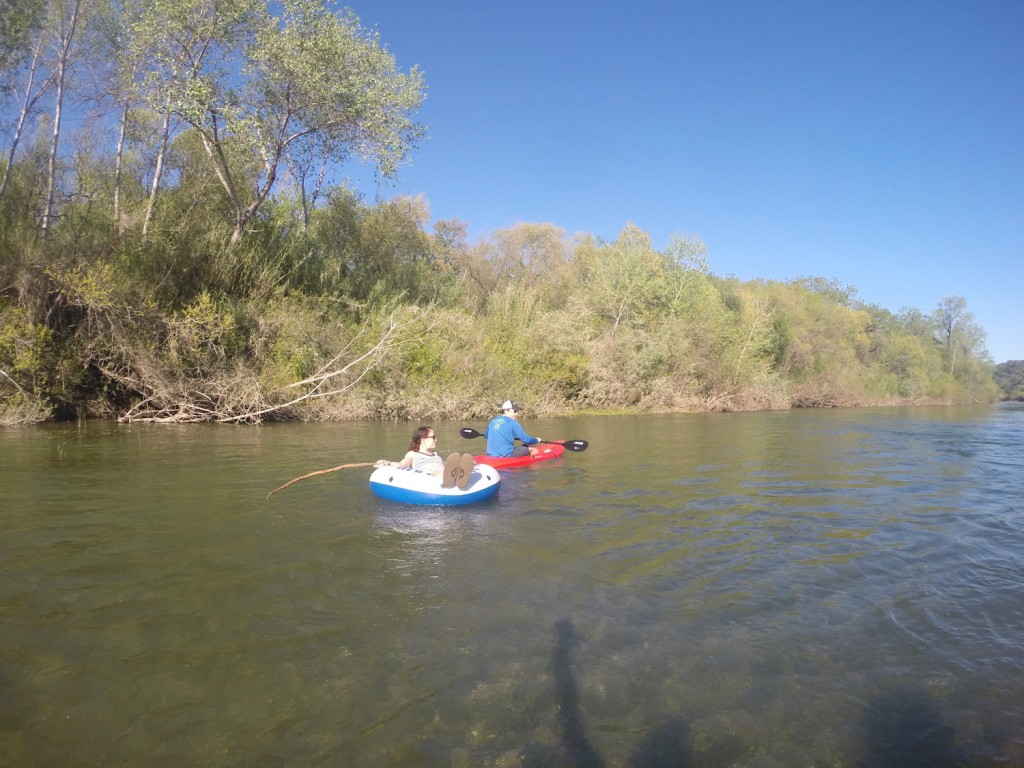 It started off pleasant enough … 
Short version of the story: We nearly became one of those groups you read about in the newspaper who fail to prepare properly. The Russian River is fairly remote (surrounded by vineyards) and we started late in the day and under-estimated the total distance. After 50 minutes, we got a puncture in our blow-up tube (not the best craft for this expedition). I aborted the mission and walked up the road to hitch hike home. The others continued with the two kayaks, but got caught in a strainer (a big willow tree in the middle of the river). They were cold and miserable, but luckily met people who warned them that they "were NOT almost there." They were treated to dry clothes and wine and eventually found their way home via car. It turns out one of them was the writer for the Sopranos. Meanwhile, the family that picked me up on the road had been growing wine for 30 years and I was NOT the first one to come knocking on their door asking for help after a "river outing" gone bad … Ahh, the places you go and people you meet …
Grant, who is my 'adventure-racer-turned-ultra-marathoner' friend, dusted off 4 years of accumulated dust on his old Jamis road bike. He couldn't find his bike helmet but we found an old climbing lid from his equally dusty AR bin of gear. I had a fantastic ride around Tiburon with blooming spring flowers and views of the Golden Gate.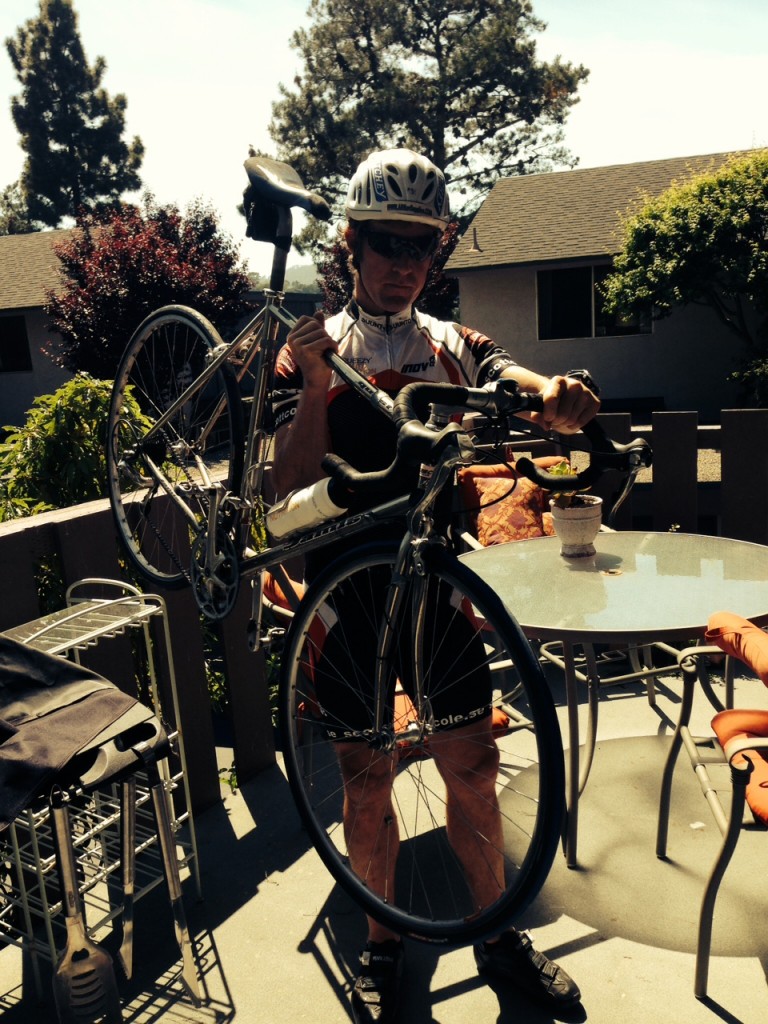 The Jamis steel-framed ride.
I'm hoping to borrow a kayak from Adventure racer Tomas Bastis later today before heading to DC tomorrow.
Prepare well for your next adventure …
Scott