Here comes my race story from the first annual Mountain Man Multisport Race in Greymouth, New Zealand. For those with a short attention span (like me), you can check out the 50 sec GoPro video below (thanks to Ruby Moon and Sky for that!).  Those who want the details can read the full story just below.
Race Story
At 6.30 am 35 competitors stood on a jetty sticking out into the Tasman Sea. We were more focused on the headwind than the incredible sunrise approaching from over the coastal peaks.

 (Photo: Stephen Roberts, Shakey Finger Photography)
 Strategic or Kamikaze?
Any multisport race that starts with a group bike ride demands strategy: how much should I pull against the wind? How much should I let others work? How close should I be to the front in case I have to chase a small group that sprints off?
But this was a "training" race. My goal was to do exactly what I did NOT want to do for C2C: push hard on the first bike, do most of the work, and try to blow myself up so that I could see how my legs would react on the ensuing mountain run.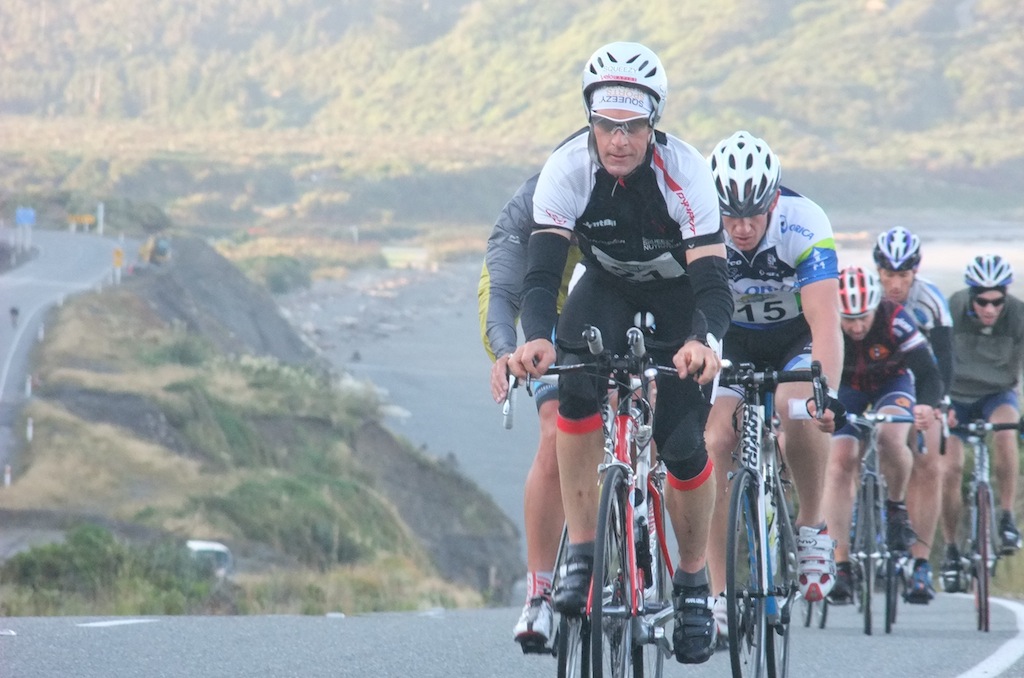 Taking a turn at the front … early and often (Photo: Jacinda Gilligan)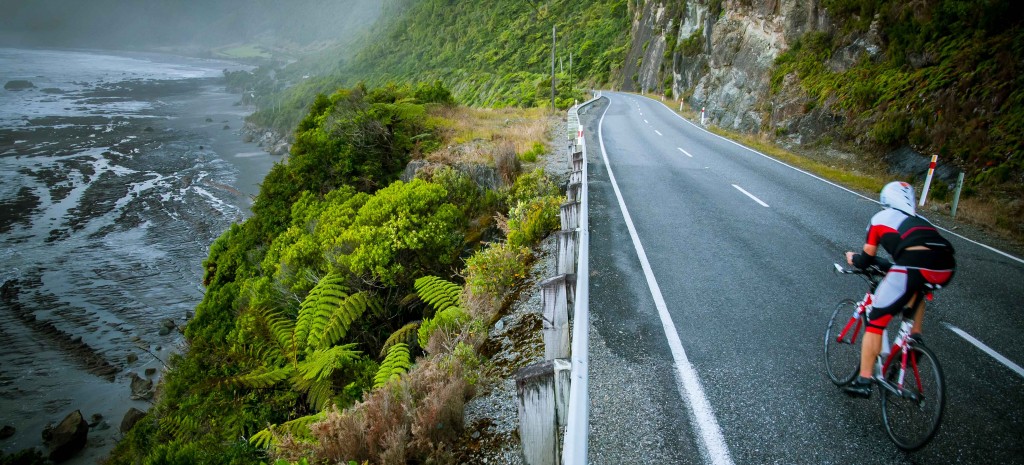 The beautiful coastal road (Photo: Stephen Roberts, Shakey Finger Photography)
It turns out that my kamikaze approach fortuitously turned in to a good strategy. But more importantly for me was that my legs responded well on the run.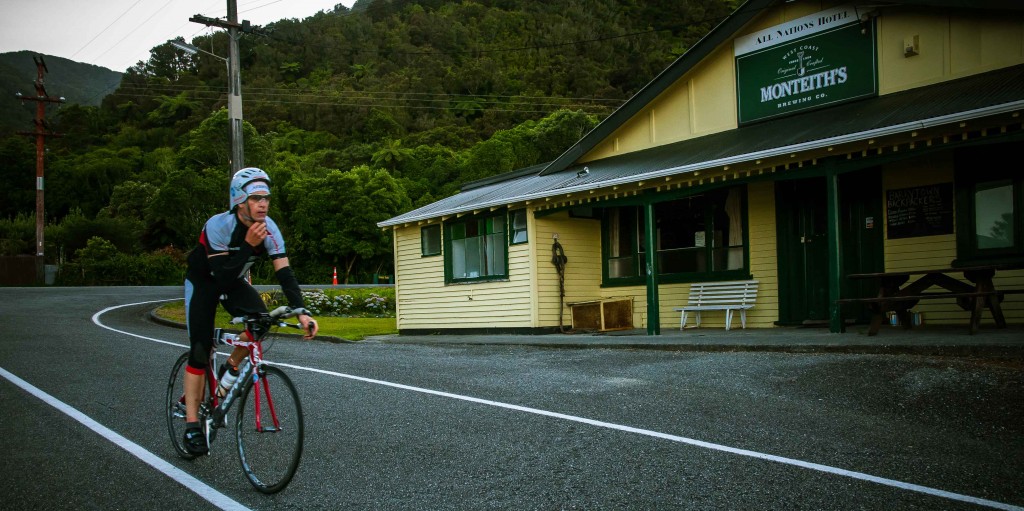 Rolling in to the Transition …  (Photo: Stephen Roberts, Shakey Finger Photography)
… and running out of the Transition  (Photo: Stephen Roberts, Shakey Finger Photography)
I transitioned first from bike to run and  pushed my heart to work hard in the first 80 minutes of uphill running. When I broke out from the thick NZ bush and ran along the open ridge I experienced an amazing early morning sunrise. Thanks to a long 'line of sight' I could look back and see that nobody was approaching – my lead might be up to 5 min (?). The magical scenery, the euphoria of pulling ahead, and the pure magic of feeling my body respond gave an unbeatable adrenaline rush.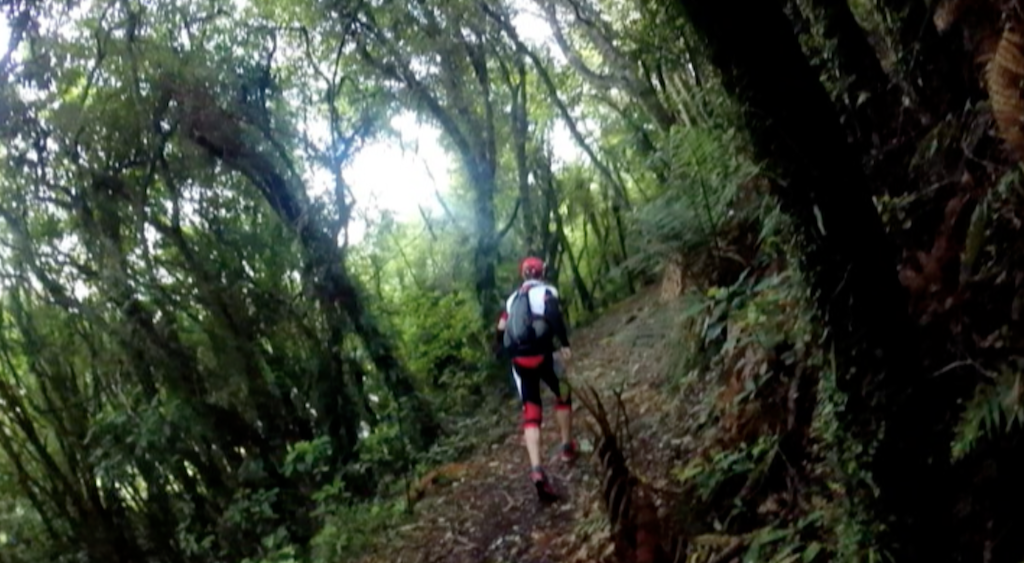 Running through the thick NZ bush
After stopping for 1 min at the hut to fill my water bladder, I ran the last 10 km downhill in 50 min. The decent was smooth thanks to some recent trail maintenance. Even so, I got careless and tripped over a rock, donating a bit of skin … otherwise I passed the time counting possum traps on the way down (I got up to 15 I think?)
At the end of the run I arrived at the car park and saw 35 MTBs, but no race volunteers (a thief could have had a field day …). I found mine, popped a Squeezy  gel, changed my shoes, and took off. I'm a good descender on a MTB so I relaxed and tried to recover while filling up on fluids and carbs for the final 90 minute kayak to the finish.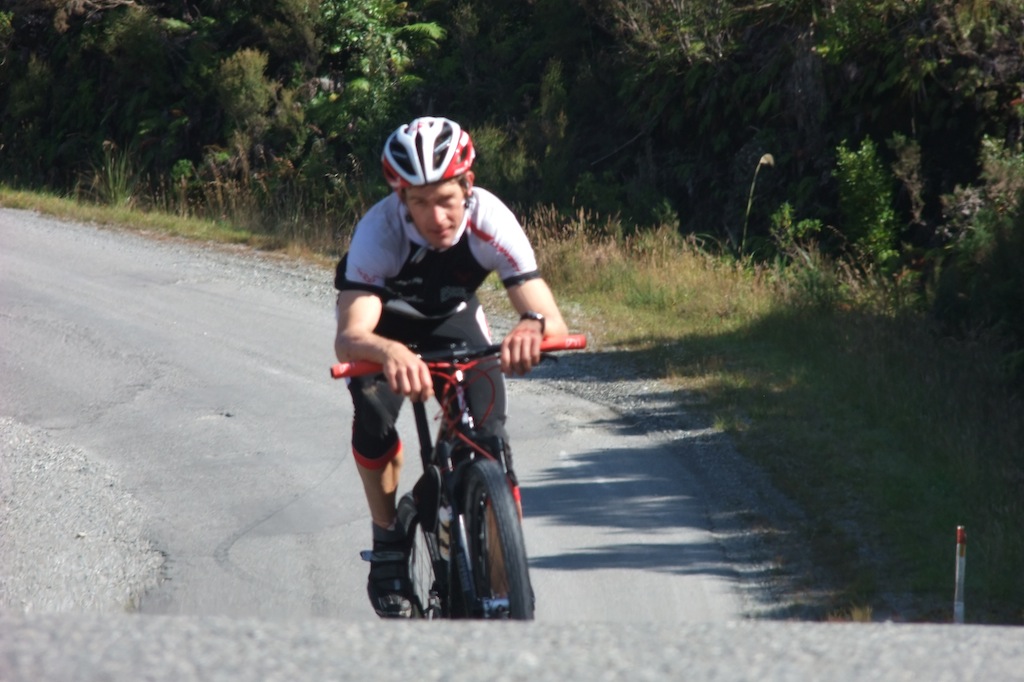 Staying out of the headwind on the MTB section (Photo: Jacinda Gilligan)
The transition to the kayak went smoothly (just as Michelle and I had practiced it the night before). I stayed calm and let Michelle be in control – a strategy I sometimes have trouble with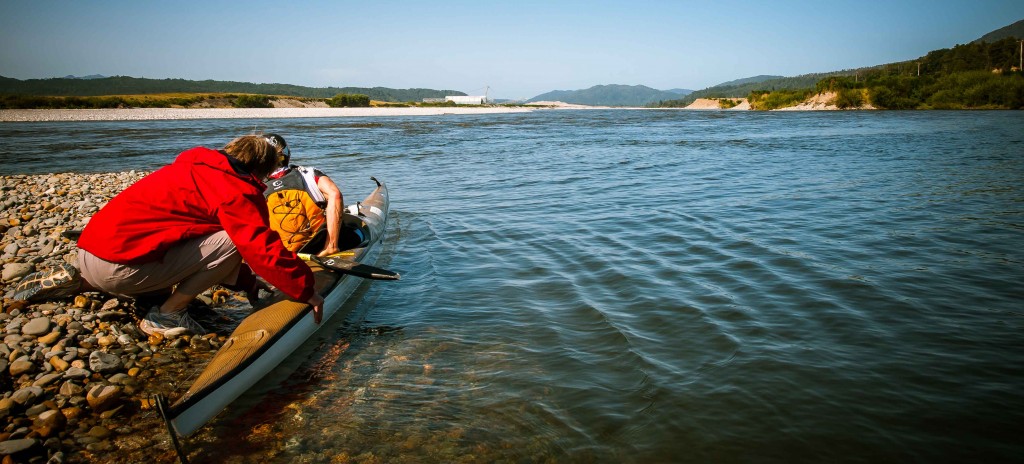 Michelle helping me adjust my skirt before taking off (Photo: Stephen Roberts, Shakey Finger Photography)
I launched myself in to the current of the Grey River and my Suunto GPS watch showed 22 KPH. Wow.  On flat water I usually paddle 11 KPH, so this river was moving (the flow was about 500 cubic meters per second). This flat water was deceivingly powerful.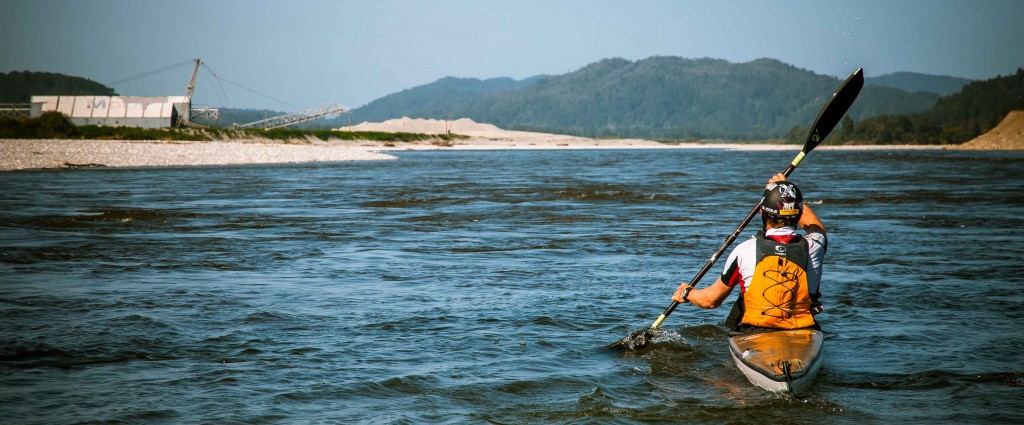 Launching myself in to the current  (Photo: Stephen Roberts, Shakey Finger Photography)
Being hunted
At this point I had been in the lead for over 3 hours and was constantly fighting the urge to "look back." That's what it's like to be hunted. There's not much upside to looking back, but try telling that to your insecure mind (!).   Let's face it: either (1) you're going to get mildly good news that nobody has caught you … yet (in which case you could have saved the energy and focused on your own race) or (2) you get bad news, which messes with your psyche and your rhythm. This conundrum is complicated when you're in a kayak because there's always the risk that twisting around causes you to take a swim …
But finally I got the news I had been waiting for: a 'back time' to Nathan Peterson, who was in 2nd place.  Michelle had relayed the time at the kayak transition to my camera crew, who held up a big sign on the bridge with the number 6 on it.  That felt good to see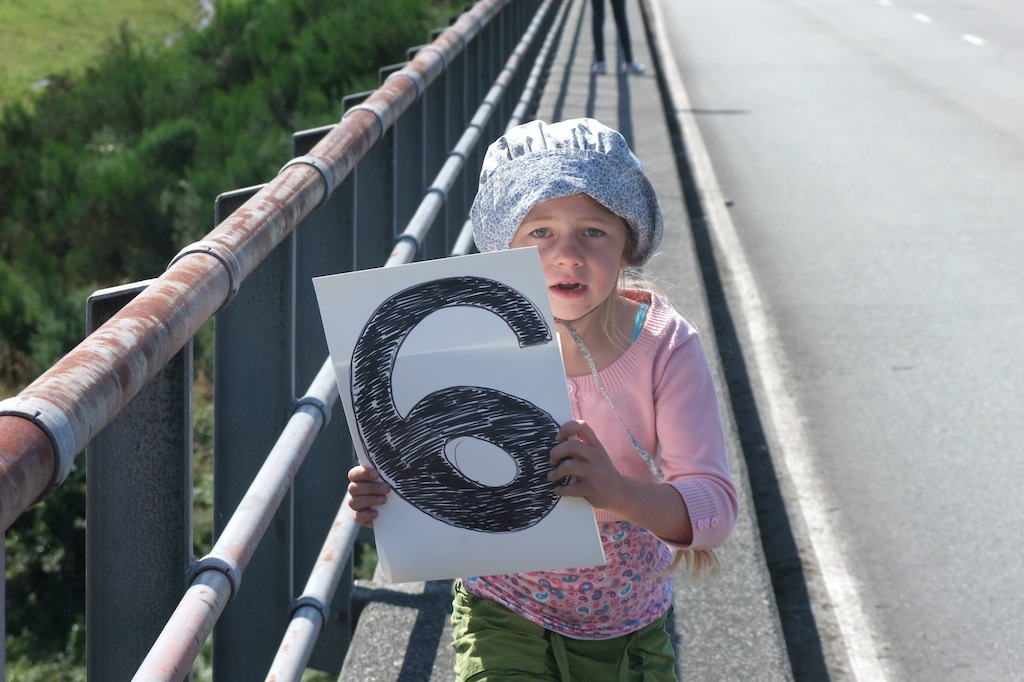 With a 6 minute lead I thought "Nathan would have to put in a hell of a paddle — and I would have to really fade fast — if I was going to blow this lead."
Then 2 things happened that almost caused me to blow it.
1. I started to fade … and my cramps moved from my arms to my legs.
2. I chose a couple of bad lines at the mouth of river.
Getting a leg cramp in a kayak is disconcerting because there's nowhere for your legs to go. The only solution is to use your legs less and your upper body more (which is inefficient), and to drink, drink, drink. I did both and held them at bay… just barely.
2 km from the finish, I cut across a wide bend in the river that was shallow and had no current. Then I got hit by a headwind. I didn't see Nathan behind me but I felt myself losing valuable time.  To make matters worse, I tried to avoid the incoming ocean swells at the mouth of the river by staying far right. The problem was that the tide was going out so it would have been better to stay in the middle and 'ride the tide' out … but I didn't know the tide was going out.  I only realized it when I cut back across the channel from left to right to get to the finish line — that's when I saw my speed go from 10 to over 12 kph when I was in the middle of the channel. Darn, that was a miss.
Nathan was feeling strong and had a target ahead of him (I think he paddled 3 minutes faster than I did). I was hurting and just trying to survive.  Thank goodness the paddle wasn't another 2 km's longer ….

Michelle pointing out the obvious … the finish line

  (Photo: Stephen Roberts, Shakey Finger Photography)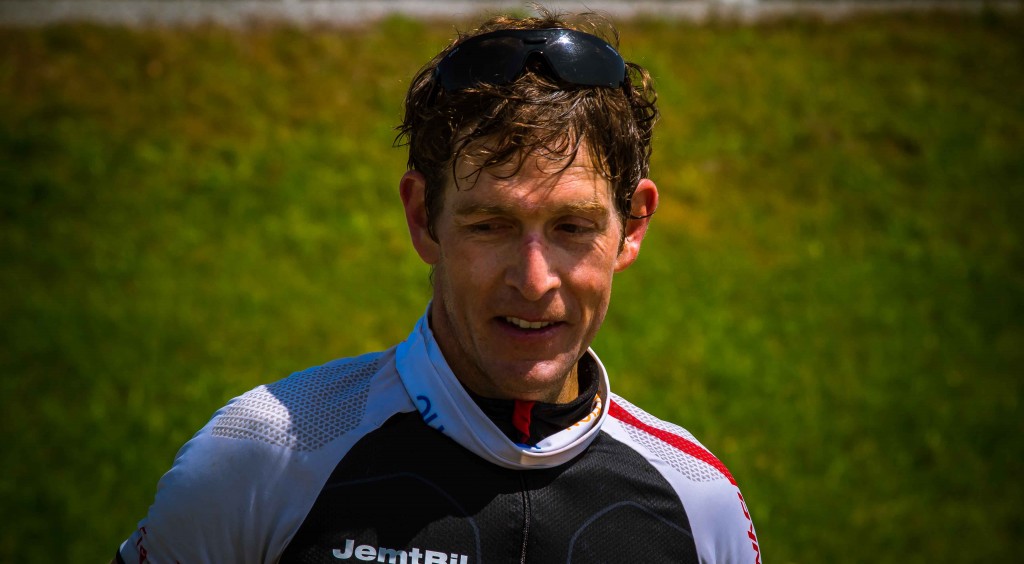 The race took me 5 hrs and 23 minutes:
For you data geeks, my Suunto GPS data are here (http://www.movescount.com/moves/move24313371) and race results here  (http://www.mountainmanevents.co.nz)
The next few weeks will involve more "kamikaze-like intervals" and more on-the-course training for C2C.  If you want to follow the journey, you can Like my Facebook page (www.facebook.com/scottcolemultisport).
Scott
PS. As you gathered from the story, this was no solo effort. My support crew were awesome: Michelle Craw and Jacinda Gilligan. Jacinda's daughters Ruby Moon and Sky did a great job with the GoPro camera!