I just returned from China for the 3rd time in 3 months and I can say that all three trips were a success. I measure success not only by placement and performance, but also less tangible things like racing with, and learning from, new teammates; meeting new people (race organizers, volunteers, even a group of ex-pats living in Beijing where I gave a presentation); pushing my limits and coming out better for it on the other side (see e.g., the epic meltdown at Wu Long in Sept); and of course tasting new food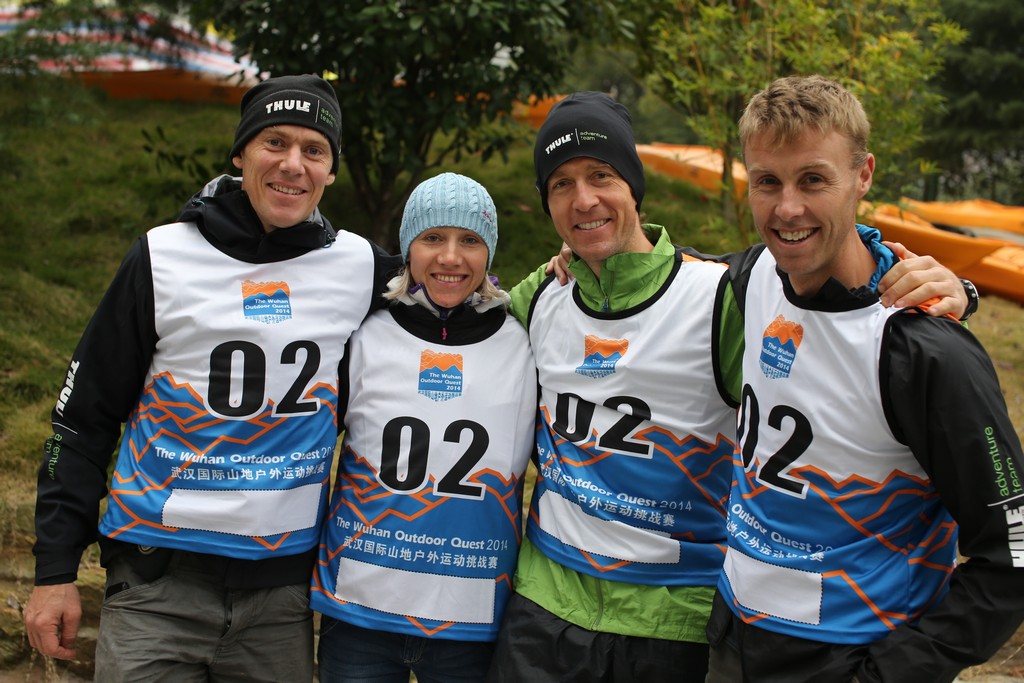 Team Thule Adventure at the Wuhan Mountain Quest: Martin, Helena, Me, and Jacob.
Here come a few pics and stories about race strategy  … But first I want to tell about an ethical dilemma from Day #2. What would you have done if you were the race director? Here's what happened:
A team from Germany had a travel nightmare en route to China. Due to cancelled flights only 3 teammates made it on time and the 4th arrived after Day #1. Luckily there was a Chinese racer who was there and had his bike, so he jumped in and filled the spot of the 4th teammate on Day #1. His strong physical skills made up for his lack of English and the team performed well, finishing 6th on Day #1, just a few minutes behind Team Multisport Finland.
When the 4th teammate arrived after Day #1, the Germans thanked their Chinese substitute and were ready to re-unite their original team. But race director Wei Jun requested that they get the other teams' approval of this change – a special exception to the rule that says teams cannot change members during the 3 day race.
All the Western teams agreed it was OK, with one exception: Petri Forsman's Team Multisport Finland. I understood his perspective. The Finns had finished only minutes ahead of the Germans and weren't so keen to see a fresh pair of legs show up on their rival team. On the other hand, I had empathy for the German guy who had spent 3 sleepless nights in the Beijing Airport and just wanted to race.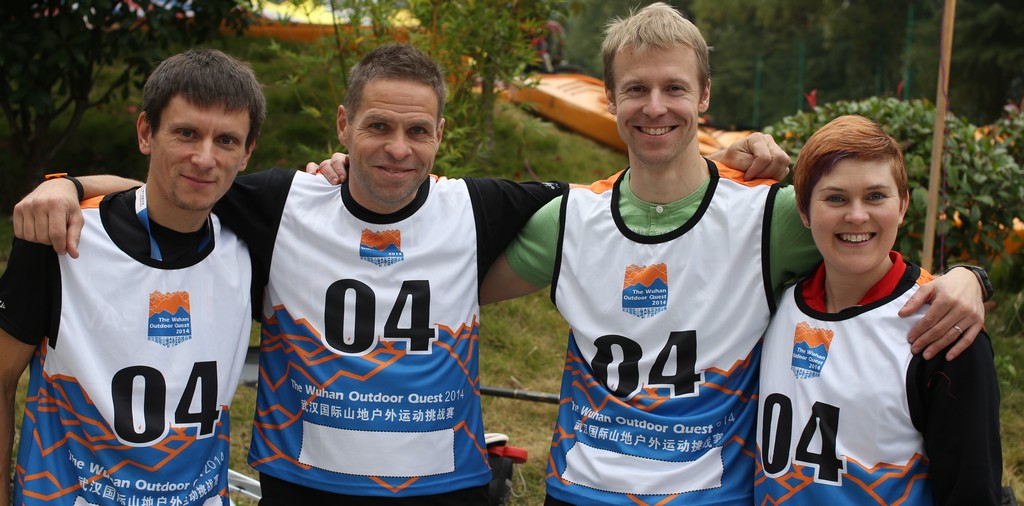 Team Multisport Finland
Martin and I brokered a deal between the Germans and the (Swedish-speaking) Finns that basically went like this: The Germans just wanted to race with their teammate, they didn't care about the prize money. The Finns didn't want to lose out on prize money thanks to Mr. "fresh legs." So the Germans agreed to share part of their prize money in the event that they finished ahead of the Finns. The race director said OK and the all-German team turned in their "approval" sheet with signatures from all the Western teams.
But the next morning the deal fell apart because the race director also required them to get permission of the Chinese teams (reasonable enough), several of whom objected. In the end, the "substitute Chinese" guy was back with the Germans and the newly-arrived German jumped on with another team that had lost a teammate to injury (and were continuing "un-ranked and unofficial").
In the end, it wasn't a complete loss, but it was a dilemma for teams. Petri gave an analogy that made me think twice. He said "Imagine if Team Adventure New Zealand (the semi-pro team that won the race) didn't have Braden Currie (their superstar) on Day #1 but he arrived for Days 2 and 3 with fresh legs. Would all the other teams accept that?"
And he's right — in a multi-day stage race, the single most important factor for a team is how it handles fatigue on Days 2 and 3. Having a set of fresh legs is sort of like doping: it certainly gives you a boost relative to the other competitors.
What would you have done?
>>>>>
OK, here come some pics …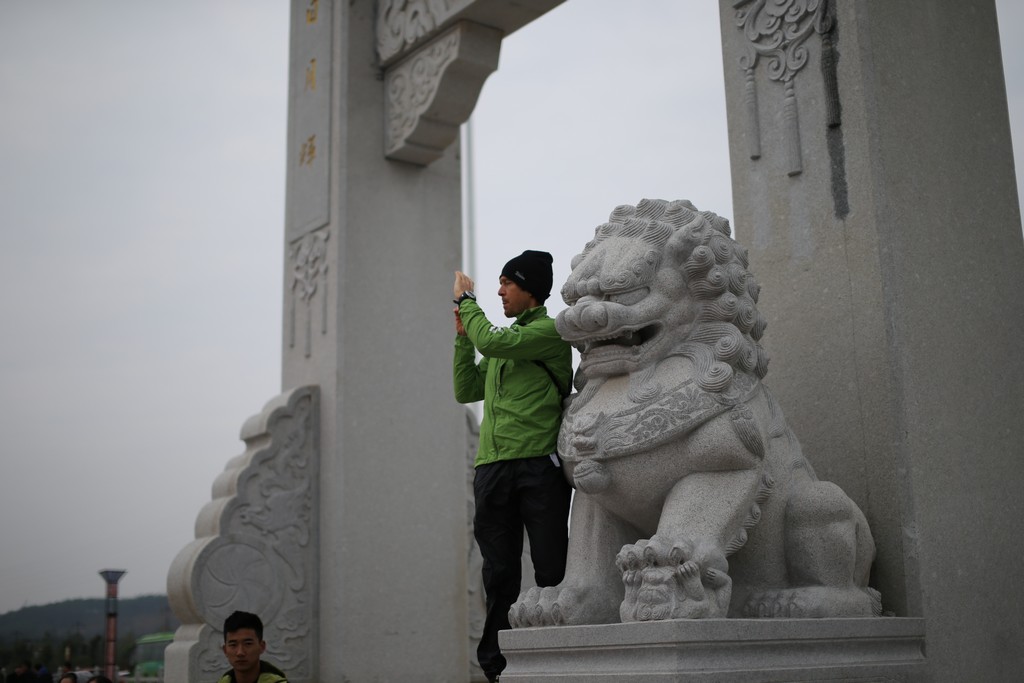 Capturing me capturing the moment at the start of Day 2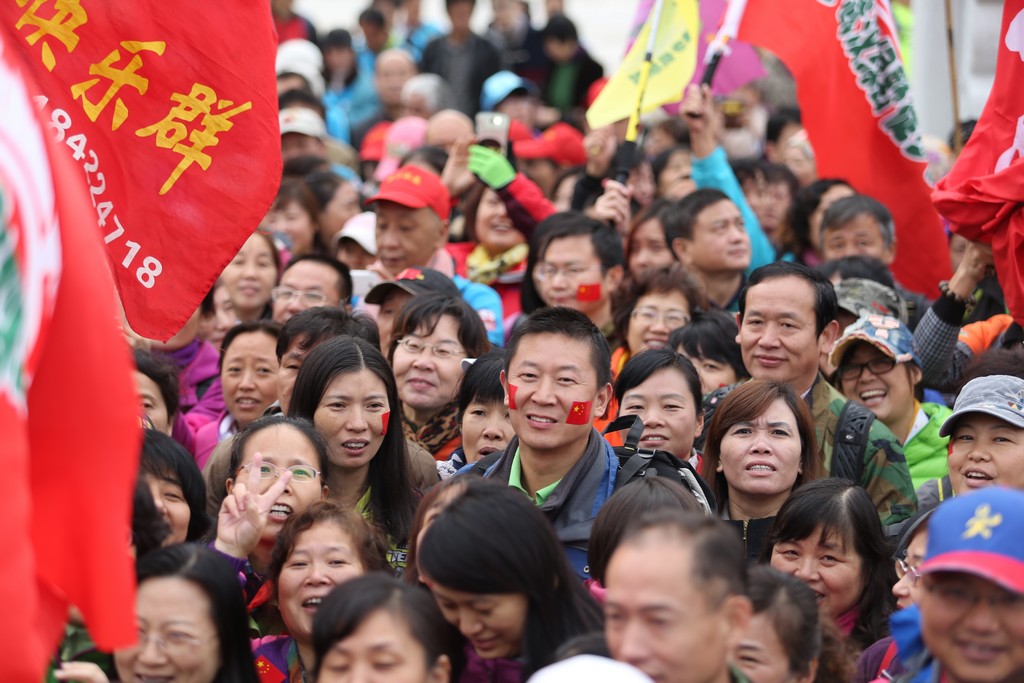 At the start of Day #1 there was an "amateur race" for locals that started 10 minutes before us. It was a large and colorful group, with about half the field quickly extinguishing cigarettes just before the starting gun. I expected to see a sprint off the line, but the whole group proceeded to walk the "race" course …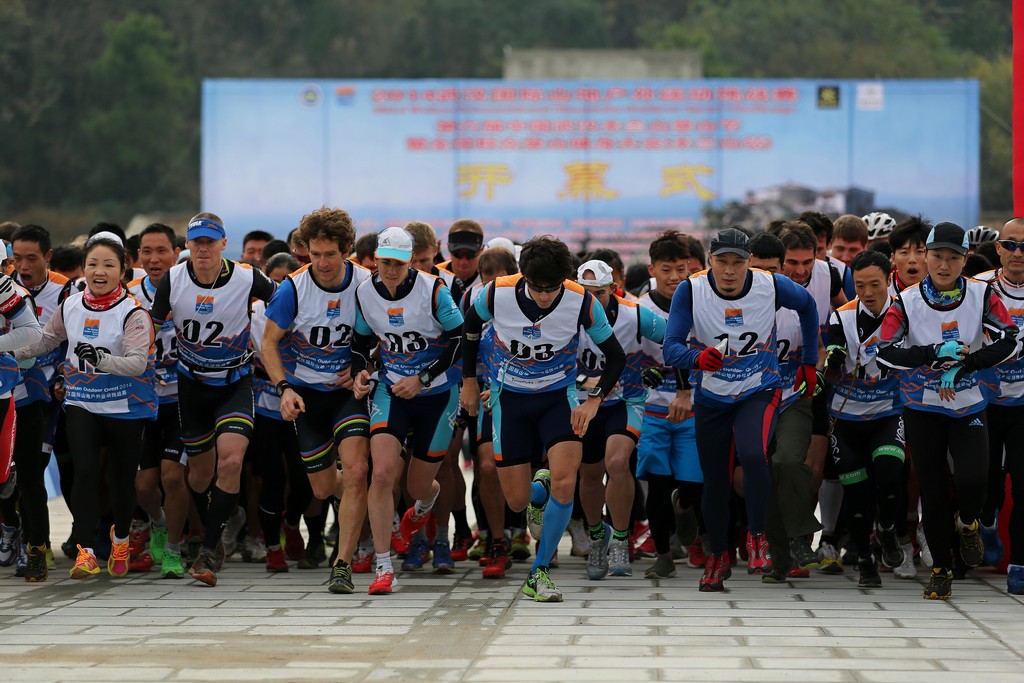 How's that afro looking on the far left? I like how Elizabeth of Team Peak Adventure is holding a strong position with her right elbow in my stomach. Those Aussies don't give an inch ..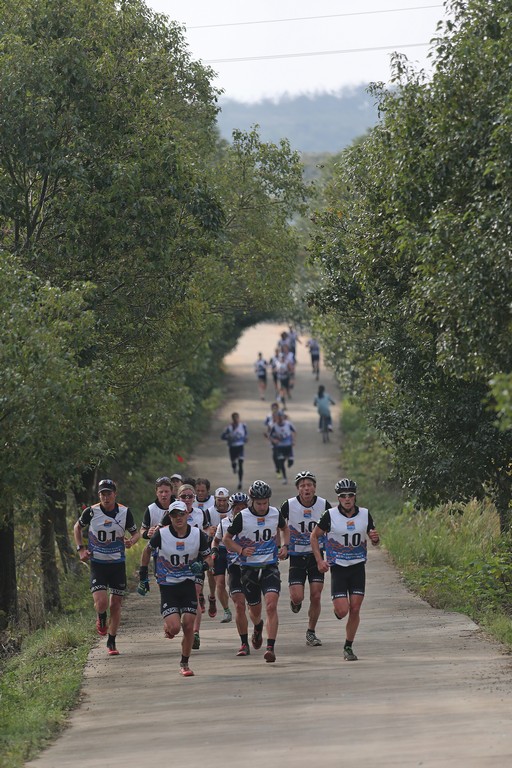 The fast paced start on Day #1. Being a good technical trail runner doesn't always help when racing in China. Sometimes pure asphalt speed is needed …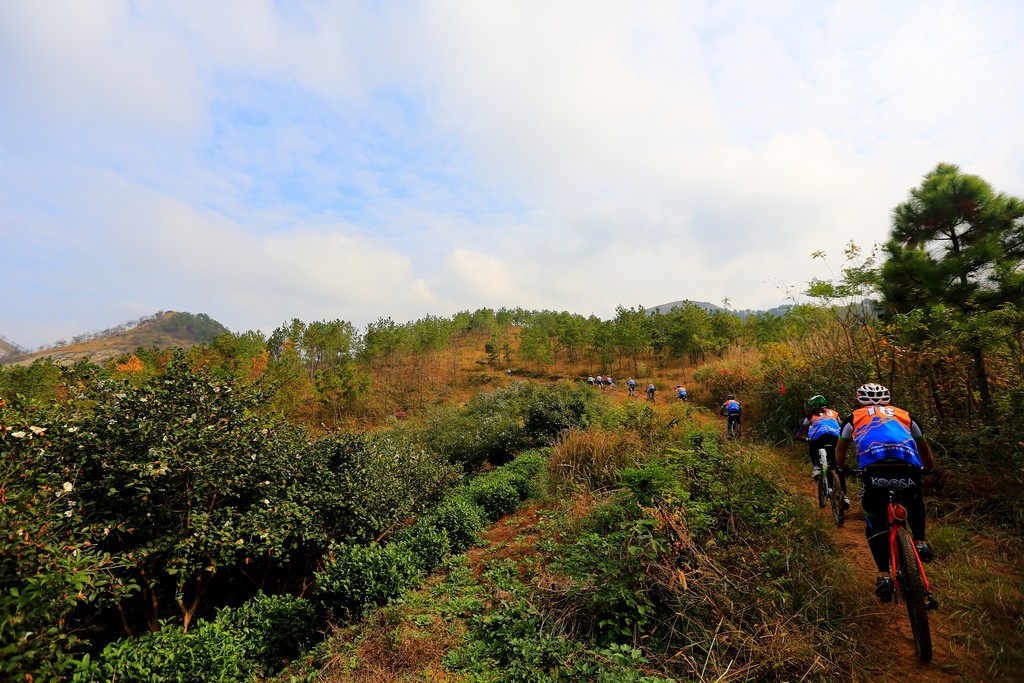 We had some nice single track at times, but sadly most of the cycling was on asphalt roads …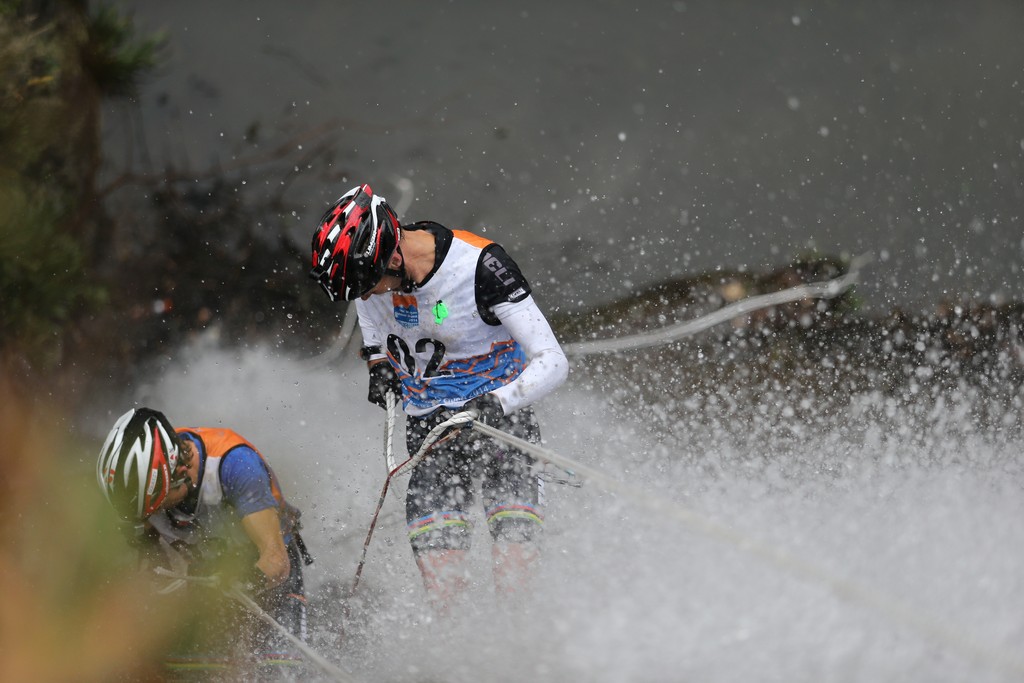 Jacob and me descending the waterfall via ropes on Day 2. The water wasn't so warm in November …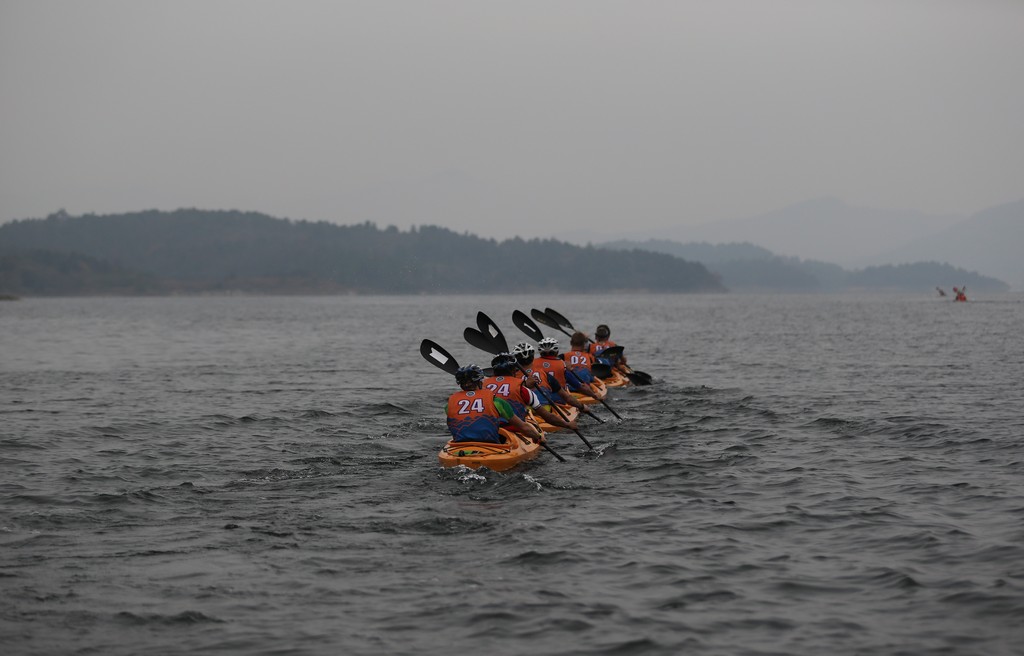 I didn't know it at the time, but another team (#24) was drafting off us for quite a while during the kayak leg of Day 2. These kayaks throw so much wake that being able to "free ride" behind another team saves a lot of energy… (We're team #02 at the front).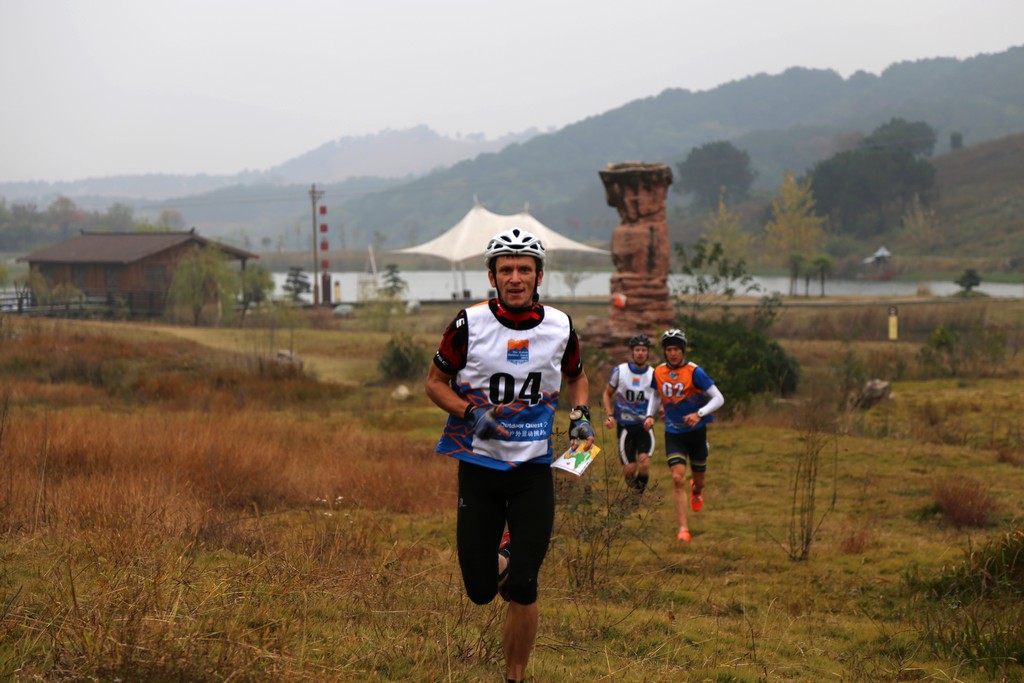 Team Strategy #1 … The start of Day 3 was a team orienteering leg, where each team was given only 1 map, but the team members could divide up to capture the 15 controls in any order. But dividing up the team was difficult if you didn't have a photographic memory (or an iPhone take a picture of the map …). So we decided to team up with the Finns, who we knew were really good orienteerers, and share our two maps.  Here I am following Heiti H (with the map), who set a blazing tempo. Our strategy worked, as we were one of the first teams to complete the orienteering section and we started the ensuing bike leg with a jump on the other teams.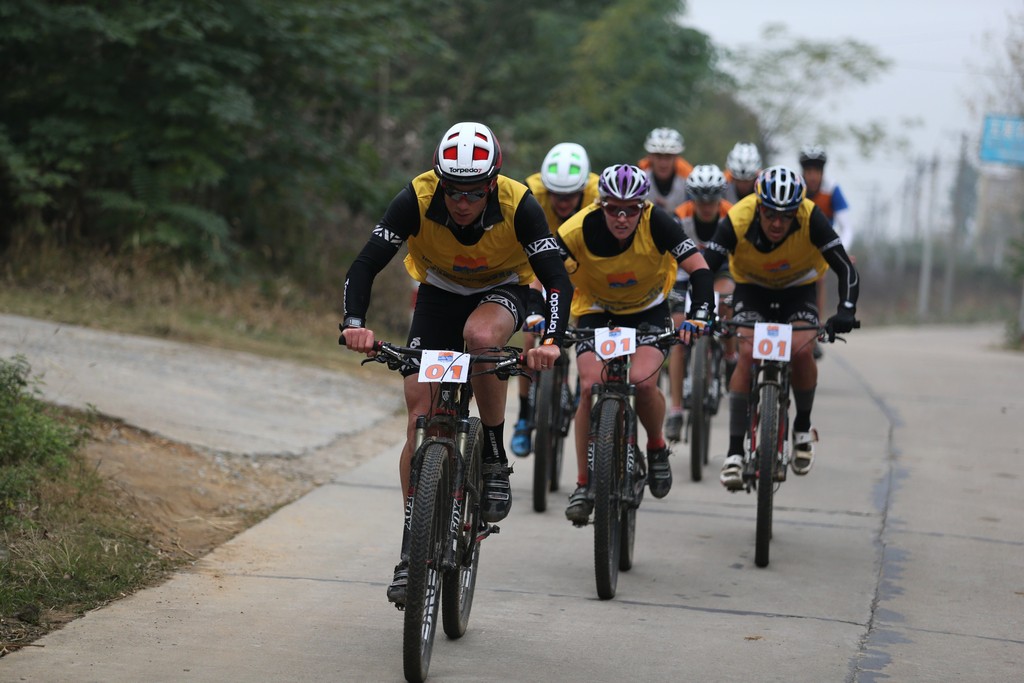 Team Strategy #2… Team Adventure NZ didn't do as well on the first orienteering section but 90 minutes later they caught up to us on the bike. At the time, we were riding together with 4 other teams and the pace had started to slow down (nobody wanted to work in the front of our group). So Team Adventure NZ (in the yellow jersey above) played the classic "pass with authority" card and overtook our group at full speed in order to make sure nobody jumped on their wheels and got a free ride. But we did just that.  We were the only team that was able to answer their hard effort and it paid off. Over the next 30 minutes, they set a super fast pace and we just glided behind them out of the wind …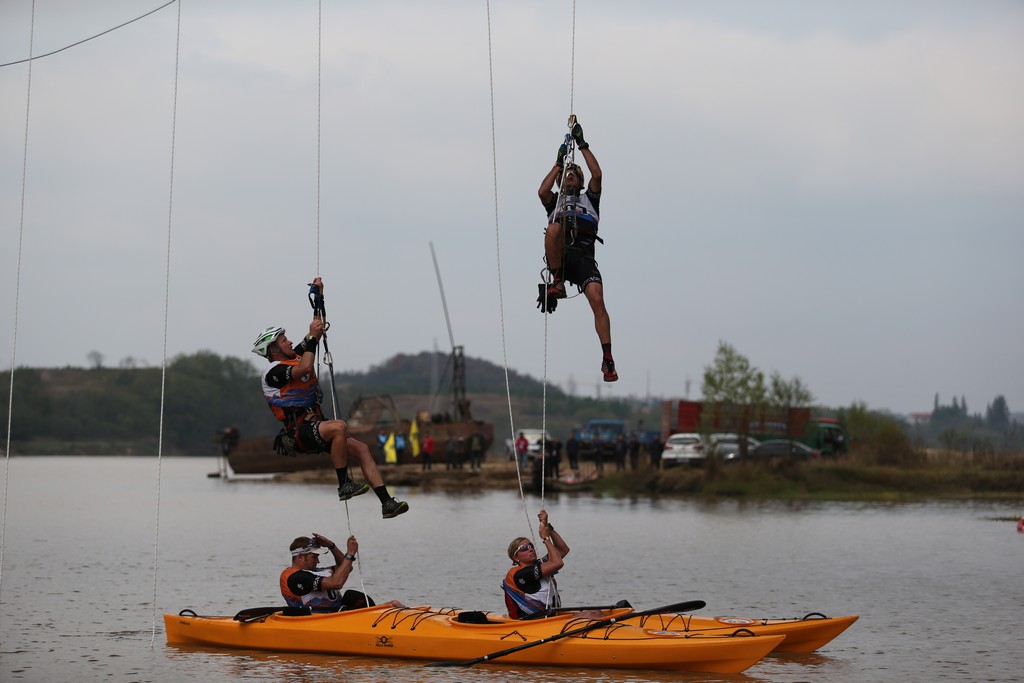 One of the highlights of the race was an exciting end of the paddle on Day #1. Two teammates had to "jumar" up the rope. Team Adventure NZ (pictured above) was just ahead of us, but we started up the rope together with them. At the same time, Team SOS Rehydrate, in 3rd place, was rapidly approaching from behind (see picture below) as I try to get some order on the ropes.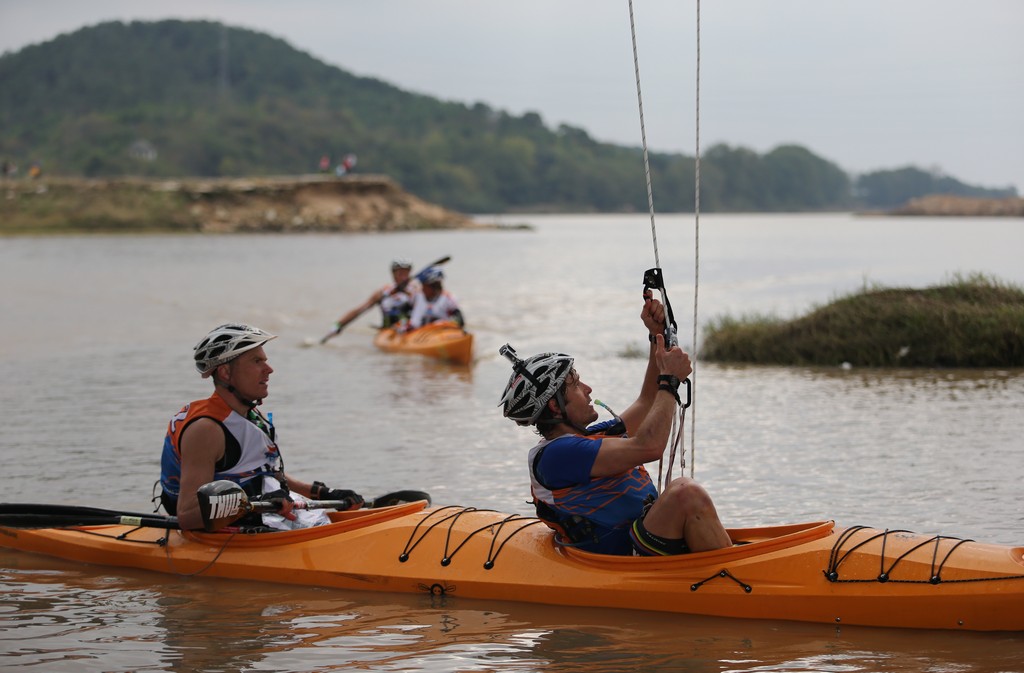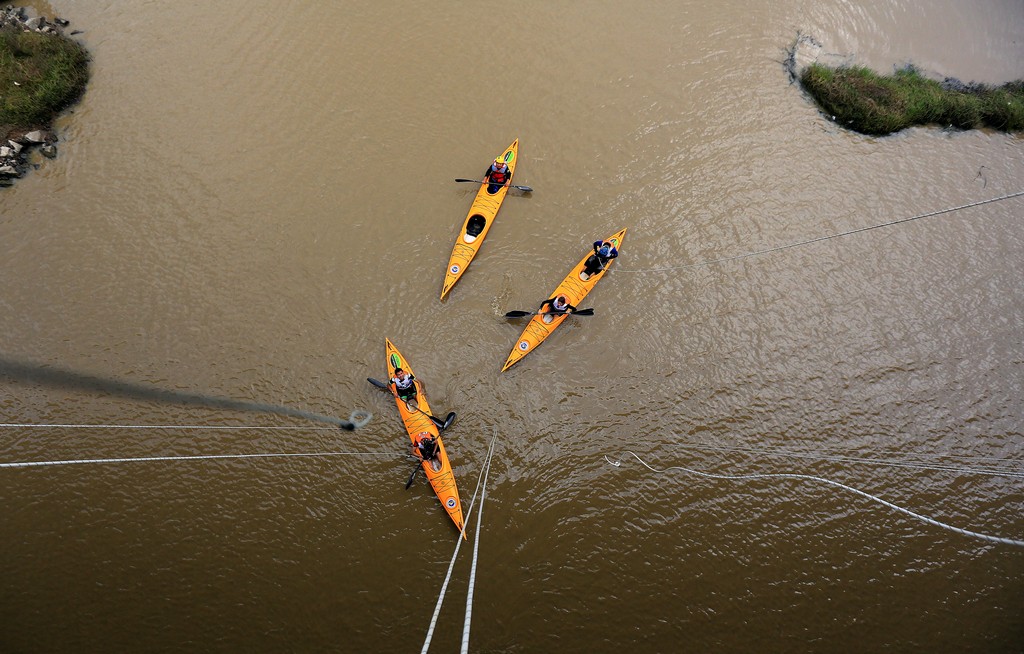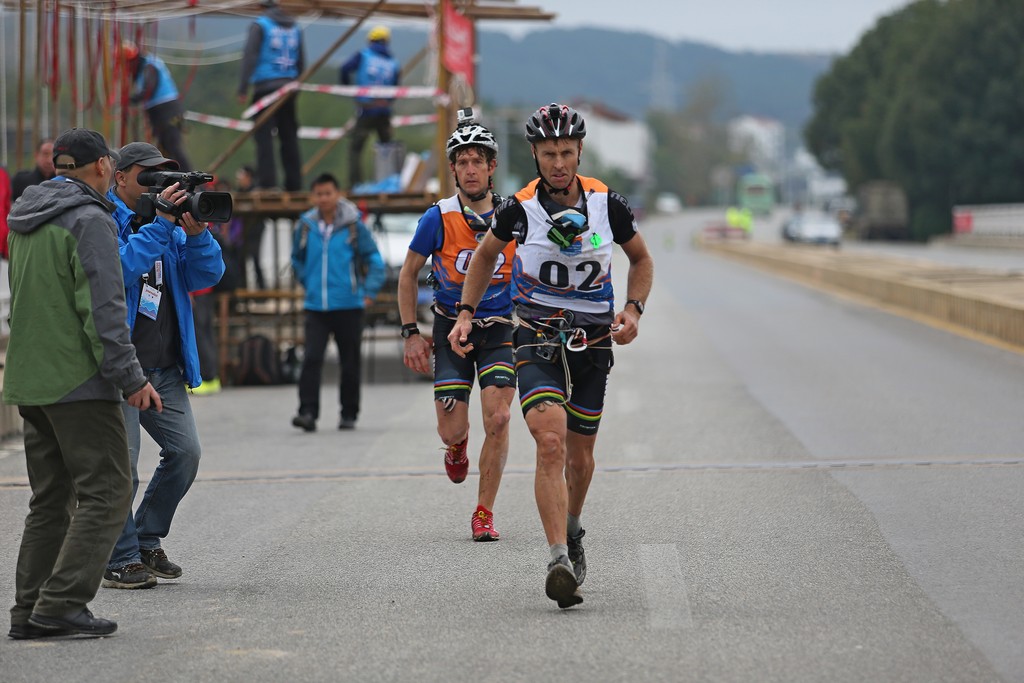 Without taking off our harnesses, Jacob and I made a mad-dash to the finish, but we couldn't catch the lead team.  Just before the finish, we had to work together as a team to get over a 3 meter wall without any ropes, see below …
So that's it for now. I hope you enjoyed the pictures and I hope I can return to China in April 2015. Stay tuned for a GoPro film from the race in the coming days …
Train smart
Scott
PS One last thing — I want to congratulate a team of rookies from Norway who competed at Wuhan. They did a great job, despite very limited multisport experience. They plan to be back in 2015 also. Well done Viviana, Olov, Kai Ove, and Kåre!