Sorry about the delay … I was optimistic about having time to blog while in China. Lots to clean, pack, unpack, re-pack, repair, purchase, etc …
The Wulong race was tough – we finished 8th place after 19 hrs of racing over 4 days. We never saw the sun and raced through mud, dirty water, and slippery trails for most of those hours. We had a good time, despite some disappointments and some challenges. But no team finishes this race without challenges – even Richard Ussher's winning team had a flat tire, a pump that didn't work, and then a derailleur that broke on the final stage, which explains why they finished 3rd that day (read more here — http://www.sportzhub.com/news/wulong-mt-quest-china-kiwis-toread-red-bull-defend-title/)
The second day of racing was our best – we were just behind Team Silva in 4th place nearing the finish when we got another flat tire, but we fixed it fast and had a solid 5th place finish.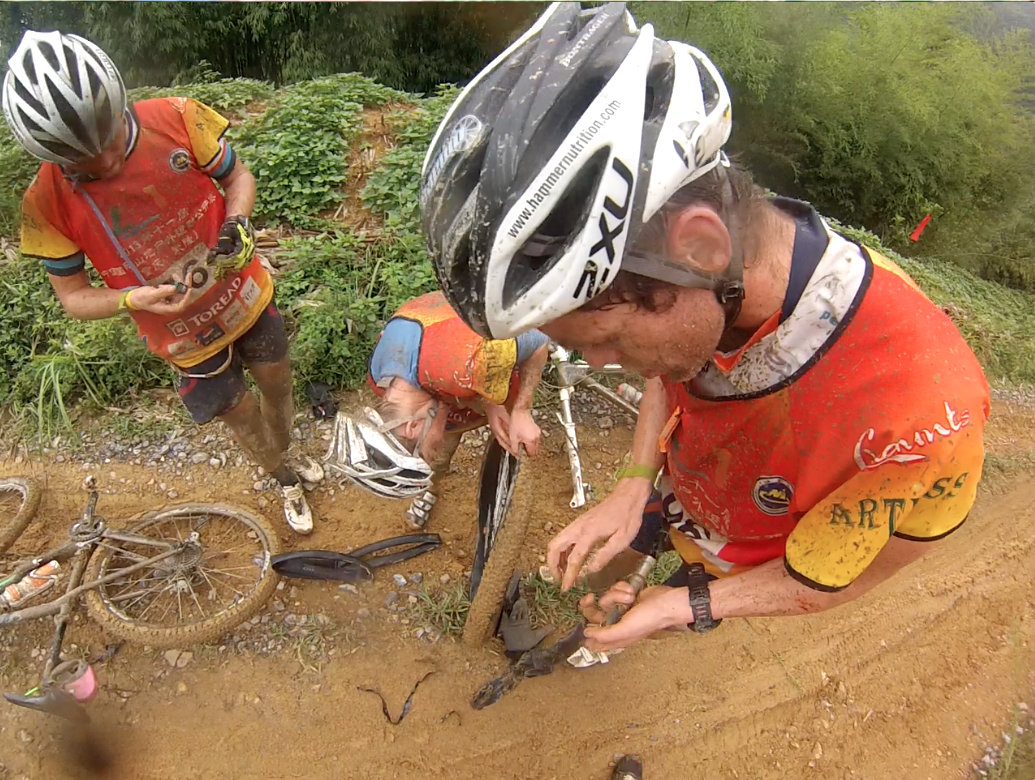 Teammate fixing a flat.
Unfortunately day 3 saw an even tougher challenge: I got sick.  Nic did too overnight, but miraculously recovered after throwing up a few times before breakfast. Unfortunately, I couldn't "throw it up and out of me" and instead had to race all day feeling lethargic and weak. But with my teammates help, I pushed hard and by the end my body pretty much collapsed thanks to some cold wind, blistering hot heat, and then another deep freeze when we swam with headlamps through a pitch dark cave in ice-cold water. My body was shivering uncontrollably when we came out the other end, despite air temps around 25 degrees C.
Yes I suffered, but I wasn't alone. There are very few teams with 4 healthy individuals on day 4 of the Wulong Race. It's a question of how well your team can cope with the "bad stomach problems" at the end – and how well you have done in the previous three days in the overall time – that decides how you finish. I couldn't feel sorry for myself when I looked around on the last day – everybody else was also suffering in their own way, but all keen to give it one last push to reach the finish line.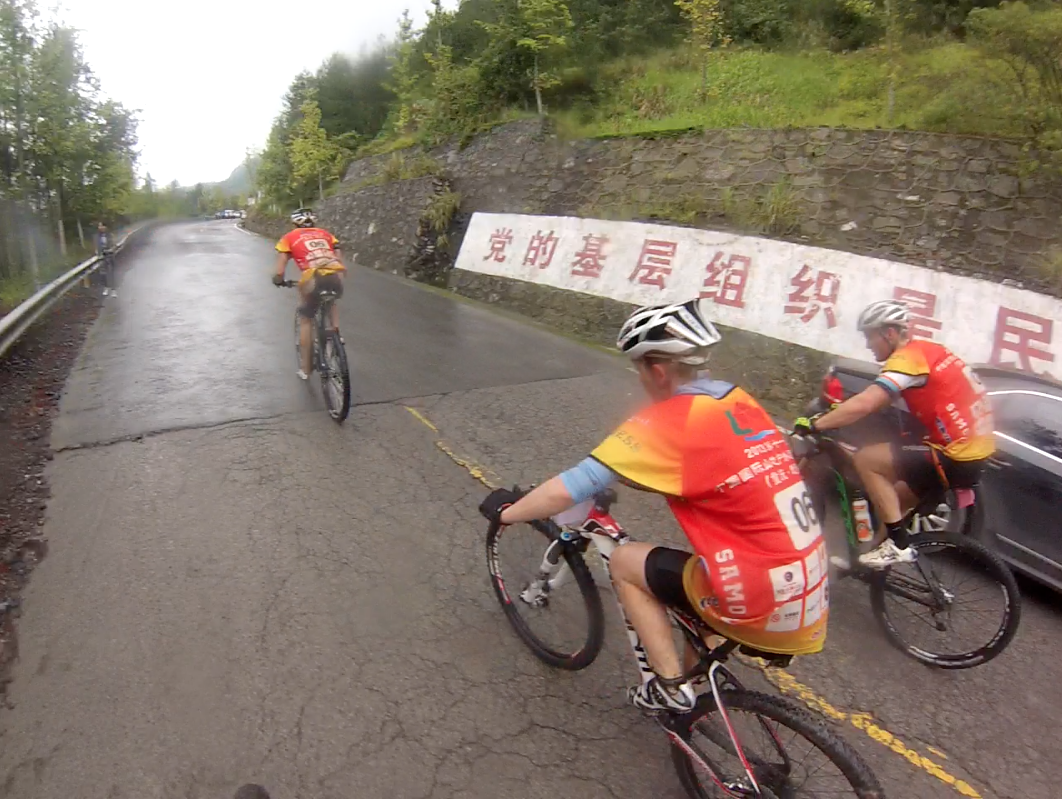 Leaving the 15 minute rest on Day 3 and ready for a long 2 hr bike ride.
For me it felt like I was a 6 cylinder engine running on 1.5 cylinders. It's OK if the running/biking is flat, but as soon as there was a hill I had nothing to give and had to rely on my teammates' bungy cord to keep the pace up.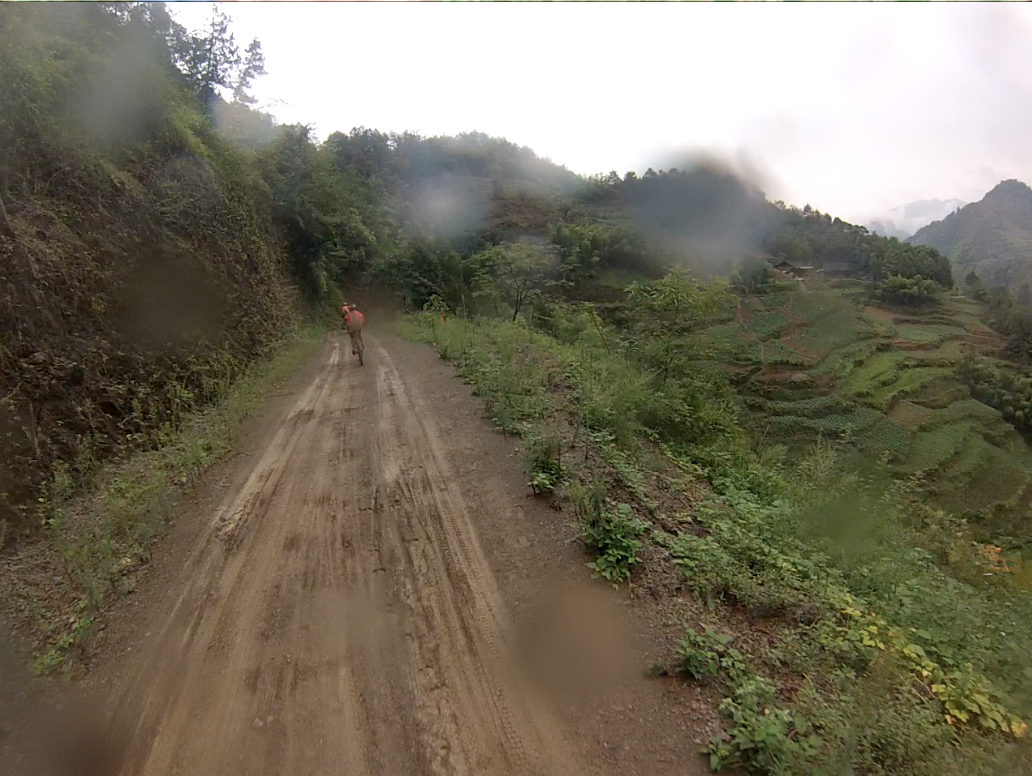 Descending through terraced rice paddies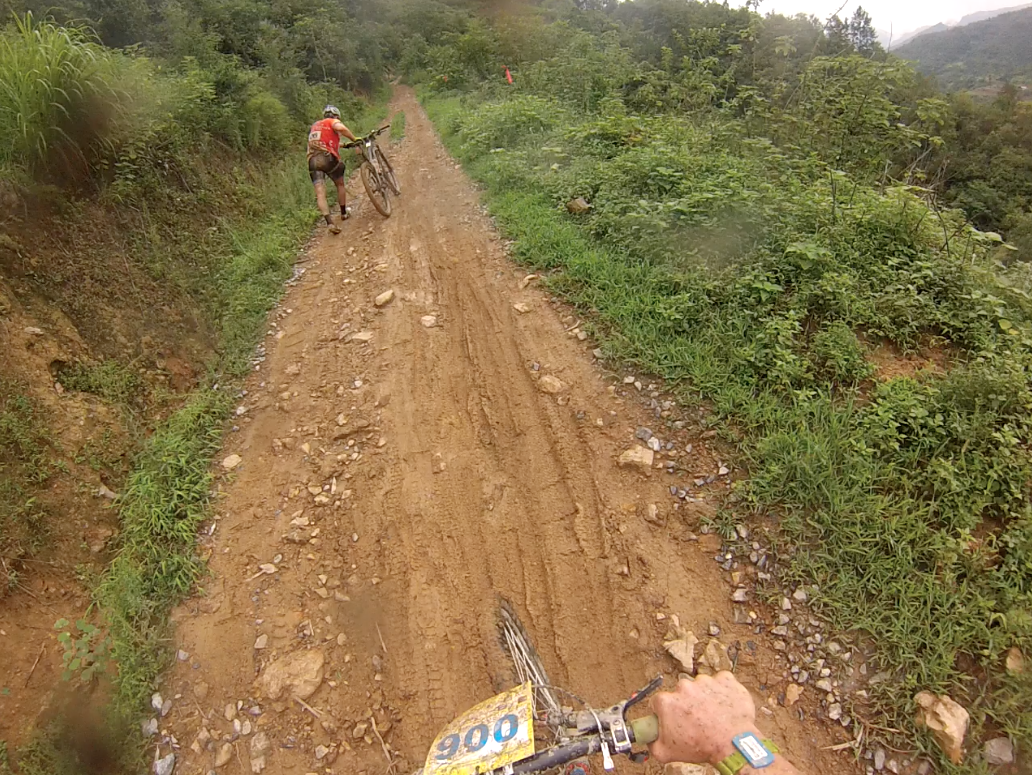 Sometimes the mud was so thick that even James couldn't ride it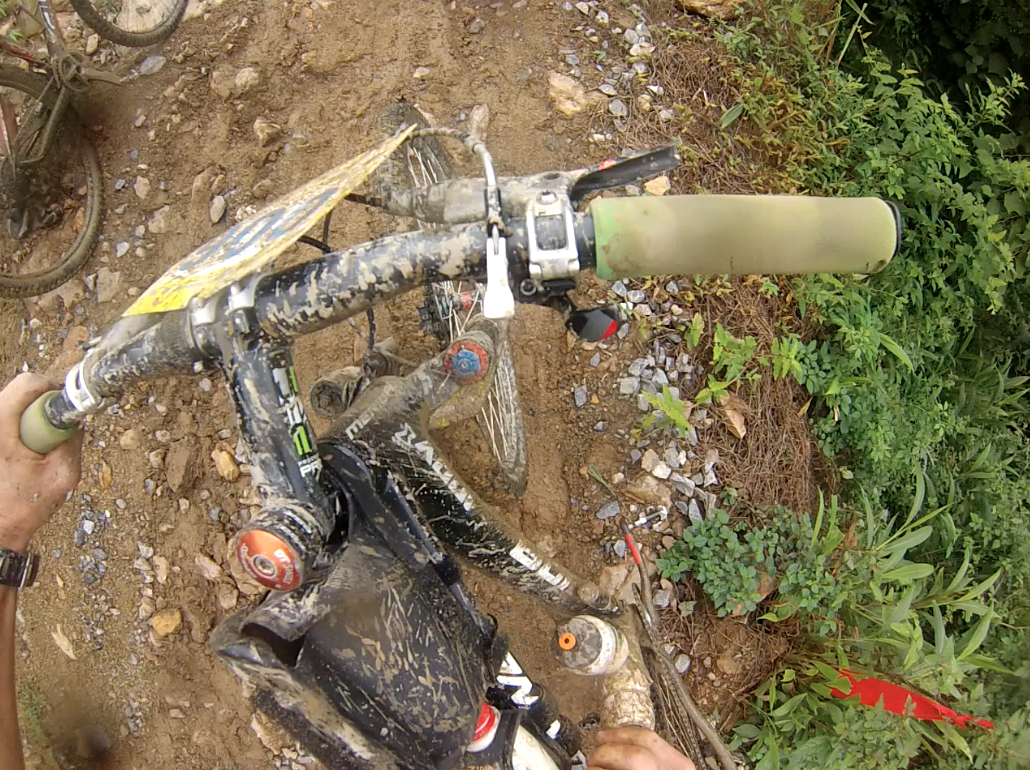 A dirty bike
In the end we finished 8th in the overall classification and got a nice check for 5,000 USD at the awards ceremony (which I slept through since I didn't have the energy to get out of bed that night…)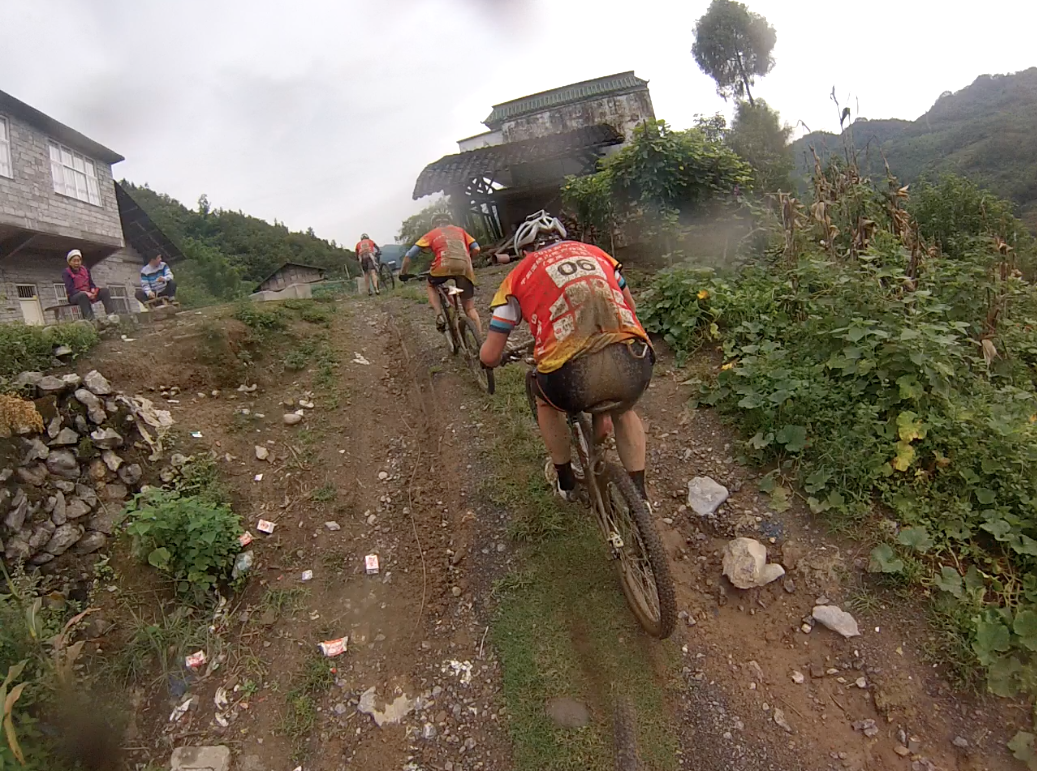 Being cheered on by villagers in the country side.
The next morning I was just barely fresh enough to clean up the wet nasty gear, pack it in a bus and ride 5 hrs to Zunyi, where we will start our next race on Thursday.
We've spent two days now getting massages (2 hrs for $15), haircuts ($3 for 45 minutes, including a head massage) and just sightseeing in this "big city" of Zunyi, which has a fancy shopping district. An Apple Store and several Western-style shops and well-dressed Chinese are mixed in among back alley markets with turtles and other bizarre items for sale.
As white foreigners, we stand out. We are stared at continuously, but in a friendly and curious sort of way, with many folks practicing their "hello" followed by a giggle as they pass the Westerner.  It's sort of fun and I suspect better to be "looked at" then "watched." I'm oblivious to it, but I'm sure there are plenty of communist police that are "watching" people on the same streets where I'm being "looked at" …
We have a race meeting tonight to discuss the two day Zunyi race (Thur and Fri). It involves 3 teammates instead of 4 (Jarad has formed another team, So James, Nic and I are racing) and excludes paddling, but includes a lot of strange Chinese-style "games" like paddling bamboo rafts and other "hard-to-translate" games…
More on that tmw
Once again Emma has put up a race recap and pics on Peak Adventure's website http://www.peakadventure.com.au/store/index.asp
Good night
Scott