I tend to be tough when it comes to self-assessment so it may be a surprise that I'm really happy with my 14th place finish at the AXA Fjällmaraton last Saturday (A 43 km Mountain Marathon with 1800 m of climbing).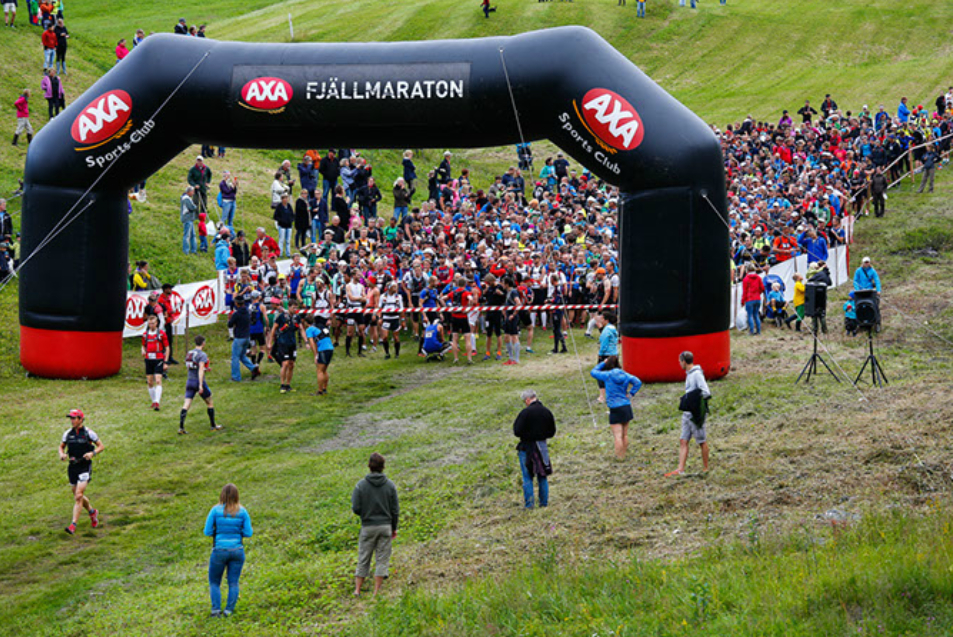 Minutes before race start, with me warming up bottom left (Photo: Johan Marklund)
Why am I satisfied about 14th place? I executed my race plan perfectly and landed just under 4 hours. I wasn't fast, but I was steady. It feels like I got the most out of my ability on race day. It's hard to ask for more than that.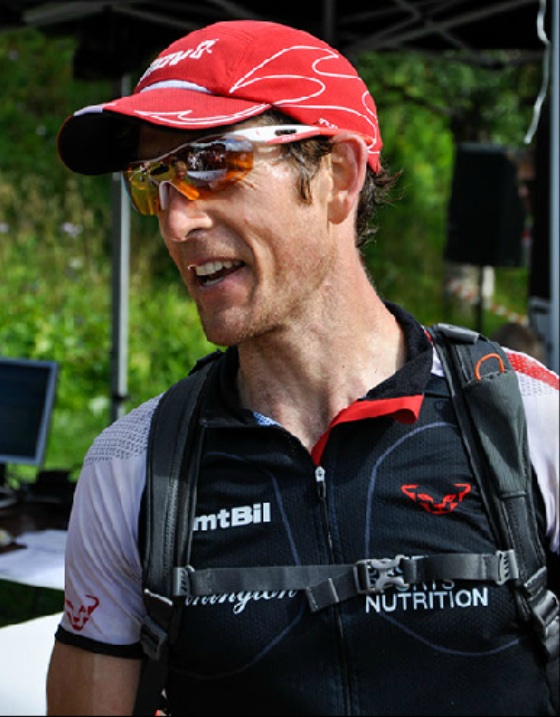 Me at the finish line after 3 hrs and 58 minutes of mountain running. That time would have put me in 3rd place last year but it's not fair to compare across races given different trail conditions, weather, etc. (Photo: AXA Fjällmarathon Michaela Arnklint)
The most satisfying thing is that I performed well while having fun !  I was reminded of why I love racing in the hills – whether running, biking or kayaking. Despite the occasional discomfort in the legs I had a smile on my face the whole time, just like Emilie Forsberg, a top Swedish trail runner….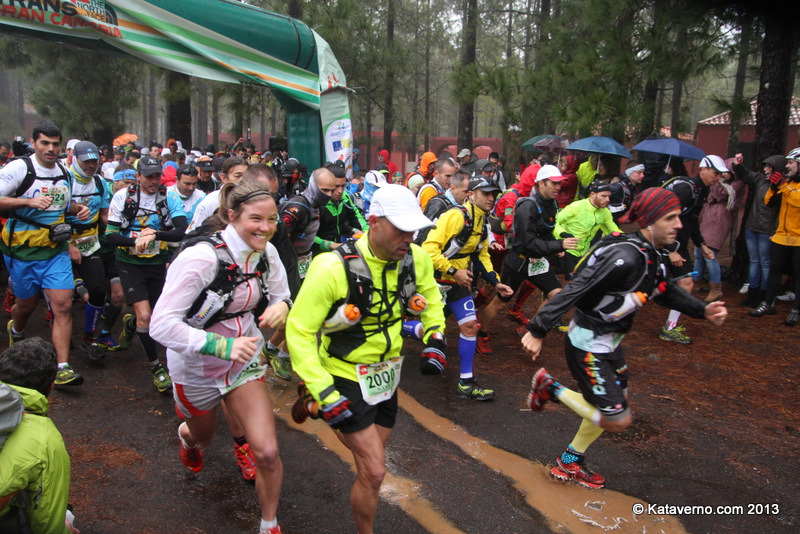 It's easy to recognize Emilie in this picture – she's the one that looks happy to be running. Some of you may recognize this from my Friday night presentation on multisport and endurance training. Thanks, by the way, for attending!  More on that below … 
My race plan was simple – take it easy at the start, and give it all at the end. Above all, arrive at km 36 in Norrbotten with energy left for the long, hot, steep climb to the finish.
And I did it. But it wasn't easy.
After about 35 minutes I was jogging along fairly easy beside Patrik Nordin (my sponsor who had a great race and finished at 4 hrs 16 min!). I asked him nervously — "Is this fast enough for a 4 hr tempo?" He replied, "No, I think it's a bit slow …"  So I picked up the pace, but still constrained myself until I punched the first control (7 km) after about 43 min. That put me around 30th place. A bad start by most accounts, but exactly what I wanted. Not a single person passed me over the next 2 hrs and 45 minutes … and I passed quite a few on the last tough climb.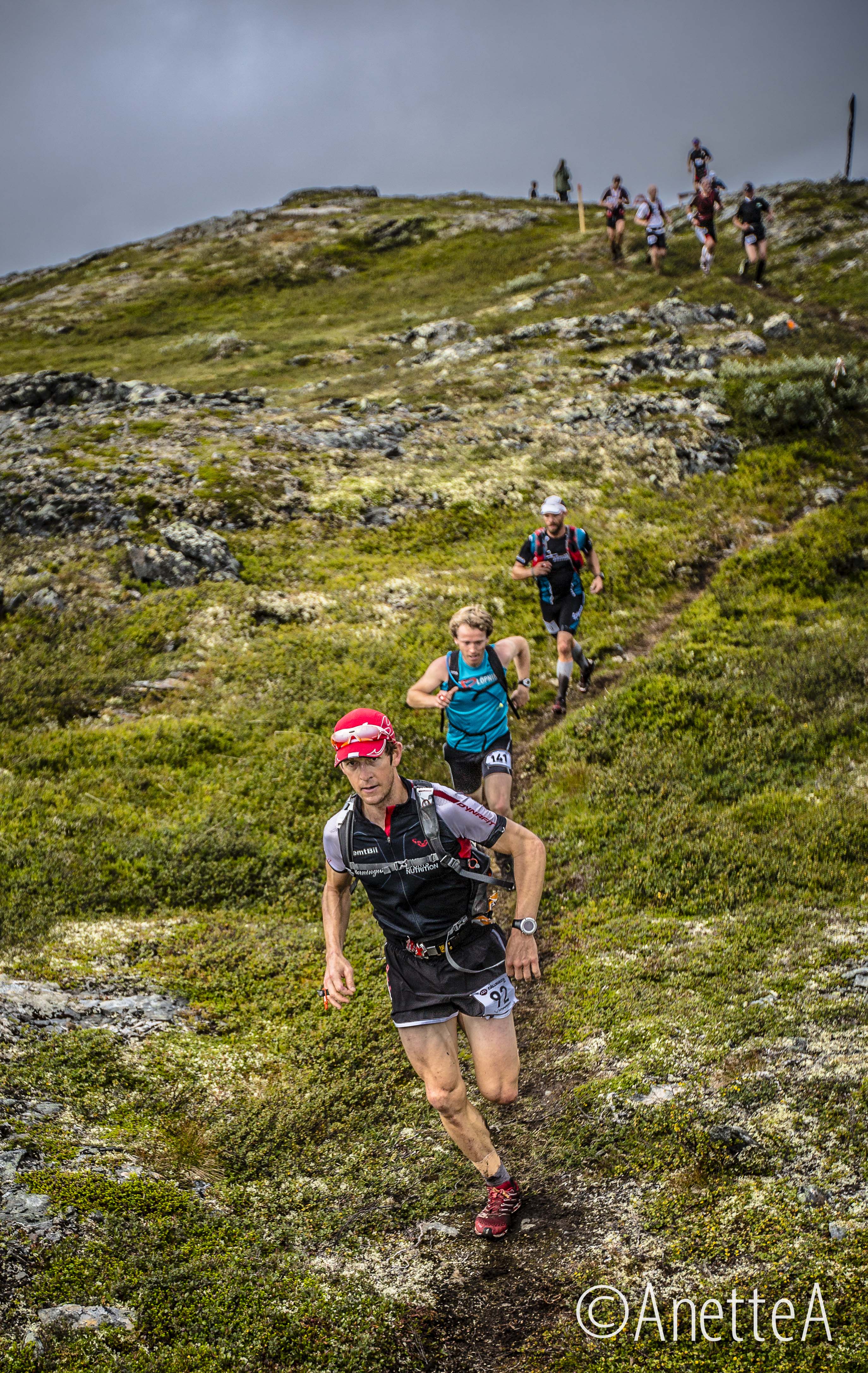 Me approaching the first control point with a nice easy pace. Photo: Anette Anderson, Text and Photo.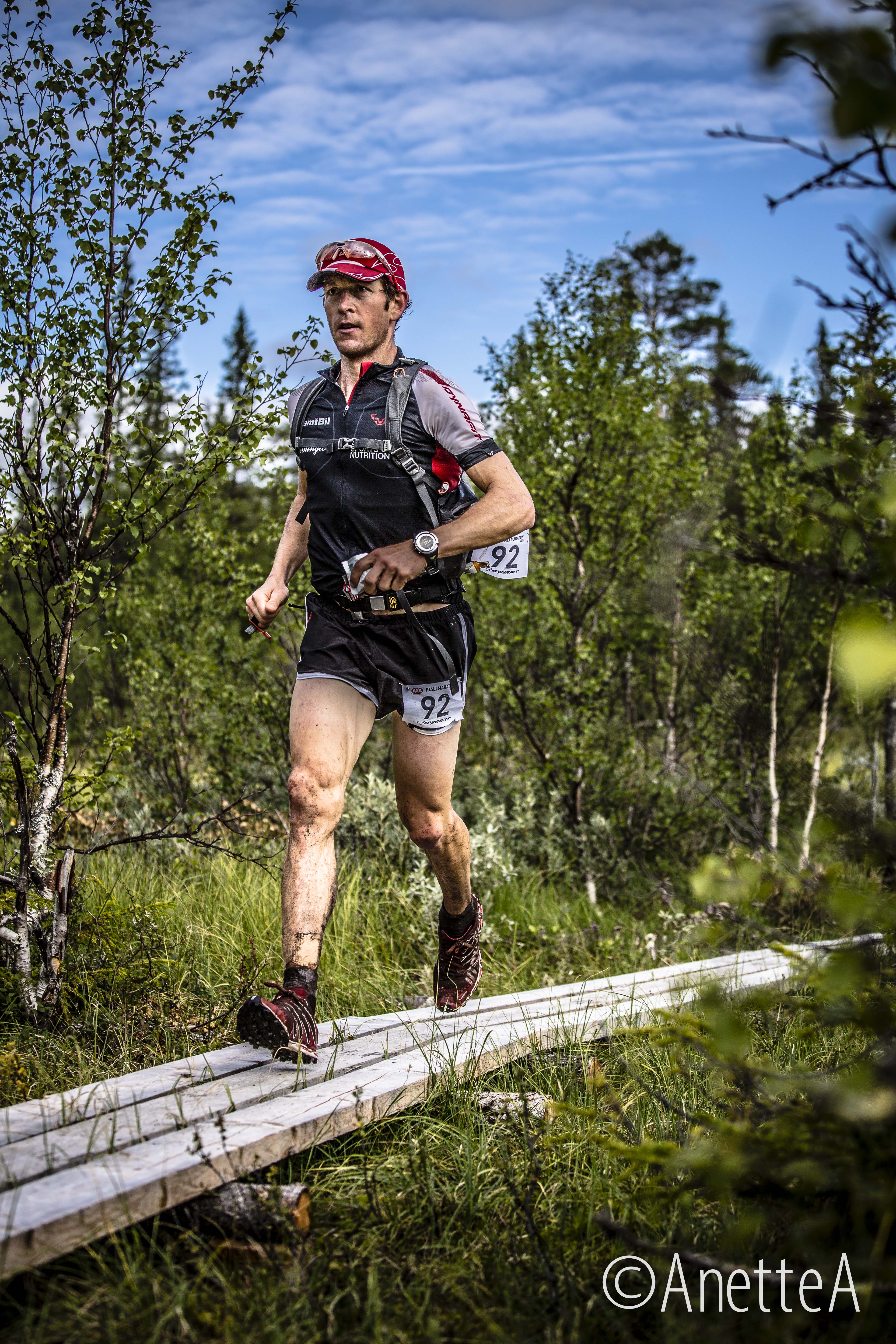 Me leaving Norrbotten at km 36 full of energy and with a drink gel in my hand ready for the final climb. Photo: Anette Anderson, Text and Photo
Besides being a good technical downhill runner (which allows me to lower the heart rate and recover well during the descents) I planned my food well. I needed at least 300 grams of carbs during the race (75 g per kg bodyweight per hr * 4 hrs = 300).  It was interesting to go through empty wrappers in my backpack afterwards and calculate what I consumed…
7 gels (2 with caffeines) 16 g each = 112 g (1 was just before the start)
(I used the Squeezy's gel belt (see pic above) which comfortably held 6 gels – it worked well)
2 drink gels 40 g each = 80 g
1 super energy bar (with caffeine) = 37 g
Half a banana = ~15 g
2 chocolate bars = ~15 g (approx?)
About half a can of coke = ~20 g
Little candy = ~5 g
Sportsdrink = ~15 g (approx?)
Total = ~299 g
But most important is that I consumed it evenly throughout the race and never had a down period.
I also took 12 salt tablets (plus two just before the start). Again, I was testing this Crampfix product from Norway and I gotta give it a high grade. I didn't have any cramps despite the hot weather at the end, where cramps tend to show up. I even biked steady for 45 min after the race in the sun and my legs remained solid – no cramps. I'm impressed and will be using it in China next month.
I attached 3-4 tablets in small plastic bags attached to my backpack (see pic) and just tore them off when I needed them. But I also dissolved a few in my water bottle.

Congrats to Anders Kleist of Inov8 for smashing the course record by 14 minutes. Wow. He backed up his "pre-race" talk about winning by delivering an amazing performance. Nice work.
Winner Anders Kleist (Photo: Johan Marklund)
Huge thanks to all the volunteers who helped for the race – you guys were awesome !
My Multisport and Training Presentation
On Friday night I gave a presentation on my multisport career and my approach to endurance training. I was delighted to see so many people show up (~150 ?). I had some great feedback and discussion afterwards and am glad most people seemed to enjoy the talk. Hopefully I even motivated a few to test multisport after watching the Chinese multisport race video, hey ? (By the way, there is an 8 min "longer" version of that film here.)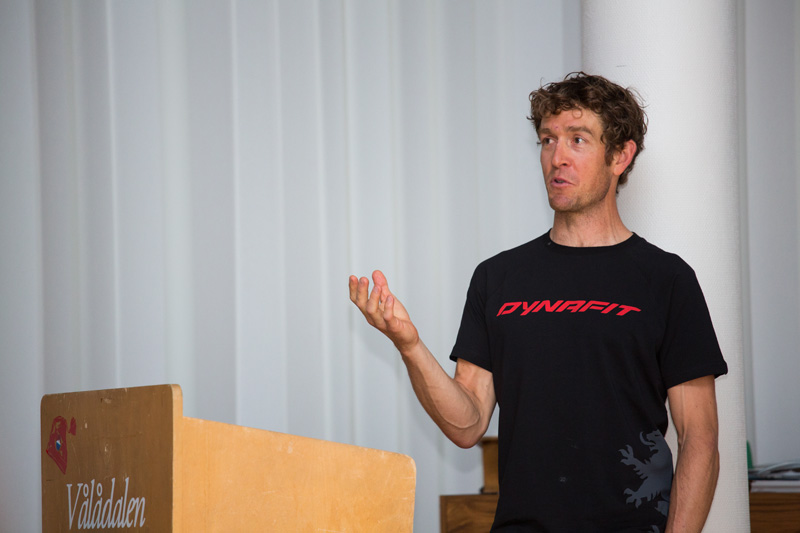 (Photo: Johan Marklund)
There was a lot of discussion about this slide below, which captures my approach and motivation to heart-rate based training.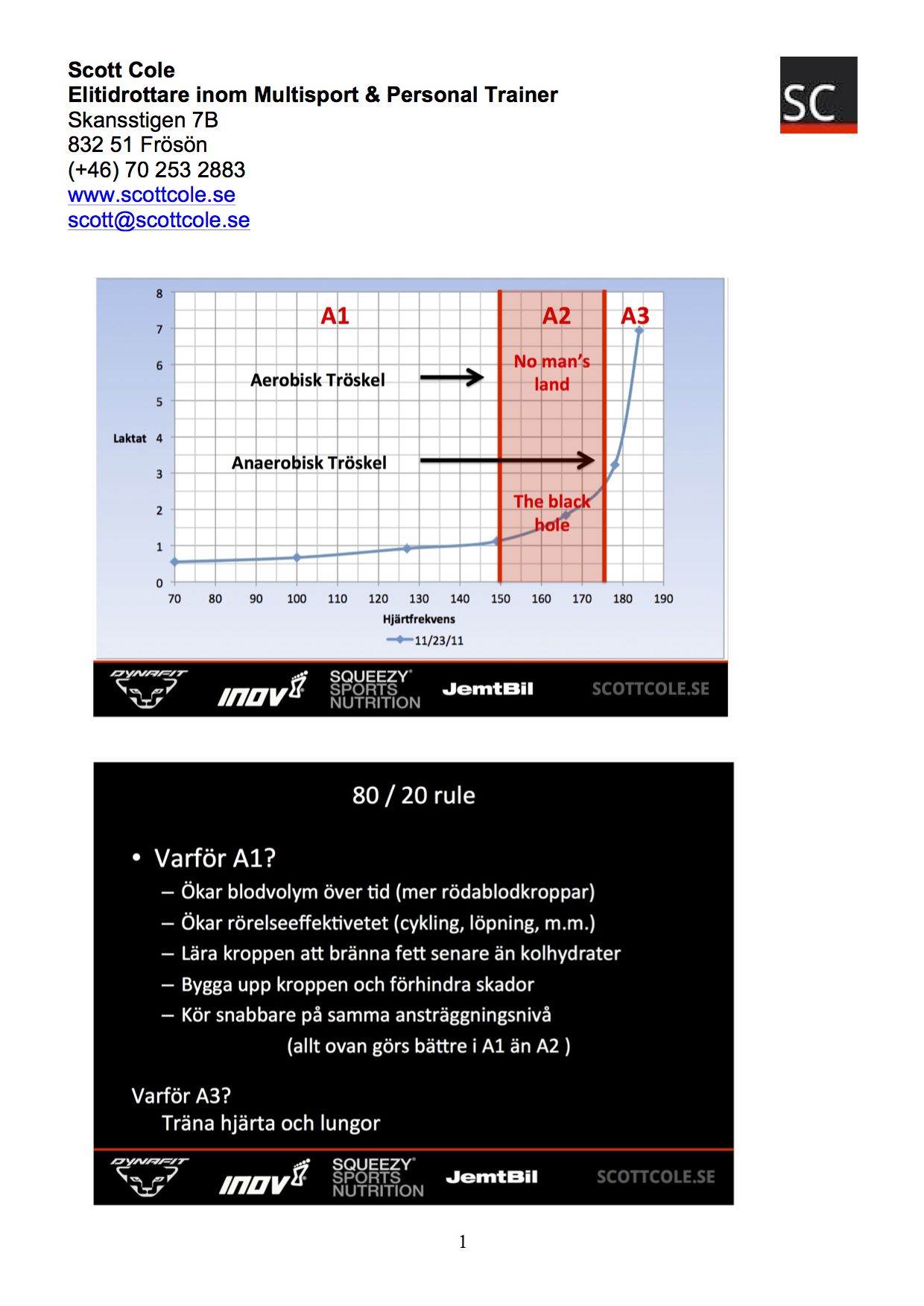 For those of you interested in improving your training by using a heart rate monitor shoot me an email. I've coached a few multisporters so far and would be interested in taking on a few more.
I will be giving presentations again in October, both in Uppsala and in Östersund and should have some new pics and films from my races in China in September 2013.
Thanks and train "smart"
Scott Cole
PS A cool film from the AXA Fjällmarathon race here à (in Swedish)