Hey from Storulvån!   I just got back from a great run in the mountains. In 6 days I'll be headed to the far reaches of Northern Sweden for  Sky Running Sweden — a 50 km (3,5000 vertical meter) trail run under the midnight sun. Race start at 9 pm, expected finishers around 3 am.
I got ahold of some of Johannes Poignant's best pictures from Åre Extreme. Here they come, with a short story to go with each.  Film coming later this week …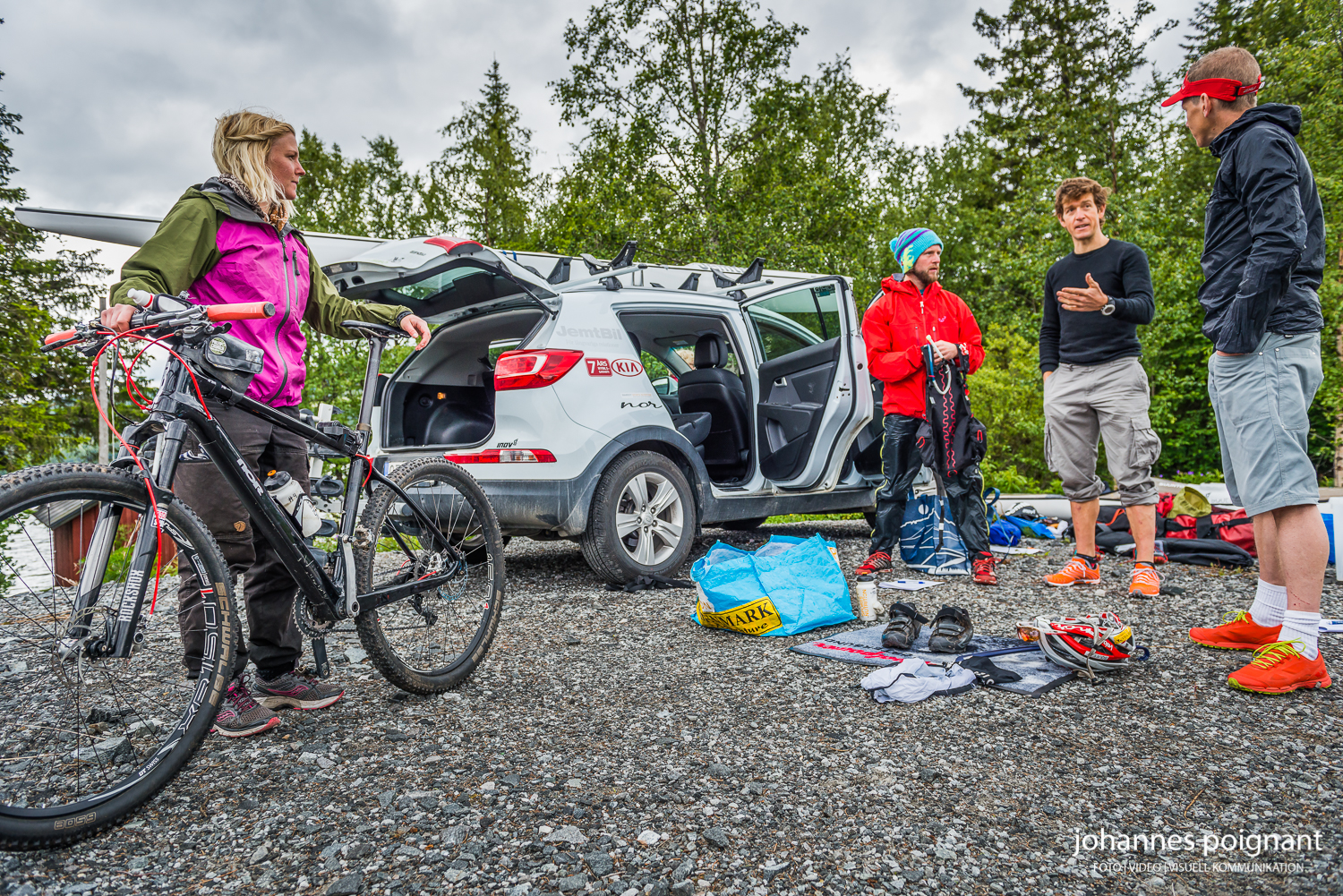 Race prep the day before included a "run-through" with the support team to practice the transitions and save time. Björn G, Magnus Å, and Mimmi P did a great job.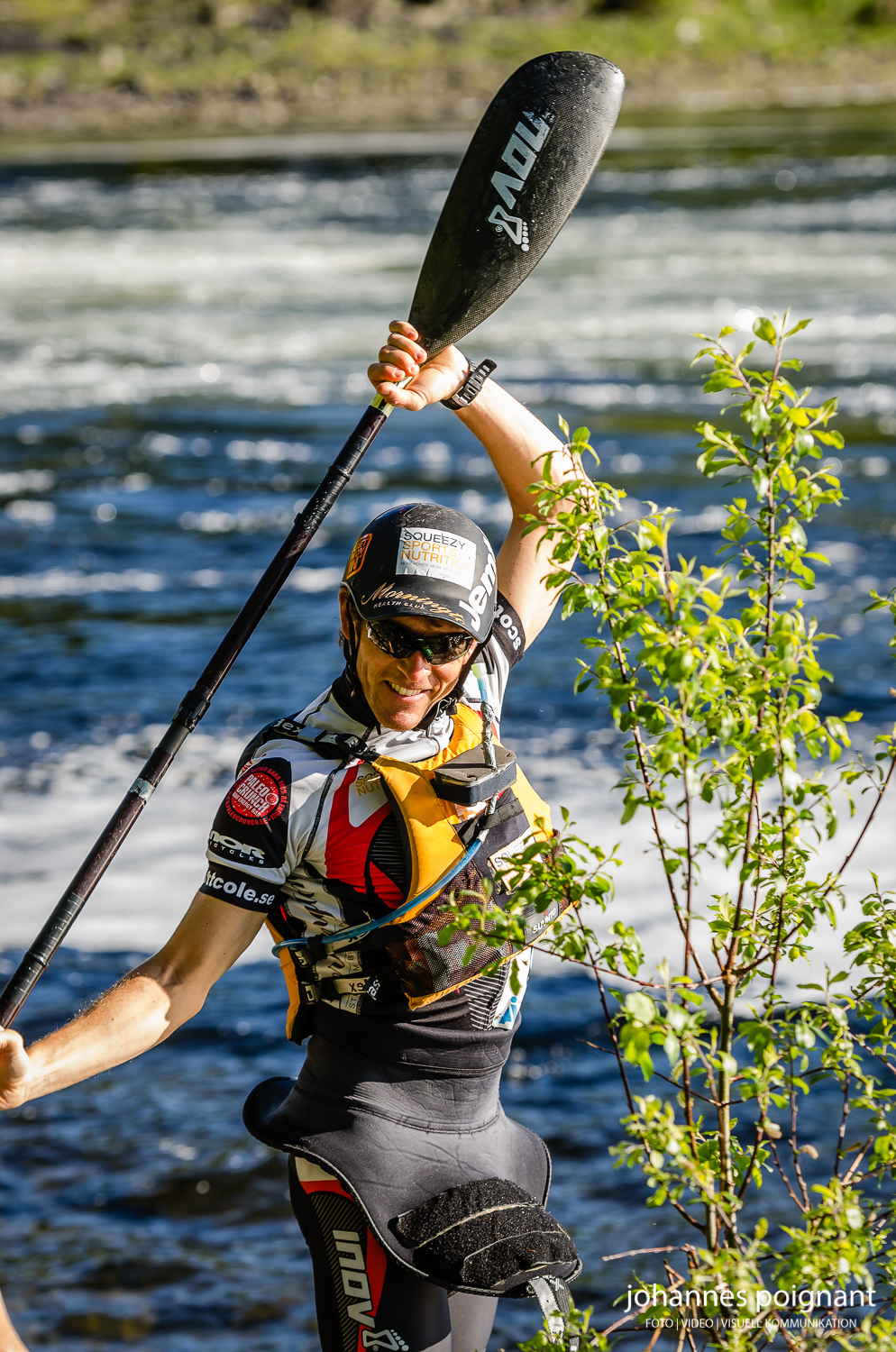 I was all smiles at the start — for the 7th year in a row we had perfect sunny conditions at the start (how much longer can this luck last?)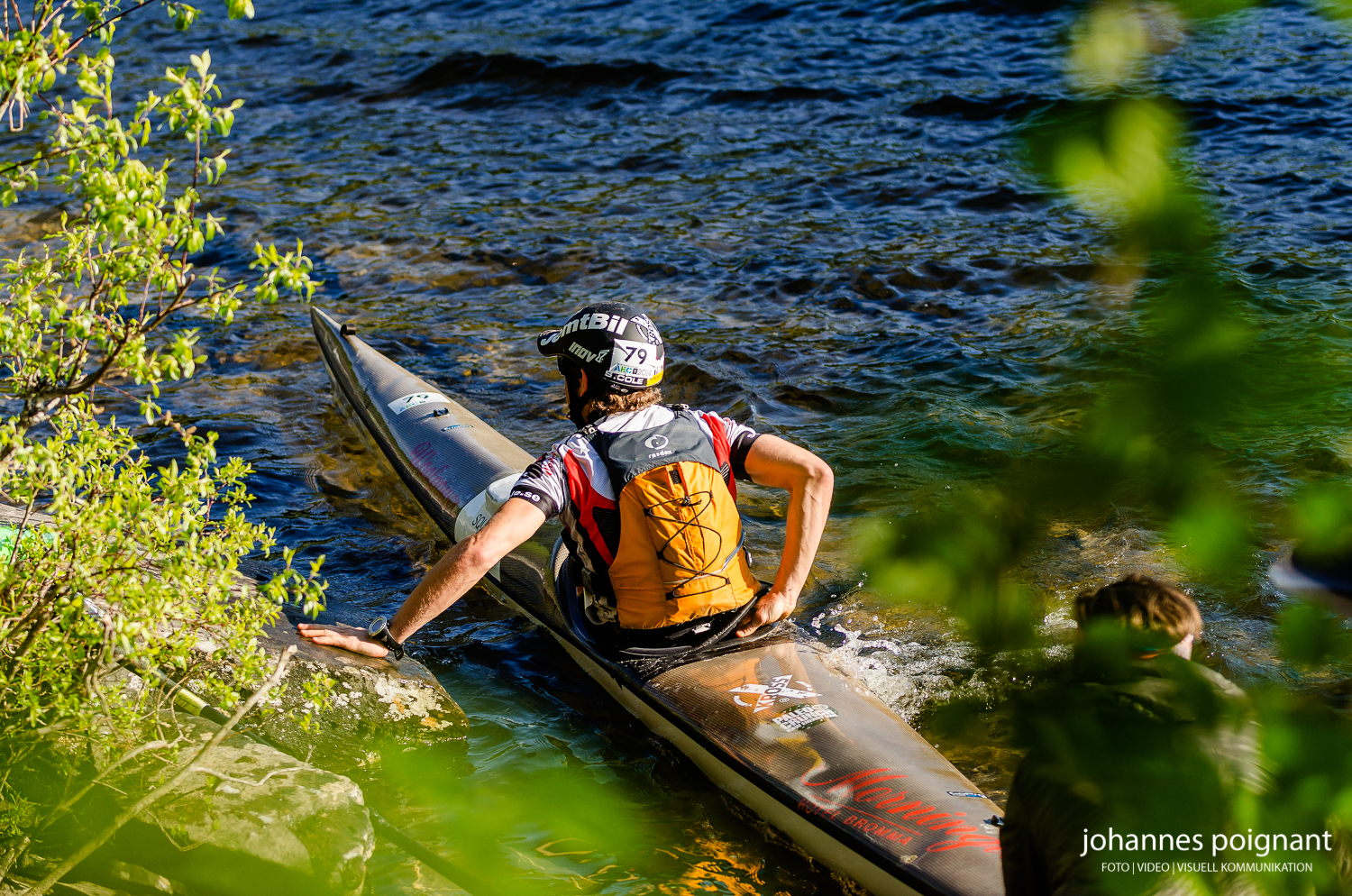 I put my kayak in about 20 minutes before the start and was one of the first to get in the water. I heard there was quite a panic by the 200 other racers to get in and get warmed up before gun went off!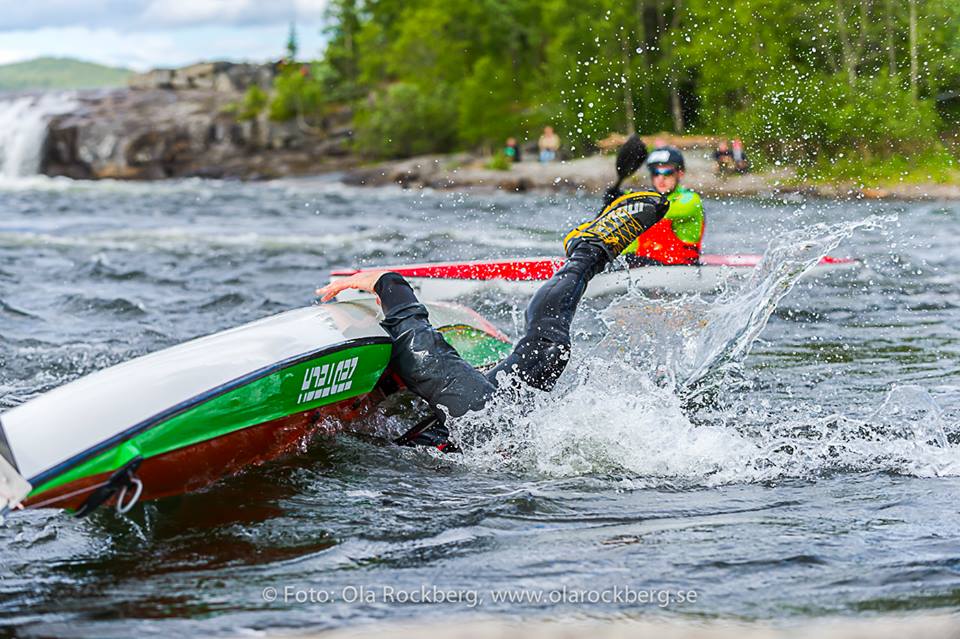 This picture is so great I had to include it. I found it on Ola Rockberg's page.  Oh well, at least it was warm.

BANG! The gun went off and I had a better start than last year — I'm far left of the start field just in front of the orange buoy.

I tracked Mattias Nyström in to the first portage, then ran by him in the woods and got on the water in front of him. But was it worth it? He ended up sitting on my wave and conserving his energy, instead of vice versa. Mattias was smarter, making his move after the second portage and getting away from me across the lake (so I couldn't sit on his wave).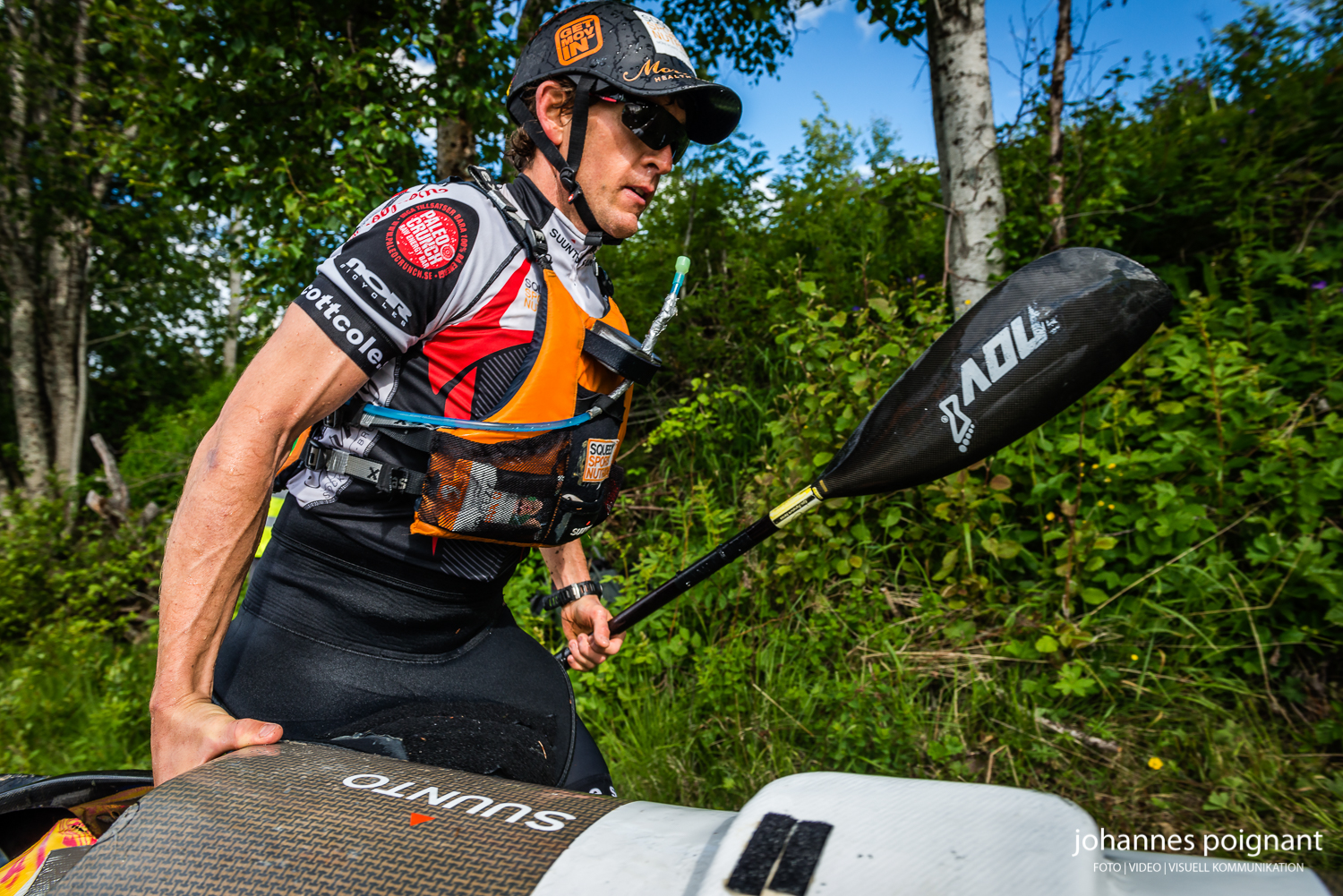 The second portage.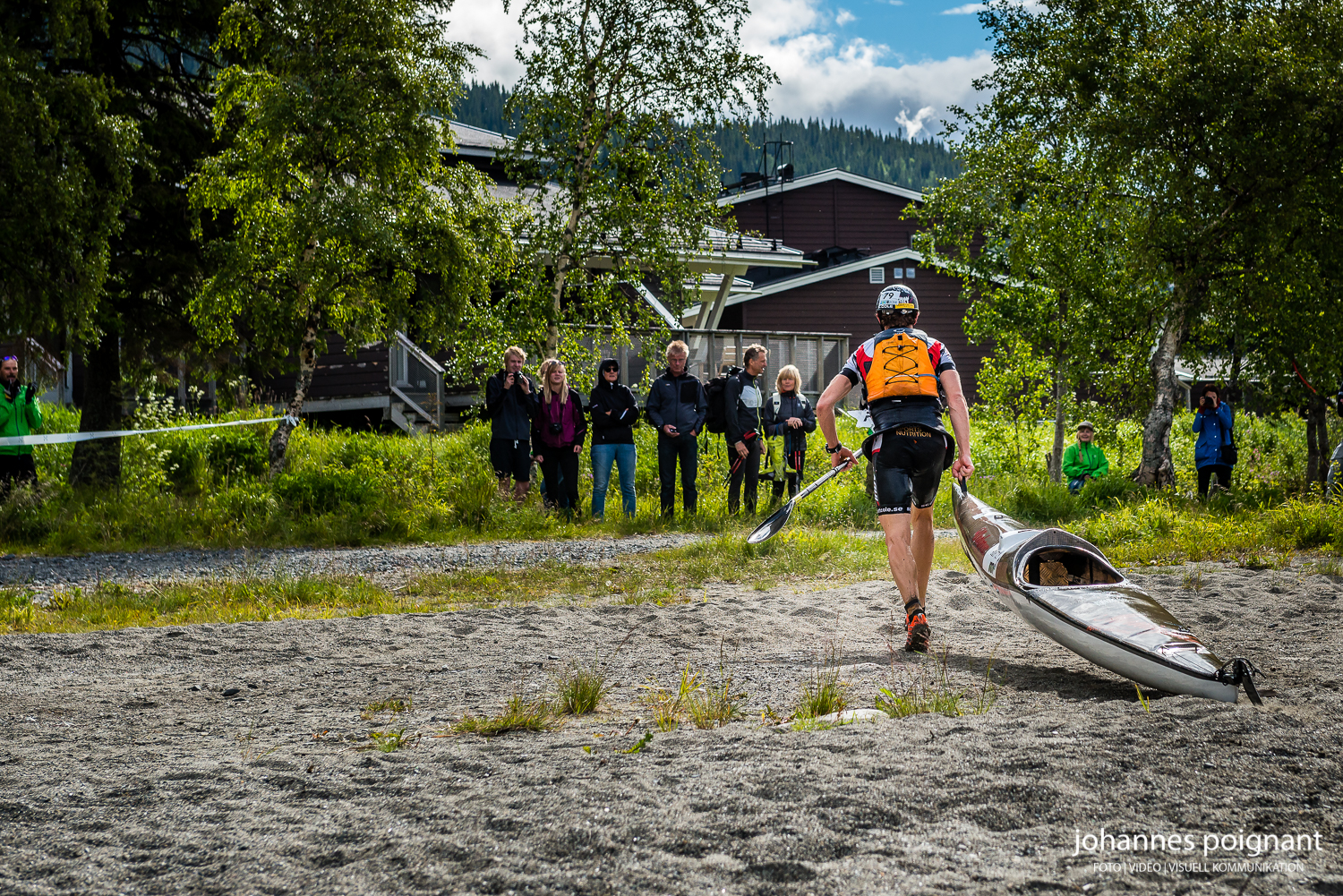 In my previous blog you saw me repairing my kayak … this is why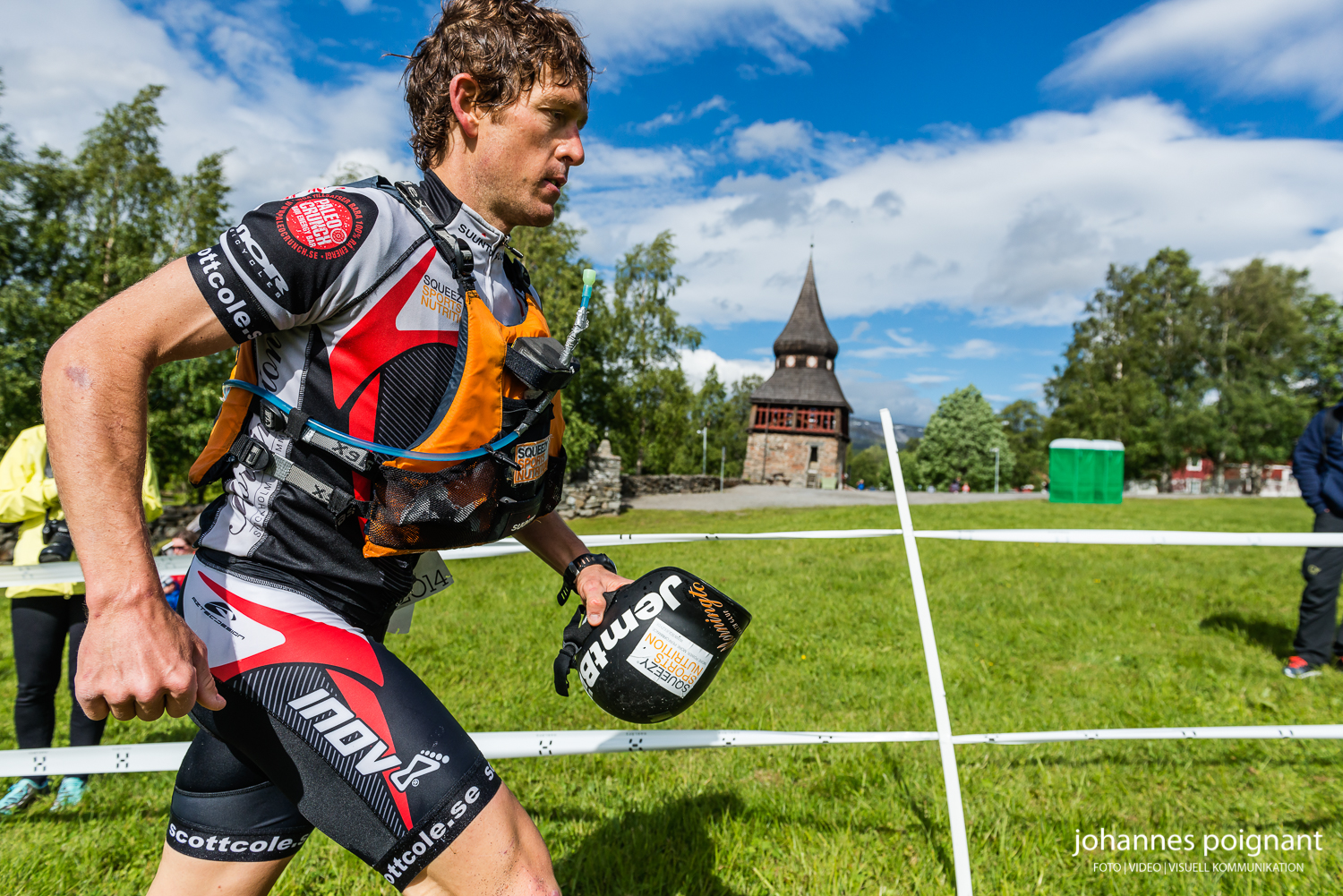 Running in to the transition from kayak to run in Åre town center. My team got me out of there quickly, but Robert was already 6 minutes ahead at this point, if I remember right.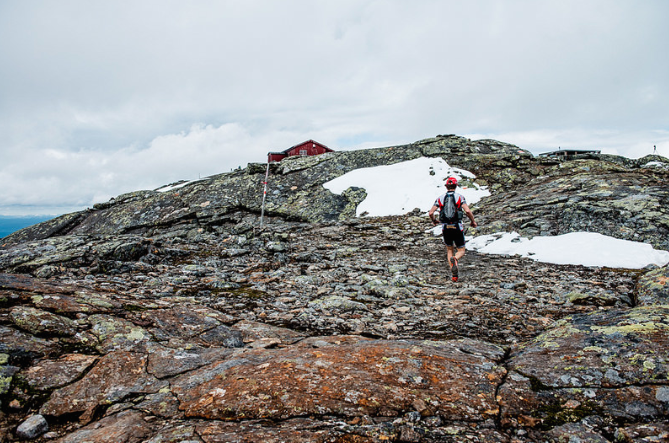 Near the top of Åreskutan, 1,000 meters over Åre town center. Picture from Jakob Edholm.
Entering the transition at Huså, I had moved in to 3rd place by running past Mattias Nyström. But he was only 2 minutes behind and a strong biker… (the guy on the bike was trying to get an interview — see the microphone in his left hand? — but I didn't really have time, sorry dude)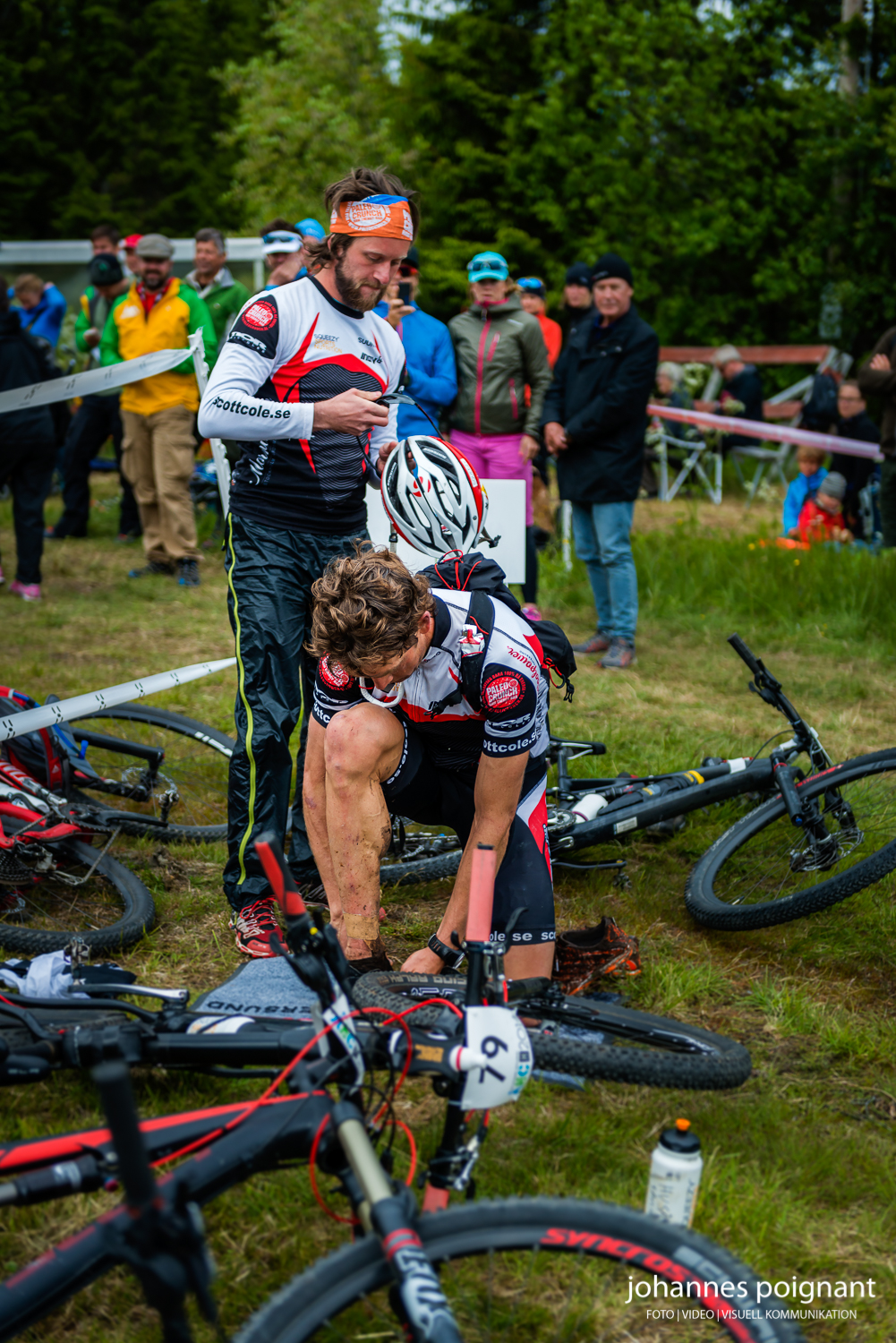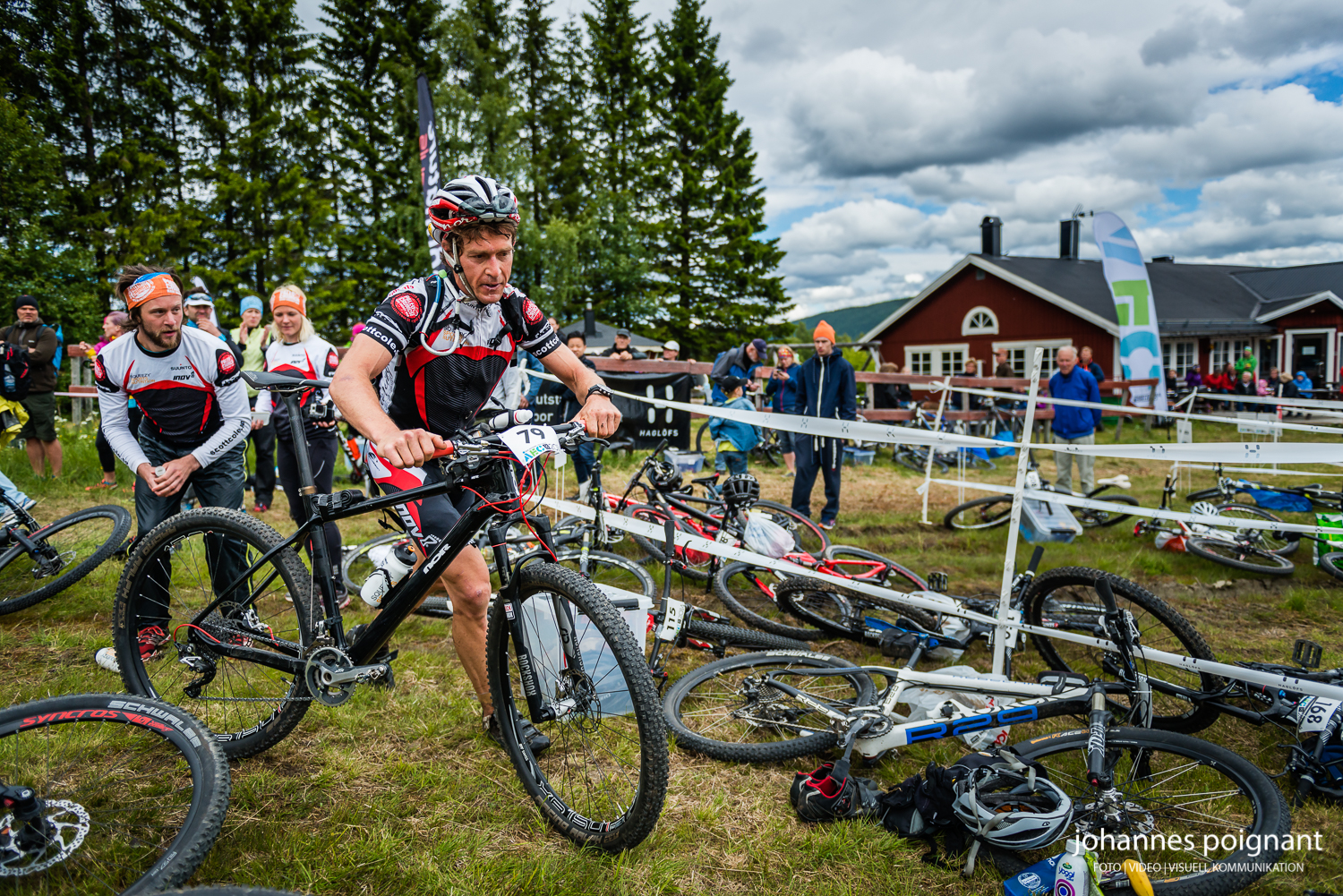 Multisport is about adapting. My 3 person support crew had practiced repeatedly the day before how to change my shoes, put on my helmet/pack, give me salt, etc, but in the end the race director made a 'game time' decision that each racer could only have 1 support crew.   Oh well, adapt on the fly and get movin' …
I was alone on most of the bike ride … This update was really depressing (17 minutes behind Robert??!!), but I still remained in 3rd place,  2.30 ahead of Mattias at the last time check 5 km previously. However, right after my support showed me this sign, Mattias rounded the corner right on my heels.  A mental boost for him and a low point for me. A podium finish would demand a massive effort at this point …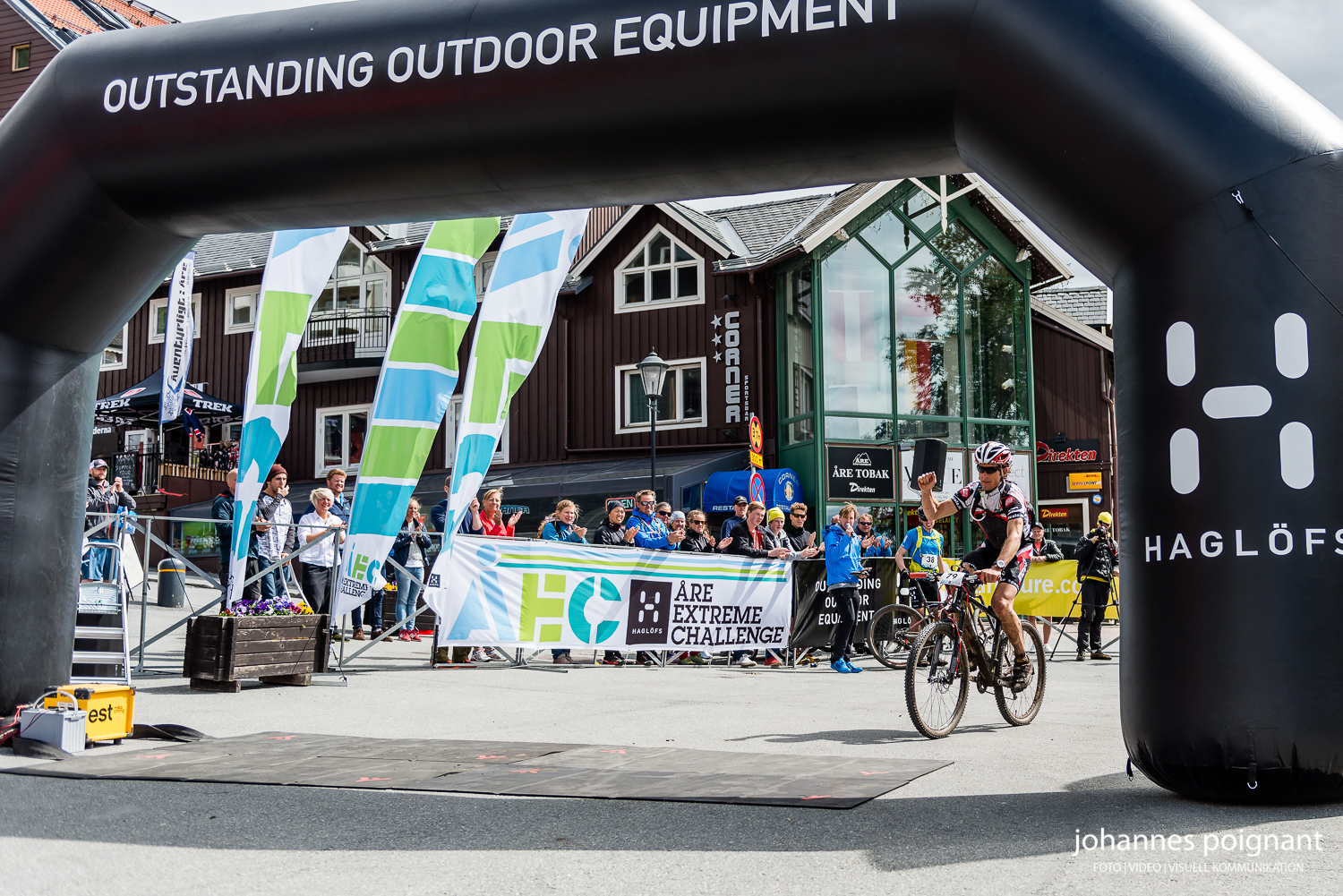 I fought hard, but came up short. Team Silva swept the podium and I came in 4th. Good motivation to train harder next time …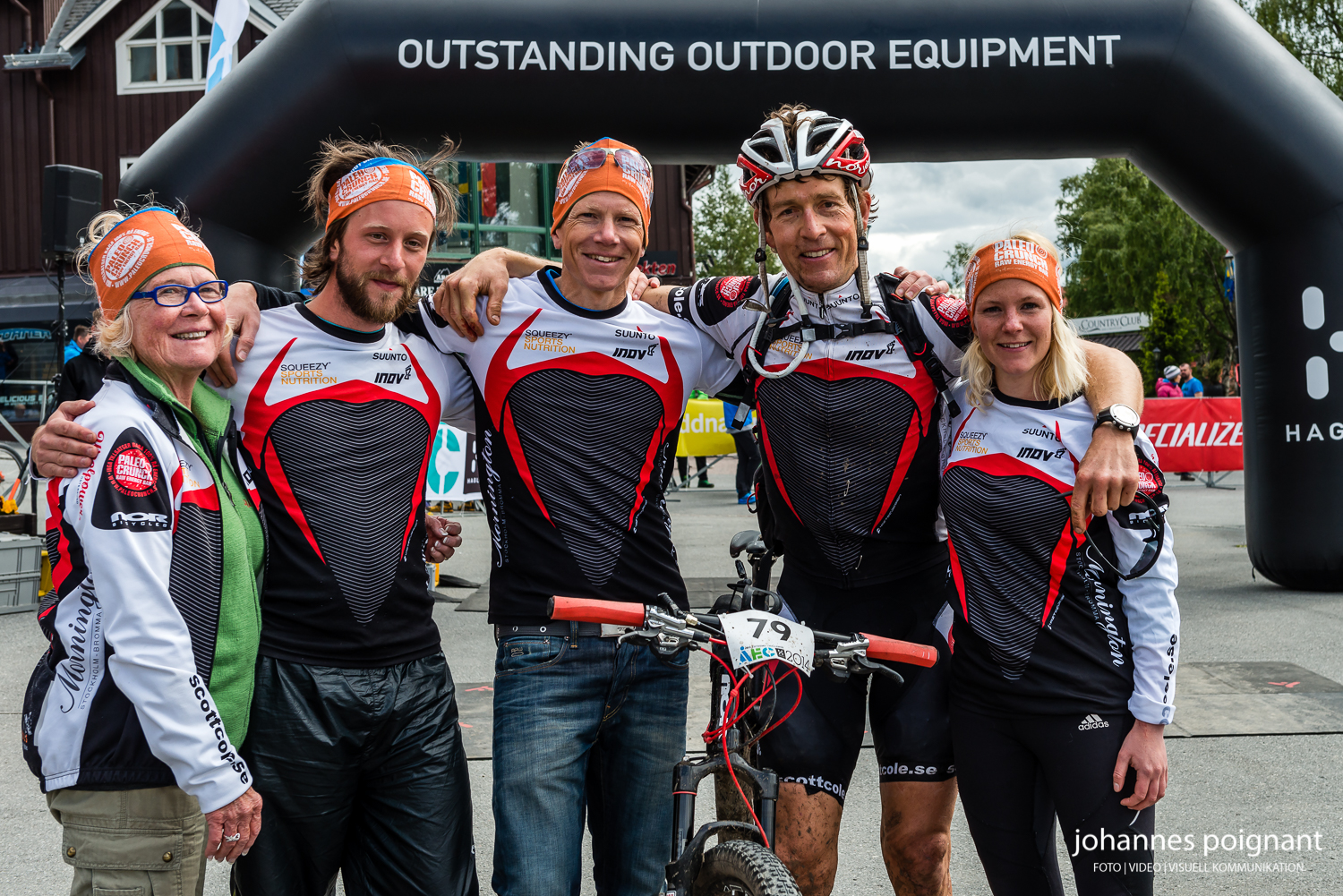 Huge thanks to my support crew above and to Johannes Poignant (not pictured) for capturing the visuals of this fantastic race.
See ya at Tännforsen next year … in the sunshine!
Scott