A great start to my training week !  A  "paddle-run" session that got me to the start of the AXA Half Marathon just in time for the race to start.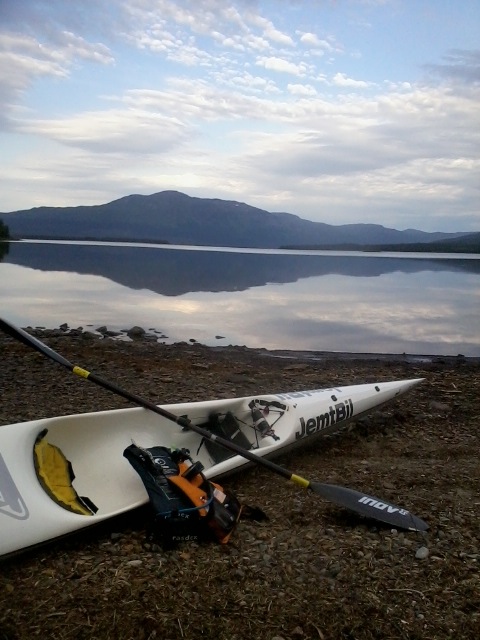 It was a beautiful morning for a paddle
I paddled across Ottsjön, a fantastic mountain lake, in a versatile surfski that was originally made for large South Pacific swells. But it was ideal because right in the middle of the lake I ran aground and had to portage through mud. I mean literally in the middle of an otherwise deep, cold mountain lake.  Probably would have made for an interesting picture from a distance – like I was walking on water  

Paddling along the southern side of the lake was beautiful – a 600 meter cliff straight up, crystal clear water with huge boulders that must have tumbled down from Ottfjäll hundreds of years ago, and white sandy beaches (tips for somebody looking for a pleasant place to camp on a warm summer night!).
Google Earth told me that my paddle would be 15 km, which should take about 90 min.  I allowed myself 2 hrs. I had plenty of time to change my clothes and take an energy bar and a little protein. It was warm and I was feeling energized as I portaged my boat up to the start.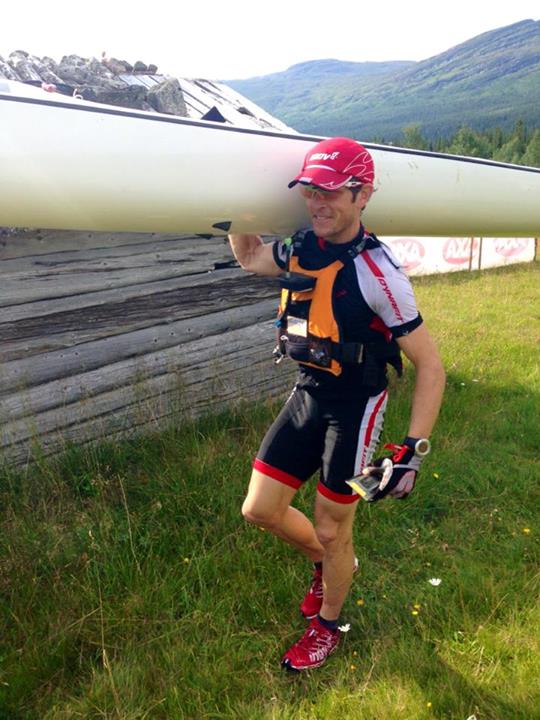 Making the portage up to the race start (Miranda Kvist)
So how did the race go ? Great. I surprised myself. I finished 4th, 6 minutes behind the winner Johan Johansson  —  who will soon be testing himself at the 100 mile endurance race around Mt Blanc. He had a hell of a fight with Andre Jonsson at the end, but came out on top. Andre is soon on his way to a SkyRunning race in Switzerland.
I took the inside route at the start, on the far left … I was checking my pulse early

(AXA Fjällmaraon, Björn Gund)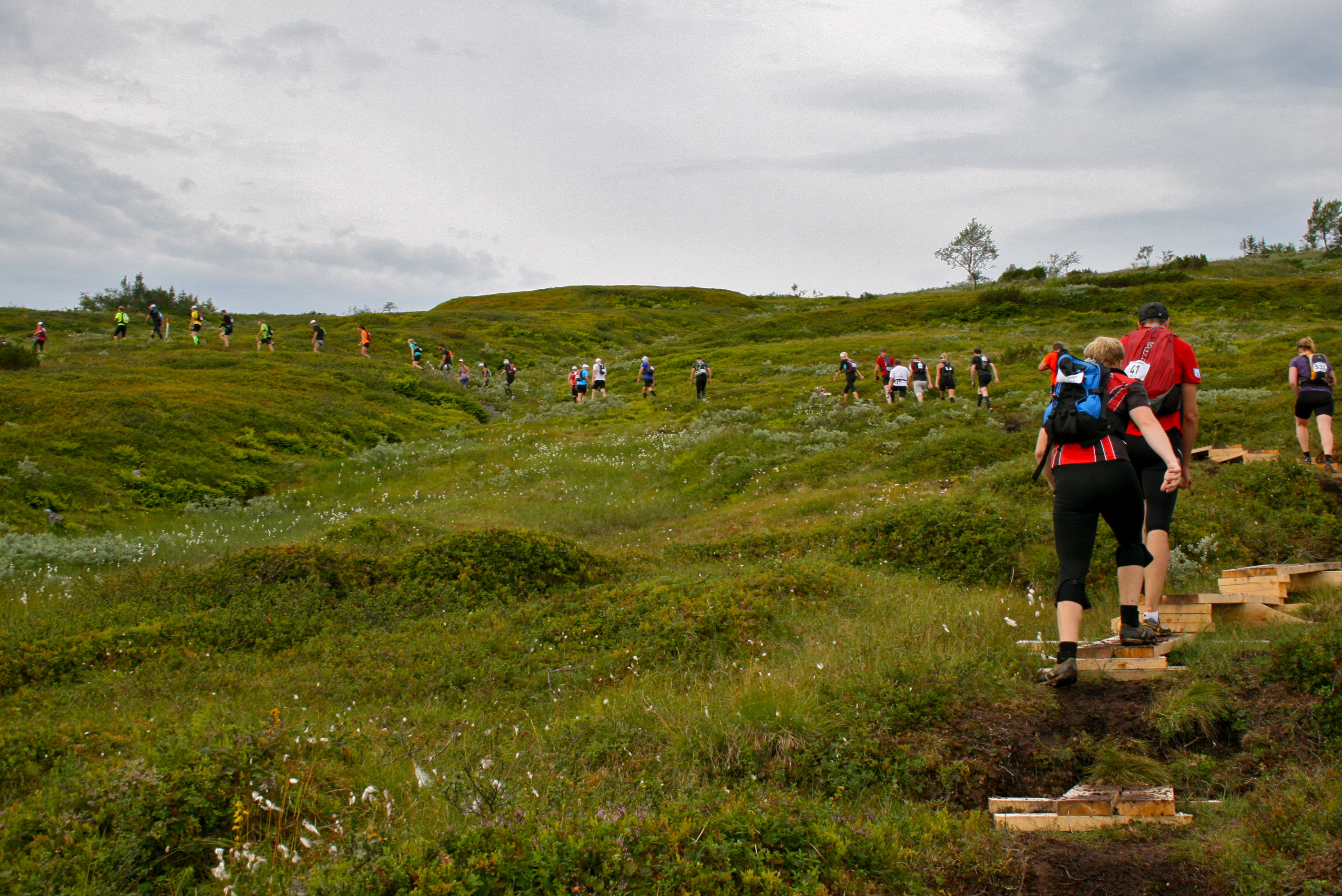 Busy day on the Swedish mountain highway … (AXA Fjällmaraon, Björn Gund)
The AXA Mountain Marathon course is beautiful and the organization is top notch. It's no surprise that there were a combined 800 racers today and another 800 coming next week for the full Marathon. They even offer an expresso at the control point at the top of the mountain ! I'm not a coffee drinker, but most Swedes are and there was quite a long line later in the race …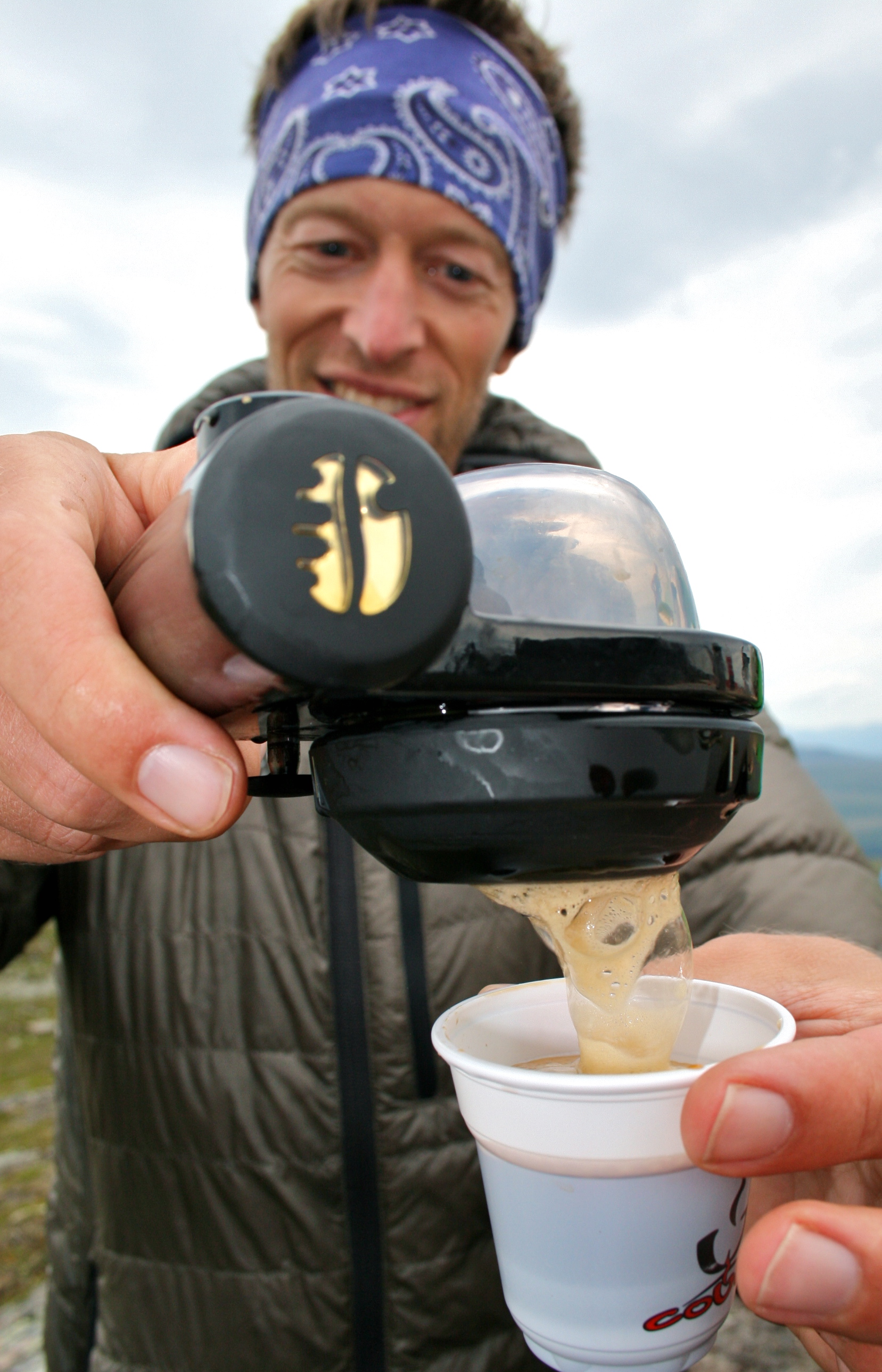 Karl makes a mean Espresso (AXA Fjällmaraton, Björn Gund)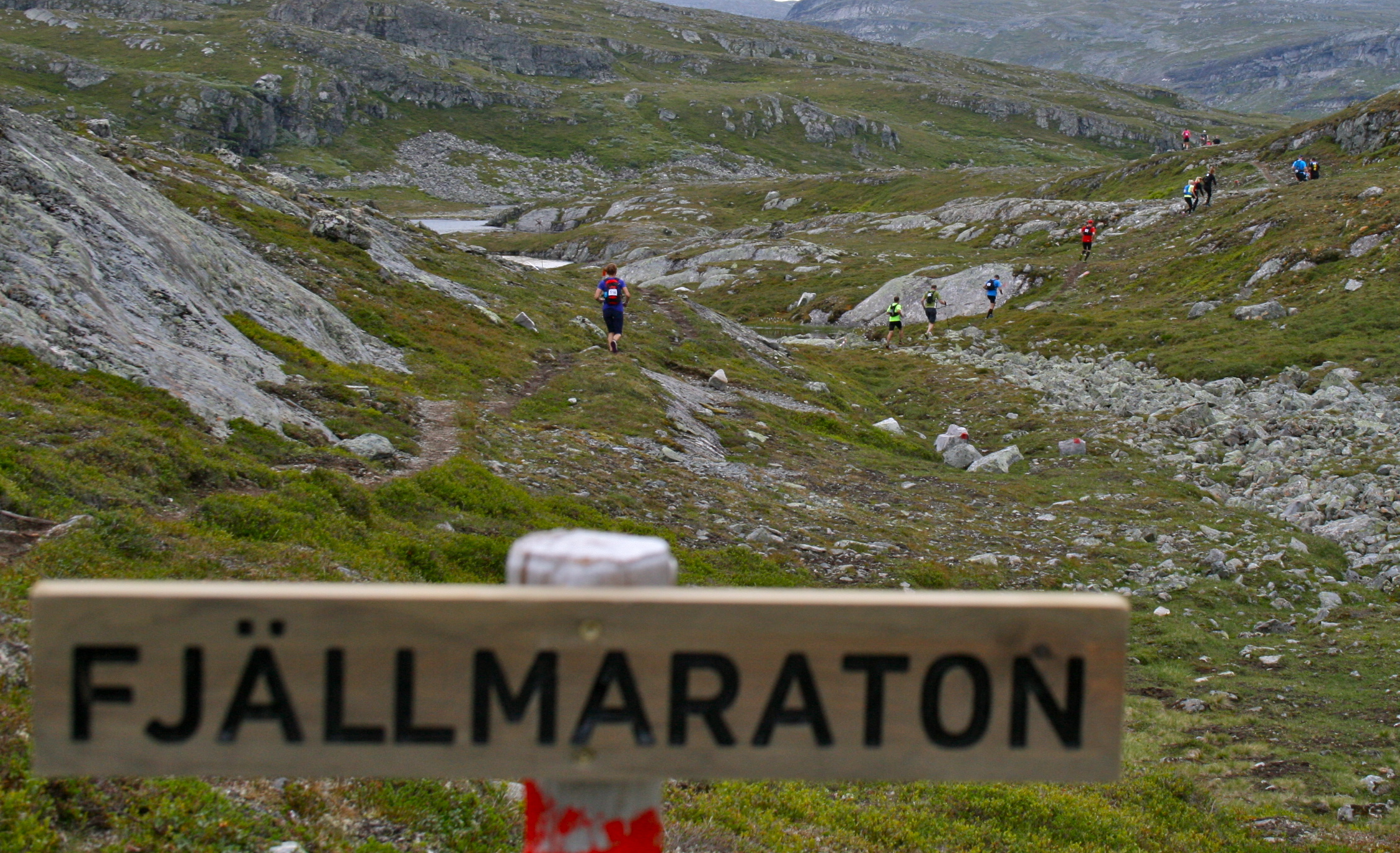 A fine course (AXA Fjällmaraton, Björn Gund)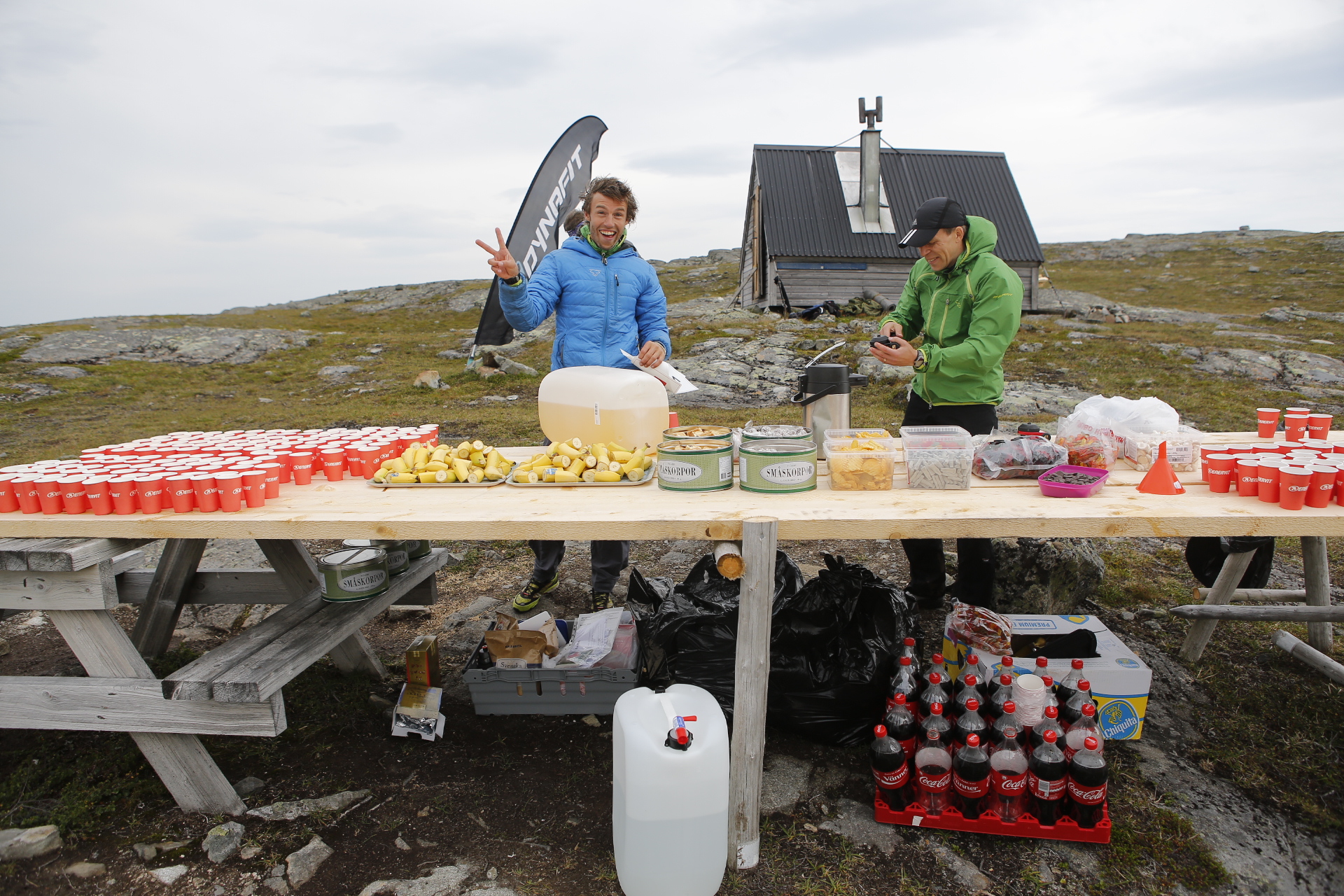 Not a bad Swedish Smorgasbord, hey? (AXA Fjällmaraton Johan Marklund)
I considered this a "C" race in terms of priority — I wasn't expecting to perform well. The goal was to test myself, to see where my form was.  Perhaps this relaxed attitude helped me perform better than expected. But I also think it was because I stuck to my game plan when it came to fluids and carbohydrates. My kayak training already put me in a bit of a deficit, so I knew I had to be careful and keep up the energy in-take during the run. Besides, I'd look like an idiot if I bonked after writing my last blog.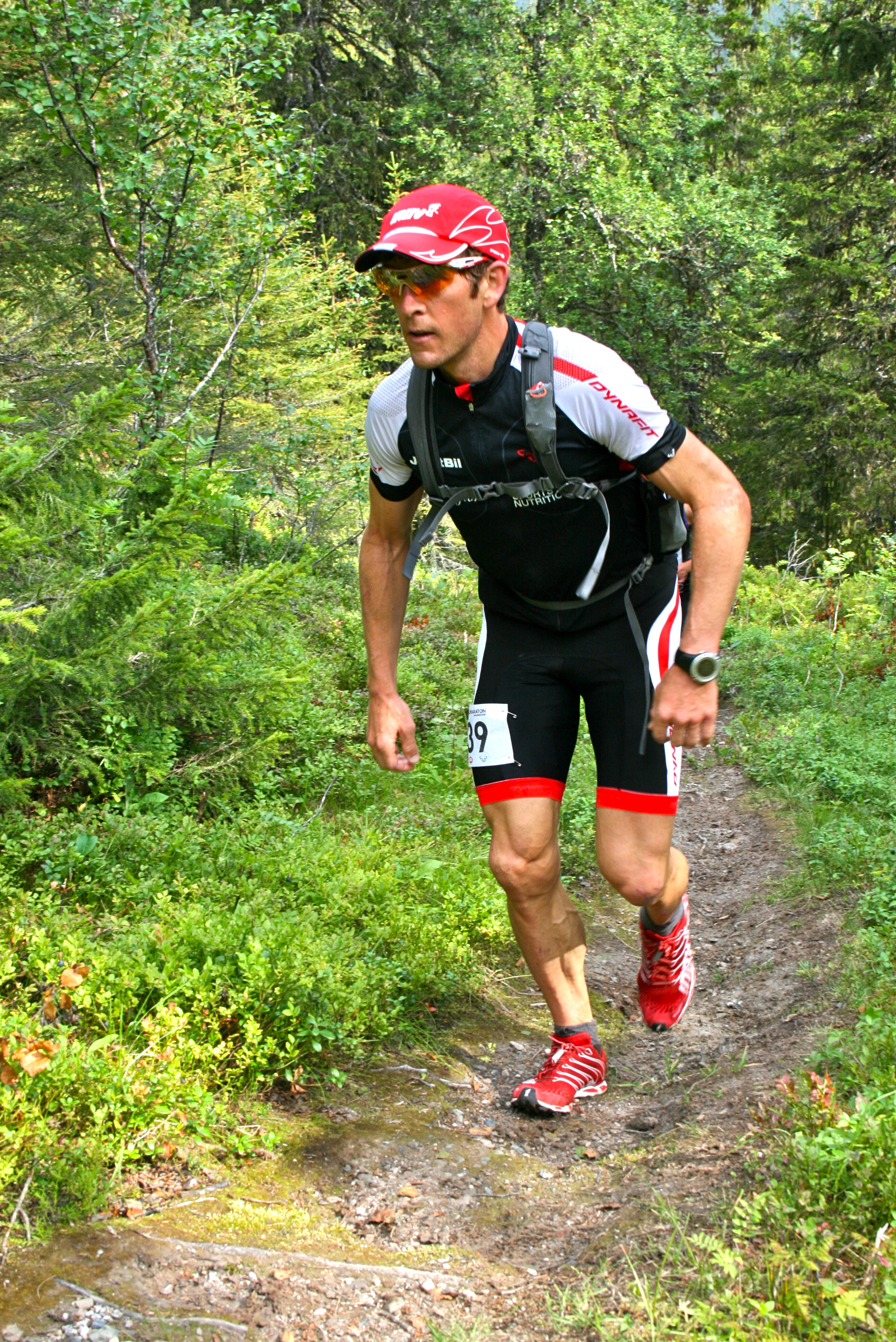 Hot steep climb…  (AXA Fjällmaraton Björn Gund)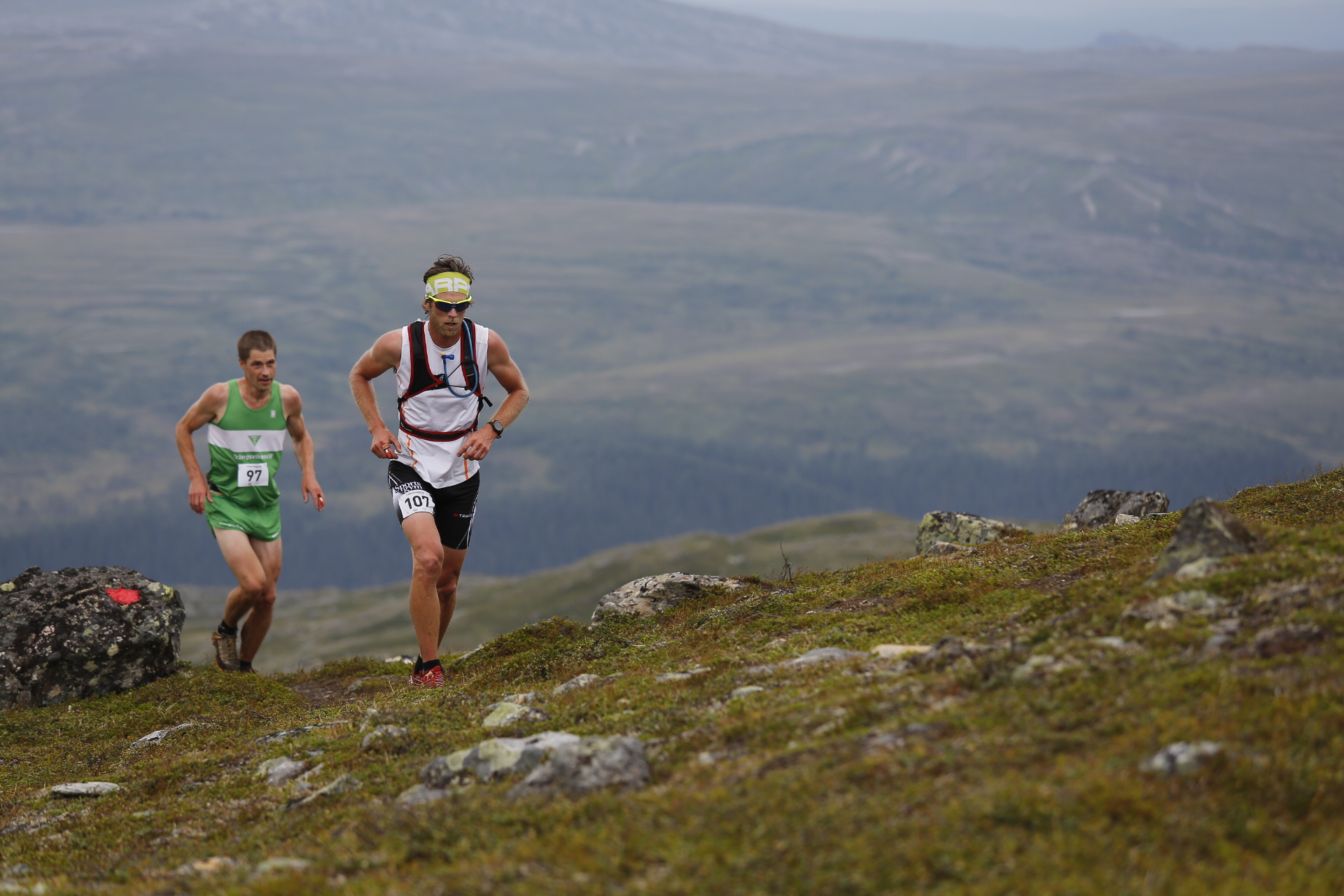 The leaders Johan in green and Andre in white (AXA Fjällmaraton Johan Marklund)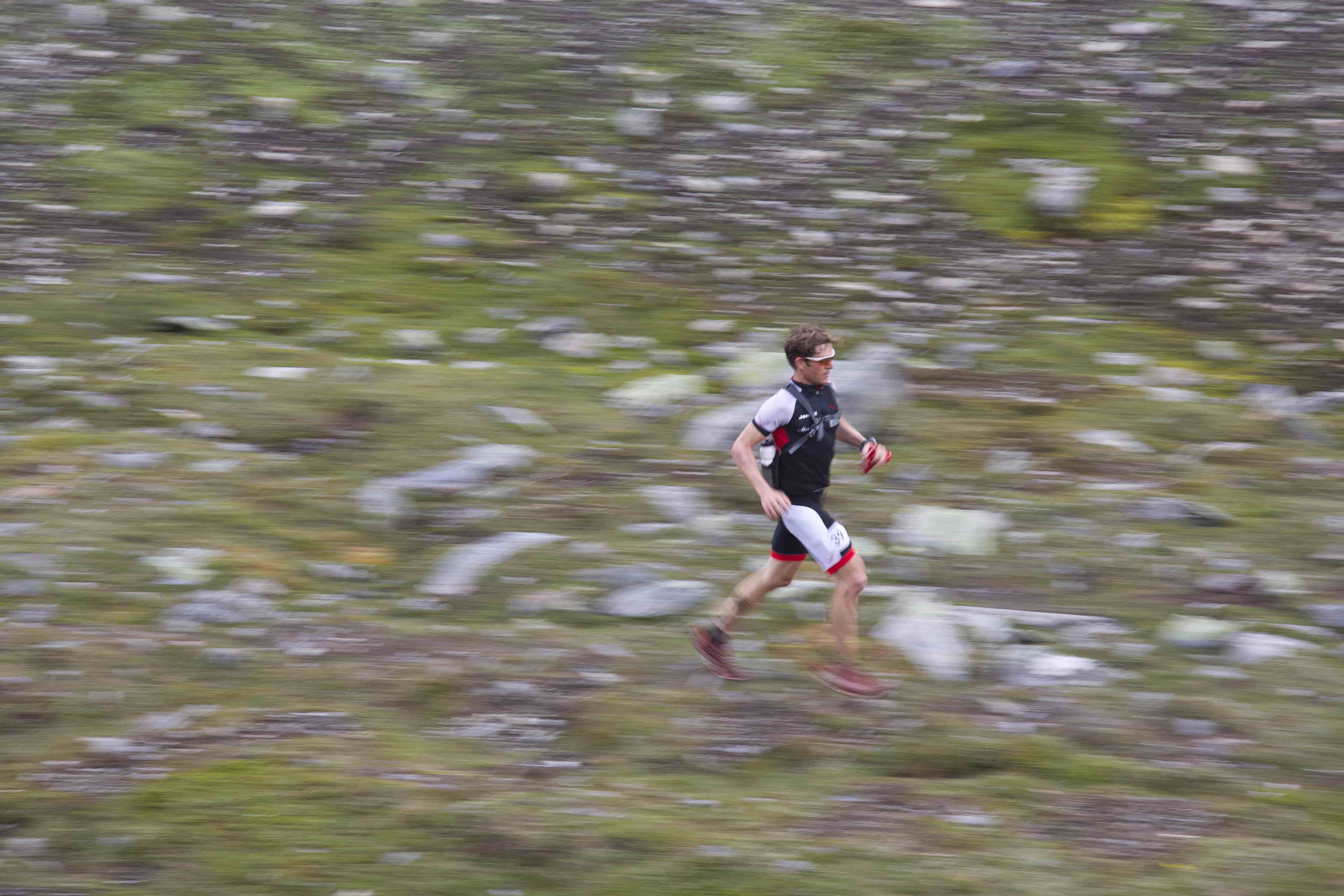 Running like the wind at the top of Ottfjäll. (AXA Fjällmaraton Johan Marklund)
EXECUTE THE PLAN (!)
When I compete in an "A" race, I too often convince myself that I don't need to eat and drink that much — just keep going!  Stupid, I know, but in a tight competition it's sometimes hard to "let the other guy get ahead" even if only for a few seconds. But during this race I stopped at stream crossings to take a gel at 25 min and at 45 min. At 75 min I took a drink gel, even though I had to walk up the hill and lose some time while I ate it.
But most importantly, I stopped and walked for 40 meters at the final aid station to take a long drink and eat, despite the fact that I was battling "neck and neck" for 4th place.  It was hot and I knew I was at my limits. I let the other guy (Jimmy Emilsson) get 200 meters ahead of me while I took this last gel. But I wanted to see if this would work: if I stop and eat now, will I catch him on the final hill? The answer was yes.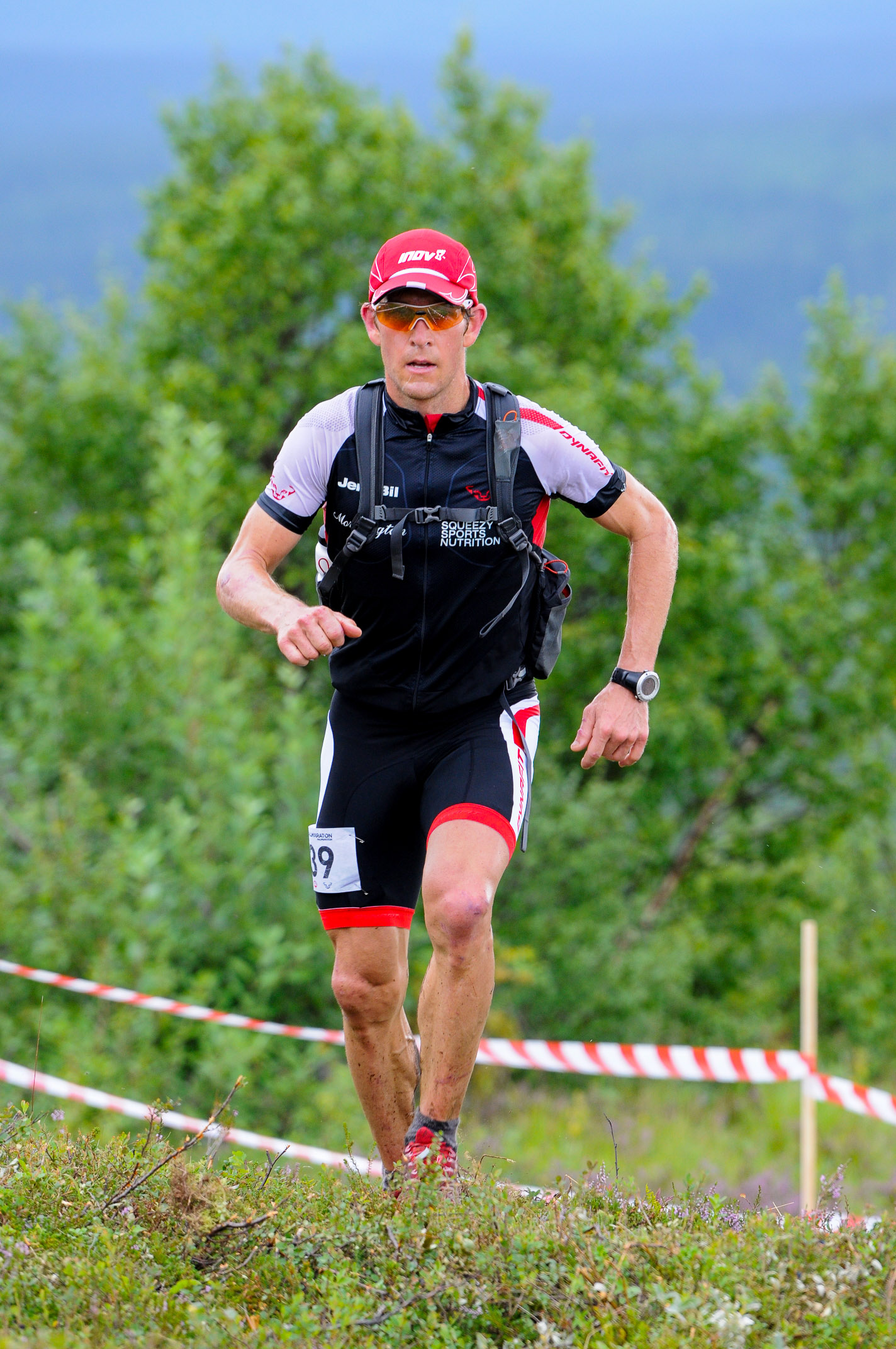 The last steep climb (AXA Fjällmaraton Mikael Frisk)
I had an incredible push at the end of the race when the heat was building and the trail got steep. I ran by Jimmy and was steadily gaining on third place, Simon. He was slowing down and looking back at me. I was running. He was walking….
In the end, Simon retained 3rd place and I had a strong finish. In fact my heart rate peaked at 182 on the last hill, only a few beats from my max heart rate. That's what a well-fueled body can do at the end of a long race.
Huge thanks again to Patrik Nordin and all the awesome race volunteers for putting on an incredible race. Thanks to Patrik and Dynafit for their support of my upcoming training week !
Train hard !
Scott C
PS A cool video from the race is below …