This is the first of a series of entries on my blog about my bout with overtraining. For over 15 years I've mostly avoided this much-feared syndrome – a sickness of sorts that leaves the over-eager endurance athlete feeling mentally and physically broken and unable to muster the energy or enthusiasm to pursue his/her passion. Part I is my attempt to understand what happened.
Perhaps you've read the following line from the "coaching" link on my blog:
"… too often we fail to explore our own endurance potential and we don't realize how close we are to reaching, surpassing, or even re-defining our own boundaries."
While it's possible to "push or surpass our boundaries" over the short-term, even the strongest athletes can't do it over the long-term without allowing for rest. And I've failed to rest.
First, the facts …
I haven't logged a training session in Funbeat for 5 weeks (some of you may have noticed here)
My last real training session on 30 April was a light jog that lasted 15 minutes before I turned around and walked home. Something wasn't right …
I had a similar feeling 15 months ago, but that was mild case compared to how I feel today (See previous blog "faith and stagnation")
I'm under-going medical tests to see if there is any damage … but I'm not holding my breath for the results. There's no medical diagnosis or test to confirm what I already know.
Second, the reality …
I will not be racing in the Åre Extreme Challenge this year – my favorite multisport event.
I don't know which event will be my next race. I'm not developing any un-realistic plans.
I'm going to rest.  A lot.
But I will be back eventually.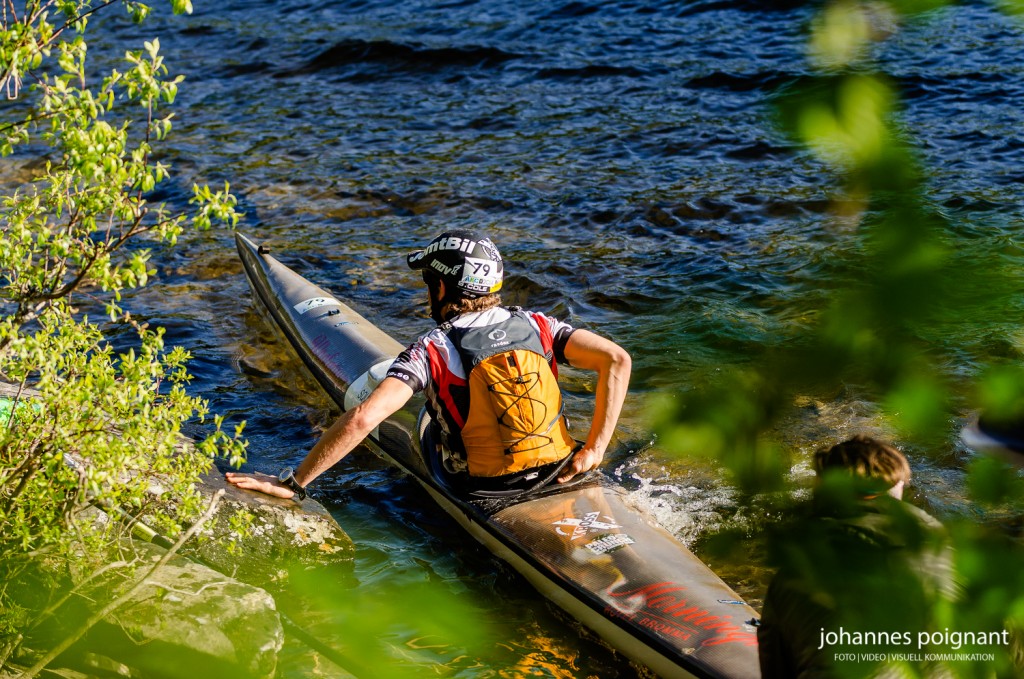 For the first time in 8 years I will not be pushing off from Tännforsen in late June …

… Instead, I'll be cheering others as they  paddle under the E14 bridge
So what went wrong?
I've probably been over-trained for several months but didn't notice it. I was too busy letting my mind push my body to actually notice. I've read that in the first phase of over-training, the athlete tends to feel good, perform well, and live off a false high from surviving a tough training and racing schedule. This matches well with my experience: last fall I raced hard, performed well in China, and kept pushing all winter long in California.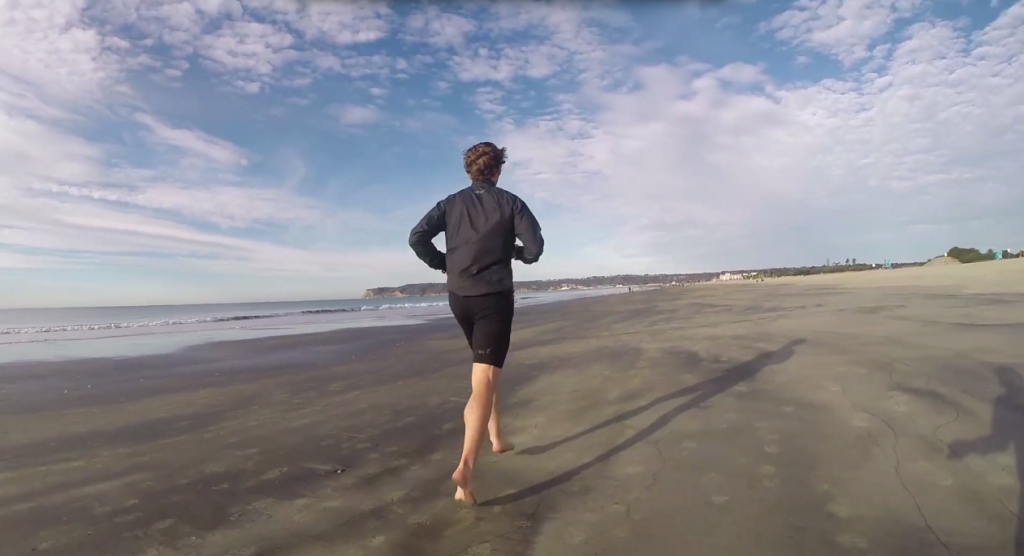 Rather than taking a much-deserved month off this winter, I was inspired by the California weather and kept up a steady training regime … See California Training film here. 
As an endurance athlete I'm addicted to training in the same way an alcoholic is addicted to his/her drug. Like a drug addict, I made poor decisions – in this case, about when and how much to train. To get my endorphin fix, I ignored the subtle hints from my body and followed the dangerous "more is better" mantra from my mind.
I failed to push my body's "off" switch. When I wasn't training, I filled my time with work and other busy items. I convinced myself that I didn't have time to rest – I had to perform. My body kept producing and releasing cortisol – the stress hormone that is supposed to be saved for "fight or flight" reactions.  This constant and low-grade release of stress has destroyed my adrenal glands (which produce cortisol). And now they have nothing more to give.
In short, I added mental stress to the physical training stress and the combined result was a burn out.
My basic symptoms – all of which are very typical for an over-trained athlete:
Declining performance. On the graph below, I flirted too much on the right hand side of the "peak." My training performance went down, but I tried to ignore it. It's easy to get trapped in your own personal Nike commercial where you're inspired to "just do it."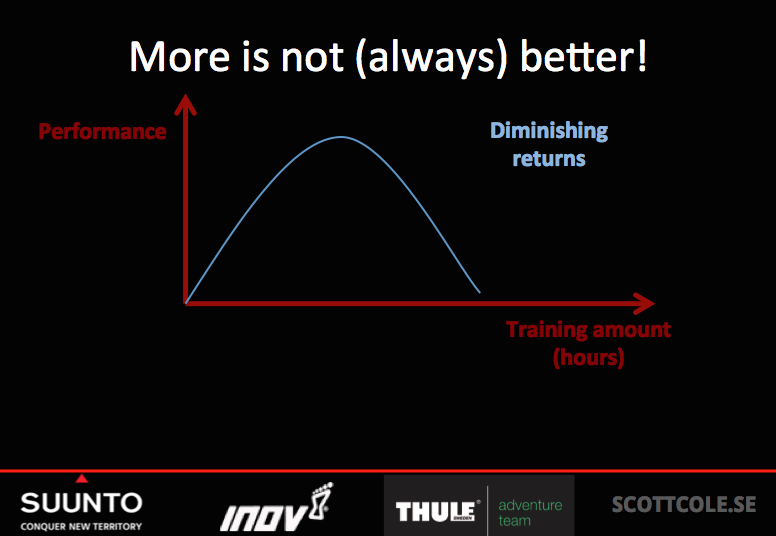 A picture I frequently show in my multisport presentations.  Embarrassingly, this is perhaps a case of "do as I say, not as I do."
Poor sleep. I tend to fall asleep easily, but wake up often because my body is revved up from too much stress and too little rest. Without sleep, I'm unable to recover from my training.
Night sweats. I woke up too often from some dream where I didn't have enough time to accomplish some task … a classic sign of stress.
Not 100% healthy. Although I haven't been sick with the flu, I've had congestion in my nose each morning for several months. An obvious sign of a weak immune system.
A tight chest. Whether training lightly or just sitting at my desk I've had a tight feeling in my chest and trouble breathing.

I'm exhausted

. Enough said.
Looking back, I can see that my bike crash in Spain (on 27 March) turned out to be more than a temporary loss of balance on a technical trail. It was a symbolic crash. It was my body saying to me:  Ok. I warned you. You didn't listen. Now I'm putting an end to this nonsense.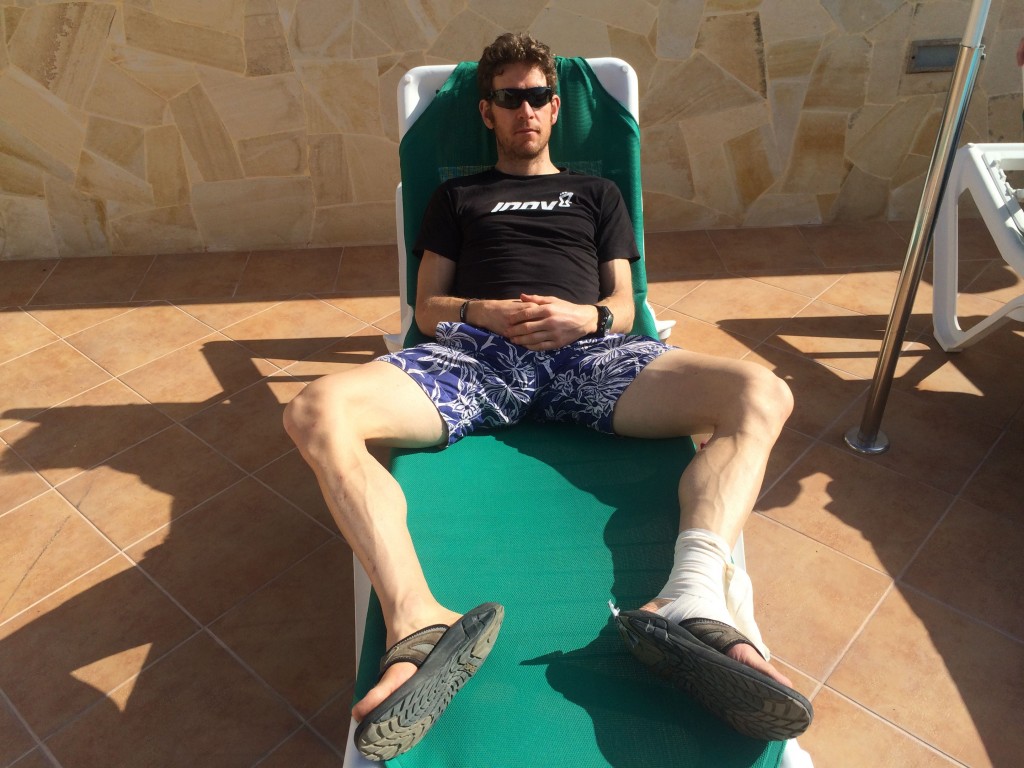 I didn't do enough of this between training sessions in the Gran Canaries during training camp in March.
Thanks
Thanks to all the people I've talked to in the last few weeks. Without naming names, I just want to say that I'm grateful for your advice.
In my next blog I'll talk about how I plan to fix this … which clearly requires that I get better at listening to my body instead of my mind.
Here's to hoping you don't need the advice given in this blog …
Scott
PS. Thanks to Mitt University in Östersund for hosting me last week to present my slide show "What's nature's price?" – a mixture of inspiration from my racing career with reflections from my other career as an environmental economist. Read more here.