Now, in the season of summer mountain marathons, I've pondered running.
As a multi-sporter, I'm supposed to have balance in my training – get on the water and get in the saddle just as much as you lace up the running shoes. But I like running.  Strange for a guy who would only run "with a purpose" in high school: to catch a ball or get away from an opponent. But I like running with all its pluses and minuses …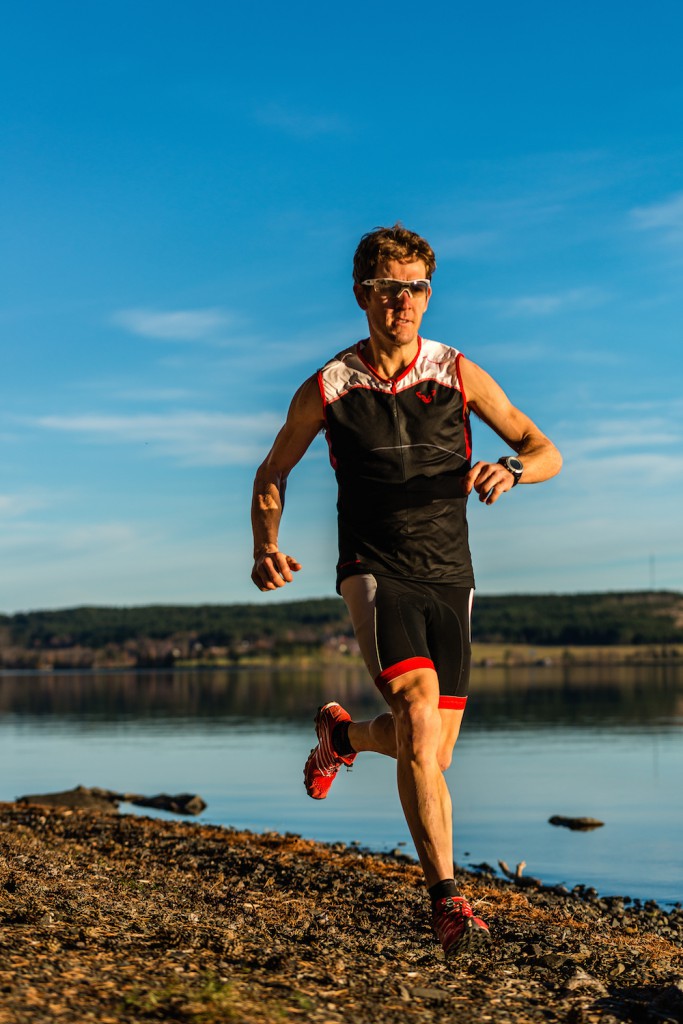 Running on Andersön last fall. Johannes Poignant.
–       I run with tired legs and fresh legs
–       I run early before breakfast … and run late under the midnight sun
–       I run intervals on a treadmill, even though the weather is nice outside
–       I run in the rain when the weather is not nice outside
–       I run on the trails in the dream landscape of Andersön, near my house
–       I run "short and hard" up hills and "long and slow" over hills
–       I run in "technique sessions" (thanks to Johan Johansson) to re-learn the basics.
–       I run so I can get a massage  … And I do self-massage, rolling my legs back and forth on a foam roller or with this new Tiger Tail stick I just got.
Running is freedom but it's also a reward and payback after having trained well.  For me, it's a payment better than cash when I can flow down a steep descent without hesitating, when I find a rhythm on a technical trail, or when I can finish a race strong.
So I pondered the following question together with Johan the other day:
                 Should we run right or should we run for fun?
On one side of the argument we have the "run right-ers".  They believe we should study, practice, and re-learn a technique we did better at birth than we do today (judging by the prevalence of injuries among middle-aged runners compared to the lack of the same among kids, there's a strong argument here). Why? Because the study of running not only leads to more enjoyment – running faster with less pain and less effort – but also because we have the luxury to study this artform.  As a society we invest money in sports research, which has provided us all with knowledge about what makes a good running stride.
Why ignore new knowledge about how to better enjoy your favorite activity or, even better, be able to discover running as a new activity?
If you subscribe to this idea, then you might, for example, sign up for the running course offered by Anders Nordström, just south of Stockholm. He's perfected the "art of running" and the method for explaining it.  Check out his website: www.artofrunning.se

You may also like to read articles like the one Anders wrote in Outside Magazine recently (in Swedish). He provides some basic drills to improve your running style.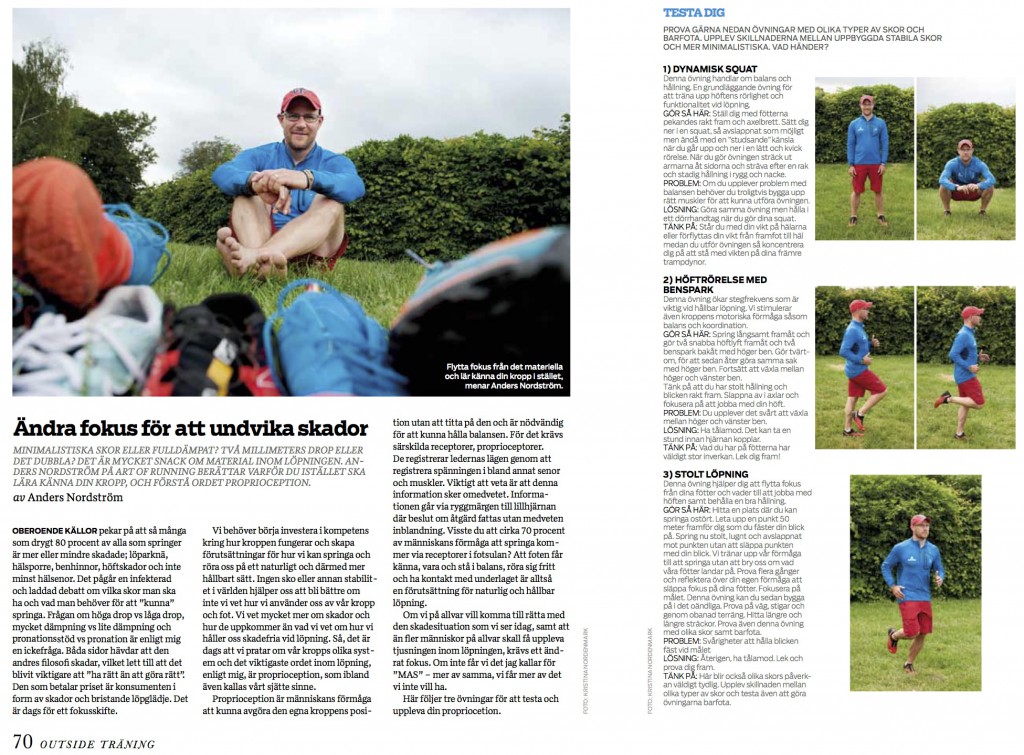 The other side of the argument is the "run for fun-ners."  Perhaps best captured by Marcus Torgby's recent article (Marcus is a well-known runner and speaker in Sweden). His article (in Swedish) basically says this: "Put away all your thoughts about what is right, just put on your shoes and shorts (skip the shirt, keep it simple) and get out in the woods and start running. It will not only thrill you, it will make you a better person."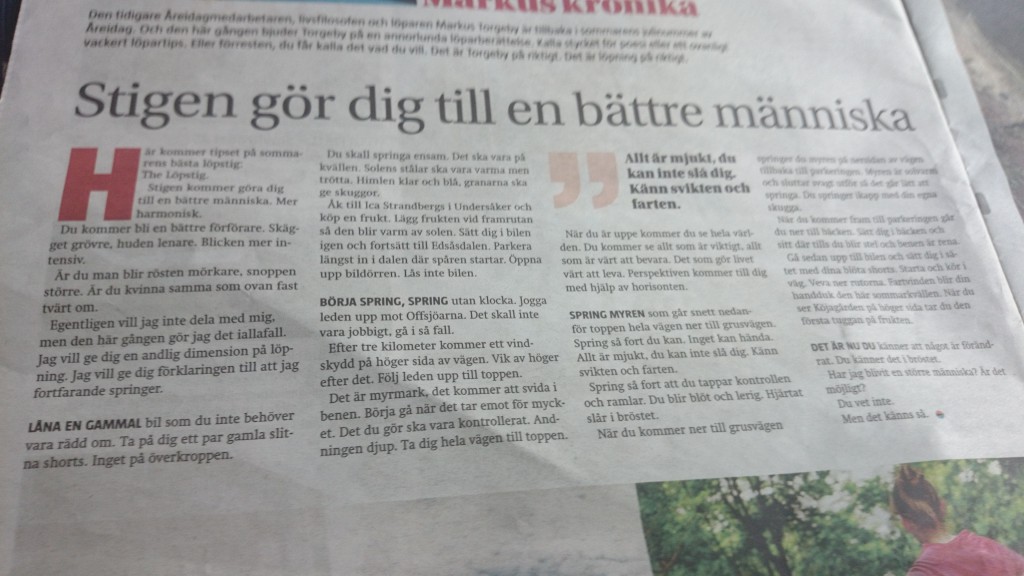 What do I subscribe to? Well, like most things in life I don't believe in black or white, or right or wrong. Instead, I believe in both camps (As does Marcus, as I know he's trained and studied intensively over the years).
The truth is that I just signed up for Anders' "Art of Running" class, but I also went running for the pure joy of it the other morning – a session that Marcus would have been proud of.  I was inspired by his article and put on my barefoot style minimalist shoes (Trail Roc 150s from Inov8) and ran shirtless through the woods on a warm summer morning before breakfast. A great way to start my day.
I admit to one thing – Marcus would not have approved of my Heart Rate Monitor.  I suppose on this particular morning of "freedom-seeking" I should have left it at home …
I guess I believe that it's worth putting in a little work first, then getting the enjoyment. Like any good investment, it should take time, but then pay perpetual dividends.
In un-related (and bad) news … I visited the doctors about the cut on my hand and it's infected. I'm on antibiotics now. To help my immune system I went out and picked some Red Clover, dried the leaves, and made some tea (thanks for the tip Michelle!). It's really sweet-tasting tea and it's everywhere right now in Sweden. Go pick some yourself, even if you're not fighting an infection …
Run right and run for fun.
Scott Cole
PS Johan Johansson, my running mentor, is giving a slide show before the AXA Fjällmarathon next week (8 August, Vålådalen, 19.30) describing his experience at the 100 mile UTMB race. He had an amazing race and has a cool story to tell. Don't miss it if you're up in Jämtland for the race …