This is Part II of a two-part story from racing at the Wu Long Mountain Quest. To read Part I, see this blog entry.
DAY #3: A long run, watermelon and delirium
We knew that Day 3 would be decisive, as it included a 24 km run at the end, with the last 6 km on asphalt road in the hot valley.  A strong running team could make up a lot of time on us.
The day started with a run down to the kayaks for a short 40 minute downriver paddle. These plastic boats that usually max out at 10 km per hour on the flats were doing over 20 in the swirling and fast-moving current.   We had arranged with the race organizer to stick a GoPro camera on one of the boats so we had to quickly find the right boat, turn on the camera and get out on the water. Mattias did a nice job with all the above.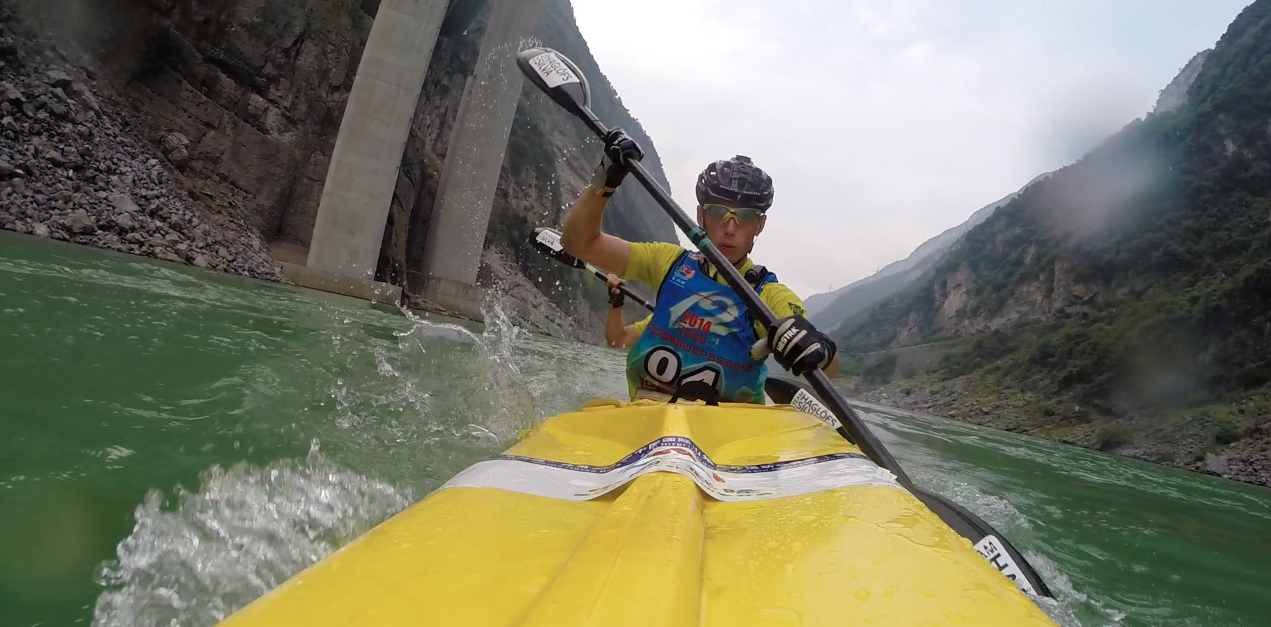 I could tell early in the bike ride that I didn't have my top gear, which was the price I paid for the dehydration from Day #2. My drop in performance was noticeable relative to my teammates who were pedaling comfortably while I was working extra hard.. After 30 minutes, I asked Robert for help. He reached out with the bungy cord and I put it around my handle bars, and said "Good that you say it now before it's too late."  He accelerated up, up and away.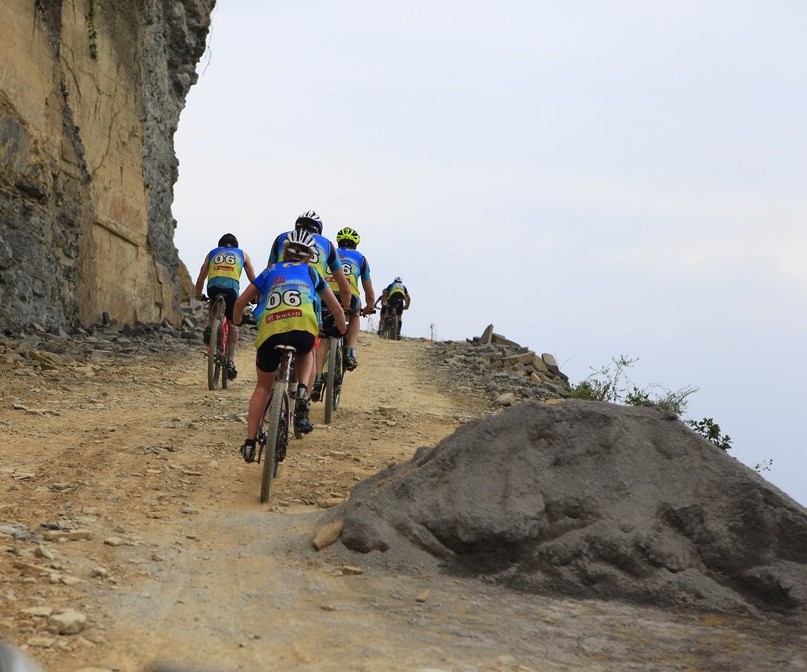 The never-ending bike climb.
Thanks to some physical help and mental encouragement from my teammates I pushed as hard as I could on the bike for 2 hours (almost all uphill). When I jumped off the bike my legs were far from fresh for the half-marathon we had in front of us – even if a lot of it was downhill.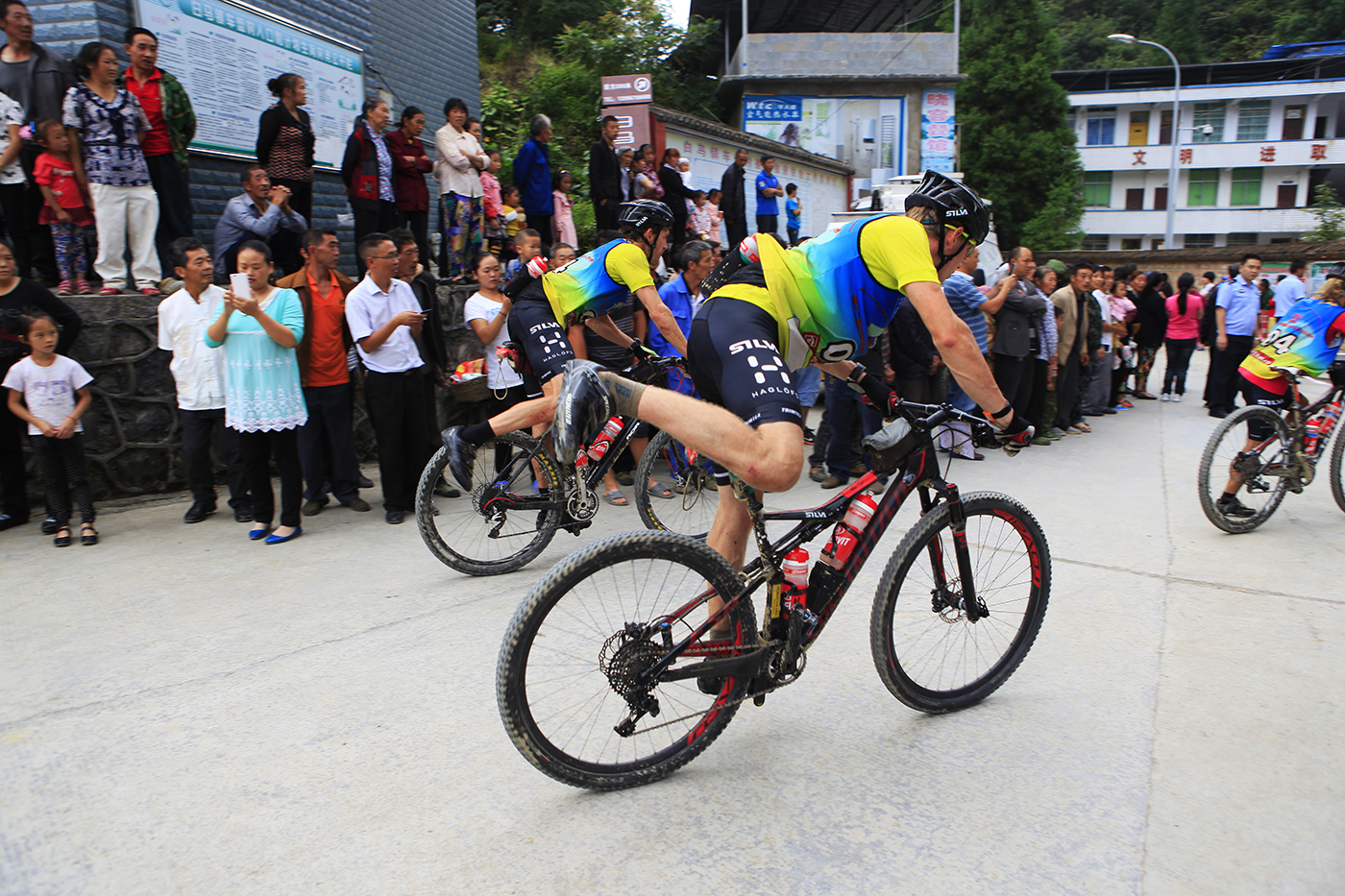 Mattias and I doing a perfectly-timed dismount in the Transition Area.
The long run was the epitome of endurance racing, with a mixture of emotional and physical "highs and lows." While China can often be remembered for the smell of burning trash and sewage, we were also treated to the good side: fresh herbs (was it Basal? Rosemary?) as we ran down the hills. One of the clear highlights of the race – in fact, a memory that stands out among all my racing in China – was when we ran through a little village and the all the inhabitants (all 15) came out to meet us with watermelons cut up in slices and ready to eat. We were racing alongside another team and all 8 of us grabbed the juicy fruit without losing a step and sucked it down, while spitting out the seeds. Wow, that hit the spot.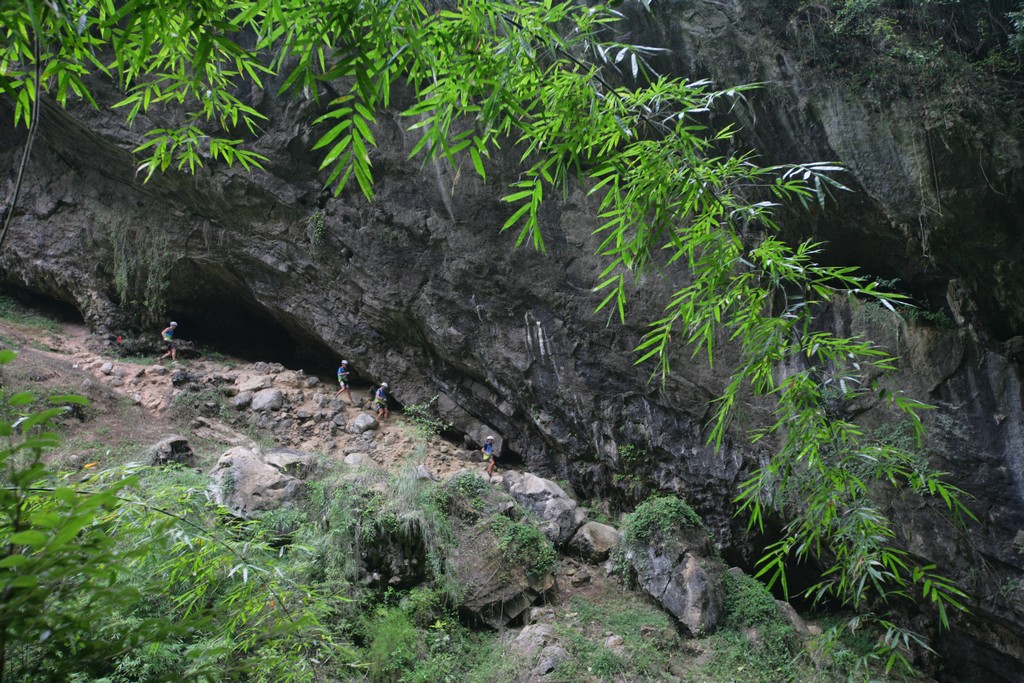 Part of the beautiful desent.
We are all four very good technical downhill runners and we excelled on this part of the run.  Josefina set a solid tempo and we ran past Richard Usshers' Red Bull Team.  But then came the final 6 km on the road and I started to melt down.  It was sudden and it was hard. I had to bend over to catch my breath.
Now it was time to enter my "hurt locker."
Mattias attached his bungy cord to my backpack.  The heat from the asphalt burned through my shoes. After what seemed like hours (but was only 25 minutes) we reached the top of the bridge. We only had a 70 meter rope rappel and a short 5 minute run to the finish. But if I thought the highs and lows of this race were over, I was mistaken – they were only just beginning.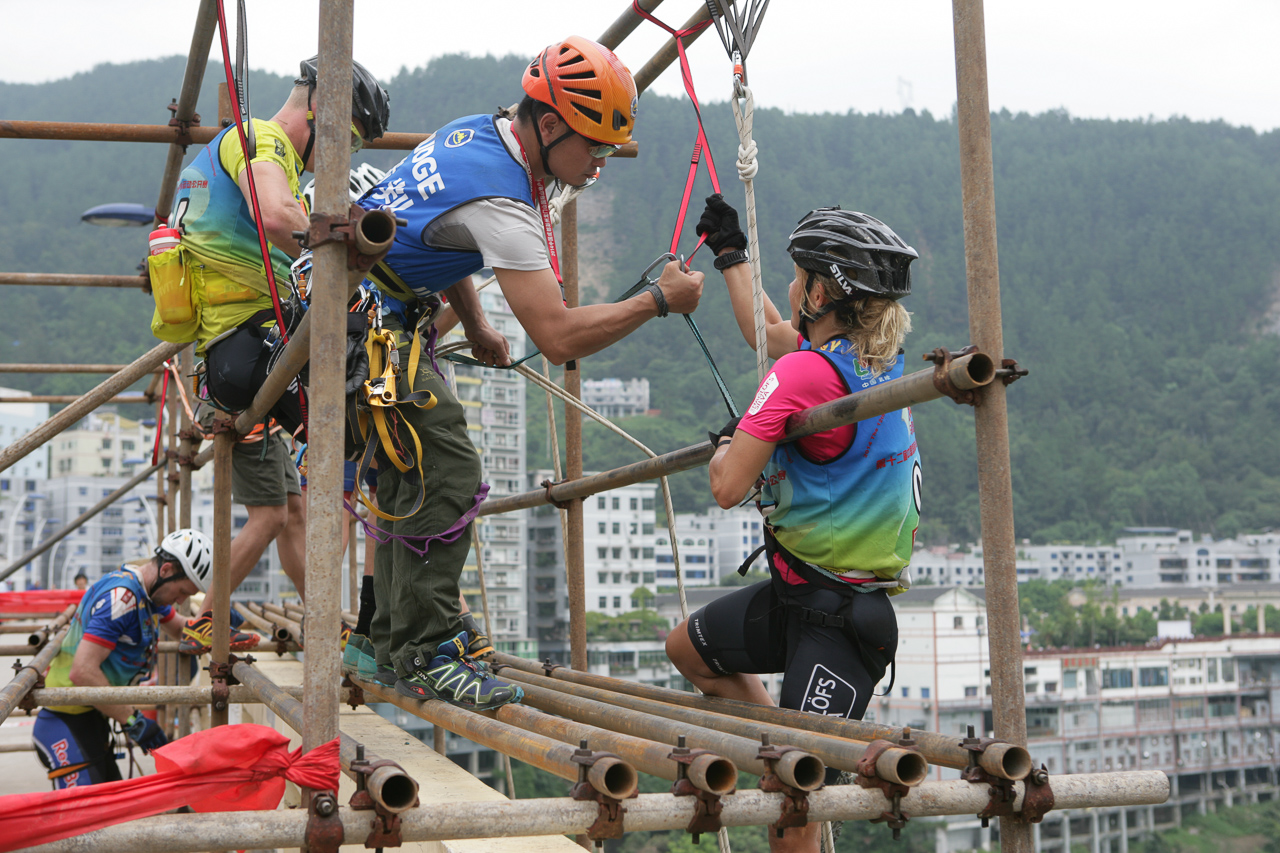 Josa getting ready to rappel, together with Robert. Behind him, Team Red Bull had caught us again.
I had to switch my attention from ignoring pain to focusing 100% on simple tasks, like walking. As you can see from the animation below (a  series of 4 pictures taken within a second), it wasn't so easy.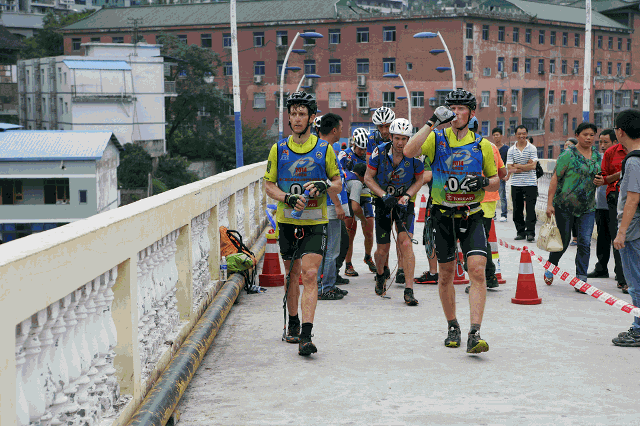 My coordination continued to fail me as I tried to get the harness on.  My teammates helped. I leaned on the handrail, pretending to be "just a bit tired" rather than on the edge of consciousness. I found myself in an acute "twilight zone" – exhausted, delirious, rapidly losing motor skills. But I was keenly aware of one important fact: if I wasn't careful, I might get our team disqualified from the race.
My challenge: I had to launch myself off this bridge which demanded a focus I didn't have, but I couldn't show this to the race's rope safety team because they might deem me 'unfit' to continue. Looking back on it, I think it was that sense of danger combined with a fear of letting down my team that helped me squeeze the last 'drop' of adrenaline from my system and gave me a "super focus."
I stepped over the handrail and leaned back over the edge of the bridge.
Immediately, I felt focused and powerful. I knew exactly where I was and exactly what I was doing. I looked over and saw Richard Usshers' team "neck and neck", descending the other set of ropes. I saw Robert and Josa on the ground below. I saw Mattias getting ready to descend beside me. I had a surge of optimism that I was going to make it through to the other side.
Reality hit when I returned to earth. The strength that filled me seconds earlier on the rope now left me like air from a balloon. I landed softly with bent knees at a reasonable speed, but I collapsed. It wasn't just a physical collapse, my mind went too.
And that was probably the scariest moment. To think back at it now, it seems ridiculous that I wanted to quit when I was so close to the finish, but that is a testimony to how powerful the mind can be: brutally stubborn when helping us reach new heights, but in our dark moments it can be devastatingly weak and cause us to fail. Without my teammates there in Wu Long City, I would have succumbed to the weakness and failed right there at the bottom of the rope – just a short jog from the finish.
Instead, Mattias and Robert, not realizing that my mind had completely gone, lifted me up off the ground in a perfectly-timed and powerful swoop. I was on my feet but immediately collapsed again. They slung my arms over their shoulders and carried me onward, like a wounded soldier being carried off the battlefield.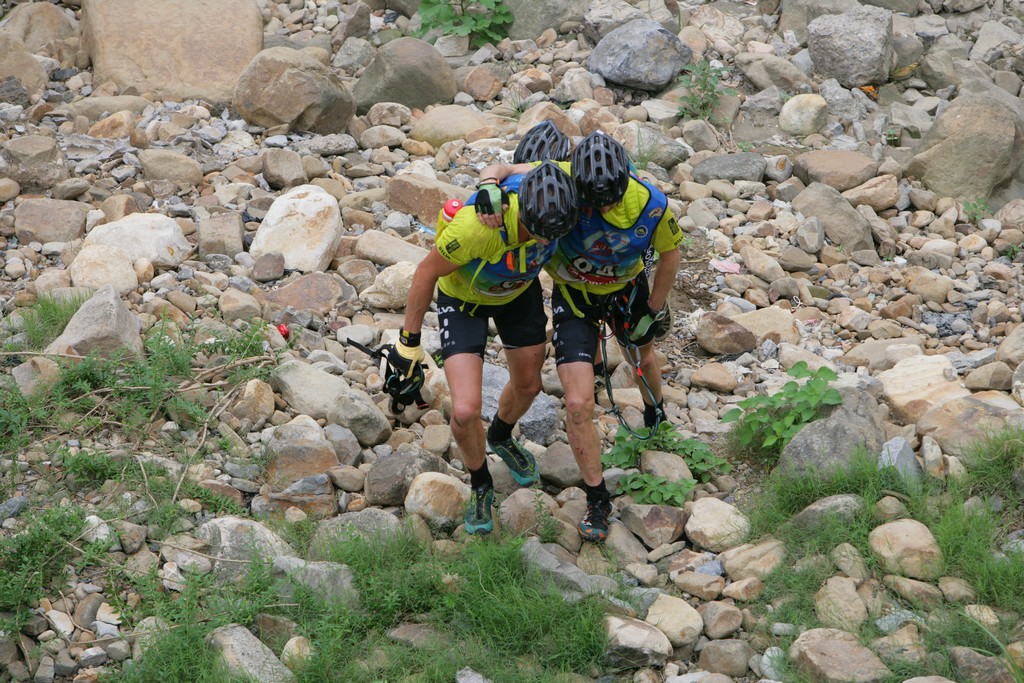 100% dependence on teammates, Mattias to my right and Robert behind me picking up stuff I had dropped.
I returned to my hurt locker once again. A powerful weakness overtook my body and I was completely dependent on my teammates to carry me forward. I've willed my body through many non-stop, multi-day races, but now I had nothing. I was totally empty.
My legs cramped when I tried to bend them so I dragged them forward, relying on my upper body to hold on to my teammates' shoulders. I looked up at the stairs that led us back up to the bridge and over to the finish line. They looked impossible.  I dragged one foot up, then the other. I pulled harder on the guys's shoulders. If they were in pain, they didn't show it. They carried me on.
Then the diahrea hit. I don't remember, but it probably started as a few farts (squirts?) but soon it came roaring out, adding a further strain on the body. (It would climax as I collapsed 10 minutes later at the finish line. I'll spare you the details, which I'm sure you could get from the "always-smiling" race volunteers if you wish…).
With Josa shouting encouragement, Mattias and Robert dragged my wounded body through the town market, leaving a trail of brown (not red).
At the high point of the bridge the gradient turned downward. We descended the final stairs and I saw the finish line 200 meters ahead, but just then I caught a glimpse of Team Peak Adventure behind us.  In an effort that was part desperation and part insanity I tried to run – a "six legged jog" – but I didn't dare let go of my teammates.  I'm sure it looked funny. And it was useless — Peak Adventure  stepped in front of us just before the "time in" to the finish. We finished 6th, losing two spots at the  end of the stage (it wasn't until later that I learned we had retained our 4th place in the overall classification – thank goodness).
My body collapsed at the finish and I spent the next 90 minutes on the ground in the medical tent. I remember packets of ice, people waving cardboard pieces to cool me down, several IV bags (I lost count after 5), and lots of curious on-lookers. I also remember a race volunteer misunderstanding my request for a Sprite and delivered me a cold beer instead (I don't know what he was thinking …).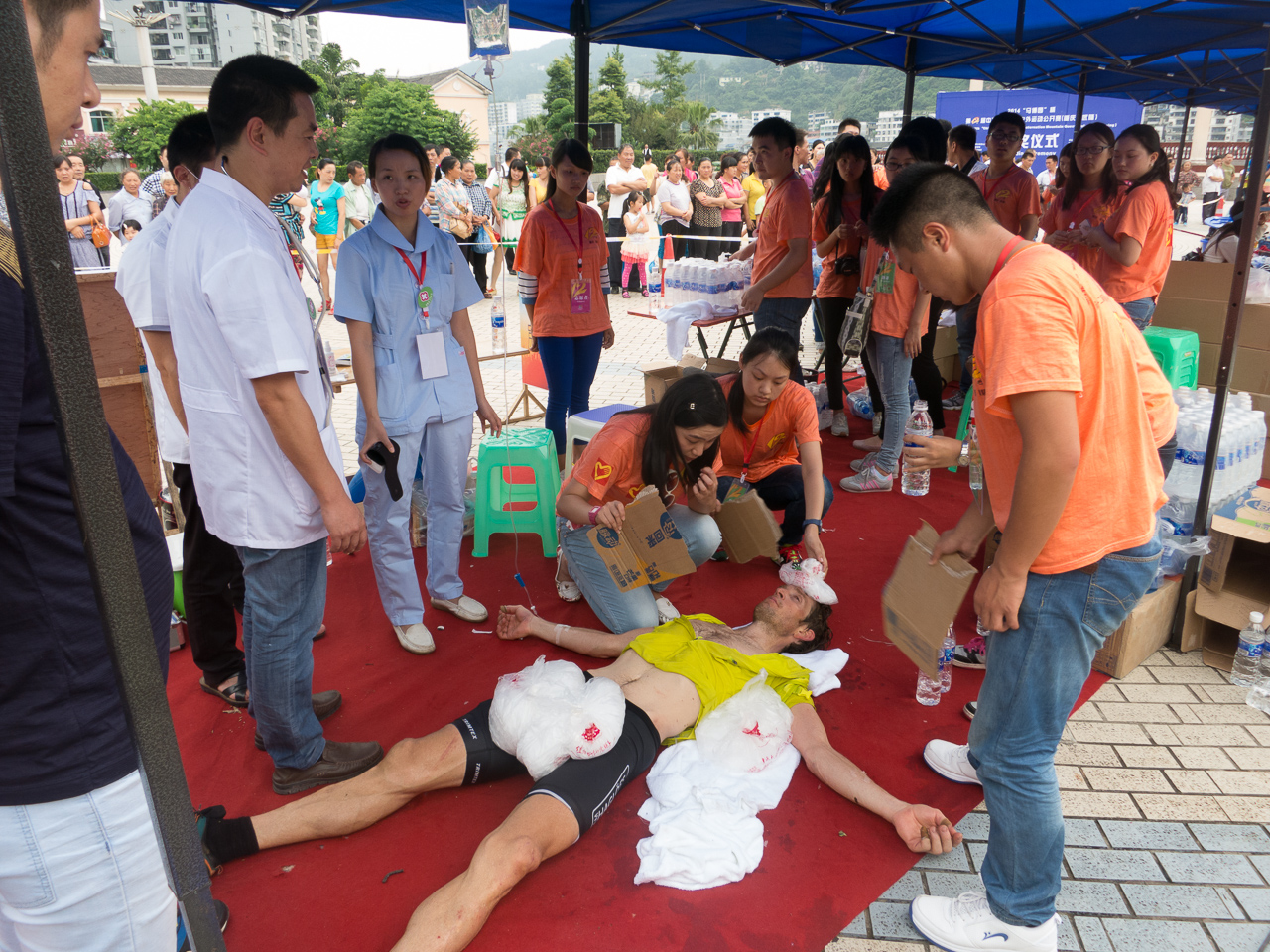 A full collapse. But hey, it might have been worse without that watermelon!
So that was the drama of how our Wu Long Race ended. I recovered enough to attend the spectacular prize ceremony, but said no to the free beer. I got back and packed up my bike just in time to get an hour of sleep before the bus left at 2 am for the Chongqing airport.
Thanks to all my sponsors for their help – especially Crampfix (whose salt tablets helped me get as far as I did); NOR bicycles (for their "problem-free" 27,5 inch MTB); Inov8 (for light shoes); Xinix (for our water purification that kept us healthy); and Hestra (my new sponsor who supplied us with gloves for some fast rope descents).
But all's well that ends well. We enjoyed the closing ceremony and I hope to be back again soon …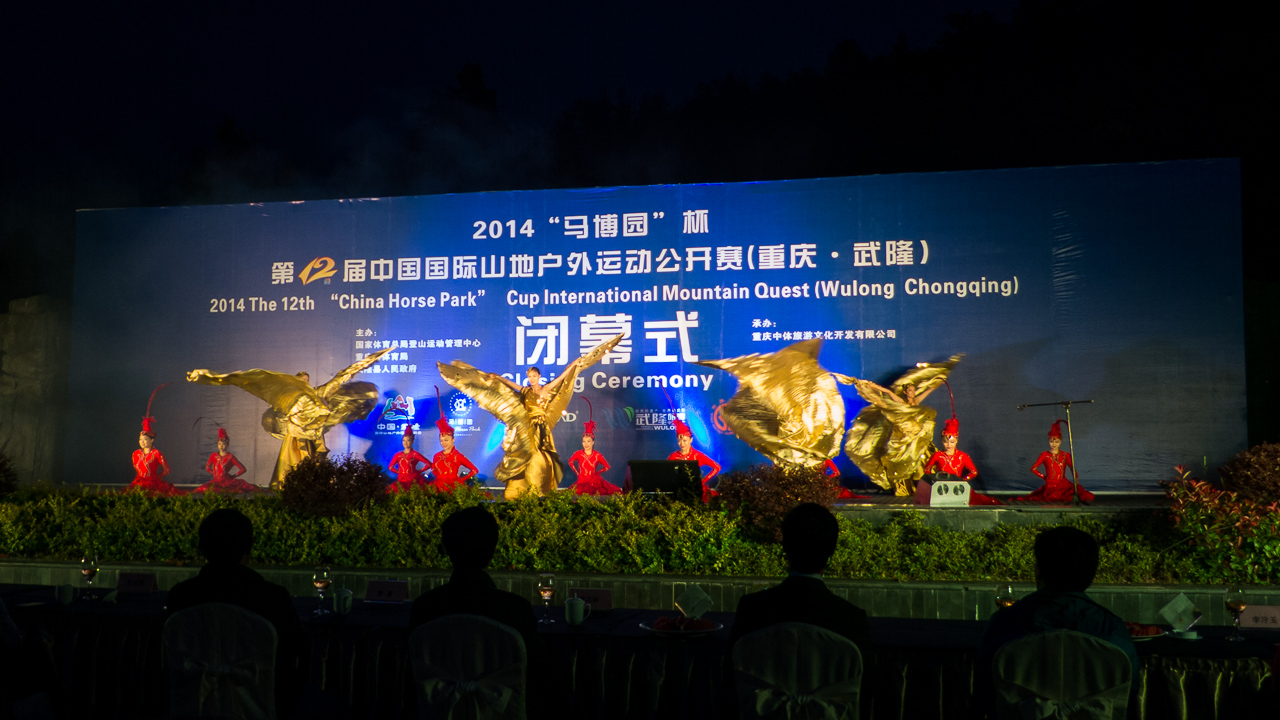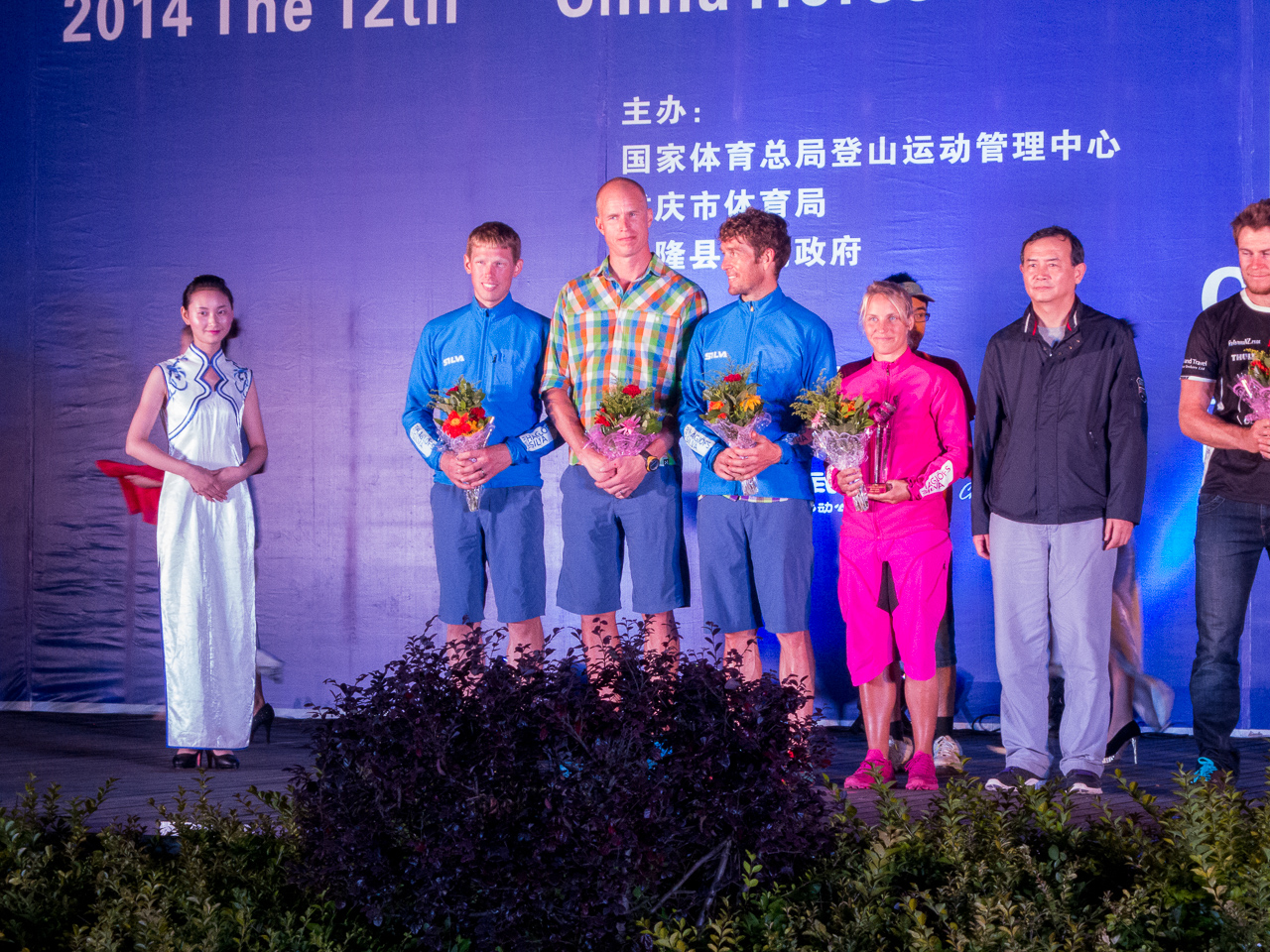 Happy recovery.
Scott
PS Final results below