I was in China in August competing in the Wu Long race (see previous posting), which ended on the final day with me getting 6 IV bags and collapsing at the finish line.
So my mom thought I was crazy when I told her (8 days later) that I was returning to China. This time in September for the Zunyi and Taining races (see preview in previous posting).
Part of me wondered if I was crazy, too.  Am I hopelessly addicted to the adrenaline kick of racing? Yeah probably.   Am I un-able to say no to competition and "another go at it"? Yeah, probably also true.
But mostly, I thought I could do better. That's what drives most of us multisporters — the search for the "perfect race."
Well, I got the perfect race. In fact, together with Martin Flinta, we had three nearly perfect stages at the Taining race (finishing 1st, 2nd, and 1st). It was the first time I'd ever stood on top of the podium at a race in China — let alone win the overall classification. It was a nice reward after a lot of "didn't quite really nail it" race performances, but it was also worth it for another reason: I learned more about my body, in particular how to maximize performance in the heat.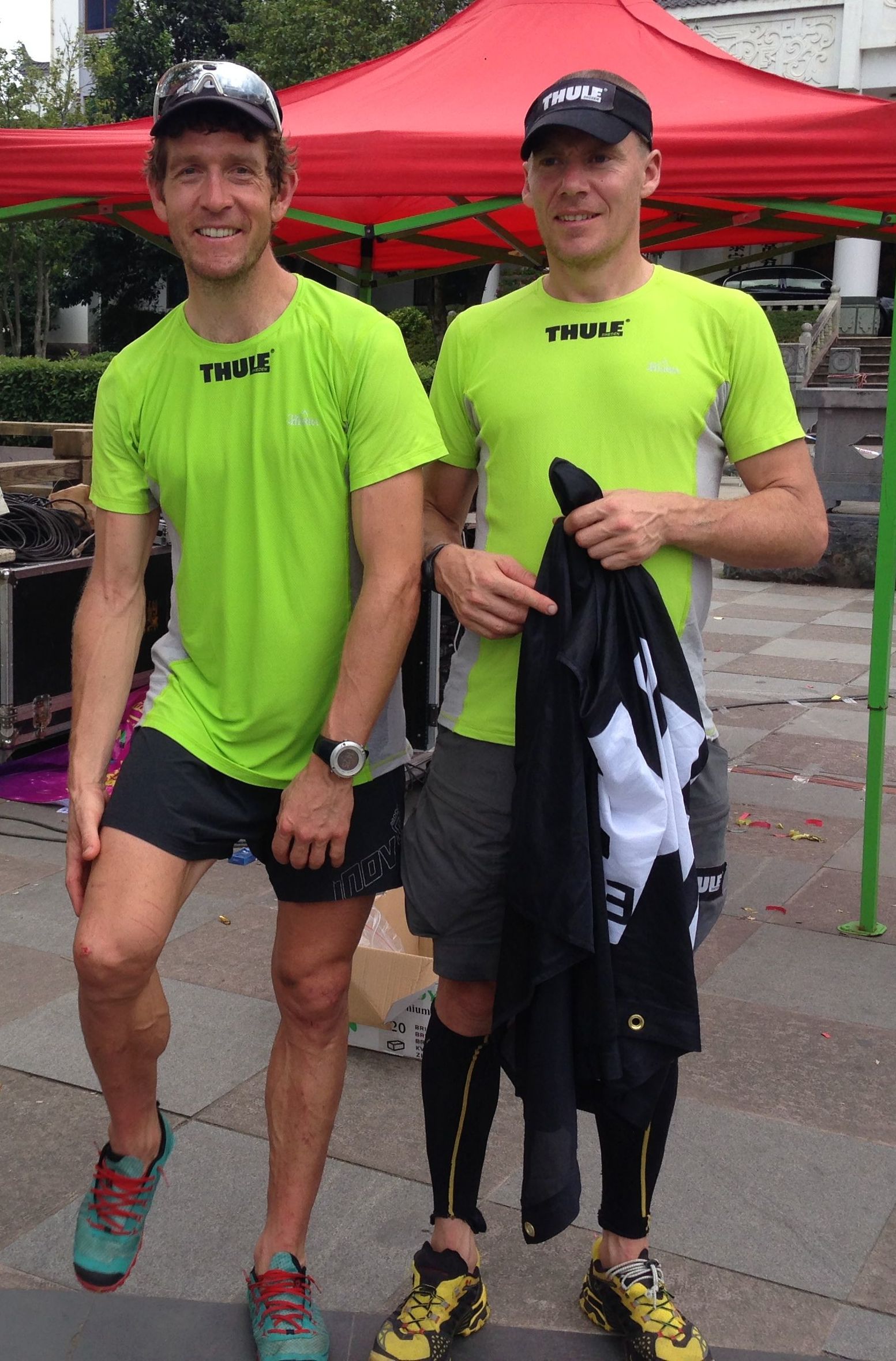 Martin and me in Taining
Here is my story, with some random reflections from this fascinating country and high-speed style of stage racing. Thanks to Jessica and the other photographers  on the course for some great photos from Taining and Zunyi.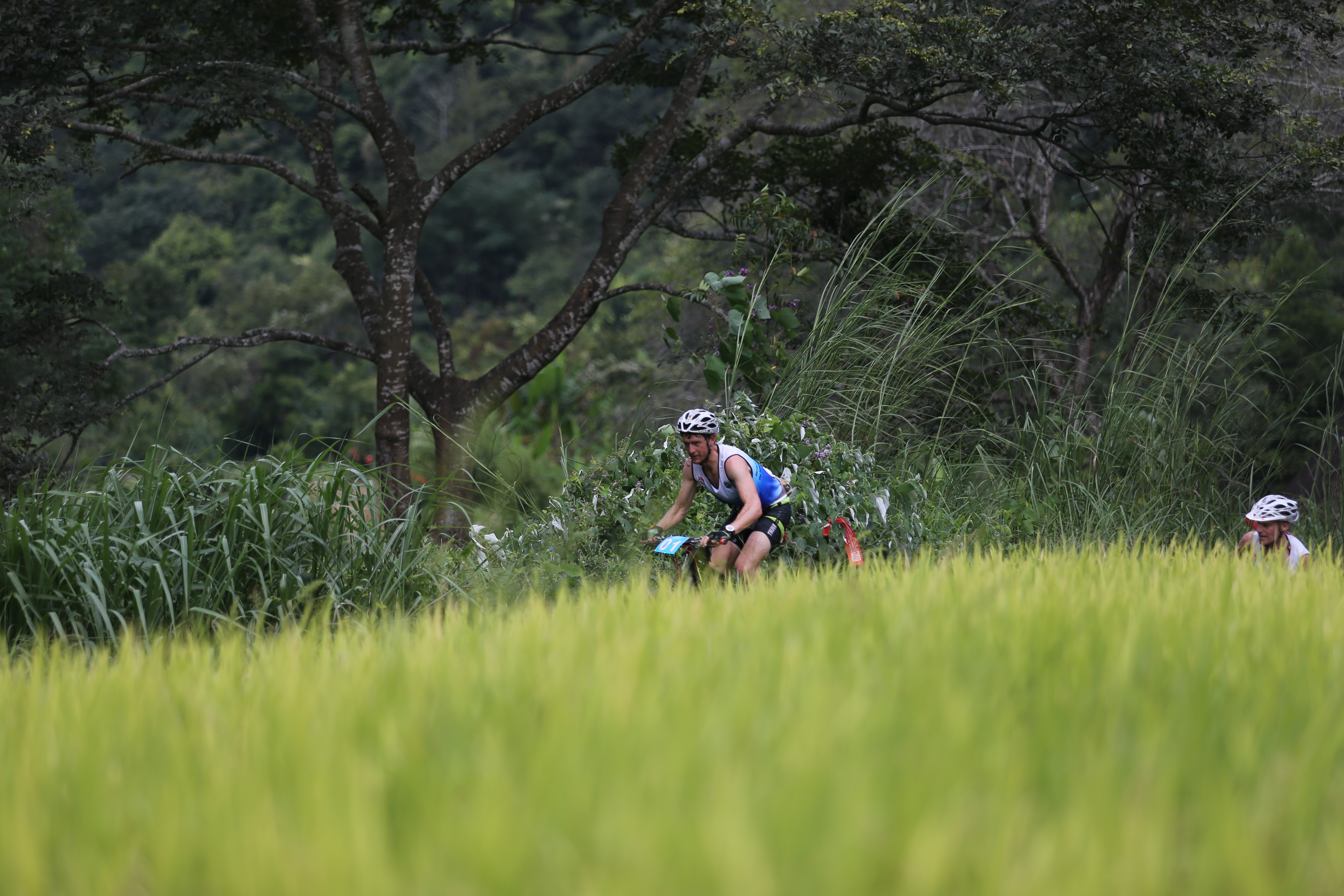 Biking through rice paddies in Taining
ZUNYI RACE (12-13 SEPTEMBER)
The Zunyi race (Guizhou Province) started with a 7 hr 30 min stage on a brutally hot day. On a warm night we camped in the forest (with a few too many mosquitos, but with a fun music band, a tasty buffet table, and other Chinese entertainment) before waking up and completing the loop on a shorter 5 hour stage back to town. It was a unique race, with beautiful terrain and a highly-improved race organization. I recommend this race next year — email me if you're interested.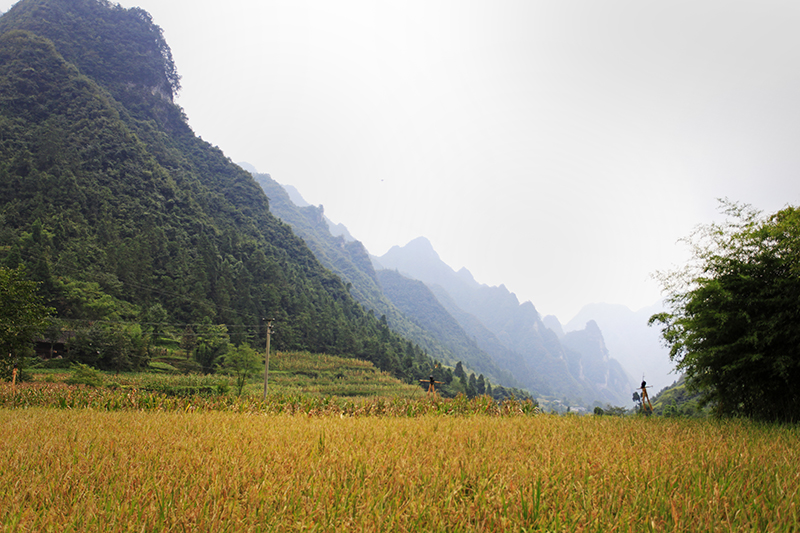 The beautiful scenery around Zunyi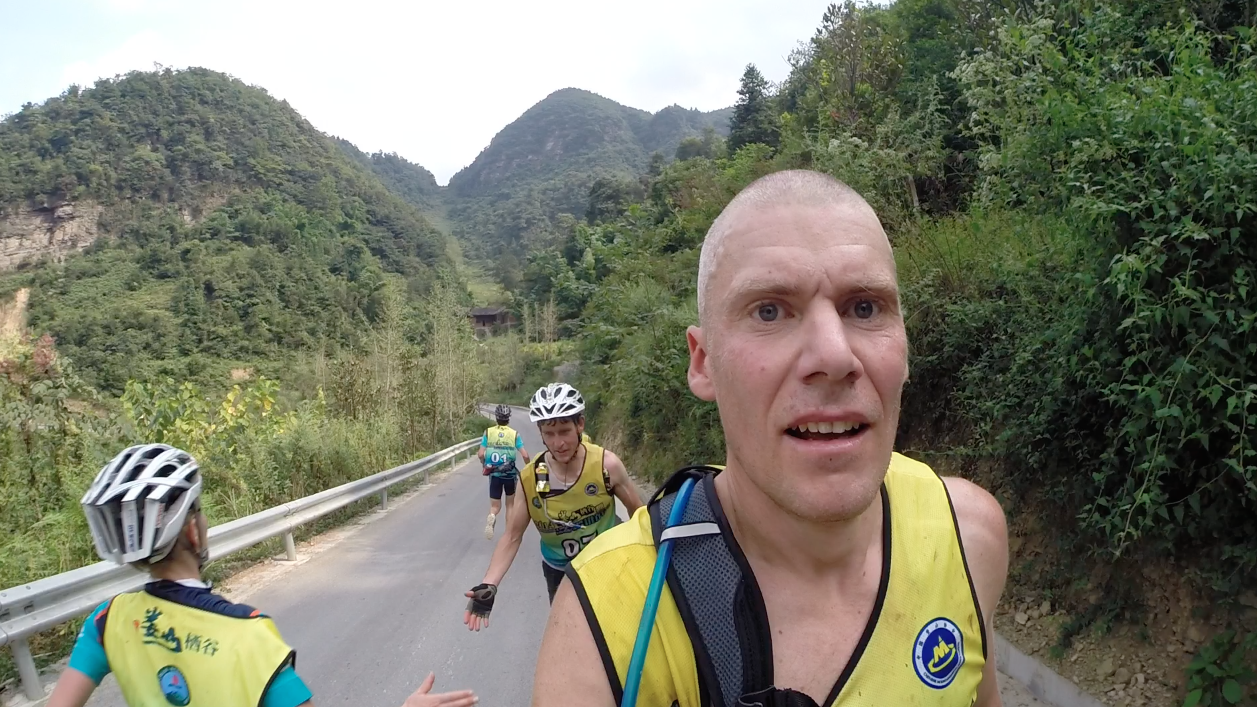 Caught on GoPro — I'm giving high five to Nic Leary from Team Peak Adventure (who I raced with last year). They won Zunyi Stage 2 but were penalized over 2 hours for losing their orienteering punch card. This was unfortunate and unfair, especially on the same day that they managed to have their best race.
Our three-person team at Zunyi included Martin Flinta and Caroline Holmqvist, both of whom arrived at 7 pm the night before the race. I sent them a text message with logistics after the afternoon's race briefing so they could start preparing their gear, water, and food on the bus from the airport!  For Caroline, her first time to China was a bit painful. Her body was shocked by the heat, the time change and a really long first day. While Martin and I were  adapted to the heat from the Wu Long race 2 weeks earlier, it almost knocked her out early.  She had severe dehydration early in the first stage and I thought our race was over, but she battled back and we finished 9th at the end of day #1.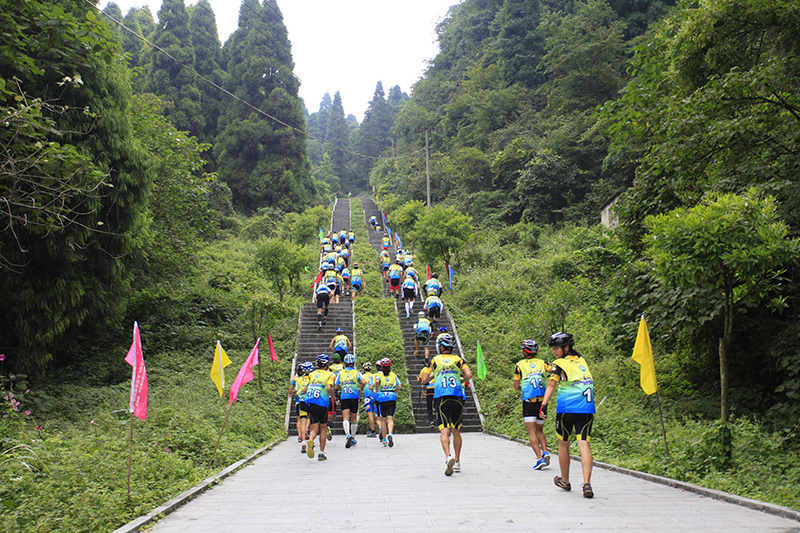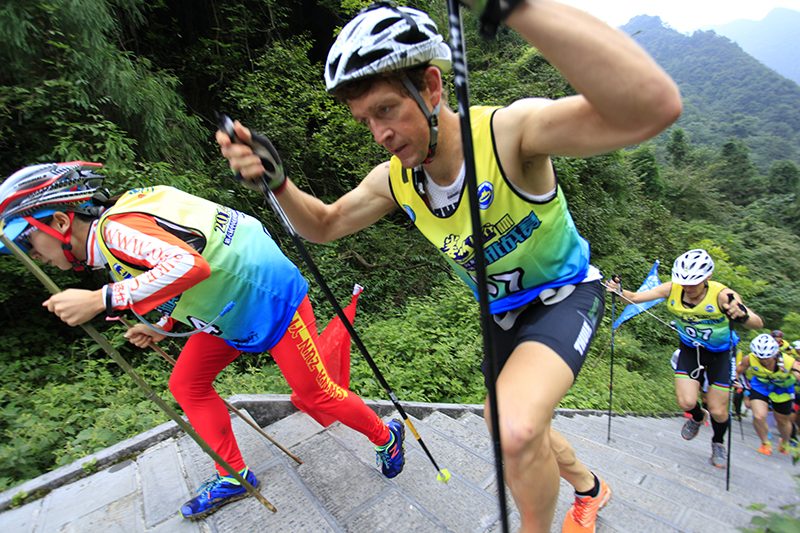 Heading up the stairs at the start of Day #1, with Martin and Caroline behind. We "towed" each other as a team, which proved to be effective.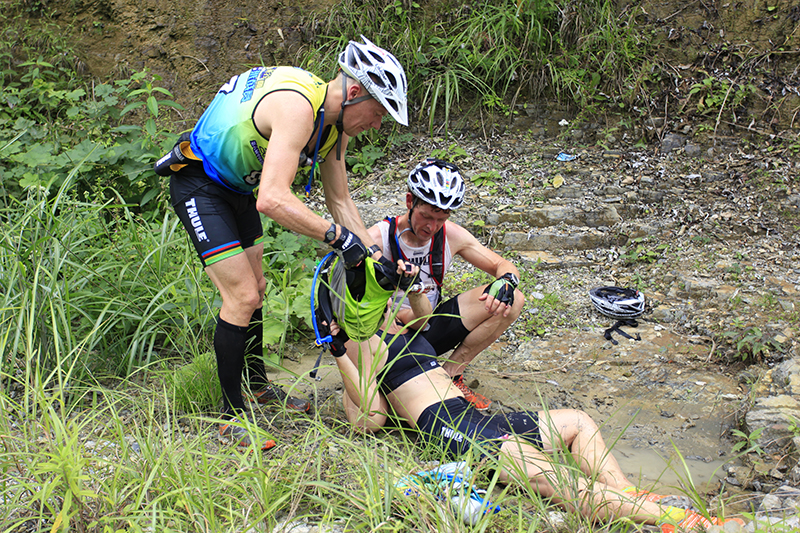 Trying to cool Caroline off in a mud pool by the side of the road, after 2.5 hours of hard running.
Day #2 went better, as we placed 2nd, but Caroline was far from fully recovered. The day featured a challenging ROGAINE orienteering section through a tea plantation, with steep hills, stairs, and a maze of trails (some of which didn't show on the map).  At one point I was running full speed with my nose in the map and turned a 90 degree corner to follow a  downhill trail. I came face-to-face with a big bull. We stared at each other for a short second and then the bull made that "pawing motion" on the ground like he was ready to charge. I decided I could probably find the control via another trail instead ….

Back on the bikes we were treated to closed roads (no traffic!) and lots of spectators as we pedaled full speed through small villages.  The ride went much longer than the teams anticipated, which means we all ran out of water. Despite a lack of English the villagers picked up on this fast and started handing out bottled water and drenching us with their garden hoses — it felt great on a 35+ C degree day (95 F)!
We even had an archery challenge, where we had 5 tries to sling an arrow at a target 30 meters away. Martin nailed it on the second try! (Emil — I need lessons from you so I can do this myself next year).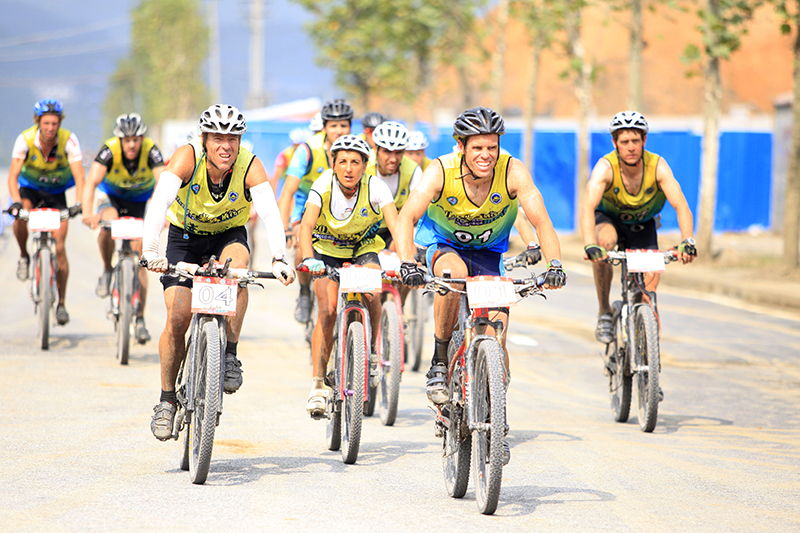 After killing ourselves on Day #1, the leading teams implicitly called a truce on the cycle section on Day #2 (nobody wanted to go fast, so we rode as a group and enjoyed the scenery and chatted. It felt like a training ride :).  But near the end there was a hard push to get in to the running section first and we managed to hold on to the lead group, which set us up for a 2nd place finish on that stage.
We finished the race with a tricky orienteering through an urban bamboo forest with lots of steep stairs. We sweated it out, but earned time on a few other teams.  We took a dip in one of the foul-smelling ponds to cool off and even picked up 3 ice-cold Cokes at one of the stores we ran by (never hurts to carry cash in these races!)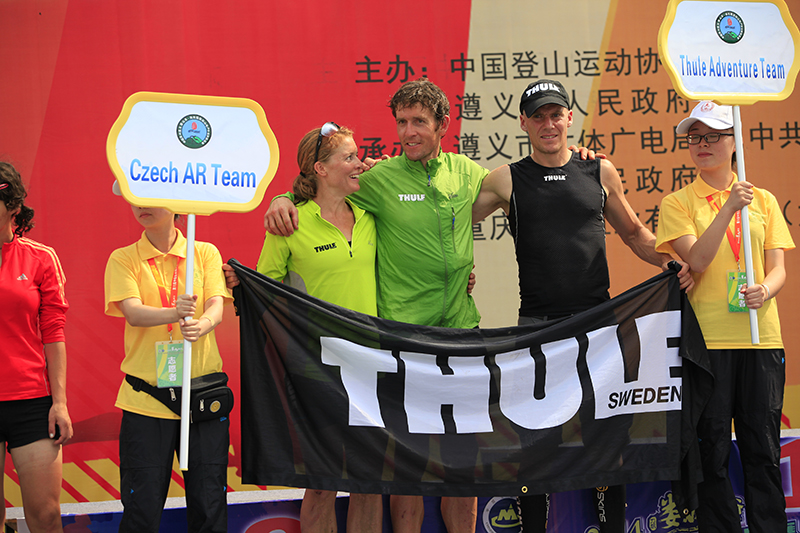 After a 2nd place finish on Day #2, we finished 6th overall at Zunyi.
I was impressed by Caroline's determination and drive on Day 2 (and her strong downhill MTB skills!), despite feeling less than 100%. I reckon she will build in a little more transition time for her next cross-continental travel to China

TAINING RACE (15-17 SEPTEMBER)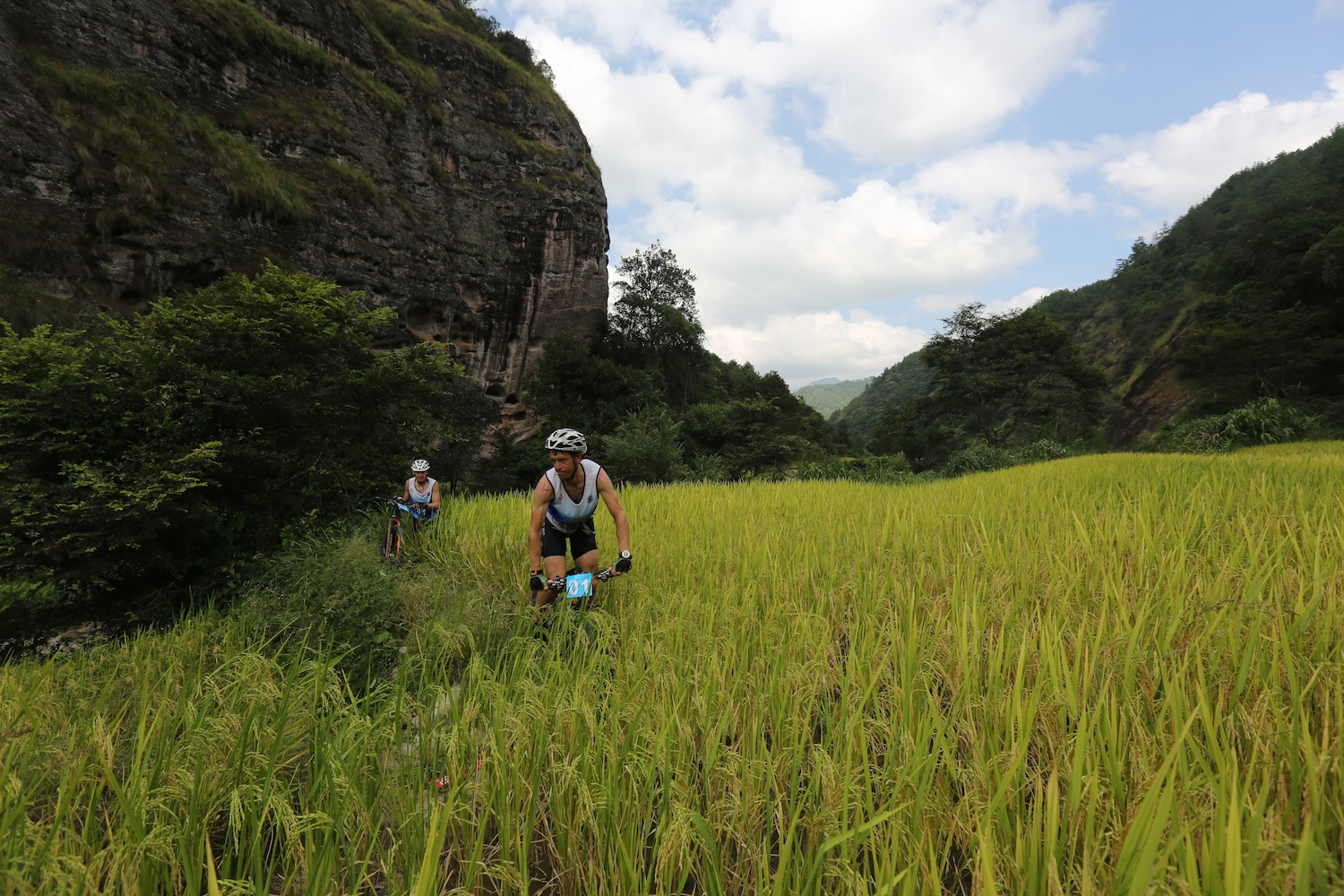 The scenery from the Fujian Province.
We bid Caroline farewell at the airport and Martin and I flew on to Taining (Fuijan province), where we arrived late and had to unpack our sweaty gear for a tough race the next day.
We knew we'd be a strong two-man team, but we didn't know what to expect. Teams were made up of a bunch of top 10 Coast to Coast athletes, many of them young and promising.
Day #1 went well. After 30 minutes of a "bike and run" we were in 2nd and soon chased down the Chinese team in first place during the mountain bike section. We're both good technical riders and we found our flow over the terrain. We didn't need verbal communication, we both had confidence in the other person's ability and took turns pushing the pace in the front and making sure the other person had short breaks to drink and eat (every 10 minutes at least!).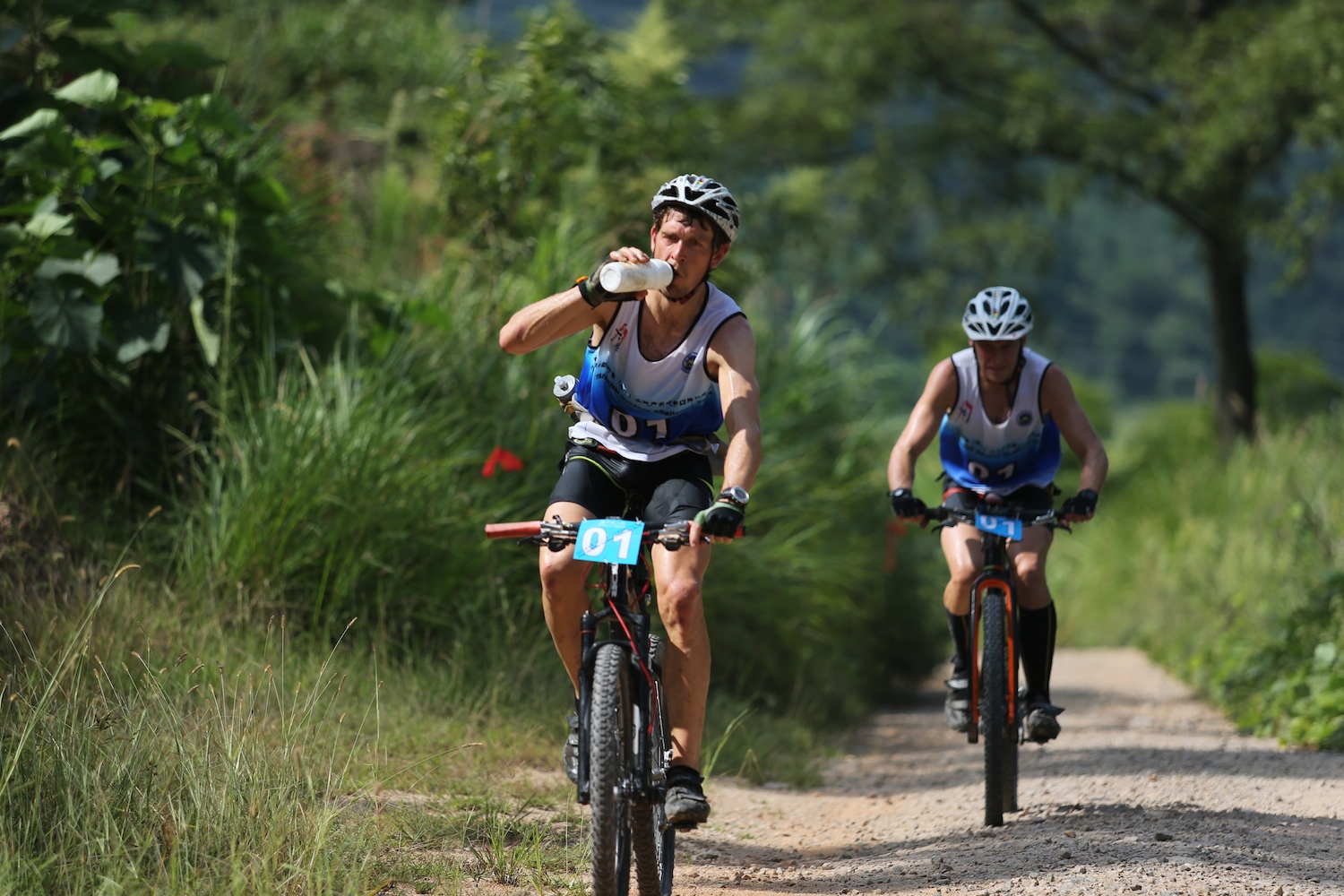 We rode through rice paddies on narrow cement trails,  over narrow foot-paths, and on top of old brick walls that had consequences if you lost your balance (which I did once when crossing a bridge — I fell straight down into a cool and refreshing river and Martin had to help drag me and bike out!).
On the descents we flew.  While there were some technical sections, we managed to pedal a lot of the trails (but not those slippery wet stairs!).  Most of our "hike-a-bike" sections became "run-with-bike" instead, which surely helped us earn time.
Every now and then we'd pop-out on to a road (closed to traffic of course) and we'd take turns hammering out 45 second "pulls" where the guy in front would max out his heart rate, then drop behind the other person's wheel to have a quick drink and rest. Then we'd repeat several times.
When we started the paddle we realized our lead was at least 4 minutes. We held it steady to the finish, where I had to climb out of the kayak and climb up a rope ladder to the bridge overhead. My arms were dangerously near cramping and the thought of splashing down into the water and having to start all over again drove me upward, slowly but surely. We crossed the finish line first and it felt great.
Day 2 started with one teammate (Martin) rappelling from a bridge, then swimming to the kayak where I was waiting for him. The next section featured a classic "cat and mouse" tactic among the leading teams. Since we had the yellow jersey we had no incentive to "do any extra work in the front" (we were already leading!). That meant we didn't want to paddle first and let others free-ride on our wake.  So we took it easy, but the others didn't like that and tried to sprint away a couple of times. In the end we had an uneasy truce and decided this stage would be decided on the bike and run instead.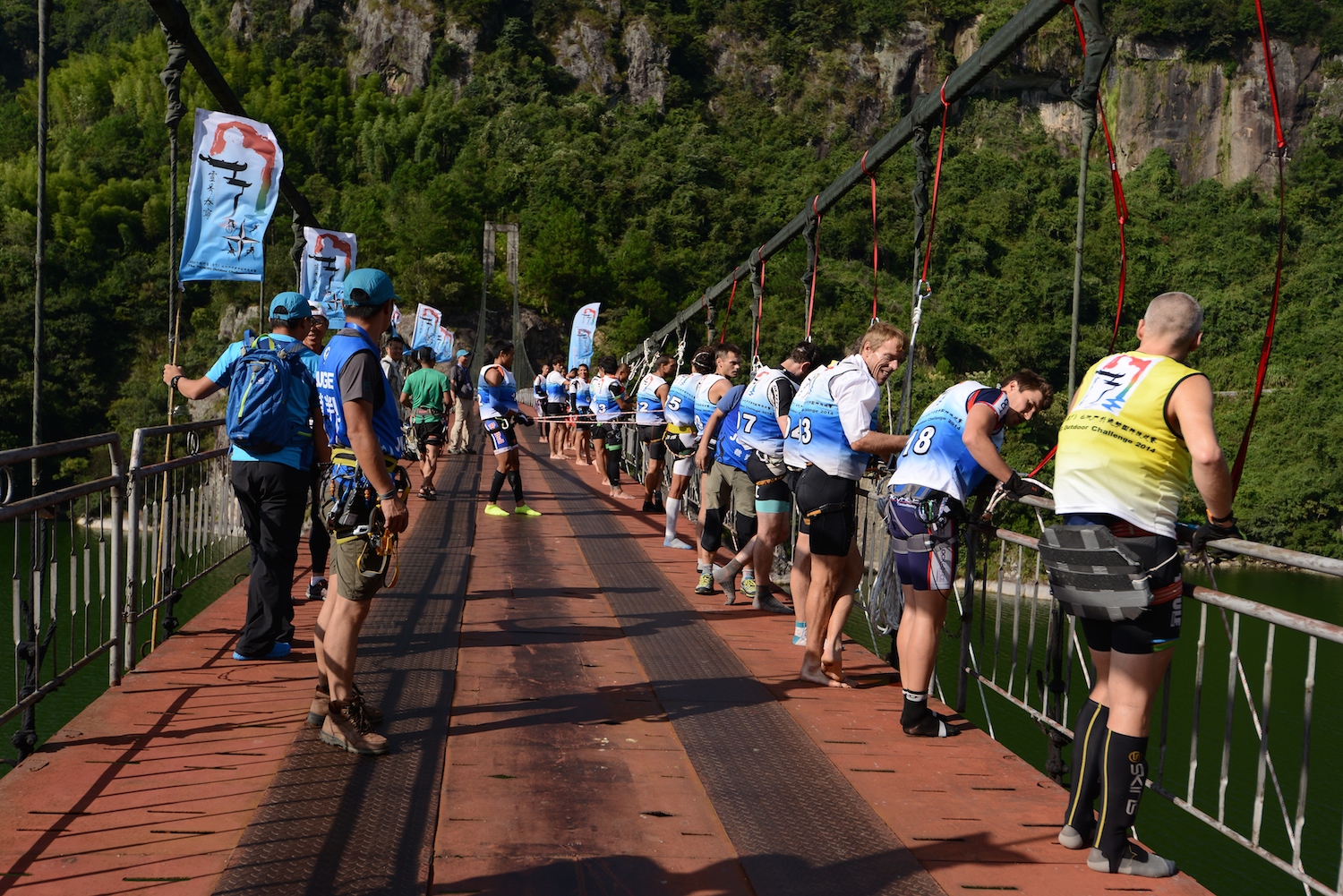 Our yellow jersey gave us the pick of the ropes at the start of Day #2. Martin is ready to rappel to the water for a short swim to the kayak.
During the ensuring bike the other teams opened up hard. My legs were heavy and I was concerned I might not keep up. But I tucked myself in behind  Martin's wheel and soon my "diesel motor" got rolling. Before long, we turned off on a trail and I was in the front, leading out the group of 6 and increasing the tempo to match the gradient.
My tactic was simple (and probably known to the other two teams) —> Keep the pace high enough so that nobody tried to pass Martin and me on the steep uphill trail. That would allow us to be the first to attack the ensuing downhill section, where we could exploit our superior descending skills. It worked to perfection: Martin and I crested the hill and create a gap on the downhill.
We kept that gap the rest of the day and increased it to over 5 minutes before the final 7 km run to the finish. Here we made a critical mistake, following the wrong course markers (some of the red markers from last year were still up on the course — they looked similar, but up close you could see that some said 2013 and others said 2014). We got side-tracked and followed the wrong markings, losing our first place to Marcel Hagner and Sam Mansson.  Some of the other teams made a similar mistake so the race director went out to visit the course afterwards and agreed that it was confusing. He gave us a partial time credit of 2 minutes. It meant we kept the overall race lead after two days of racing, but the stage win went to Marcel and Sam (who were alert enough to follow the correct markers!).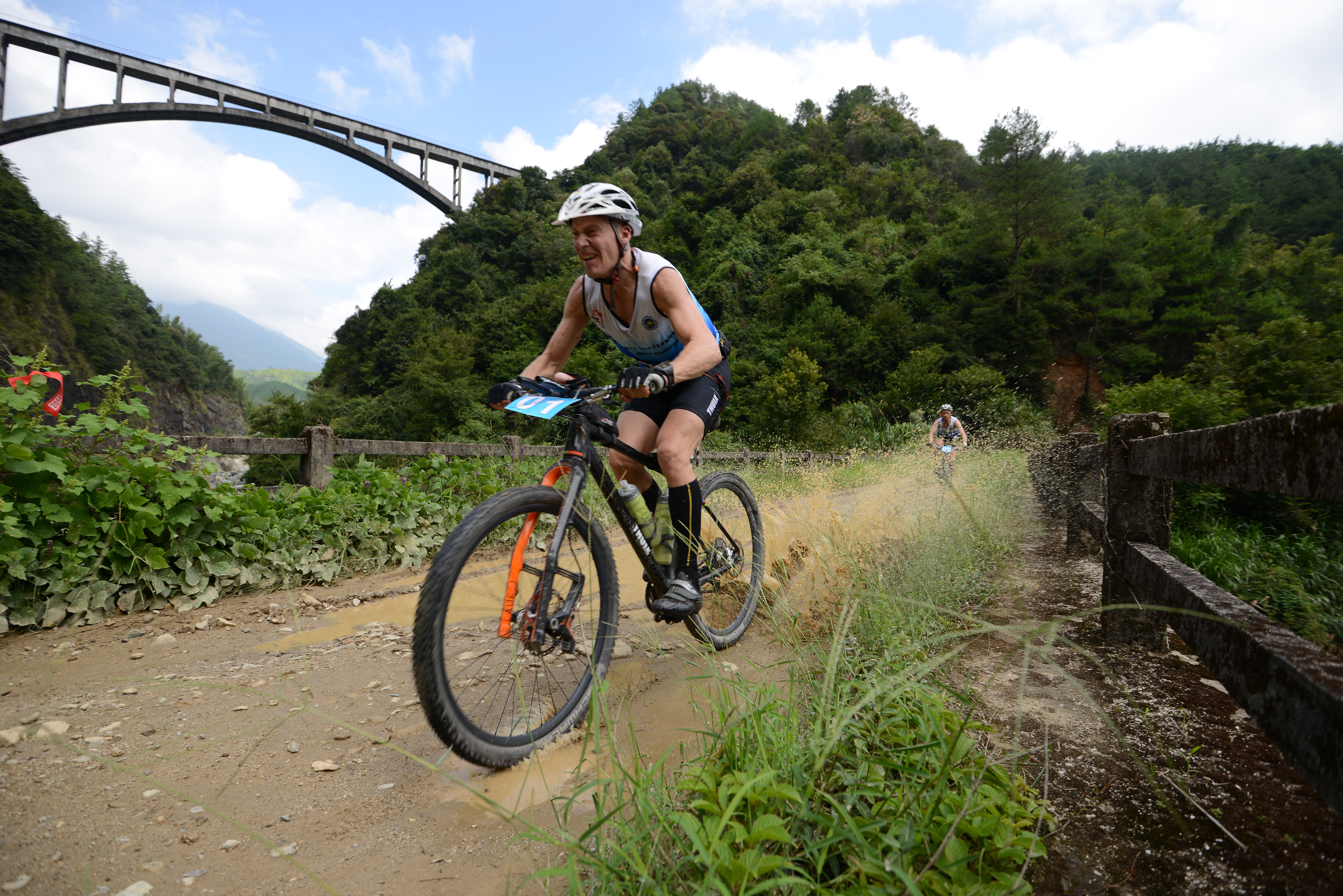 Martin and me pushing the pace up front. 
Exhaustion from 4 hard races in 5 days allowed me to sleep well that night, despite the nervousness about whether we could maintain our 90 second lead on Day #3 over Marcel and Sam.
The final day started with a bike, with teams being release every 30 seconds. We went first but Marcel and Sam caught us quickly on the road, which meant our lead was now down to 60 seconds!  No panic, but we had to be careful to keep them close the rest of the day …
Like a re-run from Day #2, my bike legs were heavy at the start, but warmed up on the first climb. I passed Martin at the front of our 6 man group and told him (in Swedish) that I was going to increase the pace now. "Hang on" …
The last month of racing had been painful and difficult for my body, but now it paid off by delivering a lean biking machine. My legs answered like they did in my younger days when I used to bike away from people on long steep hills. As the trail snaked up through the rice fields, getting steeper on many of the 180 degree turns, I could hear the other teams breathing heavy.  The heat was rising (in some places it was 40 C/105 F), but my body responded. I felt better and better and found a rythm in my pedaling. Soon the trail ended and we had to carry our bikes up a long set of stairs. The sweat was pouring now and my energy levels were high. Martin had no trouble hanging on. At the top, we dared to look back and saw we had created a minute gap on the others.
This is when positive results reinforce a feeling of strength. We pulled away and fed on each others' enthusiasm and power.  We hopped over logs, descended slippery stairs, and carried our bikes through streams. We never had to wait for each other, we were a well-oiled and perpetually-moving machine.
We came in to the paddle section — a back and forth route through some fasntastic gorges and steep canyon walls. As we passed our competition going the other way, we could do our own time-checks. It indicated that we were holding a steady 3.30 minute lead (plus the 60 seconds we had built up over the previous 2 days).  That felt good, but a flat tire could wipe that out in a hurry …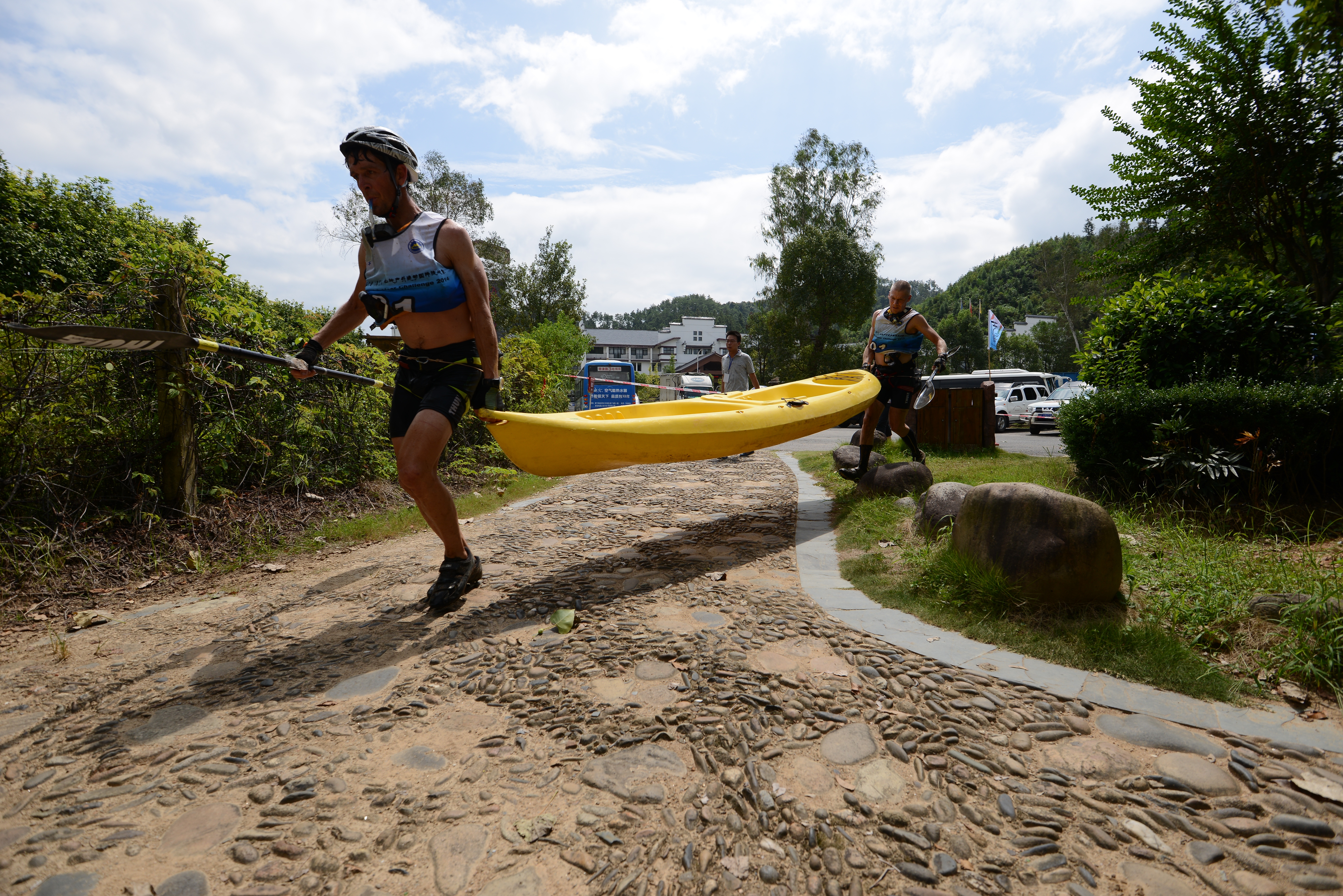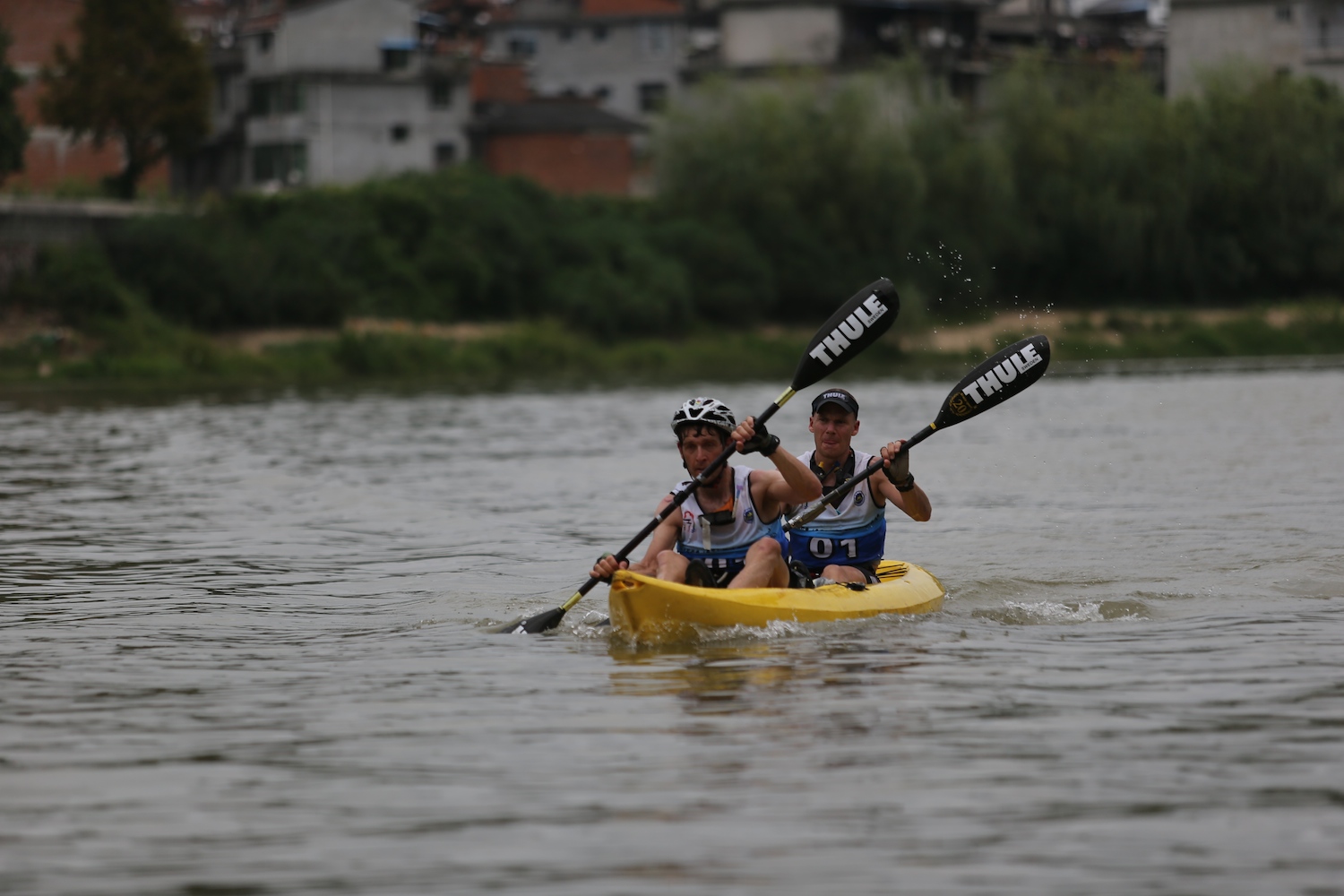 On the second bike section we increased it even more and we transitioned to the final 7 km run to the finish. We were hurting, but we had the mental edge to fight the pain and hold a steady "winners" pace rather than a stressful "catch up with the others" tempo, which usually results in disaster at the end of a long hot day.
We crossed the finish with another decisive win and clinched the overall classification.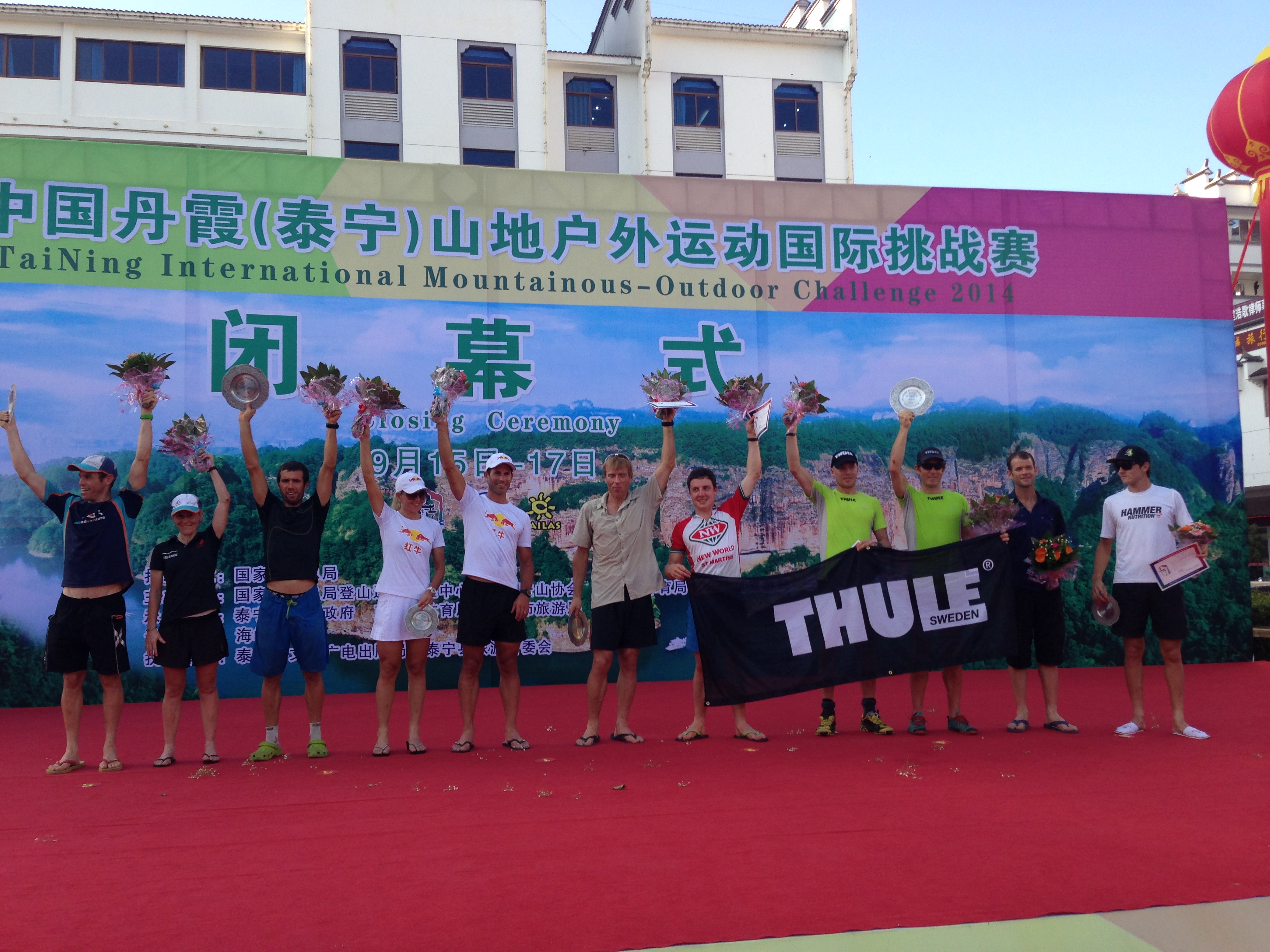 First place overall after 3 days of racing — Marcel and Sam to our right; Klayten and Alex to our left.  The coed winners are, from far left, Jarad and Nic 3rd, Jacky and Mimmi 1st  (Mimmi not in picture), and Elina and Richard 2nd.
Thanks to our competitors for pushing us hard and making us work for it — Marcel H, Sam M, Alex H, and Klayten S, among others. Thanks to Wei Jun for handling the time dispute on Day 2 professionally and objectively without giving any team an unfair advantage. Finally, thanks to Martin. It was an honor racing with a 41-year old veteran who was always strong and full of good tips.  He never had a low moment, was always pushing me to go a little faster, but also smart enough to know that it was a 12 hour and three-day race.
Congrats to all the teams that won at Wu Long, Sequian, Zunyi, and Taining, including Team Raw Foods who won 3 of the races.
What can I attribute to my big success? How did I reach my high performance in China?  Several things I think …
1. China Fatigue? Despite the star-studded starting field, many of the other athletes were less than fresh. Many were at the end of a 30 day tour of China and probably didn't have the same kick in their legs as they did 29 days ago.
2. Super adapted. I might have become "super adapted" for Taining's heat. A few weeks ago I was reading some sports science research that suggested that purposely dehydrating your body (by not drinking enough during/after a hot training session) can create a "super adaptation" to heat and improve subsequent race performance (assuming you recover well from such sessions). Perhaps the stress from the Wu Long race, plus 10 days recovery back in Sweden, was exactly what I needed.
3. Luck doesn't hurt.  I've had my fair share of flat tires but almost everything went our way in this race.  Endurance athletes like me dream of these types of races and as long you get enough of them once in a while, it's enough to keep you going … and going … and going …
There is another race in November in Wuhan …  But I haven't decided yet mom

Scott