Background: I've been racing multisport for 16 years and NZ's Coast to Coast has been my holy grail. I love this course, I love this event, I love the spirit it engenders in racers and volunteers alike. This is my story (and GoPro film) of my 3rd attempt in 4 years. Although I didn't reach my top 10 goal, I enjoyed (almost) every minute of it. I hope you enjoy the story, pass it on, and use it to motivate your own attempt. You won't regret it, no matter how you finish.
First the film (thanks to Johannes Poignant for clipping this together). If you're intrigued you can read the details below …
C2C is not an endurance event. Not completely, anyway.
Sure it requires stamina, strength, persistence and pain tolerance, but more than anything else, it's a race of pure speed from start to finish. That's what makes it so difficult.
The 243 km distance can be overwhelming, the required technical skills to run up a boulder-filled stream and over a mountain can be demanding, and the nonstop 70 km whitewater paddling is no easy feat. But finishing near the top requires an almost foolish amount of pressure on the accelerator … for 11+ hours.
Despite 3 attempts at this race I still haven't performed as I'd like – or, I'd like to think, as I'm capable of – but as my high school football coach used to tell me when I was having a bad day as the quarterback: "If it were easy, Scott, everybody would do it."
Failing to reach a goal certainly makes me reflect on why I do what I do.
Sure my competitive nature (nourished in part by high school football) makes the frustration with my performance real and painful, but despite the disappointment, I feel no regret. At the core I race multisport because it's fun – the training, the physical and mental preparation, the blog, the competition, the genuine people involved, the post-race euphoria, and sharing my story afterwards to motivate others. These aspects are rewarding independent of my results, even if the latter weigh heavily on my mind both before and after.  I suspect the winners and other contenders would agree that competitors like us are driven at least as much by a sense of adventure and the natural high we receive from pushing our limits in inspiring terrain. The fact that we are instinctively competitive – and the fact that it is, after all, called a 'race' – can make it easy to forget why we drag ourselves out of bed at 4 am to stand nervously on a beach in the pitch dark. Our underlying motivation is not 'only' to race against others.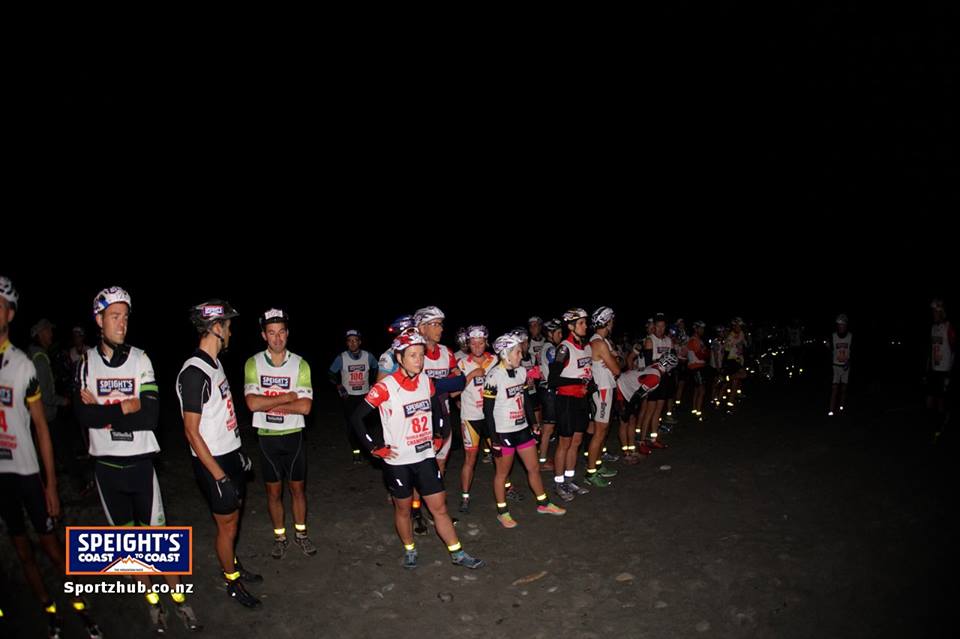 Alright enough reflection, let's get to the story …
The race build-up brings inevitable nerves, but I was surprisingly relaxed while eating breakfast, taping my ankles/back, and getting some acupuncture from Michelle. With 14 minutes until the start I was chatting enthusiastically with fellow competitors, but we were still over 2 km from the beach. I sounded the alarm:  "Hey guys, we should probably start jogging now?"  Luke Osborn put in a hard sprint and we all followed.
About 300 m from the start I passed the last port-a-potty. There were 6 minutes left to the start and I had no choice but to stop. Two things made this unpleasant: (1) my new triathlon suit was hard to zip down and back up and (2) the previous visitor had really suffered and decorated the place brown (no joke). I did my deed (delicately) and ran up the road (in the wrong direction!) to find somebody to pull up my zipper. I sprinted back to the start and arrived on the sand just as Robin Judkins said "30 seconds to start." Note that compared to the picture above, I have now arrived on the scene, with orange shoes.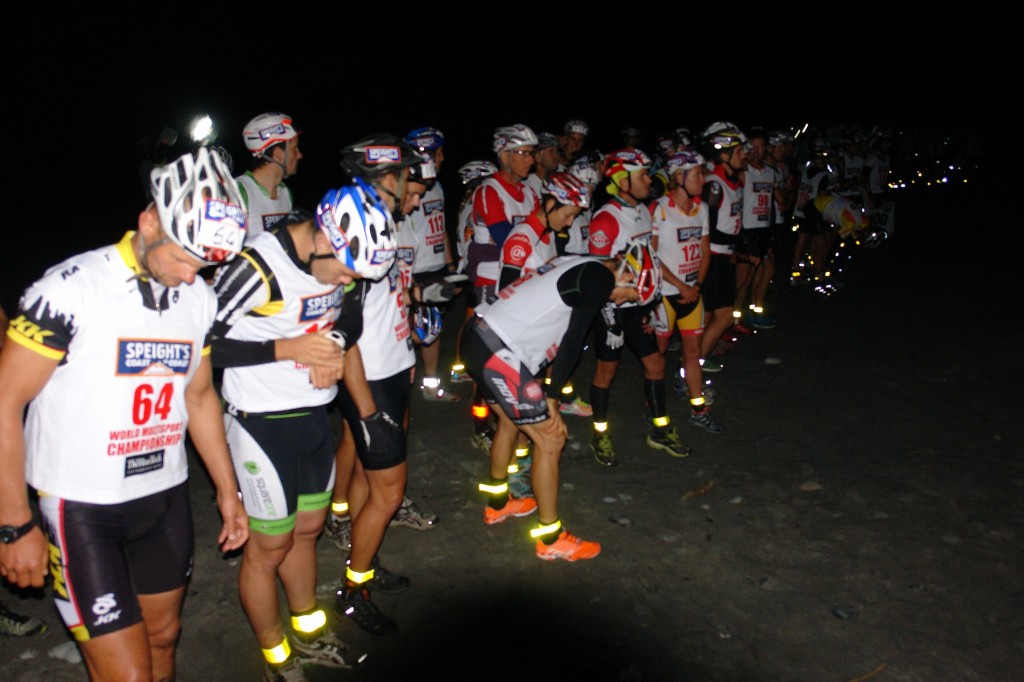 I was warm and ready for the start. After 4 minutes the lactic acid built up in my legs and the leading pack of ~15 runners had pulled away. I had missed my chance at joining the first bike group. But it turned out that the second group was a fairly strong and un-selfish group of riders. We only lost 6 minutes to the leaders – who themselves were only a minute off a record pace.
The first transition at Aikens is chaos, but the bright orange Paleo Crunch Buffs on my support crew made it easy. It's always best to be in front of the cycling bunch as you approach Aikens, so when Trevor Voyce – an experienced top 5 racer – started to remove his reflective ankle straps about 5 km from the end, I knew he was ready to make his tactical sprint. I strategically tucked in behind his big frame and the pace lifted. Thanks to my willingness to ride the longest on the gravel road in to the transition area, I arrived first and my support Greg Scott grabbed my hand and pulled me to safety. After a quick shoe change I was off 1 hr and 45 min after leaving the beach.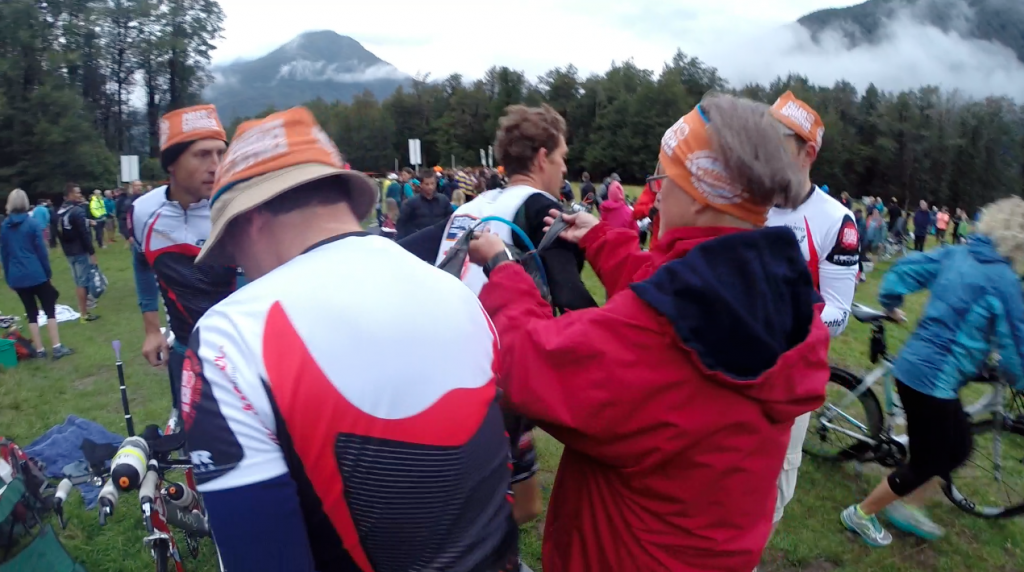 As they would do repeatedly during the day, my support crew floated me flawlessly through the transitions, saving me valuable time and, more importantly, keeping me calm and focused.
At the river crossing I was told that the leaders were still only 6 min ahead. I was in a great position. I had trained extensively on this run and expected to make my move here. I wasn't going to catch the fastest runners, but I had a good chance to get myself in to the top 10. As it turned out, it was Trevor Voyce who made the move (later finishing 5th), while my motor never really got going.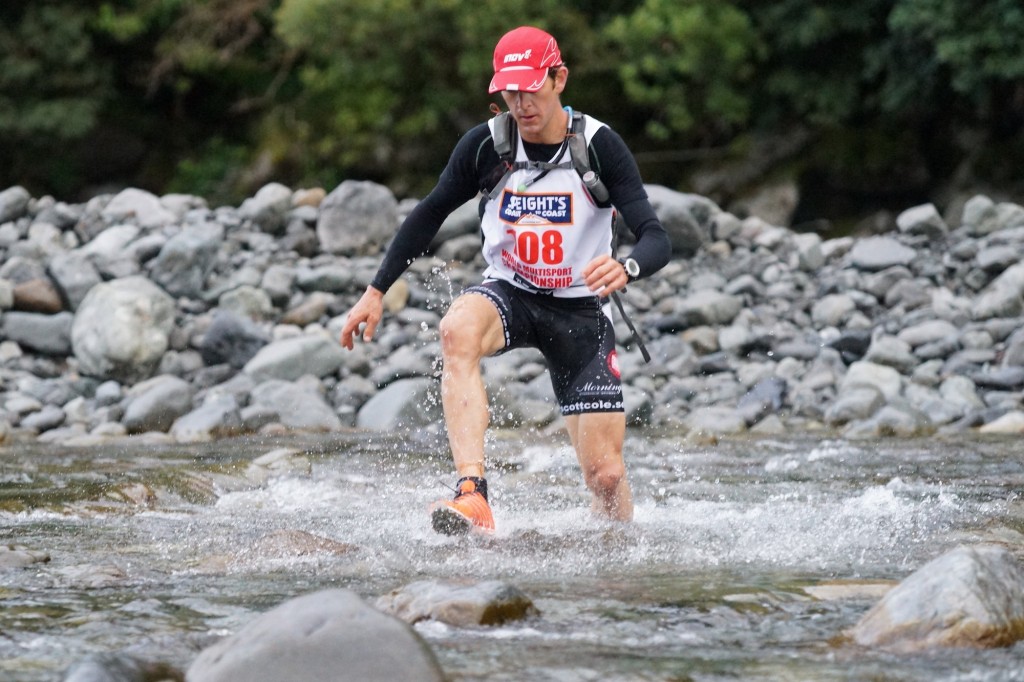 My legs had no push and my heart rate kept dropping – a sign that my energy levels were bad (see Suunto watch details below). I had eaten well on the bike and was on target with a good nutrition plan: drinking at every crossing, a caffeine-filled Squeezy gel every 20 minutes, and Crampfix salt tablets. But still, something was missing from my core energy levels. I didn't have that flow across the technical rocks that I usually have. I passed a few on the way up (I knew the route better) and passed a few on the way down.  I was in 12th when I entered Klondyke transition. But the run took 3 hrs and 40 min, an almost embarrassingly slow time. I did 3.25 the year before and was in much worse shape.
A smooth transition and I was on the bike consuming carbs at speeds of 50 kph thanks to a tail wind. I was feeling better. No cramps. I was out of the saddle and pedaling hard on the up hills. 30 minutes later I arrived at the kayak.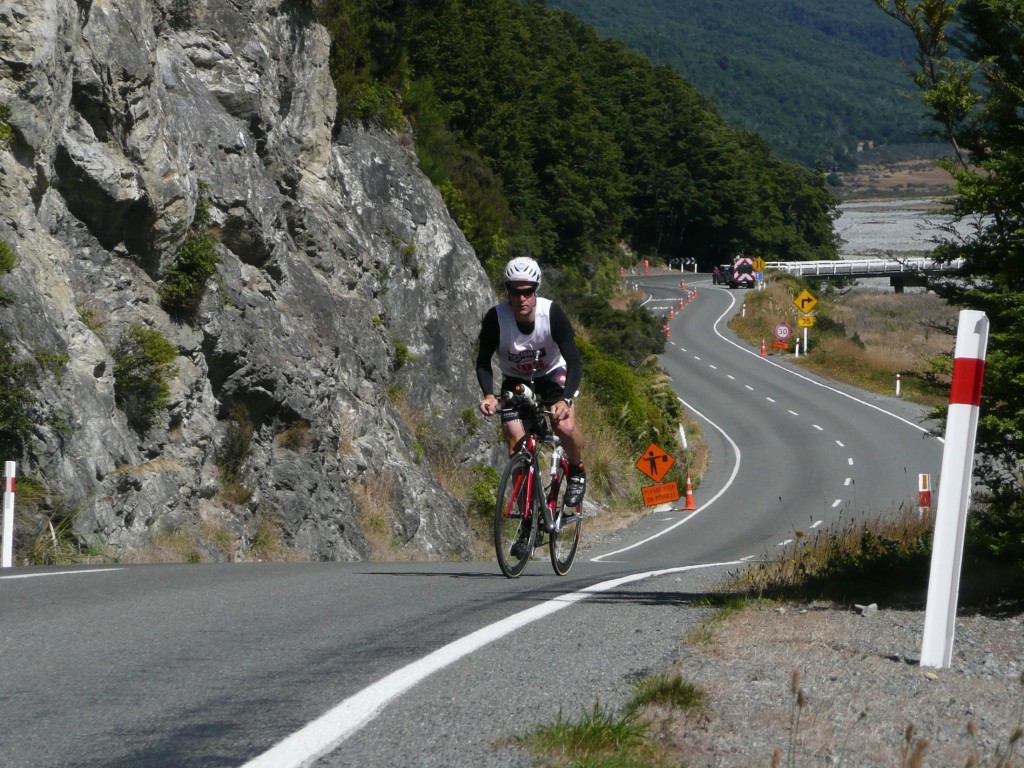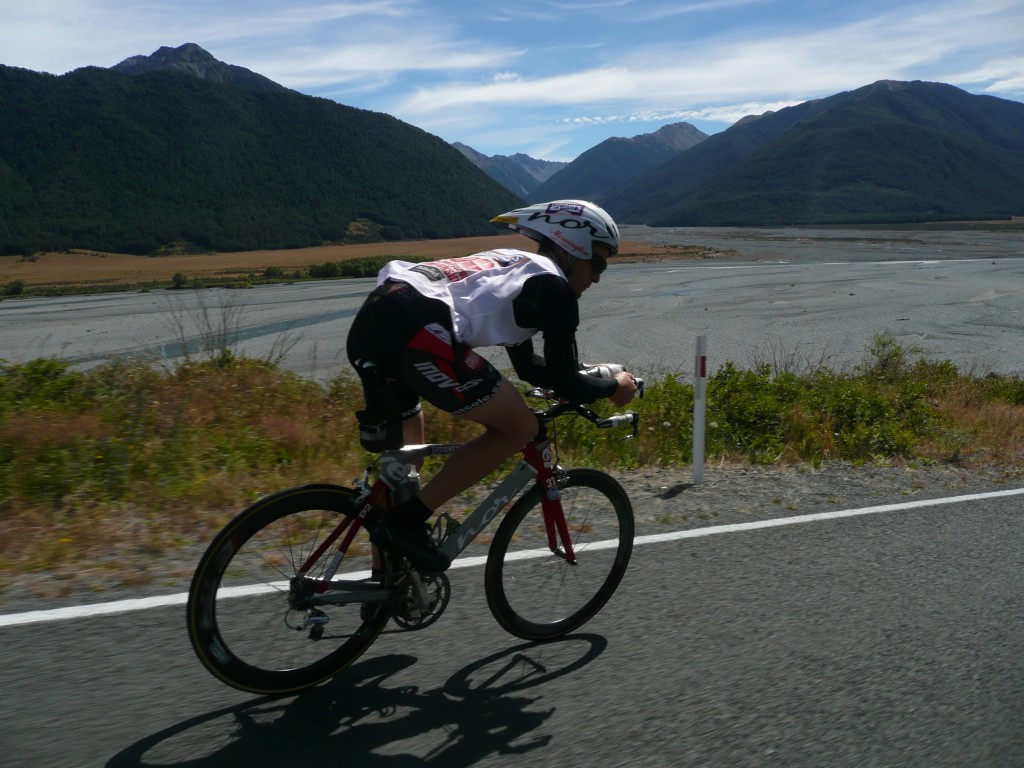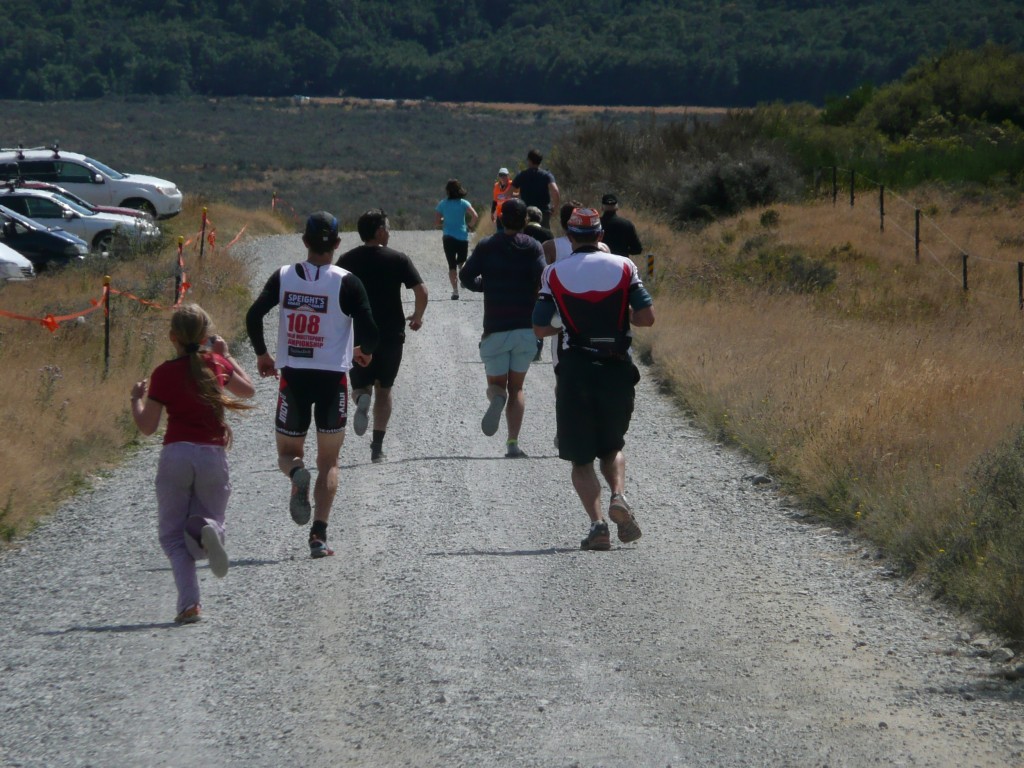 Racing down to the kayak. My social media super star Ruby Moon is chasing me with the GoPro camera in hand.
Again, a smooth transition to kayak gear thanks to my support crew (exactly as we had practiced it the night before). With all my training in the kayak I felt comfortable on this leg and stuck to my game plan – sweet potatoes in the lunch box and a steady and efficient rhythm to conserve energy. I quickly caught 11th place and then saw 10th ahead of me. Then Dan Busch – a world class surfski paddler – caught me and set a pace I couldn't hold (but the 10th place guy could). The km's ticked by and I never had a low point of energy. I knew my tempo was at least as fast at the other top guys, but had I already given away too much on the run? (Braden was over 50 minutes faster than I was on the run).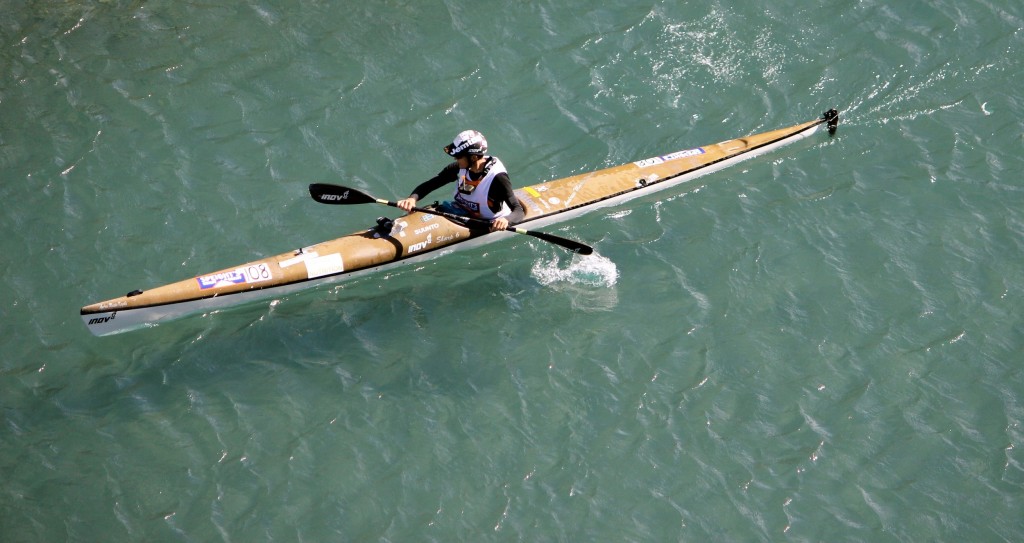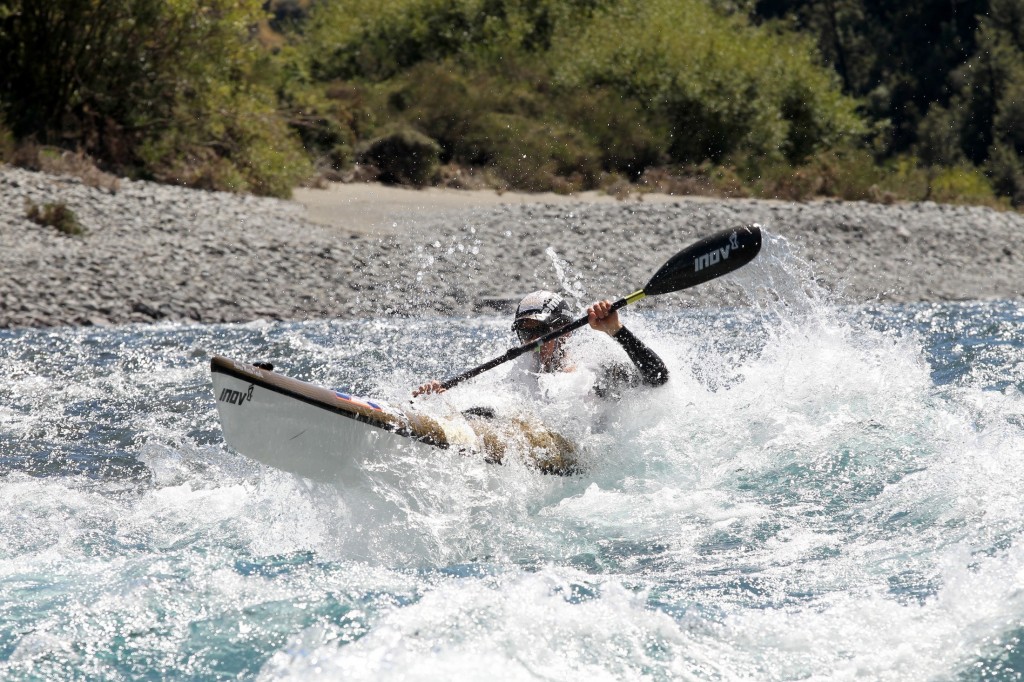 The last 55 min of paddling are tough: the body is collapsing just as the afternoon headwind picks up. I beached myself  due to a bad route choice on a shallow river braid. After a few 'tricep lifts' I got the boat back in the current without having to get out. I rounded the bend after 4 hrs and 40 min and was excited to hear the crowd, the announcer and my support crew. I was only 70 km by bike from the finish.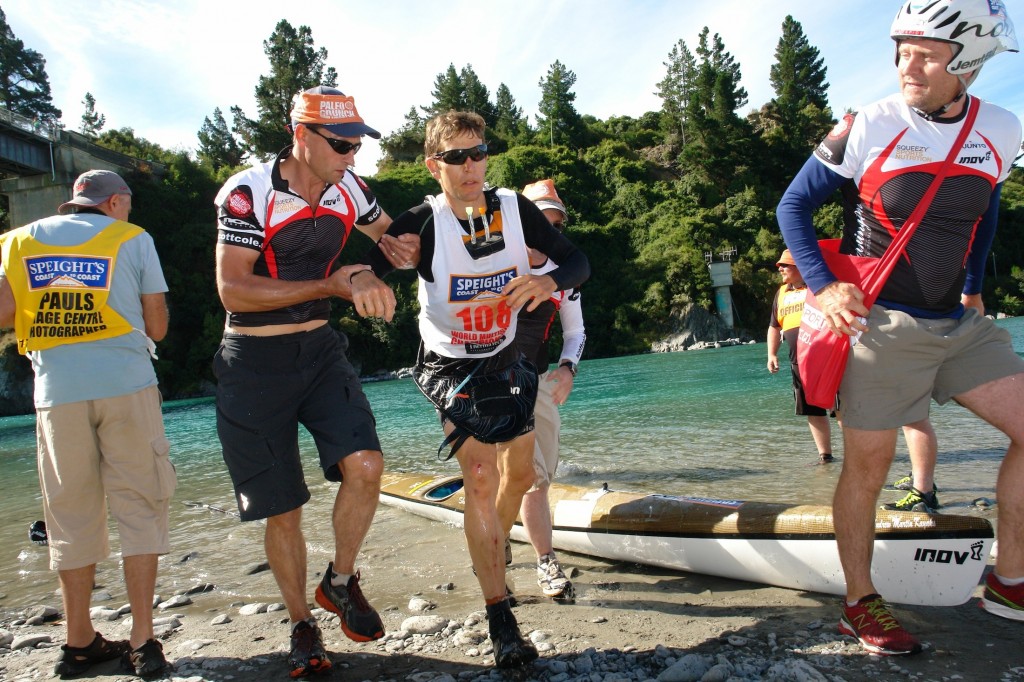 I nearly collapsed as I got out of the boat and told Nigel (on my right) not to let go of me ….
A key lesson from the previous year was the need for lubrication on the final ride. You can tell who forget this at the banquet the next day (Ain't that right, Luke?)
My transition went well and I jogged up the hill – a good sign. I was 8 minutes behind 10th and 4 minutes behind 11th. Michelle sent me away with a "ride like the wind" scream, my adrenaline was pumping and my legs felt great. Despite a less than stellar day I just might sneak in to the top 10.
Sadly, that feeling only lasted for 30 minutes. My tank started to run dry even though I was eating (chocolate-covered cacao beans) and drinking (water and sports drink). I was nearing 13 hours and experiencing that classic feeling of pushing on the accelerator and getting no response. My mind wanted to finish strong, but my body had other plans.
Then Hamish Fleming passed me (with authority, I might add) … then came another … Ok, maybe I can hold on to 14th place (!?). … then  a slow-moving police car…wait, what? … Oh shit … That means the leading girl was right behind me. Jess Simson cruised by (she later collapsed at the finish line, presumably having been fueled by some insane combination of adrenaline and the smell of the beach).
I officially entered the 'hurt locker' and the experience fit the name. I turned and climbed the on-ramp to the highway and was smacked with a headwind. I avoided complete depression by not looking at the speedometer. I refused to look back but knew that my shameful form might be a gift to a similarly-hurting racer behind me.
I reached the finishing shoot, handed off my bike, and tried to stand up. I failed. Literally failed. Having been "down in the tuck position" for over 2 hours my body didn't remember how to straighten up. I forced it so I would look somewhat presentable as I came around the corner to the finish.
(I faintly remember a volunteer ironically saying "watch your step" as I went down to the beach. Sure, I had just run over the mountains and powered through whitewater rapids, but that little step down to the beach might be a killer …)
And that was that. From one coast to the other, a bit slower than I had planned.
A beer and handshake from Robin Judkins, race director for the last 32 years.
There's no way to sugar coat the fact that I under-performed, despite 2.5 months of on-course training. My last 3 weeks were less than ideal (those who follow my funbeat page may have noticed I dropped off a bit …) but there are at least 2 reasons why I have no excuse: (1) it was my own fault that I ran my body down rather than steer it toward peak performance on race day; and (2) nobody has a perfect 'run-up' to the race: injuries, family, kids, sickness, work pressure can all de-rail the best laid training plans. That's life.  (22-year old Sam Manson busted his ankle 10 days before the race, but still managed to get the job done, finishing 4th overall – nice work Sam).
Thanks to my sponsors, my support crew (Greg, Michelle, Nigel, and Read), and my fantastic social media team (Phil, Melonie, Jacinda, Gunthe, Ruby Moon, Sky, Dan). I never could have accomplished what I did without this  "village" behind me. Congratulations to Braden Currie and Jess Simson for their fantastic performances.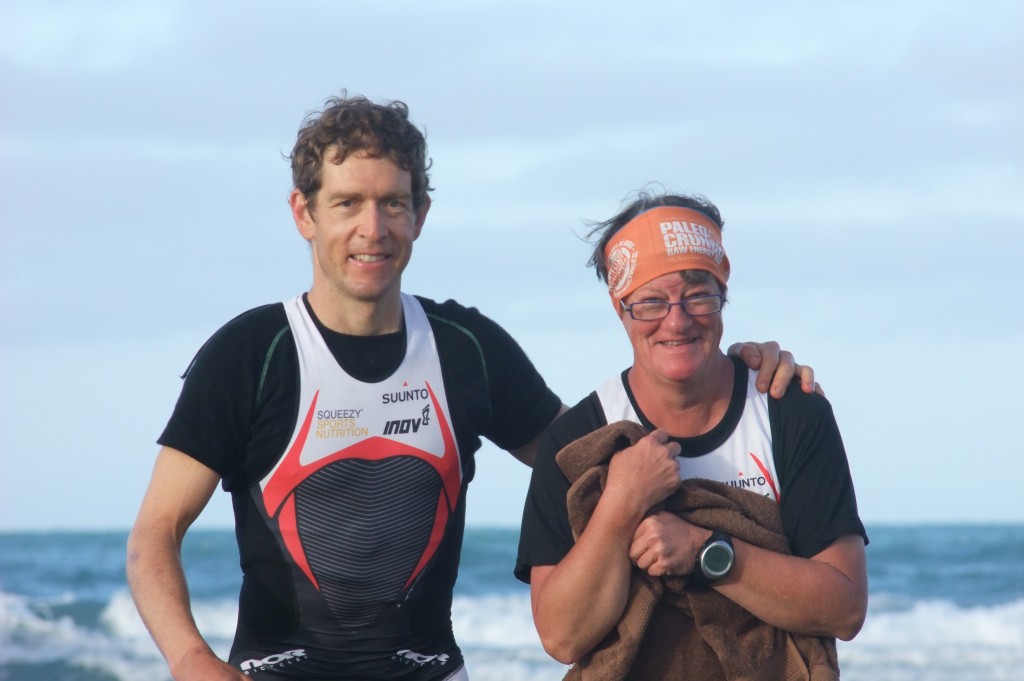 A big reason I was able to handle this  race was Michelle Craw: my acupuncturist, massage therapist, health practitioner, wise sage, and mental health supporter. Thanks Michelle – you are awesome. I wish I could pack you up and take you back to Sweden along with my bike

This race doesn't easily release its grip on a person like me, so I'd be lying if I said I wouldn't return. But for now I'm keen to take on other challenges.  If my competitive instinct doesn't call me back, the beautiful New Zealand terrain will. And when I do return I'll finally get a return on my investment from my 2013-2014 on-course training.
Train hard and fast
Scott
PS a  post race pic of the legs … Thanks Dan Tartaglia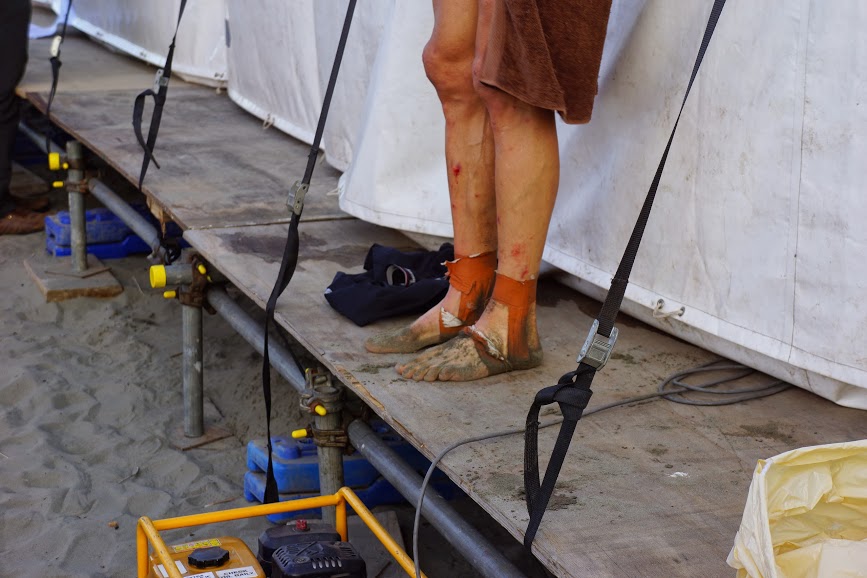 PPS For you geeks, here come the numbers
(1) My GPS file and heart rate curve
(2) the full race results
(3) A random comparison (Trevor was on the first bike with me, but then finished 5th. Braden was leading throughout the race)